Abstract
The paper focuses on the geotechnical experiments and numerical simulation of 2D consolidation analysis for the cohesive soils fully saturated by solutions of four salt concentrations, i.e. 0.0, 9.9, 19.8, and 33.0 g/L. The experiments were carried out on undisturbed soil samples taken from the boreholes in Hanoi area where the subsoil has not been affected by saline intrusion yet. The composition and properties of the cohesive soil in salt-affected conditions were investigated with transmission electron microscopic method and other geotechnical experiments. Consolidation analysis with finite element method was applied to an assumed embankment on saline subsoil. The analytical results showed that swelling mineral of montlorillonite is present in the Hanoi cohesive soils. The water content of the studied soils decreases as the salt concentration increases. Meanwhile, the bulk density unclearly changes in the same testing conditions. The coefficient of consolidation reduces, respectively, with the salinities, from 22 to 50% as salinities rise up to 33.0 g/L. Compressibility index increases linearly and proportionally with the salinities. In 2D analytical model, the settlement or vertical displacement of the subsoil in HD1 site reaches 14.8% and that of GL2 site is 18.7% at saline solution of 33.0 g/L. The horizontal displacement of the subsoil reaches 13.90% in HD1 site and 17.55% in GL2 site from the baseline. The time at primary consolidation completion is longer as saturated solution is saltier. The prolongation of primary consolidation time gets over 30% if the subsoil is at the most salty. These changes illustrate the degradation of soils in the saline media.
This is a preview of subscription content, log in to check access.
Access options
Buy single article
Instant unlimited access to the full article PDF.
US$ 39.95
Price includes VAT for USA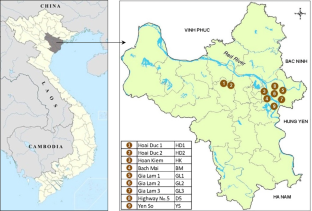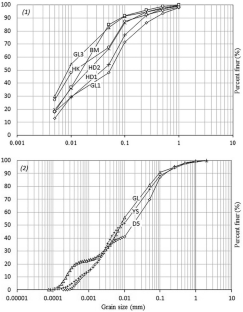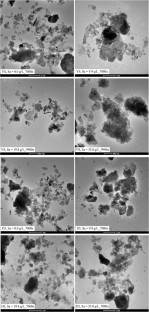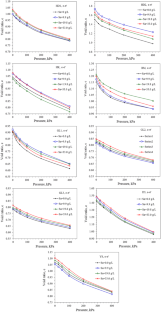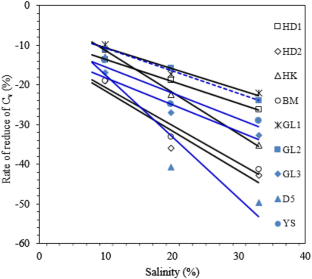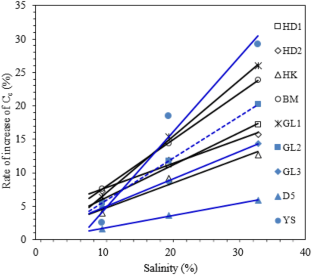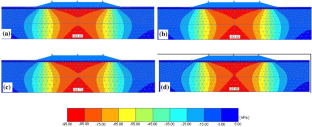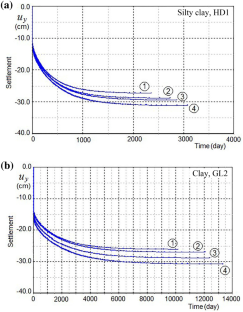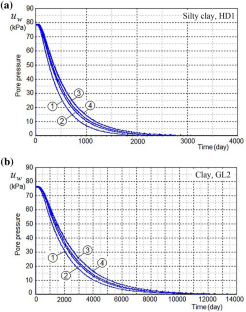 References
1.

Ky HN (1978) Main features of Quaternary geology in the Bac Bo plain: Geological map, Hanoi Geological Mapping Division, No. 37, 14–22 (in Vietnamese)

2.

Gornitz V (1991) Global coastal hazards from future sea level rise. Palaeogeogr Palaeoclimatol Palaeoecol 89:379–398

3.

Truc NN, Kirov B (2013) Secondary consolidation of Hanoi soft soil in saline saturated media related to climate change induced sealevel rise. Annual of the University of Architecture Civil Engineering abd Geodesy No 4, vol 45, pp 2011–2013

4.

Mihova LA, Truc NN (2015) Study of deformation of salt-affected soils by FEM, a case study of soft soil in the Red River delta, Vietnam, In: Winter MG, Smith DM, Eldred PJL, Toll DG (Eds.), The 16th european conference on soil mechanics and geotechnical engineering, Scotland, Publishing ICE, Edinburgh. https://doi.org/10.1680/ecsmge.60678.vol7.634

5.

Germanov TS, Kirov BL (1985) Influence of waste waters on soil consolidation. In: Proceedings of the XIth ICSMFE, Balkema AA, San Francisco, USA, pp 2407–2409

6.

Kirov BL (1989) Influence of waste waters on soil deformation. In: Proceedings of XII ICSMFE, Rio de Janeiro, Brazil, pp 1881–1882

7.

Gbenga MA, Oluwole AA, Shodolapo OF (2009) Influence of calcium sulphate on subsoil cohesion and angle of friction. J Appl Sci Res 5(3:297–304

8.

Komine H (2007) Vulnerability of riverbank material by sea-level rising due to global warming in Japan. In: Proceedings of the 2nd Malaysia-Japan symposium on Geohazards and geoenvironmental engineering, City Bayview Hotel, Langkawi, Malaysia

9.

Nazmul HM, Knut B, Jens J, Kaare H (2007) Experimental mechanical compaction of clay mineral aggregates—changes in physical properties of mudstones during burial. Mar Pet Geol 24:289–311. https://doi.org/10.1016/j.marpetgeo.2007.03.006

10.

Yukselen-Aksoy Y, Kaya A, Ören AH (2008) Seawater effect on consistency limits and compressibility characteristics of clays. Eng Geol 102(1–2):54–61. https://doi.org/10.1016/j.enggeo.2008.07.005

11.

Zhou J, Zheng X, Flury M, Lin G (2009) Permeability changes during remediation of an aquifer affected by seawater intrusion: a laboratory column study. J Hydrol 376(3):557–566. https://doi.org/10.1016/j.jhydrol.2009.07.067

12.

Nguyen XP, Cui YJ, Tang AM, Deng YF, Li XL, Wouters L (2013) Effects of pore water chemical composition on the hydro-mechanical behavior of natural stiff clays. Eng Geol 166:52–64. https://doi.org/10.1016/j.enggeo.2013.08.009

13.

Al-Shamrani MA, Dhowian AW (1997) Preloading for reduction of compressibility characteristics of sabkha soil profiles. Eng Geol 48(1–2):19–41. https://doi.org/10.1016/S0013-7952(97)81912-6

14.

Azam S (2000) Collapse and compressibility behavior of arid calcareous soil formations. Bull Eng Geol Environ 59(3):211–217. https://doi.org/10.1007/s100640000060

15.

Al-Obaidi A, Ihssan A, Allawi H (2018) Studying of the combined salts effect on the engineering properties of clayey soil. In: The 3rd international conference on buildings, construction and environmental engineering, BCEE3-2017, MATEC Web Conference, Vol 162, https://doi.org/10.1051/matecconf/201816201011

16.

Shariatmadari N, Salami M, Fard MK (2011) Effect of inorganic salt solutions on some geotechnical properties of soil–bentonite mixtures as barriers. Int J Civil Eng 2:9

17.

Kirov BL, Truc NN (2012) A study on the relationship between geotechnical properties and clay mineral composition of Hanoi soft soils in saline media. Int J Civil Eng 10(2):87–92

18.

Truc NN (2017) Consolidation properties of cohesive soils in the Red river delta in salt-affected conditions. In: The 17th international multidisciplinary scientific geoconference, Albena, Bulgaria, Issue 12, Vol 17, pp 143–150. https://doi.org/10.5593/sgem2017/12/S02.019

19.

Truc NN, Kirov B (2014) Hanoi soft soils in salt—affected media, In: Yoo C, Kim P, Ban (eds.) The 8th international symposium on geotechnical aspects of underground construction in soft ground, TC204 ISSMGE, IS-SEOUL, Korea

20.

Toan DT, Truc NN (2010) The impact of seawater on soil properties in the Red River Delta. J Sci Technol Vietnam 48(1):215–223 (in Vietnamese)

21.

Linda PM, Bittelli P, Pisa R (2006) Laser diffraction, transmission electron microscopy and image analysis to evaluate a bimodal Gaussian model for particle size distribution in soils. Geoderma 135:118–132. https://doi.org/10.1016/j.geoderma.2005.11.009

22.

Nu NT (2014) The geological characteristics of the clayey soft soil type amQ2 2–3 distributed in the coastal provinces of the Mekong Delta for the treatment of road embankment, Doctoral thesis, Hanoi University of Mining and Geology, Hanoi, Vietnam, (in Vietnamese)

23.

Lan TV (2002) Influence of Saline Environment and Saline Intrusion on Stability and Deformation of Foundation of Construction, Doctoral thesis, Thuy Loi University, Hanoi, Vietnam, (in Vietnamese)

24.

Kleven R, Alstad J (1996) Interaction of alkali, alkalineearth and sulphate ions with clay minerals and sedimentary rocks. J Petrol Sci Eng I5:181–200

25.

Carretero MI, Pozo M, Sánchez C, García FJ, Medina JA, Bernabé JM (2007) Comparison of saponite and montmorillonite behaviour during staticand stirring maturation with seawater for pelotherapy. Appl Clay Sci 1–2(36):161–173

26.

Mitchell JK, Kenichi S (2005) Fundamentals of soil behavior, 3rd edn. Wiley, Hoboken

27.

Komine H (2007) Changes of fundamental properties of riverbank material by sea-level rising due to global warming. In: Proceedings of the 1st international symposyum on Mitigation and adaptation of climate-change-induce natural disasters, Hue city, Vietnam

28.

Eggestad A, Sem H (1976) Stability of excavations improved by salt diffusion from deep wells. In: Proceedings of the 6th European conference on soil mechanics and foundation engineering, ISSMFE Austrian National Committee, Vienna, Austria, pp 211–216
Acknowledgements
This research was funded by the Vietnam National Foundation for Science and Technology Development (NAFOSTED) under Grant Number 105.08-2014.45.
About this article
Cite this article
Truc, N.N., Mihova, L. Hanoi Cohesive Soil in Salt-Affected Conditions: Soil Properties and 2D Consolidation Analysis. Int J Civ Eng 18, 137–150 (2020). https://doi.org/10.1007/s40999-019-00422-5
Received:

Revised:

Accepted:

Published:

Issue Date:
Keywords
Cohesive soil

Salt-affected soil

Saline intrusion

Soil properties

Consolidation analysis

Finite element method