Abstract
The study was aimed at identifying the problems of using winter tyres according to the vehicle braking performance. Due to the common problem of using second-hand winter tyres during the summer season, the tyre tread depth and temperature were chosen as the main indicators of the study. The winter mix tyres are distinguished by the suitability for operation at low temperatures; however, if the operation of such tyres is extended during the warm season, high ambient temperature and the road pavement temperature during extreme braking deteriorate the tyre contact properties. This article presents the results of thermodynamic measurements of the vehicle's braking performance and the tread surface of abruptly braked winter tyre. To determine the relative slip at different ambient temperatures and the tread depth of the braked tyre, the dynamic wheel radius and the angular velocity were measured during the study. The results obtained according to the main physical parameters determining the tyre contact present the objective assessment of the negative use of winter tyres during the warm season. Conclusions are useful in not only promoting the responsible choice of the tyre type, but also introduction of potential limitations and development of subsequent tyre and automotive safety, in order to avoid traffic accidents.
This is a preview of subscription content, log in to check access.
Access options
Buy single article
Instant access to the full article PDF.
US$ 39.95
Price includes VAT for USA
Subscribe to journal
Immediate online access to all issues from 2019. Subscription will auto renew annually.
US$ 99
This is the net price. Taxes to be calculated in checkout.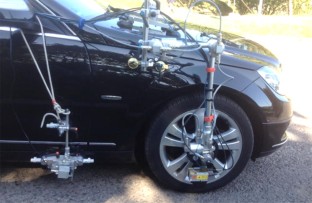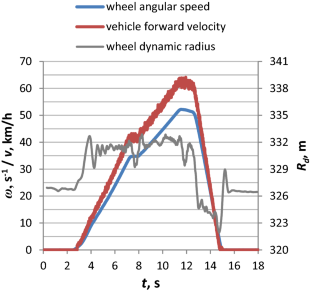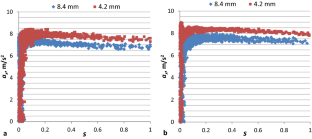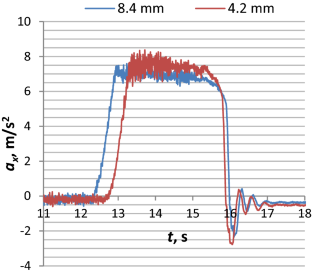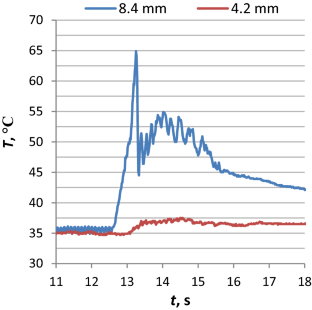 References
Anupam K, Srirangam S, Scarpas A, Kasbergen C (2013) Influence of temperature on tire-pavement friction: analyses. Transp Res Rec J Transp Res Board 2369:114–124. https://doi.org/10.3141/2369-13

ASTM D2240-15 (2015) Standard test method for rubber property—durometer hardness. ASTM International, West Conshohocken, PA. https://doi.org/10.1520/D2240-15

Bhoopalam AK, Sandu C (2014) Review of the state of the art in experimental studies and mathematical modeling of tire performance on ice. J Terrramech 53:19–35. https://doi.org/10.1016/j.jterra.2014.03.007

Bianchini A, Heitzman M, Maghsoodloo S (2011) Evaluation of temperature influence on friction measurements. J Transp Eng. https://doi.org/10.1061/(ASCE)TE.1943-5436.0000271

Delfi (2015) 4 padangų naudojimo būdai: kuris variantas geriausias? [Four tyre use options: whish is the best option?]. https://www.delfi.lt/projektai/archive/4-padangu-naudojimo-budai-kuris-variantas-geriausias.d?id=67570250. Accessed 8 June 2017

Dell'Acqua G, De Luca M, Prato CG, Prentkovskis O, Junevičius R (2016) The impact of vehicle movement on exploitation parameters of roads and runways: a short review of the special issue. Transport 31(2):127–132. https://doi.org/10.3846/16484142.2016.1201912

Dörrie H, Schröder C, Wies B (2010) Winter tires: operating conditions, tire characteristics and vehicle driving behavior. Tire Sci Technol 38(2):119–136. https://doi.org/10.2346/1.3428961

EC (2009) Regulation (EC) No 1222/2009 of the European Parliament and of the Council of 25 November 2009 on the labelling of tyres with respect to fuel efficiency and other essential parameters. The European Parliament and the Council of the European Union. http://eur-lex.europa.eu/legal-content/EN/ALL/?uri=CELEX%3A32009R1222. Accessed 30 May 2017

EEC (1989) Council Directive 89/459/EEC of 18 July 1989 on the approximation of the laws of the Member States relating to the tread depth of tyres of certain categories of motor vehicles and their trailers. European Economic Community (EEC). http://eur-lex.europa.eu/legal-content/EN/TXT/?uri=CELEX%3A31989L0459. Accessed 30 May 2017

Ella S, Formagne P-Y, Koutsos V, Blackford JR (2013) Investigation of rubber friction on snow for tyres. Tribol Int 59:292–301. https://doi.org/10.1016/j.triboint.2012.01.017

Genta G, Morello L (2009) The automotive chassis: volume 1: components design. Springer, Dordrecht. https://doi.org/10.1007/978-1-4020-8676-2

Gießler M, Gauterin F, Hartmann B, Wies B (2007) Influencing factors on force transmission of tires on snow tracks. VDI-Berichte 2014:383–398

Gießler M, Gauterin F, Wiese K; Wies B (2010) Thermographische Laboruntersuchungen der Kraftübertragung von Reifen auf winterlichen Fahrbahnen. 19. Aachener Kolloquium "Fahrzeug- und Motorentechnik", 4–6 Oktober 2010, Aachen, Deutschland

Gillespie TD (1992) Fundamentals of vehicle dynamics. SAE International, Warrendale

Jansen S, Schmeitz A, Maas S, Rodarius C (2016) Study on some safety-related aspects of tyre use. TNO 2014 R11423-v2 Final Report. https://doi.org/10.2832/67191

Janulevičius A, Pupinis G, Lukštas J, Damanauskas V, Kurkauskas V (2017) Dependencies of the lead of front driving wheels on different tire deformations for a MFWD tractor. Transport 32(1):23–31. https://doi.org/10.3846/16484142.2015.1063084

Laurinavičius A, Miškinis D, Vaiškūnaitė R, Laurinavičius A (2010) Analysis and evaluation of the effect of studded tyres on road pavement and environment (III). Baltic J Road Bridge Eng 5(3):169–176. https://doi.org/10.3846/bjrbe.2010.24

Li Y, Liu WY, Frimpong S (2012) Effect of ambient temperature on stress, deformation and temperature of dump truck tire. Eng Fail Anal 23:55–62. https://doi.org/10.1016/j.engfailanal.2012.02.004

Liu Y-H, Li T, Yang Y-Y, Ji X-W, Wu J (2017) Estimation of tire–road friction coefficient based on combined APF-IEKF and iteration algorithm. Mech Syst Signal Process 88:25–35. https://doi.org/10.1016/j.ymssp.2016.07.024

Malmivuo M, Luoma J, Kanner H (2016) Winter tyre type and traffic safety. Inj Prev 22(Suppl 2):A144–A145. https://doi.org/10.1136/injuryprev-2016-042156.395

NHTSA (2006) The pneumatic tire. DOT HS 810 561. US Department of Transportation, National Highway Traffic Safety Administration (NHTSA)

Optris (2016) Optris® PI: infrared camera. Operators manual. Optris GmbH, Berlin

Panáček V, Semela M, Adamec V, Schüllerová B (2016) Impact of usable coefficient of adhesion between tyre and road surface by modern vehicle on its dynamics while driving and braking in the curve. Transport 31(2):142–146. https://doi.org/10.3846/16484142.2016.1190403

Pauwelussen J (2015) Essentials of vehicle dynamics. Butterworth-Heinemann, Oxford

PerkinElmer (2007) Characterization of car tire rubber. Thermal analysis. Application note. PerkinElmer, Inc., Waltham, MA USA. https://www.perkinelmer.com/lab-solutions/resources/docs/APP_007771B_15_Characterization_of_Car_Tire_Rubber.pdf. Accessed 12 Apr 2017

Ružinskas A (2016) Thermogprahic researches of tire interaction with ice. Science—Future of Lithuania/Mokslas—Lietuvos Ateitis 8(5):509–513. https://doi.org/10.3846/mla.2016.965

Ružinskas A, Sivilevičius H (2017) Magic formula tyre model application for a tyre–ice interaction. Proc Engineering 187:335–341. https://doi.org/10.1016/j.proeng.2017.04.383

Şahin H (2017) Collision avoidance via adaptive trajectory control in case of a sudden decrease in the maximum road friction coefficient. Promet Traffic Transp 29(5):469–478. https://doi.org/10.7307/ptt.v29i5.2384

Schramm D, Hiller M, Bardini R (2014) Vehicle dynamics: modeling and simulation. Springer, Berlin. https://doi.org/10.1007/978-3-540-36045-2

Sienkiewicz M, Kucinska-Lipka J, Janik H, Balas A (2012) Progress in used tyres management in the European Union: a review. Waste Manag 32(10):1742–1751. https://doi.org/10.1016/j.wasman.2012.05.010

Singh KB, Taheri S (2015) Estimation of tire–road friction coefficient and its application in chassis control systems. Syst Sci Control Eng 3(1):39–61. https://doi.org/10.1080/21642583.2014.985804

Sokolovskij E, Prentkovskis O, Pečeliūnas R, Kinderytė-Poškienė J (2007) Investigation of automobile wheel impact on the road border. Baltic J Road Bridge Eng 2(3):119–123

TCS (2009) Leistungs- und Kostenvergleich Sommer-, Winter- und Ganzjahresreifen. Aktuelle Nr.: 3952de. Touring Club Schweiz (TCS)

UNECE (2005) Braking tests and the required performance of braking systems. PVGTR2004-18. United Nations Economic Commission for Europe (UNECE)

Van der Steen R (2007) Tyre/road friction modelling: literature survey. Eindhoven University of Technology. http://www.mate.tue.nl/mate/pdfs/8147.pdf. Accessed 5 May 2017

Winroth J, Andersson PBU, Kropp W (2014) Importance of tread inertia and damping on the tyre/road contact stiffness. J Sound Vib 333(21):5378–5385. https://doi.org/10.1016/j.jsv.2014.05.030

Zebala J, Ciepka P, Reza A, Janczur R (2007) Influence of rubber compound and tread pattern of retreaded tyres on vehicle active safety. Forensic Sci Int 167(2–3):173–180. https://doi.org/10.1016/j.forsciint.2006.06.051

Žuraulis V, Levulytė L, Sokolovskij E (2014) The impact of road roughness on the duration of contact between a vehicle wheel and road surface. Transport 29(4):431–439. https://doi.org/10.3846/16484142.2014.984330
About this article
Cite this article
Žuraulis, V., Garbinčius, G., Skačkauskas, P. et al. Experimental Study of Winter Tyre Usage According to Tread Depth and Temperature in Vehicle Braking Performance. Iran J Sci Technol Trans Mech Eng 44, 83–91 (2020). https://doi.org/10.1007/s40997-018-0243-0
Received:

Accepted:

Published:

Issue Date:
Keywords
Winter tyres

Tread depth

Tread temperature

Braking deceleration

Slip ratio