Abstract
Quality of material is an important parameter in structural design. Quality of concrete as a widely used material may be controlled by using pressure testing devices. For this purpose, standard methods are used. However, these methods are difficult, time-consuming and costly. Hence, using non-destructive methods, which are also faster and less costly, has become a must. In this study, ultrasonic pulse velocity and surface hardness values are obtained from samples prepared in the laboratory environment in the context of non-destructive methods and samples collected from an existing concrete structure. Destructive pressure testing is then used to find the compressive strength values of these samples. The study compares and contrasts results from non-destructive and destructive methods. Correlations with discrete and compound methods are obtained with non-destructive methods, and quality evaluation of these correlations is completed.
This is a preview of subscription content, log in to check access.
Access options
Buy single article
Instant access to the full article PDF.
US$ 39.95
Price includes VAT for USA
Subscribe to journal
Immediate online access to all issues from 2019. Subscription will auto renew annually.
US$ 99
This is the net price. Taxes to be calculated in checkout.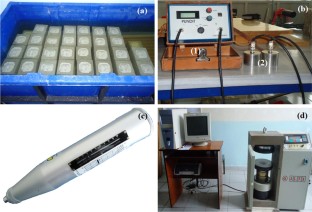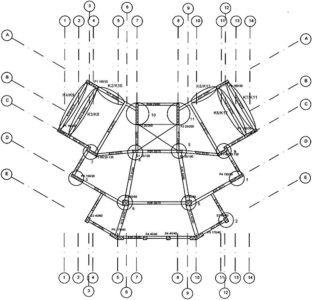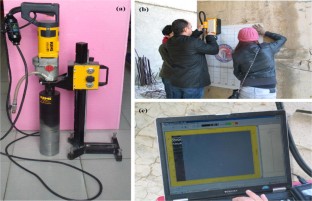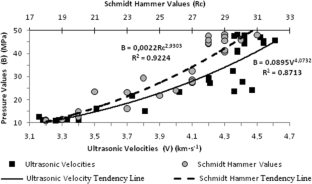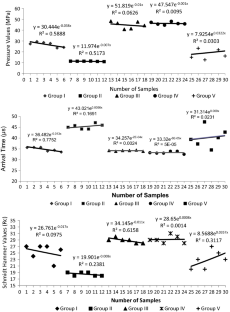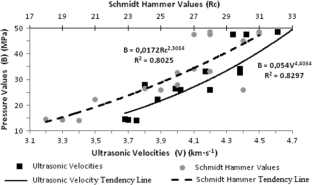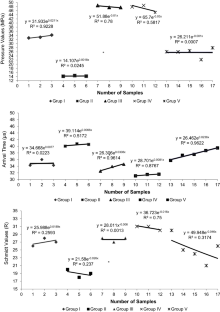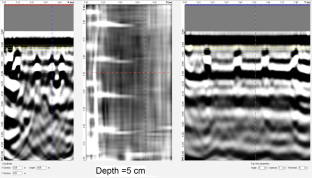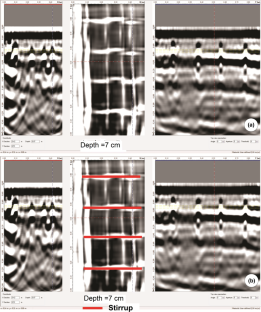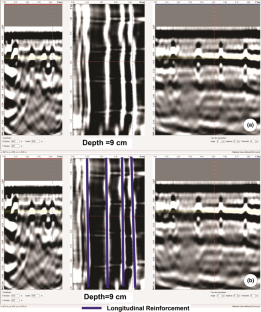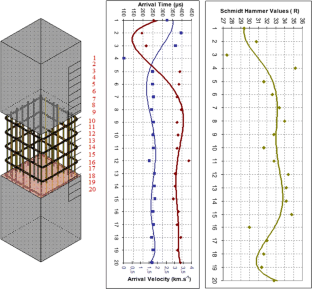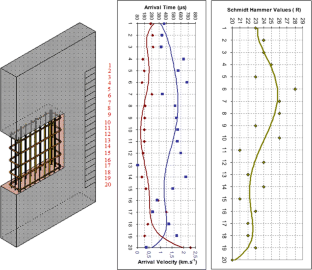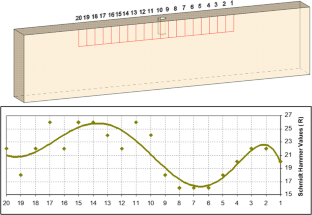 References
Abdelrahman M, ElBatanouny MK, Ziehl PH (2014) Acoustic emission based damage assessment method for prestressed concrete structures: modified index of damage. Eng Struct 60:258–264

Aleshin NP, Grigor'ev MV, Shchipakov NA, Prilutskii MA, Murashov VV (2016) Applying nondestructive testing to quality control of additive manufactured parts. Russ J Nondestruct Test 52(10):600–609

Alwash M, Breysse D, Sbartaï ZM (2015) Non-destructive strength evaluation of concrete: Analysis of some key factors using synthetic simulations. Constr Build Mater 99:235–245

Amini K, Jalalpour M, Delatte N (2016) Advancing concrete strength prediction using non-destructive testing: development and verification of a generalizable model. Constr Build Mater 102:762–768

Arioglu E, Köylüoglu O (1996) A discussion of "Prediction of concrete strength by destructive and nondestructive methods" by Ramyar and Kol. Cem Concr World 3:33–34

Aydın F (2005) Beton Kalitesinin Tahribatlı-Tahribatsız Testlerle Belirlenmesi ve Karsılaştırılması. Yüksek Lisans Tezi, Sakarya Üniversitesi, Sakarya

Azari H, Nazarian S, Yuan D (2014) Assessing sensitivity of impact echo and ultrasonic surface waves methods for nondestructive evaluation of concrete structures. Constr Build Mater 71:384–391

Başka MA (2006) Betonun Basınç Dayanımının Belirlenmesi ve Değerlendirilmesi. Yüksek Lisans Tezi, Atatürk Üniversitesi, Erzurum

Behnia A, Chai HK, Yorikawa M, Momoki S, Terazawa M, Shiotani T (2014) Integrated non-destructive assessment of concrete structures under flexure by acoustic emission and travel time tomography. Constr Build Mater 67:202–215

Bellander U (1979) NTD testing methods for estimating compressive strength in finished structures evaluation of accuracy and testing system. In: RILEM symposium proceedings on quality control of concrete structures, session 2.1. Swedish Concrete Research Institute Stockholm, Sweden, pp 37–45

Bogas JA, Gomes MG, Gomes A (2013) Compressive strength evaluation of structural lightweight concrete by non-destructive ultrasonic pulse velocity method. Ultrasonics 53(5):962–972

Breysse D, Balayssac JP, Biondi S, Borosnyói A, Candigliota E, Chiauzzi L et al (2017) Non destructive assessment of in situ concrete strength: comparison of approaches through an international benchmark. Mater Struct 50(2):133

Czarnecki S (2017) Non-destructive evaluation of the bond between a concrete added repair layer with variable thickness and a substrate layer using ANN. Procedia Eng 172:194–201

Davis AG, Ansari F, Gaynor RD, Lozen KM, Rowe TJ, Caratin H, Heidbrink FD, Malhotra VM, Simons BP, Carino NJ, Hertlein BH, Olson LD, Sullivan PJ, Choi K, Hindo KR, Pessiki SP, Suprenant BA, Clemeña GG, Huyke R, Popovics S, Teodoru G, Cumming NA, Jenkins RS, Poston RW, Vogt WL, Dilly RL, Leeman ME, Read PH, Zoob AB, Dixon DE, Leshchinsky A, Roddis WMK, Dragunsky B, Lew HS, Sansalone MJ (1998) Nondestructive test methods for evaluation of concrete in structures, vol 228. American Concrete Institute ACI, Farmington Hills

Erdal M (2002) Beton Basınç Dayanımının Bazı Tahribatsız Test Yöntemleriyle Belirlenmesi. Yüksek Lisans Tezi, Gazi Üniversitesi, Ankara

Erdal M (2009) Prediction of the compressive strength of vacuum processed concretes using artificial neural network and regression techniques. Sci Res Essay 4(10):1057–1065

Erdoğan ST, Erdoğan TY (2006) Sorular ve Yanıtlarıyla Beton. THBB Yayınları, Ankara

Gomez-Cardenas C, Sbartai ZM, Balayssac JP, Garnier V, Breysse D (2015) New optimization algorithm for optimal spatial sampling during non-destructive testing of concrete structures. Eng Struct 88:92–99

Hannachi S, Guetteche MN (2012) Application of the combined method for evaluating the compressive strength of concrete on site. Open J Civ Eng 2(01):16–21

Hoła J, Schabowicz K (2010) State-of-the-art non-destructive methods for diagnostic testing of building structures–anticipated development trends. Arch Civ Mech Eng 10(3):5–18

Hoła J, Bień J, Sadowski Ł, Schabowicz K (2015) Non-destructive and semi-destructive diagnostics of concrete structures in assessment of their durability. Bull Pol Acad Sci Tech Sci 63(1):87–96

Hussain A, Akhtar S (2017) Review of non-destructive tests for evaluation of historic masonry and concrete structures. Arab J Sci Eng 42(3):925–940

Jain A, Kathuria A, Kumar A, Verma Y, Murari K (2013) Combined use of non-destructive tests for assessment of strength of concrete in structure. Procedia Eng 54:241–251

Kheder G (1998) Assessment of in situ concrete strength using combined non-destructive testing. In: Proceedings of the first ınternational Arab conference on maintenance and rehabilitation of concrete structures. Cairo, pp 59–75

Lee TG, Kang YW, Choi HG, Choe GC, Kim GY (2016) Suggestion for non-destructive testing equation to estimate compressive strength of early strength concrete. J Korea Inst Build Constr 16(3):229–235

Matvienko YG, Vasil'ev IE, Ivanov VI, Elizarov SV (2016) Acoustic-emission evaluation of the process of destruction of a composite material under tensile, compression, and cyclic loads. Russ J Nondestruct Test 52(8):443–456

Pucinotti R (2015) Reinforced concrete structure: non destructive in situ strength assessment of concrete. Constr Build Mater 75:331–341

Qasrawi HY (2000) Concrete strength by combined nondestructive methods simply and reliably predicted. Cem Concr Res 30(5):739–746

Sadowski Ł (2015) Non-destructive identification of pull-off adhesion between concrete layers. Autom Constr 57:146–155

Schabowicz K (2014) Ultrasonic tomography—the latest nondestructive technique for testing concrete members—description, test methodology, application example. Arch Civ Mech Eng 14(2):295–303

Shariati M, Ramli-Sulong NH, Mohammadmehdiarabnejad KH, Shafigh P, Sinaei H (2011) Assessing the strength of reinforced concrete structures through ultrasonic pulse velocity and schmidt rebound hammer tests. Sci Res Essays 6(1):213–220

Shariq M, Prasad J, Masood A (2013) Studies in ultrasonic pulse velocity of concrete containing GGBFS. Constr Build Mater 40:944–950

Şimşek O (2009) Beton ve Beton Teknolojisi (3. baskı). Seçkin Yayıncılık, Ankara

Simsek O (2011) Beton Bileşenleri ve Beton Deneyleri (4. baskı). Seçkin Yayıncılık, Ankara

Sudakova MS, Kalashnikov AY, Terent'eva EB (2016) Studying the possibilities of georadar tomography in searching for air cavities in engineering constructions. Russ J Nondestruct Test 52(9):520–527

Taillet E, Lataste JF, Rivard P, Denis A (2014) Non-destructive evaluation of cracks in massive concrete using normal dc resistivity logging. NDT&E Int 63:11–20

Tanigawa Y, Baba K, Mori H (1984) Estimation of concrete strength by combined non-destructive testing method. ACI Spec Publ 82:57–76

Torres-Luque M, Bastidas-Arteaga E, Schoefs F, Sánchez-Silva M, Osma JF (2014) Non-destructive methods for measuring chloride ingress into concrete: state-of-the-art and future challenges. Constr Build Mater 68:68–81

Turan M, Tanrıkulu MA (2013) Hasarsız deney yöntemleri ile beton kalitesinin belirlenmesi. Dumlupınar Üniversitesi Fen Bilimleri Enstitüsü Dergisi 32:41–56

Uyanık O, Tezcan S (2012) Beton Dayanımının Ultrasonik Yöntemle Tayini. Jeofizik Bülteni 23(70):41–45

Villain G, Balayssac JP, Garnier V, Piwakowski B, Salin J, Fardeau V, et al. (2014, July) Comparison of durability indicators obtained by non destructive testing methods to monitor the durability of concrete structures. In: EWSHM-7th European workshop on structural health monitoring. France

Yüksel İ (1995) Bileşik Yıkıntısız Beton Deneyleri ile Beton Mukavemetinin Belirlenmesi ve Betonarme Bir Yapıda Uygulanması. Yüksek Lisans Tezi, Yıldız Teknik Üniversitesi, İstanbul
Acknowledgements
We thank two anonymous referees for their constructive criticism. This study is derived from a part of the master's thesis of the author named Şebnem Karahan. This research was financially supported by the Çanakkale Onsekiz Mart University, Directorate of Research Fund (Project code: 2012/011)
About this article
Cite this article
Karahan, Ş., Büyüksaraç, A. & Işık, E. The Relationship Between Concrete Strengths Obtained by Destructive and Non-destructive Methods. Iran J Sci Technol Trans Civ Eng 44, 91–105 (2020). https://doi.org/10.1007/s40996-019-00334-3
Received:

Accepted:

Published:

Issue Date:
Keywords
Concrete quality

NDT methods

Destructive methods

Ultrasonic pulse velocity

Schmidt rebound hammer

Building penetration radar