Abstract
Mature cystic teratoma (MCT) is one of the commonest germ cell neoplasms of the ovary, but only 1–2% gets transformed into a malignant neoplasm. Amongst these, squamous cell carcinoma and adenocarcinoma are most commonly documented in the literature. The development of transitional cell carcinoma is exceptionally uncommon, and only eight cases have been reported in the literature till date as per our knowledge. Here, we report a case of transitional cell carcinoma arising in a dermoid cyst of right ovary in a 48-year-old woman who presented with history of abdominal mass since 3–4 months. Grossly, the ovary was cystic. Microscopically, the cyst wall revealed classic features of MCT and papillary fronds at one place showing features of papillary transitional cell carcinoma (TCC). IHC showed positivity for CK7 and CK20 and negativity for WT-1. When TCC is found as a component of MCT, the origin of the carcinoma should be evaluated.
This is a preview of subscription content, log in to check access.
Access options
Buy single article
Instant access to the full article PDF.
US$ 39.95
Price includes VAT for USA
Subscribe to journal
Immediate online access to all issues from 2019. Subscription will auto renew annually.
US$ 99
This is the net price. Taxes to be calculated in checkout.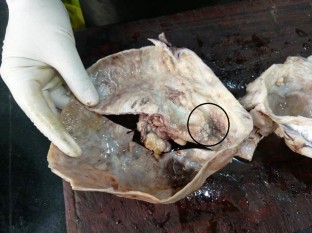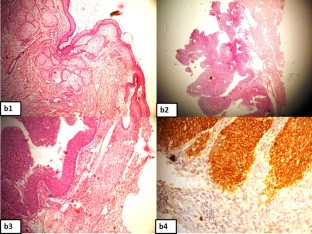 References
1.

Kurman RJ, Carcangiu ML, Herrington CS, Young HS, editors. WHO classification of tumours of female reproductive organs. Lyon: IARC; 2014.

2.

Dasgupta S, Bose D, Bhattacharyya NK, Biswas PK. Mature cystic teratoma with malignant transformation of teratomatous urothelial cells: rare case presentation. Clin Cancer Investig J. 2015;4:534–6.

3.

Chuang HY, Chen YT, Mac TL, Chen YC, Chen HS, Wang WS, Tsai EM. Urothelial carcinoma arising from an ovarian mature cystic teratoma. Taiwan J Obstet Gynecol. 2015;54(4):442–4.

4.

Mathew MR, Ramdas A, Kurian SS, Kuruvilla L, Singh N. A rare malignant transformation of an ovarian cystic teratoma: a case report. Case Rep Pathol. 2018. https://doi.org/10.1155/2018/6892783.

5.

Lee OJ, Lee HC. Urothelial (transitional cell) carcinoma arising in mature cystic teratoma: a case report. Korean J Pathol. 2010;44(6):666–9.

6.

Lee HH, Shim JY, Lee C. A case of papillary transitional cell carcinoma arising from the benign cystic teratoma of ovary. Korean J Obstet Gynecol. 1999;42:1123–6.

7.

Iwasa A, Oda Y, Kaneki E, Ohishi Y, Kurihara S, Yamada T, Hirakawa T, Wake N, Tsuneyoshi M. Squamous cell carcinoma arising in mature cystic teratoma of the ovary: an immunohistochemical analysis of its tumorigenesis. Histopathology. 2007;51(1):98–104.

8.

Kikkawa F, Nawa A, Tamakoshi K, Ishikawa H, Kuzuya K, Suganuma N, Hattori S, Furui K, Kawai M, Arii Y. Diagnosis of squamous cell carcinoma arising from mature cystic teratoma of the ovary. Cancer. 1998;82(11):2249–55.

9.

Al-Rayyan ES, Duqoum WJ, Sawalha MS, Nascimento MC, Pather S, Dalrymple CJ, Carter JR. Secondary malignancies in ovarian dermoid cyst. Saudi Med J. 2009;30(4):524–8.

10.

Li W, Liang Y, Deavers MT, Kamat AM, Matin SF, Dinney CP, Czerniak B, Guo CC. Uroplakin II is a more sensitive immunohistochemical marker than uroplakin III in urothelial carcinoma and its variants. Am J Clin Pathol. 2014;142(6):864–71.
Ethics declarations
Conflict of interest
The authors declare that they have no conflict of interest.
Additional information
Publisher's Note
Springer Nature remains neutral with regard to jurisdictional claims in published maps and institutional affiliations.
About this article
Cite this article
Deshmukh, A.V., Shivkumar, V.B., Fulzele, N.V. et al. Transitional Cell Carcinoma arising in Ovarian Cystic Teratoma: A Rare Case Report. Indian J Gynecol Oncolog 18, 31 (2020). https://doi.org/10.1007/s40944-020-0374-2
Received:

Accepted:

Published:
Keywords
Mature cystic teratoma

Ovarian neoplasm

Transitional cell carcinoma