Abstract
Purpose
Ovarian cancer is one of the common gynecological cancers with high mortality rates. The study was conducted to know prevalence, histopathological variants, presentation and outcome in women with ovarian tumors.
Methods
Present study was conducted in Obstetrics and Gynecology department of rural tertiary center over one year (December 2017–November 2018) on women with unilateral/bilateral ovarian masses fulfilling inclusion criteria. Demographic features including age, parity, nature, laterality and histopathological variants were analyzed and compared. Statistical analysis was done using SPSS 20.0 version software.
Results
Of 122 cases, 49 (40.2%) had benign tumors, 05 (4.1%) borderline, 64 (52.5%) primary malignant tumors and 04 (3.3%) secondary metastatic deposits. Majority of the women (60.3%) with malignant tumors presented at stage II/III. Most of the women (89.8%) with benign tumors had unilateral lesions, and 64.1% women with malignant tumors had bilateral masses (p < 0.05). Both benign (59.1%) and malignant (87.0%) unilateral ovarian masses were more common on right. CA125 was significantly higher in women with malignant tumors as compared to benign (p = 0.024) and borderline tumors (p = 0.386). On histopathological examination, most common malignant ovarian tumor was serous cystadenocarcinoma (39.1%) and in benign mature teratomas (42.9%). Diabetes mellitus was significantly associated with malignant ovarian tumors (p = 0.016).
Conclusion
Epithelial ovarian tumors were most common malignant tumors and mature teratomas most common benign tumors. Ovarian malignancies present at advanced stage and have high mortality.
This is a preview of subscription content, log in to check access.
Access options
Buy single article
Instant unlimited access to the full article PDF.
US$ 39.95
Price includes VAT for USA
Subscribe to journal
Immediate online access to all issues from 2019. Subscription will auto renew annually.
US$ 99
This is the net price. Taxes to be calculated in checkout.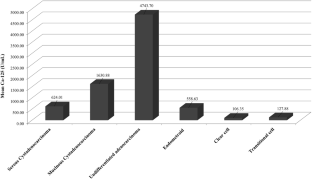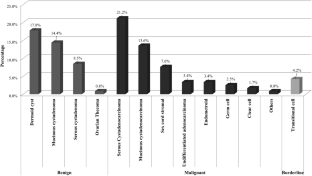 References
1.

Bray F, Ferlay J, Soerjomataram I, Siegel RL, Torre LA, Jemal A. Global cancer statistics 2018: GLOBOCAN estimates of incidence and mortality worldwide for 36 cancers in 185 countries. CA Cancer J Clin. 2018;68(6):394–424. https://doi.org/10.3322/caac.21492.

2.

Global Trends in Incidence, Mortality and Survival. The World ovarian cancer coalition atlas. 2018. https://worldovariancancercoalition.org. Accessed 2018/10.

3.

American Cancer Society. Key statistics for ovarian cancer. 2019. https://www.cancer.org/cancer/ovarian-cancer/about/key-statistics.html. Accessed 8 Jan 2019.

4.

Siegel RL, Miller KD, Jemal A. Cancer statistics 2018. CA Cancer J Clin. 2018;68(1):7–30. https://doi.org/10.3322/caac.21442.

5.

Umakanthan S, Chattu VK, Kalloo S. Global epidemiology, risk factors, and histological types of ovarian cancers in Trinidad. J Family Med Prim Care. 2019;8(3):1058–64. https://doi.org/10.4103/jfmpc.jfmpc_384_18.

6.

Kurman RJ, Carcangiu ML, Herrington CS, Young RH, editors. WHO classification of tumours of female reproductive organs. 4th ed. Geneva: WHO; 2014.

7.

Takiar R. Status of ovarian cancer in India (2012–14). EC Gynaecol. 2019;8(5):358–64.

8.

NCRP Report. Three year report of population based cancer registries 2012–14. National Cancer Registry Program, Indian Council of Medical Research, 2016.

9.

Sharma DC. Cancer data in India show new patterns. Lancet Oncol. 2016;17(7):e272. https://doi.org/10.1016/S1470-2045(16)30202-9.

10.

Prat J. New insights into ovarian cancer pathology. Ann Oncol. 2012;23(Suppl 10):x111–x117 (PubMed PMID: 22987944).

11.

Feeley KM, Wells M. Precursor lesions of ovarian epithelial malignancy. Histopathology. 2001;38(2):87–95.

12.

Matz M, Coleman MP, Sant M, Chirlaque MD, Visser O, Gore M, the CONCORD Working Group, et al. The histology of ovarian cancer: worldwide distribution and implications for international survival comparisons (CONCORD-2). Gynecol Oncol. 2017;144(2):405–13. https://doi.org/10.1016/j.ygyno.2016.10.019.

13.

Antovska VS, Trajanova M, Krstevska I, Gosheva I, Chelebieva J, Prodanova I. Ovarian strumal carcinoid tumour: case report. Open Access Maced J Med Sci. 2018;6(3):540–3. https://doi.org/10.3889/oamjms.2018.138.

14.

Chandanwale SS, Jadhav R, Rao R, Naragude P, Bhamnikar S, Ansari JN. Clinicopathologic study of malignant ovarian tumors: a study of fifty cases. Med J DY Patil Univ. 2017;10:430–7.

15.

Wasim T, Majrroh A, Siddiq S. Comparison of clinical presentation of benign and malignant ovarian tumours. J Pak Med Assoc. 2009;59(1):18–211 (PubMed PMID: 19213371).

16.

Gupta N, Yadav M, Gupta V, Chaudhary D, Patne SCU. Distribution of various histopathological types of ovarian tumors: A study of 212 cases from a tertiary care center of Eastern Uttar Pradesh. J Lab Phys. 2019;11(1):75–81. https://doi.org/10.4103/JLP.JLP_117_18.

17.

Thakkar NN, Shah SN. Histopathological study of ovarian lesions. Int J Sci Res. 2015;4(10):1745–9.

18.

Modepalli N, Venugopal SB. Clinicopathological study of surface epithelial tumours of the ovary: an institutional study. J Clin Diagn Res. 2016;10(10):EC01–EC04 (Epub 2016 Oct 1. PubMed PMID: 27891341; PubMed Central PMCID: PMC5121679).

19.

Gupta N, Bisht D, Agarwal AK, Sharma VK. Retrospective and prospective study of ovarian tumours and tumour-like lesions. Indian J Pathol Microbiol. 2007;50(3):525–7 (PubMed PMID: 17883123).

20.

Andrews L, Mutch DG. Hereditary ovarian cancer and risk reduction. Best Pract Res Clin Obstet Gynaecol. 2017;41:31–48. https://doi.org/10.1016/j.bpobgyn.2016.10.017.

21.

Reid BM, Permuth JB, Sellers TA. Epidemiology of ovarian cancer: a review. Cancer Biol Med. 2017;14(1):9–32. https://doi.org/10.20892/j.issn.2095-3941.2016.0084.

22.

Chornokur G, Amankwah EK, Schildkraut JM, Phelan CM. Global ovarian cancer health disparities. Gynecol Oncol. 2013;129(1):258–64. https://doi.org/10.1016/j.ygyno.2012.12.016.

23.

Mohammadian M, Ghafari M, Khosravi B, et al. Variations in the incidence and mortality of ovarian cancer and their relationship with the human development index in European Countries in 2012. Biomed Res Ther. 2017;4(08):1541–57. https://doi.org/10.15419/bmrat.v4i08.228.

24.

Momenimovahed Z, Tiznobaik A, Taheri S, Salehiniya H. Ovarian cancer in the world: epidemiology and risk factors. Int J Womens Health. 2019;11:287–99. https://doi.org/10.2147/IJWH.S197604 (PubMed PMID:31118829; PubMed Central PMCID: PMC6500433).

25.

Mankar DV, Jain GK. Histopathological profile of ovarian tumours: a twelve-year institutional experience. Muller J Med Sci Res. 2015;6:107–11.

26.

Pilli GS, Suneeta KP, Dhaded AV, Yenni VV. Ovarian tumours: a study of 282 cases. J Indian Med Assoc. 2002;100(7):420, 423–4, 447 (PubMed PMID: 12674165).

27.

Mondal SK, Banyopadhyay R, Nag DR, Roychowdhury S, Mondal PK, Sinha SK. Histologic pattern, bilaterality and clinical evaluation of 957 ovarian neoplasms: a 10-year study in a tertiary hospital of eastern India. J Cancer Res Ther. 2011;7(4):433–7. https://doi.org/10.4103/0973-1482.92011.

28.

Maheshwari A, Kumar N, Mahantshetty U. Gynecological cancers: a summary of published Indian data. South Asian J Cancer. 2016;5(3):112–20. https://doi.org/10.4103/2278-330X.187575.

29.

Chen X, Zhang J, Cheng W, Chang DY, Huang J, Wang X, et al. CA-125 level as a prognostic indicator in type I and type II epithelial ovarian cancer. Int J Gynecol Cancer. 2013;23(5):815–22. https://doi.org/10.1097/IGC.0b013e31828f7a24.

30.

Lee JY, Jeon I, Kim JW, Song YS, Yoon JM, Park SM. Diabetes mellitus and ovarian cancer risk: a systematic review and meta-analysis of observational studies. Int J Gynecol Cancer. 2013;23(3):402–12. https://doi.org/10.1097/IGC.0b013e31828189b2.

31.

Wang L, Wang L, Zhang J, Wang B, Liu H. Association between diabetes mellitus and subsequent ovarian cancer in women: a systematic review and meta-analysis of cohort studies. Medicine (Baltimore). 2017;96(16):e6396. https://doi.org/10.1097/MD.0000000000006396.

32.

Gapstur SM, Patel AV, Diver WR, Hildebrand JS, Gaudet MM, Jacobs EJ, et al. Type II diabetes mellitus and the incidence of epithelial ovarian cancer in the cancer prevention study-II nutrition cohort. Cancer Epidemiol Biomark Prev. 2012;21(11):2000–5. https://doi.org/10.1158/1055-9965.EPI-12-0867.

33.

Lambe M, Wigertz A, Garmo H, Walldius G, Jungner I, Hammar N. Impaired glucose metabolism and diabetes and the risk of breast, endometrial, and ovarian cancer. Cancer Causes Control. 2011;22(8):1163–71. https://doi.org/10.1007/s10552-011-9794-8.
Acknowledgement
I thank Dr. Namit Kant Singh for his advice and constant support.
Funding
This study did not receive any specific grant from funding agencies in the public, commercial or not-for-profit sectors.
Ethics declarations
Conflict of interest
The authors declare that they have no conflict of interest.
Ethical Approval
All procedures performed in the present study involving human participants were in accordance with the ethical standards of the MMIMSR research ethical committee and with the 1964 Helsinki Declaration and its later amendments or comparable ethical standards.
Informed Consent
The present study was conducted after proper informed written consent from the participants in their own language.
Additional information
Publisher's Note
Springer Nature remains neutral with regard to jurisdictional claims in published maps and institutional affiliations.
About this article
Cite this article
Kumar, N., Yadav, A. & Kaur, H. Histopathological Variants of Ovarian Tumors and Their Presentation in Rural Tertiary Care Center of Northern India: An Observational Study. Indian J Gynecol Oncolog 18, 22 (2020) doi:10.1007/s40944-020-0370-6
Received:

Revised:

Accepted:

Published:
Keywords
Benign

Malignancy

Menstrual cycle

Ovary

Tumors