Monocyte Modulation by Liposomal Alendronate Improves Cardiac Healing in a Rat Model of Myocardial Infarction
Part of the following topical collections:
Abstract
The ischemic injury in acute myocardial infarction (AMI) activates the innate immunity response in two consecutive phases. Classical monocytes (CM) accumulate in the inflammatory phase (first 3 days), and non-classical monocytes (NCM) accumulate in the reparatory phase (4–7 days). We hypothesized that inhibition of monocytes at the second phase post-AMI will lead to better healing by reducing myocardial damage and consequently improve heart function. We examined the effect of monocyte modulation on cardiac healing following MI injury in rats by nano-sized alendronate liposomes (LipAln) treatment. Rats were treated with intravenous (IV) LipAln, on days 5, 7, and 9 after ligation of the left anterior descending artery (LAD). Circulating monocyte levels were reduced after the first LipAln injection, and two peripheral blood monocyte subsets, CM and NCM, were sequentially mobilized after MI. Two weeks after MI, a reduction in infarct size was observed and cardiac function was improved in LipAln-treated rats (fractional shortening of 32.2% ± 1.9% and 26.0% ± 1.3%, for LipAln and saline treated rats, respectively, p < 0.05). This improvement was further corroborated by increased cardiac anti-inflammatory cytokine expression and reduced levels of pro-inflammatory cytokines. In conclusion, LipAln treatment during the second phase after MI improves cardiac healing.
Lay Abstract
Myocardial infarction (MI) occurs when coronary blood flow decreases, causing damage to the heart muscle. Consequently, the body sends cells called monocytes/macrophages as part of a reparatory-inflammatory response. We hypothesized that altering a specific step in the inflammatory process, which the heart utilizes to heal itself, could result in improved heart function. Using a unique drug delivery system of nano-sized particles called liposomes, in which a molecule (bisphosphonate) that is toxic to monocytes is embedded, we successfully altered the inflammatory process, in a rat model of MI. resulting in improved heart function.
The novel technology reported in this issue celebrating Robert Langer's birthday is directly linked to my previous work with Bob. As Bob's postdoc at MIT (1984–1986), our group developed heart valve anti-calcification implantable drug delivery systems, which contain a bisphosphonate. His guidance and mentorship then, and to this day, are of great importance. I am forever grateful for his continued contribution.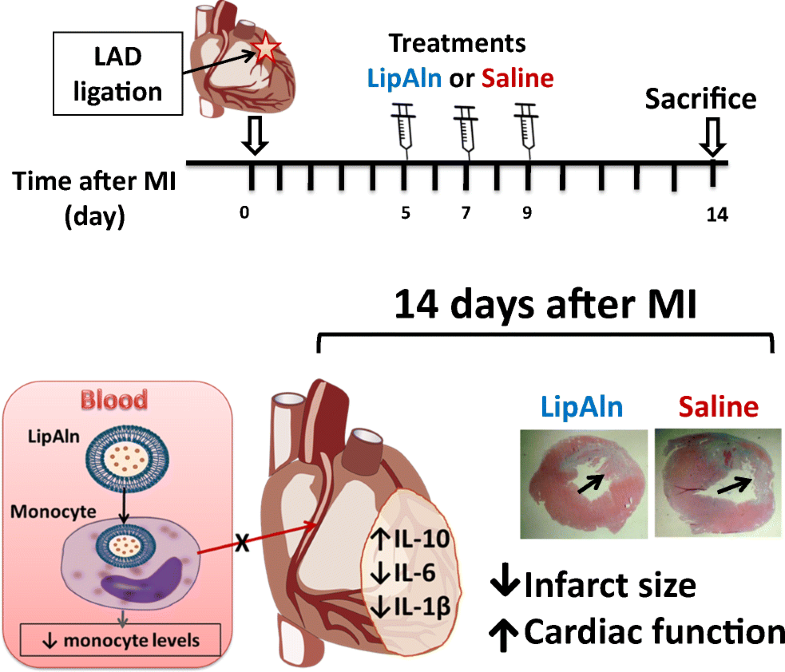 Keywords
Myocardial infarction 
Drug delivery 
Liposomes 
Alendronate 
Monocytes 
Cytokines 
Notes
Funding Information
This study was supported in part by Biorest Ltd., Tel Aviv, Israel (GG and HD). GG is grateful to the Woll Sisters and Brothers Chair in Cardiovascular Diseases.
Compliance with Ethical Standards
Conflict of Interest
GG, HD, and IR have a financial stake in Biorest Ltd.; EG, MG, AE, and AO declare that they have no conflict of interest.
Ethical Approval
All procedures performed in studies involving animals were in accordance with the ethical standards of the institution or practice at which the studies were conducted.
Copyright information
© The Regenerative Engineering Society 2019