Abstract
Tomato chlorosis virus (ToCV), transmitted by whiteflies, is an important virus that infect tomato plants worldwide. The incidence of ToCV in tomato crops in Brazil is usually high, especially in the Distrito Federal and the state of Goiás, in the central part of the country. We conducted a survey in central Brazil to detect natural infections of ToCV in weeds near tomato plants with typical criniviral symptoms to determine the possible causes of its high incidence. We also conducted an experimental host range study using a Brazilian ToCV isolate, ToCV-BR. ToCV was only detected in three out of 19 weed species collected under natural conditions: Solanum americanum, Nicandra physaloides and Amaranthus viridis. Although these species are the most important weeds, occurring at high frequencies associated with tomato crops in Brazil, the number of weed species infected by ToCV was low in the vicinity of tomato fields. In experimental trials of whitefly (Bemisia tabaci) transmission, the ToCV-BR isolate infected 10 out of 50 plant species tested. The natural abundance of both whiteflies and ToCV-susceptible plants in the field throughout the year may affect the incidence of ToCV in tomato in central Brazil.
This is a preview of subscription content, log in to check access.
We're sorry, something doesn't seem to be working properly.
Please try refreshing the page. If that doesn't work, please contact support so we can address the problem.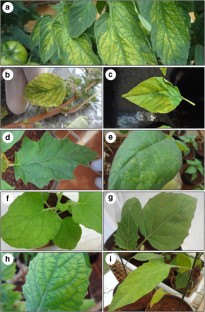 References
Albuquerque LC, Villanueva F, Resende RO, Navas-Castillo J, Barbosa JC, Inoue-Nagata AK (2013) Molecular characterization reveals Brazilian Tomato chlorosis virus to be closely related to a Greek isolate. Tropical Plant Pathology 38:332–336

Barbosa JC, Teixeira APM, Moreira AG, Camargo LEA, Bergamin Filho A, Kitajima EW, Rezende J (2008) First report of Tomato chlorosis virus infecting tomato crops in Brazil. Plant Disease 92:1709

Barbosa JC, Costa H, Gioria R, Rezende JAM (2011) Occurrence of Tomato chlorosis virus in tomato crops in five Brazilian states. Tropical Plant Pathology 36:256–258

Bosco D, Loria A, Sartor C, Cenis JL (2006) PCR-RFLP identification of Bemisia tabaci biotypes in the Mediterranean basin. Phytoparasitica 34:243–251

Dovas CI, Katis NI, Avgelis AD (2002) Multiplex detection of criniviruses associated with epidemics of a yellowing disease of tomato in Greece. Plant Disease 86:1345–1349

Fariña AE, Rezende JAM, Wintermantel WM (2019) Expanding knowledge of the host range of Tomato chlorosis virus and host plant preference of Bemisia tabaci MEAM1. Plant Disease online 103:1132–1137

Fortes IM, Navas-Castillo J (2012) Potato, an experimental and natural host of the crinivirus Tomato chlorosis virus. European Journal of Plant Pathology 134:81–86

Fortes IM, Moriones E, Navas-Castillo J (2012) Tomato chlorosis virus in pepper: prevalence in commercial crops in southeastern Spain and symptomatology under experimental conditions. Plant Pathology 61:994–1001

Frohlich DR, Torres-Jerez II, Bedford ID, Markham PG, Brown JK (1999) A phylogeographical analysis of the bemisia tabaci species complex based on mitochondrial DNA markers. Molecular Ecology 8:1683–1691

Junqueira AH, Peets MS (2002) Os pólos de produção de flores e plantas ornamentais do Brasil: uma análise do potencial exportador. Revista Brasileira de Horticultura Ornamental 18:25–47

Khaing AA, Moe KT, Chung JW, Baek HJ, Park YJ (2013) Genetic diversity and population structure of the selected core set in a maranthus using SSR markers. Plant Breeding 132:165–173

Kil EJ, Lee YJ, Cho S, Auh CK, Kim D, Lee KY, Kim MK, Choi HS, Kim CS, Lee S (2015) Identification of natural weed hosts of Tomato chlorosis virus in Korea by RT-PCR with root tissues. European Journal of Plant Pathology 142:419–426

Macedo MA, Barreto SS, Hallwass M, Inoue-Nagata AK (2014) High incidence of Tomato chlorosis virus alone and in mixed infection with begomoviruses in two tomato fields in the Federal District and Goiás state, Brazil. Trop Plant Pathol 29:449–452

Macedo MA, Inoue-Nagata AK, Silva TNZ (2019) Temporal and spatial progress of the diseases caused by the crinivirus Tomato chlorosis virus and the begomovirus Tomato severe rugose virus in tomatoes in Brazil. Plant Pathology 68:1–84

Muñiz M (2000) Host suitability of two biotypes of Bemisia tabaci on some common weeds. Entomologia Experimantalis et Applicata 95:63–70

Navas-Castillo J, Fiallo-Olivé E, Sánchez-Campos S (2011) Emerging virus diseases transmitted by whiteflies. Annual Review of Phytopathology 49:219–248

Souza TA, Macedo MA, Inoue-Nagata AK (2019) Natural infection of apple-of-Peru (Nicandra physaloides) with tomato Chlorosis virus in Brazil. Plant Disease 103:593–593

Tzanetakis IE, Martin RR, Wintermantel W (2013) Epidemiology of criniviruses: an emerging problem in world agriculture. Frontiers in Microbiology 4:119

Wintermantel WM, Wisler GC (2006) Vector specificity, host range, and genetic diversity of Tomato chlorosis virus. Plant Disease 90:814–819
Acknowledgements
The authors are grateful to Erich Y.T. Nakasu, Lucio F. Barbosa, and Hamilton J. Lourenço for technical assistance, and to Jorge A.M. Rezende and Julio C. Barbosa for providing the isolate of tomato chlorosis virus used for the host range study. This study had the support of grants from Embrapa, CNPq and FAP-DF. A.K.I.N. is a CNPq fellow.
Ethics declarations
Conflict of interest
On behalf of all authors, the corresponding author states that there is no conflict of interest.
Additional information
Publisher's note
Springer Nature remains neutral with regard to jurisdictional claims in published maps and institutional affiliations.
About this article
Cite this article
Souza, T.A., Macedo, M.A., Albuquerque, L.C. et al. Host range and natural infection of tomato chlorosis virus in weeds collected in Central Brazil. Trop. plant pathol. (2020). https://doi.org/10.1007/s40858-019-00323-x
Received:

Accepted:

Published:
Keywords
ToCV

Whitefly-transmission

Weeds

Epidemiology