CuO/Zn-CeO2 Nanocomposite as an Efficient Catalyst for Enhanced Diesel Soot Oxidation
Special Issue: In Recognition of Professor Wolfgang Grünert's Contributions to the Science and Fundamentals of Selective Catalytic Reduction of NOx
Abstract
Development of non-noble metal catalysts with improved structural, surface, and redox properties for catalytic soot oxidation has gained an enormous interest. Among practical alternatives, ceria-supported transition metal oxides have been proved to be the satisfactory catalysts for soot oxidation due to their outstanding redox properties and oxygen transfer capability promoted by the strong interaction between metal oxide and ceria interfaces. Following the above considerations, in the present work, CuO/Zn-CeO2 nanocomposite was prepared by a wet impregnation method and investigated for catalytic soot oxidation. To probe the significance of nanocomposites, pure counterparts, namely, CuO/CeO2, CuO/ZnO, and Zn-CeO2, were also synthesized. Various characterization techniques, namely, TEM-HRTEM, N2O chemisorption, XRD, ICP-OES, BET, Raman, XPS, and H2-TPR, were employed to investigate the structural, surface, and redox properties. Pure CuO/ZnO and CuO/CeO2 catalysts showed a soot oxidation activity with a T50 of 613 and 526 °C, respectively, under the practical conditions of NO concentration of 500 ppm and 20% O2. Interestingly, the CuO/Zn-CeO2 nanocomposite exhibited a remarkable higher soot oxidation activity with a T50 of 460 °C. The enhancement in the soot oxidation activity has been attributed to a strong interaction between the highly dispersed CuO and Zn-CeO2 support, which resulted in the desired textural properties and abundant surface defects (Ce3+ species as well as oxygen vacancies). In addition, the long-term stability test verifies an excellent reusability of the CuO/Zn-CeO2 nanocomposite towards soot oxidation without appreciable loss in the activity. The present study demonstrates the significance of ceria-based nanocomposite catalysts for environmental pollutant abatement.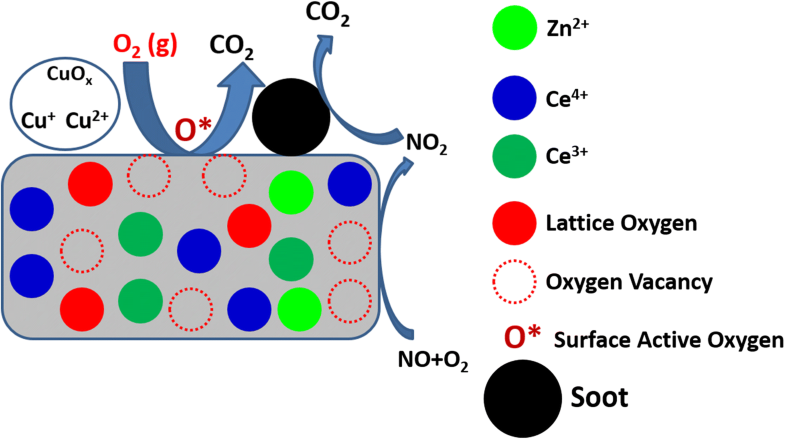 Keywords
CuO/Zn-CeO2 nanocomposite 
Ceria 
CuO dispersion 
Oxygen vacancies 
Soot oxidation 
Notes
Acknowledgements
P.V. gratefully thanks the Science and Engineering Research Board (SERB) (No. EMR/2016/001533), Department of Science and Technology (DST), New Delhi, for Research Associateship. B.M.R. thanks the Department of Atomic Energy (DAE), Mumbai, for the award of Raja Ramanna Fellowship. The authors acknowledge the facilities and the scientific and technical assistance of the RMIT Microscopy & Microanalysis Facility (RMMF), a linked laboratory of Microscopy Australia.
Compliance with Ethical Standards
Conflict of Interest
The authors declare that they have no competing interests.
Copyright information
© Springer Nature Switzerland AG 2019