Abstract
The inhibitive action of Cerumium rubrum extract against the corrosion of Al in a 1-M HCl environment was examined using conventional electrochemical and chemical methods. The results indicate that the extract exhibited excellent anticorrosive properties of aluminum in HCl reaching approximately 86.2% at 300 ppm at 318 K. It obeys the Langmuir adsorption isotherm. Polarization curves indicate that the extract acts as a mixed-type inhibitor. Moreover, the kinetic and thermodynamic parameters for the corrosion reaction were estimated and debated. The covering film established by the extract was checked by several techniques. All techniques gave similar results.
This is a preview of subscription content, log in to check access.
Access options
Buy single article
Instant access to the full article PDF.
US$ 39.95
Price includes VAT for USA
Subscribe to journal
Immediate online access to all issues from 2019. Subscription will auto renew annually.
US$ 99
This is the net price. Taxes to be calculated in checkout.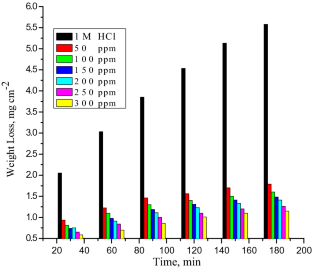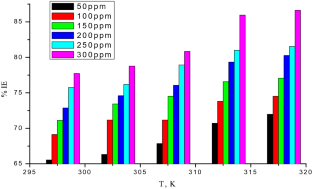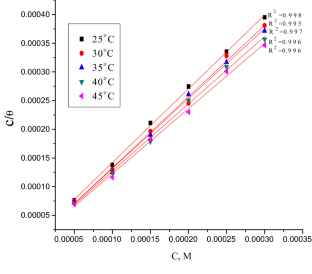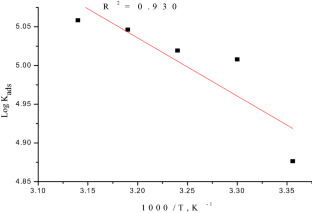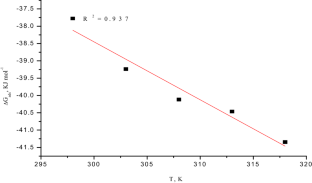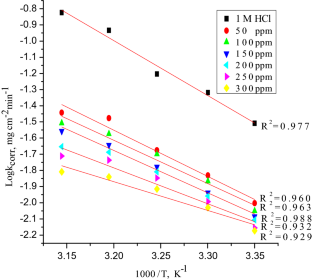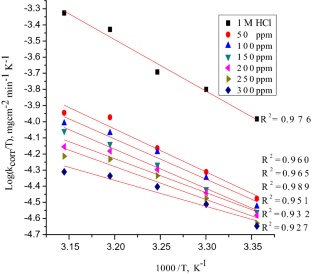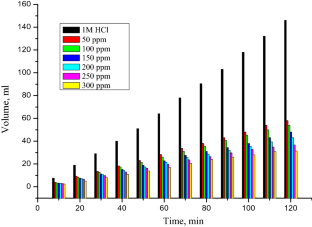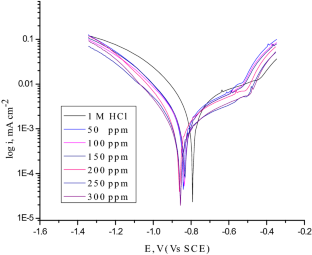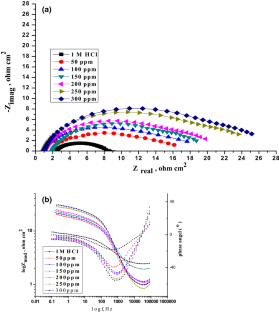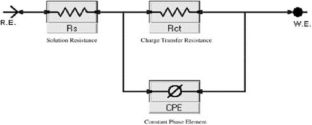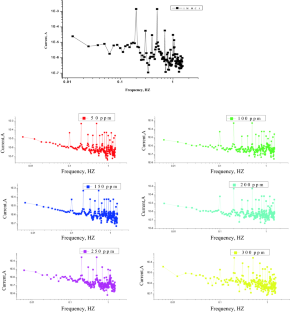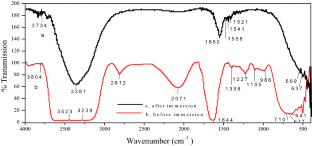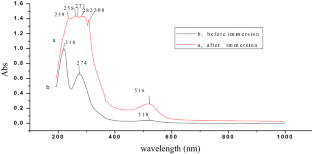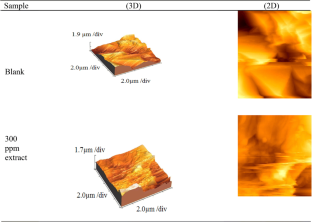 References
1.

Kasuga B, Park E, Machunda RL (2018) Inhibition of Al corrosion using carica papaya leaves extract in sulphuric acid. JMMCE 6:1–14

2.

Raghavendra N, Bhat JI (2018) Protection of Al metal in 0.5 M HCl environment by mature arecanut seed extracts: a comparative study by chemical, electrochemical and surface probe screening techniques. J Phys Sci 29(1):77–99

3.

Narasimha R, Jathi IB (2018) Red arecanut seed extract as a sustainable corrosion inhibitor for Al submerged in acidic corrodent: an experimental approach towards zero environmental impact. Period Polytech Chem Eng 62(3):351–358

4.

Raghavendra N, Hublikar LV, Patil SM, Ganiger PJ, Bhinge AS (2019) Efficiency of sapota leaf extract against Al corrosion in a 3 M sodium hydroxide hostile fluid atmosphere: a green and sustainable approach. Bull Mater Sci 42(226):1–11

5.

Fouda AS, Etaiw SH, Hammouda M (2017) Corrosion Inhibition of Al in 1 M H2SO4 by Tacoma non-aqueous extract. J Bio Tribo-Corros 3(3):3–29

6.

Abakedi OU (2017) Al corrosion inhibition by Microdesmis puberula leaf extract in 2 M HCl solution. Int J Inno Sci Eng Tech Res 5(3):6–14

7.

Mary AC, Suruthi KS (2018) Chrysanthemum flower extract as a green inhibitor for Al corrosion in alkaline medium. Int J Chemtech Res 11(7):37–44

8.

Abdel-Gawad SA, Osman WM, Fekry AM (2019) Characterization and corrosion behavior of anodized Al alloys for military industries applications in artificial seawater. Surf Interfaces 14:314–323

9.

Abdel-Gawad SA, Osman WM, Fekry AM (2019) A development of novel Ni-P coating on anodized Al alloys for military industries applications in artificial sea water. Surf Eng 35(12):1033–1041

10.

Ghoneim AA, Ameer MA, Fekry AM (2012) electrochemical behavior of Al-Si alloy in phosphoric acid containing halogen or oxyhalogen anions. Int J Electrochem Sci 7(7):10851–10864

11.

Raghavendra N, Bhat JI (2018) Anti-corrosion properties of areca palm leaf extract on Al in 0.5 M HCl environment. S Afr J Chem 71:30–38

12.

Ennouri A, Lamiri A, Essahli M (2017) Corrosion inhibition of aluminum in acidic media by different extracts of Trigonellafoenum graecum L. seeds. Port Electrochim Acta 35(5):279–295

13.

Olawale O, Ogundipe BJO, Julius S, Abayomi ST (2018) Optimization and modeling of Al corrosion inhibition using almond (Prunus amydgdalus) fruit leaves extract as green inhibitor in HCl acidic medium. IJMET 9(13):1274–1285

14.

James AO, Akaranta O (2009) Corrosion inhibition of aluminum in 2.0 M hydrochloric acid solution by the acetone extract of red onion skin. Afr J Pure Appl Chem 3(12):262–268

15.

El-Azaly AM (2019) Influence of soybean (glycine max) plant extract on corrosion of Al in 1M HCl. Int J Electrochem Sci 14:2714–2731

16.

Imane H, Mohamed E, Abdeslam L (2019) Inhibition of aluminum corrosion in 0.1 M Na2CO3 by Mentha pulegium. Port Electrochim Acta 37(6):335–344

17.

Kumar M, Shankar U (2012) Evaluation of mechanical properties of Al alloy 6061—glass particulates reinforced metal matrix composites. IJMER 2(5):3207–3209

18.

Cochran JF, Mapother DE (1958) Superconducting transition in Al. Phys Rev 111:132–142

19.

Eladio L, Guillen V (2011) Prospective of the Al industry in venezuela and its role in building sustainable future. Ecodiseno & sostinibilidad 3(1):175–191

20.

Polmear IJ (1995) Light alloys: metallurgy of the light metals. 3rd edition. Butterworth-Heinemann, Oxford, pp 1–362.

21.

Singh K, Agrawal KK, Mishra V, Mubeen US, Shokla A (2012) A review on: Thevetia peruviana. Int Res J Pharm 3(4):74–77

22.

Cortés Y, Hormazabal E, Leal H, Urzua A, Mutis A, Parra L, Quiroz A (2014) Novel antimicrobial activity of a dichloromethane extract obtained from red seaweed Ceramium rubrum (Hudson) (Rhodophyta: Florideophyceae) against Yersinia ruckeri and Saprolegnia parasitica, agents that cause diseases in salmonids. Electron J Biotechn 23:126–131

23.

IvanovaI V, Stancheva M, Merdzhanova A (2012) Fatty acids composition of macroalgae from Bulgarian Black Sea coast. OUAESS 23(1):35–40

24.

Pirjol BN, Pirjol TN, Paraschiv G, Bratu M, Sirbu R, Roncea F, Meghea A (2011) Physical-chemical characterization of some green and red macrophyte algae from the Romanian black sea littoral. Sci Study Res 12(2):173–184

25.

Pirjol BN, Pirjol TN, Nastac M, Resteanu A, Sirbu R, Ghassoub R (2009) The marine biomass from black sea coast, composition and characteristics, as an unconventional resource. In European Region Annual Conference Paris-Malmaison, France AAPG pp 103–106

26.

Fouda AS, Abo-Shohba R, Hussien WM, Ahmed ES (2015) Chemical and electrochemical study on the effectively of Melilotus officinalis extract as save corrosion inhibitor for Al in 1 M hydrochloric acid solutions. Glob J Res Eng 15(3):9–24

27.

Song G, Atrens A, Stjohn D (2001) Hydrogen evolution method for the estimation of the corrosion rate of magnesium alloys. In: Mathaudhu SN, Luo AA, Neelameggham NR, Nyberg EA, Sillekens WH (eds) Essential readings in magnesium technology. Springer, Cham, pp 565–572

28.

Ating EI, Umoren SA, Udousoro II, Ebenso EE, Udoh AP (2010) Leaves extract of Ananas sativum as green corrosion inhibitor for Al in hydrochloric acid solutions. Green Chem Lett Rev 3(2):61–68

29.

Adejo SO, Yiase SG, Leke L, Onuche M, Atondo MV, Uzah TT (2019) Corrosion studies of mild steel in sulphuric acid medium by acidimetric method. Int J Corros Scale Inhib 8(1):50–61

30.

Fouda AS, Rashwan SM, Mohammed AE, Ibrahim AM (2017) Salicornia begolovi as eco-friendly corrosion inhibitor for Al in hydrochloric acid solution. Egypt J Chem 60(4):491–505

31.

Nithya A, Shanthy P, Vijaya N, Rathish RJ, Prabha SS, Joany RM, Rajendran S (2015) Inhibition of corrosion of Al by an aqueous extract of Beetroot (Betanin). Int J Nano Corr Sci Eng 2(1):1–11

32.

Fouda AS, El-Taweel FM, Elgamil M (2017) Corrosion inhibition of Al in hydrochloric acid solution using some pyrazolocarbothioamide derivatives. Int J Electrochem Sci 12:11397–11418

33.

Nnaji N, Nwaji N, Mack J, Nyokong T (2019) Corrosion resistance of aluminum against activation: impact of benzothiazole-substituted gallium phthalocyanine. Molecules 24(207):1–22

34.

Fares MM, Maayta AK, Al-Qudah MM (2012) Pectin as promising green corrosion inhibitor of Al in hydrochloric acid solution. Corros Sci 60:112–117

35.

Khadraoui A, Khalifa A, Hachama K, Mehdaoui R (2016) Thymus algeriensis extract as a new eco-friendly corrosion inhibitor for 2024 Al alloy in 1 M HCl medium. J Mol Liq 214:293–297

36.

Abiola KO, Tobunb Y (2010) Cocos nucifera L. water as green corrosion inhibitor for acid corrosion of Al in HCl solution. Chin Chem Lett 21(12):1449–1452

37.

Li X, Deng S (2012) Inhibition effect of Dendrocalamus brandisii leaves extract on Al in HCl and H3PO4 solutions. Corros Sci 65:299–308

38.

Silvère DY, Valery BK, Guy-Richard KM, Augustin O, Albert T (2018) Cefadroxil drug as corrosion inhibitor for Al in 1 M HCl medium: experimental and theoretical studies. JAC 11(4):24–36

39.

Ashassi-S H, Shabani B, Aligholipour B, Seifzadeh D (2006) The effect of some Schiff base on the corrosion of Al in HCl solution. Appl Surf Sci 252:4039–4047

40.

El-Haddad MN, Fouda AS (2015) Electroanalytical, quantum and surface characterization studies on imidazole derivatives as corrosion inhibitors for aluminum in acidic media. J Mol Liq 209:480–486

41.

Villamizar-Suarez W, Malo JM, Matinez-Villafane A, Chacon-Nava JG (2011) Evaluation of corrosion inhibitors performance using real-time monitoring methods. J Appl Electrochem 41:1269–1278

42.

Silberberg MS (2000) Chemistry: the molecular nature of matter and change. 2nd ed, McGraw-Hill, Pennsylvania, pp 785–788.

43.

Rajendran A, Karthikeyan C (2012) The inhibitive effect of extract of flowers of Cassia auriculata in 2 M HCl on the corrosion of Al and mild steel. J Plant Res 2(1):9–14

44.

Arukalam IO, Ijomah NT, Nwanonenyi SC, Obasi HC, Aharanwa BC, Anyanwu PI (2014) Studies on acid corrosion of Al by a naturally occurring polymer (Xanthan gum). IJSER 5(3):663–673

45.

Nithya A, Shanthy P, Vijaya N, Joseph RR, Santhana PS, Joany RM, Rajendran S (2015) Inhibition of corrosion of Al by an aqueous extract of beetroot (Betanin). Int J Nano Corr Sci Eng 2(1):1–11

46.

Singh A, Ahmad I, Quraishi MA (2016) Piper longum extract as green corrosion inhibitor for aluminum in NaOH solution. Arab J Chem 9:S1584–S1589

47.

Bosch RW, Hubrecht J, Bogaerts WF, Syrett BC (2001) Electrochemical frequency modulation: a new electrochemical technique for on-line corrosion. Corrosion 57(1):60–70

48.

Kumar S (2006) Organic chemistry, spectroscopy of organic compounds. Guru Nanak Dev University, Amritsar, pp 1–36
Additional information
Publisher's Note
Springer Nature remains neutral with regard to jurisdictional claims in published maps and institutional affiliations.
About this article
Cite this article
Fouda, A.S., El-shereafy, E.E., Hathoot, A.A. et al. Corrosion Inhibition of Aluminum by Cerumium rubrum Extract in Hydrochloric Acid Environment. J Bio Tribo Corros 6, 37 (2020). https://doi.org/10.1007/s40735-020-0330-9
Received:

Revised:

Accepted:

Published:
Keywords
Corrosion inhibition

Aluminum

HCl

Cerumium rubrum

EFM

EIS