Abstract
Purpose of Review
Commercially available wearable activity and sleep trackers (WAST) have grown in popularity with continuously expanded sensors and algorithm upgrades that purport to measure various biological functions including sleep, blood pressure, physical activity, energy expenditure, pulse rate, and even the electrocardiogram (EKG).
Recent Findings
The wide acceptance of these devices presents a unique opportunity for health care providers to improve care delivery. Recent practice guidelines and studies have attempted to define the role of these consumer-based devices in the practice of sleep medicine. As manufacturers of these devices expand their scope and improve their sensor technology, novel applications and concepts continue to emerge. These applications include better monitoring of health status, impact of medical interventions, and adherence to interventions over prolonged periods of treatment. As more patients become consumers of this technology and engaged in their own health monitoring, these devices will place an added burden on the medical community to incorporate the data safely and effectively into clinical practice and decision-making.
Summary
In this review, we provide a conceptual approach to incorporating these devices into the practice of sleep medicine as it applies to patients with cardiovascular disease. We will incorporate our unique clinical perspective in the OSU Sleep Heart Program, a comprehensive management program of patients with advanced cardiovascular diseases. We will use a broad conceptual approach recognizing that the available data on the commercial devices suffer from the limited number of studies and the continuously developing algorithms and applications.
This is a preview of subscription content, log in to check access.
Access options
Buy single article
Instant access to the full article PDF.
US$ 39.95
Price includes VAT for USA
Subscribe to journal
Immediate online access to all issues from 2019. Subscription will auto renew annually.
US$ 99
This is the net price. Taxes to be calculated in checkout.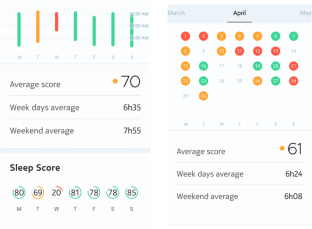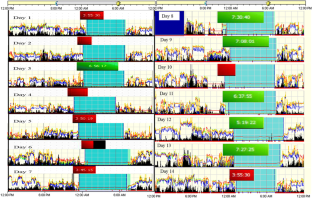 References
Papers of particular interest, published recently, have been highlighted as: • Of importance
1.

• Smith MT, McCrae CS, Cheung J, et al. Use of actigraphy for the evaluation of sleep disorders and circadian rhythm sleep-wake disorders: an American Academy of Sleep Medicine clinical practice guideline. J Clin Sleep Med. 2018;14(7):1231–7. Recent American Academy of Sleep Medicine provides an updated guideline for the use of medical-grade actigraphy in clinical practice. These recommendations may be partially applicable to some consumer-based technologies.

2.

Marino M, Li Y, Rueschman MN, Winkelman JW, Ellenbogen JM, Solet JM, et al. Measuring sleep: accuracy, sensitivity, and specificity of wrist actigraphy compared to polysomnography. Sleep. 2013;36(11):1747–55.

3.

Matthews KA, Patel SR, Pantesco EJ, Buysse DJ, Kamarck TW, Lee L, et al. Similarities and differences in estimates of sleep duration by polysomnography, actigraphy, diary, and self-reported habitual sleep in a community sample. Sleep Health. 2018;4(1):96–103.

4.

Evenson KR, Goto MM, Furberg RD. Systematic review of the validity and reliability of consumer-wearable activity trackers. Int J Behav Nutr Phys Act. 2015;12:159.

5.

Baron KG, Duffecy J, Berendsen MA, Cheung Mason I, Lattie EG, Manalo NC. Feeling validated yet? A scoping review of the use of consumer-targeted wearable and mobile technology to measure and improve sleep. Sleep Med Rev. 2018;40:151–9.

6.

Moreno-Pino F, Porras-Segovia A, Lopez-Esteban P, Artes A, Baca-Garcia E. Validation of Fitbit Charge 2 and Fitbit Alta HR against polysomnography for assessing sleep in adults with obstructive sleep apnea. J Clin Sleep Med. 2019;15(11):1645–53.

7.

• Lee XK, Chee N, Ong JL, et al. Validation of a consumer sleep wearable device with actigraphy and polysomnography in adolescents across sleep opportunity manipulations. J Clin Sleep Med. 2019;15(9):1337–46. This well conducted study compared an over-the-counter WAST with both medical-grade actigraphy and PSG providing a road map for evaluation of emerging technologies and adjudication of manufacturer's claims in specific population.

8.

Lee JM, Byun W, Keill A, Dinkel D, Seo Y. Comparison of wearable trackers' ability to estimate sleep. Int J Environ Res Public Health. 2018;15(6).

9.

Jeon S, Conley S, Redeker NS. Discrepancy between wrist-actigraph and polysomnographic measures of sleep in patients with stable heart failure and a novel approach to evaluating discrepancy. J Sleep Res. 2019;28(2):e12717.

10.

Tedesco S, Sica M, Ancillao A, Timmons S, Barton J, O'Flynn B. Accuracy of consumer-level and research-grade activity trackers in ambulatory settings in older adults. PLoS One. 2019;14(5):e0216891.

11.

St-Onge MP, Grandner MA, Brown D, Conroy MB, Jean-Louis G, Coons M, et al. Sleep duration and quality: impact on lifestyle behaviors and cardiometabolic health: a scientific statement from the American Heart Association. Circulation. 2016;134(18):e367–86.

12.

Choi SJ, Kang M, Sung MJ, Joo EY. Discordant sleep parameters among actigraphy, polysomnography, and perceived sleep in patients with sleep-disordered breathing in comparison with patients with chronic insomnia disorder. Sleep Breath. 2017;21(4):837–43.

13.

Hargens TA, Martin RA, Strosnider CL, Giersch GEW, Womack CJ. Obstructive sleep apnea negatively impacts objectively measured physical activity. Sleep Breath. 2019;23(2):447–54.

14.

Servantes DM, Javaheri S, Kravchychyn ACP, Storti LJ, Almeida DR, de Mello MT, et al. Effects of exercise training and CPAP in patients with heart failure and OSA: a preliminary study. Chest. 2018;154(4):808–17.

15.

Ueno LM, Drager LF, Rodrigues AC, Rondon MU, Braga AM, Mathias W Jr, et al. Effects of exercise training in patients with chronic heart failure and sleep apnea. Sleep. 2009;32(5):637–47.

16.

Iftikhar IH, Kline CE, Youngstedt SD. Effects of exercise training on sleep apnea: a meta-analysis. Lung. 2014;192(1):175–84.

17.

Ancoli-Israel S, Cole R, Alessi C, Chambers M, Moorcroft W, Pollak CP. The role of actigraphy in the study of sleep and circadian rhythms. Sleep. 2003;26(3):342–92.

18.

Lauderdale DS, Knutson KL, Yan LL, Liu K, Rathouz PJ. Self-reported and measured sleep duration: how similar are they? Epidemiology. 2008;19(6):838–45.

19.

Sanchez-Ortuno MM, Edinger JD, Means MK, Almirall D. Home is where sleep is: an ecological approach to test the validity of actigraphy for the assessment of insomnia. J Clin Sleep Med. 2010;6(1):21–9.

20.

Dzierzewski JM, Martin JL, Fung CH, Song Y, Fiorentino L, Jouldjian S, et al. CBT for late-life insomnia and the accuracy of sleep and wake perceptions: results from a randomized-controlled trial. J Sleep Res. 2019;28(4):e12809.

21.

Kang SG, Kang JM, Cho SJ, Ko KP, Lee YJ, Lee HJ, et al. Cognitive behavioral therapy using a mobile application synchronizable with wearable devices for insomnia treatment: a pilot study. J Clin Sleep Med. 2017;13(4):633–40.

22.

Chae KY, Kripke DF, Poceta JS, Shadan F, Jamil SM, Cronin JW, et al. Evaluation of immobility time for sleep latency in actigraphy. Sleep Med. 2009;10(6):621–5.

23.

Martin JL, Hakim AD. Wrist actigraphy. Chest. 2011;139(6):1514–27.

24.

Kapur VK, Auckley DH, Chowdhuri S, Kuhlmann DC, Mehra R, Ramar K, et al. Clinical practice guideline for diagnostic testing for adult obstructive sleep apnea: an American Academy of Sleep Medicine clinical practice guideline. J Clin Sleep Med. 2017;13(3):479–504.

25.

Gagnadoux F, Nguyen XL, Rakotonanahary D, Vidal S, Fleury B. Wrist-actigraphic estimation of sleep time under nCPAP treatment in sleep apnoea patients. Eur Respir J. 2004;23(6):891–5.

26.

Hedner J, Pillar G, Pittman SD, Zou D, Grote L, White DP. A novel adaptive wrist actigraphy algorithm for sleep-wake assessment in sleep apnea patients. Sleep. 2004;27(8):1560–6.

27.

Atalla A, Carlisle TW, Simonds AK, Cowie MR, Morrell MJ. Sleepiness and activity in heart failure patients with reduced ejection fraction and central sleep-disordered breathing. Sleep Med. 2017;34:217–23.

28.

Hetzenecker A, Escourrou P, Kuna ST, Series F, Lewis K, Birner C, et al. Treatment of sleep apnea in chronic heart failure patients with auto-servo ventilation improves sleep fragmentation: a randomized controlled trial. Sleep Med. 2016;17:25–31.

29.

• Tachikawa R, Minami T, Matsumoto T, et al. Changes in habitual sleep duration after continuous positive airway pressure for obstructive sleep apnea. Ann Am Thorac Soc. 2017;14(6):986–93. This study provides valuable information regarding the change in sleep habits and duration following initiation of CPAP therapy in patients with OSA. The study utilized actigraphy to measure the changes in sleep time post CPAP. This approach can guide the use of similar WAST in monitoring treatment effects or adherence following initiation of device or behavioral interventions.

30.

Athavale Y, Krishnan S, Raissi A, et al. Actigraphic detection of periodic limb movements: development and validation of a potential device-independent algorithm. A proof of concept study. Sleep. 2019.

31.

Bianchi MT. Sleep devices: wearables and nearables, informational and interventional, consumer and clinical. Metabolism. 2018;84:99–108.
Ethics declarations
Conflict of Interest
The authors declare that they have no conflict of interest.
Human and Animal Rights and Informed Consent
This article does not contain any studies with human or animal subjects performed by any of the authors.
Additional information
Publisher's Note
Springer Nature remains neutral with regard to jurisdictional claims in published maps and institutional affiliations.
This article is part of the Topical Collection on Heart Disease and Sleep Disturbances
About this article
Cite this article
Sawyer, C., Khayat, R.N. Role of Wearable Technology in the Sleep-Heart Practice—a Conceptual Approach. Curr Sleep Medicine Rep 6, 46–54 (2020). https://doi.org/10.1007/s40675-020-00167-x
Keywords
Actigraphy

Wearable technology

Activity trackers

Sleep apnea