Abstract
Purpose of review
This narrative review highlights recent literature pertaining to pain phenotyping in osteoarthritis (OA) by summarizing recent novel approaches and promising future directions.
Recent findings
We report on four studies in knee OA that have added knowledge regarding longitudinal validation of pain phenotypes constructed with phenotypic domains other than pain that are highly stable over time; the existence of a pain susceptibility phenotype, defined by the presence of sensitivity to pressure pain thresholds and a lack of presence of psychosocial factors; the novelty and importance of movement-evoked pain supporting the association of positive quantitative sensory testing (QST) findings with greater intensity and frequency of spontaneous pain; and the external validation of a chronic pain phenotype in an independent data set that was previously identified by a systematic review. One study of people with hip OA subgrouped participants using daily pain ratings over 6 weeks demonstrating that both intermittent and constant pain are highly present in early stages of the disease, and those with higher pain intensity experience greater variability of pain.
Summary
Collectively these studies have contributed new and important knowledge to our understanding of OA pain phenotypes through longitudinal or external validation, which has been a missing element in the literature. The novel examination of a movement-evoked pain phenotype may provide an avenue to greater understanding of pain variability and its correlates, and with their definitive associations with QST, further supports the importance of a mechanism-based approach to pain assessment.
This is a preview of subscription content, log in to check access.
Access options
Buy single article
Instant access to the full article PDF.
US$ 39.95
Price includes VAT for USA
Subscribe to journal
Immediate online access to all issues from 2019. Subscription will auto renew annually.
US$ 99
This is the net price. Taxes to be calculated in checkout.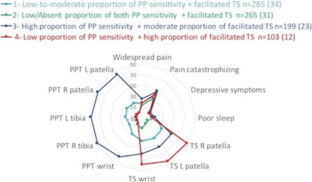 References and Recommended Reading
Papers of particular interest, published recently, have been highlighted as: • Of importance •• Of major importance
1.

Vos T, Abajobir AA, Abate KH, Abbafati C, Abbas KM, Abd-Allah F, et al. Global, regional, and national incidence, prevalence, and years lived with disability for 328 diseases and injuries for 195 countries, 1990-2016: a systematic analysis for the Global Burden of Disease Study 2016. Lancet. 2017;390(10100):1211–59.

2.

Osteoarthritis Research Society International O. Osteoarthritis: a serious disease, Submitted to the U.S. Food and Drug Administration December 1, 2016: OARSI; 2016 [Available from: https://www.oarsi.org/sites/default/files/library/2018/pdf/oarsi_white_paper_oa_serious_disease121416_1.pdf.

3.

Neogi T. The epidemiology and impact of pain in osteoarthritis. Osteoarthr Cartil. 2013;21(9):1145–53.

4.

Loeser RF, Goldring SR, Scanzello CR, Goldring MB. Osteoarthritis: a disease of the joint as an organ. Arthritis Rheumatol (Hoboken, NJ). 2012;64(6):1697–707.

5.

Wikipedia Contributors. Phenotype: Wikipedia the free encyclopedia; 2016 [cited 2019 July 16]. Available from: https://en.wikipedia.org/w/index.php?title=Phenotype&oldid=906563240.

6.

Dell'Isola A, Allan R, Smith SL, Marreiros SS, Steultjens M. Identification of clinical phenotypes in knee osteoarthritis: a systematic review of the literature. BMC Musculoskelet Disord. 2016;17(1):425.

7.

Deveza LA, Melo L, Yamato TP, Mills K, Ravi V, Hunter DJ. Knee osteoarthritis phenotypes and their relevance for outcomes: a systematic review. Osteoarthr Cartil. 2017;25(12):1926–41.

8.

Murphy SL, Lyden AK, Phillips K, Clauw DJ, Williams DA. Subgroups of older adults with osteoarthritis based upon differing comorbid symptom presentations and potential underlying pain mechanisms. Arthritis Res Ther. 2011;13(4):R135.

9.

International Association for the Study of Pain. IASP Taxonomy Washington, DC.: IASP; 2017 [Available from: https://www.iasp-pain.org/Education/Content.aspx?ItemNumber=1698#Sensitization.

10.

Yarnitsky D, Bouhassira D, Drewes AM, Fillingim RB, Granot M, Hansson P, et al. Recommendations on practice of conditioned pain modulation (CPM) testing. Eur J Pain. 2015;19(6):805–6.

11.

Knoop J, van der Leeden M, Thorstensson CA, Roorda LD, Lems WF, Knol DL, et al. Identification of phenotypes with different clinical outcomes in knee osteoarthritis: data from the Osteoarthritis Initiative. Arthritis Care Res. 2011;63(11):1535–42.

12.

Cruz-Almeida Y, King CD, Goodin BR, Sibille KT, Glover TL, Riley JL, et al. Psychological profiles and pain characteristics of older adults with knee osteoarthritis. Arthritis Care Res. 2013;65:1786–94.

13.

King CD, Sibille KT, Goodin BR, Cruz-Almeida Y, Glover TL, Bartley E, et al. Experimental pain sensitivity differs as a function of clinical pain severity in symptomatic knee osteoarthritis. Osteoarthr Cartil. 2013;21(9):1243–52.

14.

Pereira D, Severo M, Barros H, Branco J, Santos RA, Ramos E. The effect of depressive symptoms on the association between radiographic osteoarthritis and knee pain: a cross-sectional study. BMC Musculoskelet Disord. 2013;14:214.

15.

Egsgaard LL, Eskehave TN, Bay-Jensen AC, Hoeck HC, Arendt-Nielsen L. Identifying specific profiles in patients with different degrees of painful knee osteoarthritis based on serological biochemical and mechanistic pain biomarkers: a diagnostic approach based on cluster analysis. Pain. 2015;156(1):96–107.

16.

Kittelson AJ, Stevens-Lapsley JE, Schmiege SJ. Determination of pain phenotypes in knee osteoarthritis: a latent class analysis using data from the Osteoarthritis Initiative study. Arthritis Care Res. 2015.

17.

Osgood E, Trudeau JJ, Eaton TA, Jensen MP, Gammaitoni A, Simon LS, et al. Development of a bedside pain assessment kit for the classification of patients with osteoarthritis. Rheumatol Int. 2015;35(6):1005–13.

18.

van der Esch M, Knoop J, van der Leeden M, Roorda LD, Lems WF, Knol DL, et al. Clinical phenotypes in patients with knee osteoarthritis: a study in the Amsterdam osteoarthritis cohort. Osteoarthr Cartil. 2015;23(4):544–9.

19.

Cardoso JS, Riley JL, 3rd, Glover T, Sibille KT, Bartley EJ, Goodin BR, et al. Experimental pain phenotyping in community-dwelling individuals with knee osteoarthritis. Pain. 2016.

20.

Frey-Law LA, Bohr NL, Sluka KA, Herr K, Clark CR, Noiseux NO, et al. Pain sensitivity profiles in patients with advanced knee osteoarthritis. Pain. 2016.

21.

Edwards RR, Dworkin RH, Turk DC, Angst MS, Dionne R, Freeman R, et al. Patient phenotyping in clinical trials of chronic pain treatments: IMMPACT recommendations. Pain. 2016.

22.

•• Pan F, Tian J, Cicuttini F, Jones G, Aitken D. Differentiating knee pain phenotypes in older adults: a prospective cohort study. Rheumatology (Oxford). 2019;58(2):274–83. This population-based prospective longitudinal study is notable for its data spanning 10 years and its combined use of variables inside and outside the pain domain for phenotype creation. Three phenotypes characterized by varying levels of emotional problems and structural damage and their relation to pain severity and widespread pain over the study period are reported.

23.

•• Carlesso LC, Segal NA, Frey-Law L, Zhang Y, Na L, Nevitt M, et al. Pain susceptibility phenotypes in those free of knee pain with or at risk of knee osteoarthritis: the multicenter osteoarthritis study. Arthritis Rheumatol (Hoboken, NJ). 2019;71(4):542–9. This large prospective longitudinal community-based study is the first to examine knee pain susceptibility phenotypes using those free from knee pain. Employing a multidimensional representation of pain, four phenotypes were found that were largely dominated by pressure pain thresholds and temporal summation with a relative absence of psychosocial factors. The phenotypes with the largest degree of sensitization were twice as likely to develop incident persistent knee pain 2 years later.

24.

• Cruz-Almeida Y, Cardoso J, Riley JL 3rd, Goodin B, King CD, Petrov M, et al. Physical performance and movement-evoked pain profiles in community-dwelling individuals at risk for knee osteoarthritis. Exp Gerontol. 2017;98:186–91. This paper is the first to examine phenotypes characterized by movement-evoked pain. The authors report on three phenotypes with an inverse relation of increasing severity of movement-evoked pain and decreasing functional performance. The most severe group significantly differed from the mildest in terms of sensitivity on QST testing.

25.

Dell'Isola A, Steultjens M. Classification of patients with knee osteoarthritis in clinical phenotypes: data from the Osteoarthritis Initiative. PLoS One. 2018;13(1):e0191045.

26.

Teirlinck CH, Sonneveld DS, Bierma-Zeinstra SMA, Luijsterburg PAJ, Moss P, Benson HAE, et al. Daily pain measurements and retrospective pain measurements in hip osteoarthritis patients with intermittent pain. Arthritis Care Res. 2019;71(6):768–76.

27.

Hawker GA, Stewart L, French MR, Cibere J, Jordan JM, March L, et al. Understanding the pain experience in hip and knee osteoarthritis--an OARSI/OMERACT initiative. Osteoarthr Cartil. 2008;16(4):415–22.

28.

Lane NE, Brandt K, Hawker G, Peeva E, Schreyer E, Tsuji W, et al. OARSI-FDA initiative: defining the disease state of osteoarthritis. Osteoarthr Cartil. 2011;19(5):478–82.

29.

Bierma-Zeinstra SM, van Middelkoop M. Osteoarthritis: in search of phenotypes. Nat Rev Rheumatol. 2017;13(12):705–6.

30.

Kent P, Keating J, Leboeuf-Yde C. Research methods for subgrouping low back pain. BMC Med Res Methodol. 2010;10(62).

31.

Neogi T, Guermazi A, Roemer F, Nevitt MC, Scholz J, Arendt-Nielsen L, et al. Association of joint inflammation with pain sensitization in knee osteoarthritis: the multicenter osteoarthritis study. Arthritis Rheumatol (Hoboken, NJ). 2016;68(3):654–61.

32.

Mathiessen A, Conaghan P. Synovitis in osteoarthritis: current understanding with therapeutic implications. Arthritis Res Ther. 2017;19(1):18.

33.

Cross M, Dubouis L, Mangin M, Hunter DJ, March L, Hawker G, et al. Defining flare in osteoarthritis of the hip and knee: a systematic literature review - OMERACT Virtual Special Interest Group. J Rheumatol. 2017;44(12):1920–7.

34.

Parry E, Ogollah R, Peat G, Parry EL, Thomas MJ, Peat G. 'Acute flare-ups' in patients with, or at high risk of, knee osteoarthritis: a daily diary study with case-crossover analysis. Defining acute flares in knee osteoarthritis: a systematic review. Osteoarthr Cartil. 2019;27(8):1124–8.

35.

Skou ST, Gronne DT, Roos EM. Prevalence, severity, and correlates of pain flares in response to a repeated sit to stand activity: a cross-sectional study of 14,902 patients with knee and hip osteoarthritis in primary care. J Orthop Sports Phys Ther. 2019:1–26.

36.

Murphy SL, Lyden AK, Kratz AL, Fritz H, Williams DA, Clauw DJ, et al. Characterizing pain flares from the perspective of individuals with symptomatic knee osteoarthritis. Arthritis Care Res. 2015;67(8):1103–11.

37.

Neogi T. Structural correlates of pain in osteoarthritis. Clin Exp Rheumatol. 2017;35(Suppl 107 (5)):75–8.

38.

Neogi T, Niu J, Felson D, Nevitt M, Lewis CE, Torner J. Association of knee pain patterns determined from the intermittent and constant osteoarthritis pain instrument with knee pain severity: the multicenter osteoarthritis study. Arthritis Rheum. 2011;63(Suppl 10):1628.

39.

Zhang Y, Nevitt M, Niu J, Lewis C, Torner J, Guermazi A, et al. Fluctuation of knee pain and changes in bone marrow lesions, effusions, and synovitis on magnetic resonance imaging. Arthritis Rheum. 2011;63(3):691–9.
Ethics declarations
Conflict of Interest
Dr. Neogi reports personal fees from Pfizer/Eli Lilly, personal fees from EMD Merck-Serono, and personal fees from Novartis, outside the submitted work. Dr. Carlesso declares that she has no conflict of interest.
Human and Animal Rights and Informed Consent
This article does not contain any studies with human or animal subjects performed by any of the authors.
Additional information
Publisher's Note
Springer Nature remains neutral with regard to jurisdictional claims in published maps and institutional affiliations.
This article is part of the Topical Collection on Osteoarthritis
About this article
Cite this article
Carlesso, L.C., Neogi, T. Understanding the Complexity of Pain in Osteoarthritis Through the Use of Pain Phenotyping: Current Evidence. Curr Treat Options in Rheum (2020). https://doi.org/10.1007/s40674-020-00144-z
Keywords
Knee osteoarthritis

Pain phenotypes

Hip osteoarthritis