This is a preview of subscription content, log in to check access.
Access options
Buy single article
Instant access to the full article PDF.
US$ 39.95
Price includes VAT for USA
Subscribe to journal
Immediate online access to all issues from 2019. Subscription will auto renew annually.
US$ 99
This is the net price. Taxes to be calculated in checkout.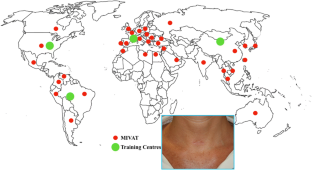 References
1.

Miccoli P, Berti P, Conte M, Bendinelli C, Marcocci C (1999) Minimally invasive surgery for thyroid small nodules: preliminary report. J Endocrinol Investig 22(11):849–851

2.

Miccoli P, Pinchera A, Cecchini G, Conte M, Bendinelli C, Vignali E, Picone A, Marcocci C (1997) Minimally invasive, video-assisted parathyroid surgery for primary hyperparathyroidism. J Endocrinol Investig 20(7):429–430

3.

Miccoli P, Materazzi G, Baggiani A, Miccoli M (2011) Mini-invasive video-assisted surgery of the thyroid and parathyroid glands: a 2011 update. J Endocrinol Investig 34(6):473–480

4.

Miccoli P, Biricotti M, Matteucci V, Ambrosini CE, Wu J, Materazzi G (2016) Minimally invasive video-assisted thyroidectomy: reflections after more than 2400 cases performed. Surg Endosc 30(6):2489–2495

5.

Sahm M, Otto R, Pross M, Mantke R (2019) Minimally invasive video-assisted thyroidectomy: a critical analysis of long-term cosmetic results using a validated tool. Ann Royal Coll Surg Engl 101(3):180–185

6.

Dionigi G, Alesina PF, Barczynski M, Boni L, Chiang FY, Kim HY, Materazzi G, Randolph GW, Terris DJ, Wu CW (2012) Recurrent laryngeal nerve injury in video-assisted thyroidectomy: lessons learned from neuromonitoring. Surg Endosc 26(9):2601–2608

7.

Lang BH, Wong CK, Tsang JS, Wong KP (2014) A systematic review and meta-analysis comparing outcomes between robotic-assisted thyroidectomy and non-robotic endoscopic thyroidectomy. J Surg Res 191(2):389–398

8.

Miccoli P, Elisei R, Berti P, Materazzi G, Agate L, Castagna MG, Cosci B, Faviana P, Ugolini C, Pinchera A (2004) Video assisted prophylactic thyroidectomy and central compartment nodes clearance in two RET gene mutation adult carriers. J Endocrinol Investig 27(6):557–561

9.

Bakkar S, Al Hyari M, Naghawi M, Corsini C, Miccoli P (2018) Transoral thyroidectomy: a viable surgical option with unprecedented complications-a case series. J Endocrinol Investig 41(7):809–813

10.

Minuto MN, Reina S, Monti E, Ansaldo GL, Varaldo E (2019) Morbidity following thyroid surgery: acceptable rates and how to manage complicated patients. J Endocrinol Investig. https://doi.org/10.1007/s40618-019-01064-z[Epub ahead of print]

11.

Benhidjeb T, Witzel K, Stark M, Schulte Am Esch J (2019) Transoral thyroidectomy: new method with new complications' spectrum. J Endocrinol Investig. https://doi.org/10.1007/s40618-019-01101-x[Epub ahead of print]
Ethics declarations
Conflict of interest
The authors have no conflicts of interest to declare.
Ethical approval
This article does not contain any studies with human participants or animals performed by any of the authors.
Informed consent
This paper did not involve patients.
Additional information
Publisher's Note
Springer Nature remains neutral with regard to jurisdictional claims in published maps and institutional affiliations.
About this article
Cite this article
Dionigi, G., Dralle, H., Materazzi, G. et al. Happy 20th birthday to minimally invasive video-assisted thyroidectomy!. J Endocrinol Invest 43, 385–388 (2020). https://doi.org/10.1007/s40618-019-01119-1
Received:

Accepted:

Published:

Issue Date:
Keywords
Endoscopic thyroidectomy

Minimally invasive surgery

Minimally invasive video-assisted thyroidectomy

MIVAT

Learning curve

Benign disease

Malignant disease

Indications

Miccoli