Abstract
Purpose
The association between iodine intake and thyroid autoimmunity has been debated, especially in pregnant women. This study aimed to investigate thyroid autoantibodies and their association with iodine intake and hypothyroidism in early pregnancy.
Methods
7073 early pregnant women from an iodine-sufficient region participated in this study. Urinary iodine concentrations (UICs) were measured using an ammonium persulfate method. Serum thyroid peroxidase antibody (TPOAb), thyroglobulin antibody (TgAb), thyroid-stimulating hormone (TSH), free thyroxine (FT4), and Tg were determined using an electrochemiluminescence immunoassay.
Results
Iodine deficiency (UIC < 100 μg/L) was associated with higher risks of TPOAb positivity [adjusted odds ratio (aOR) = 1.64, 95% confidence interval [CI] (1.29–2.08)] and TgAb positivity [aOR = 1.44, 95% CI (1.16–1.80)]. Women with isolated TPOAb positivity, isolated TgAb positivity, or both TPOAb and TgAb positivity had a 14.64-fold, 7.83-fold, and 44.69-fold increased risk of overt hypothyroidism, and a 4.36-fold, 2.86-fold, and 6.26-fold increased risk of subclinical hypothyroidism, respectively. Moreover, the risks of overt and subclinical hypothyroidism in women with a high TPOAb titer were 16.99 and 4.80 times that in TPOAb-negative women, respectively. The risk of overt hypothyroidism in women with a high TgAb titer was 6.97 times that in TgAb-negative women.
Conclusions
Our work demonstrates that iodine deficiency during early pregnancy is an independent risk factor for both TPOAb positivity and TgAb positivity. Furthermore, positivity for both autoantibodies and a high thyroid autoantibody titer are associated with significantly higher risks of overt and subclinical hypothyroidism.
This is a preview of subscription content, log in to check access.
Access options
Buy single article
Instant unlimited access to the full article PDF.
US$ 39.95
Price includes VAT for USA
Subscribe to journal
Immediate online access to all issues from 2019. Subscription will auto renew annually.
US$ 99
This is the net price. Taxes to be calculated in checkout.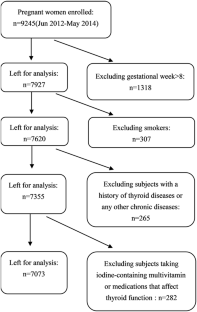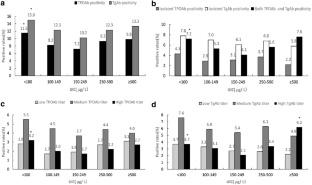 References
1.

Liu H, Shan Z, Li C, Mao J, Xie X, Wang W, Fan C, Wang H, Zhang H, Han C, Wang X, Liu X, Fan Y, Bao S, Teng W (2014) Maternal subclinical hypothyroidism, thyroid autoimmunity, and the risk of miscarriage: a prospective cohort study. Thyroid 24(11):1642–1649. https://doi.org/10.1089/thy.2014.0029

2.

Korevaar TI, Schalekamp-Timmermans S, de Rijke YB, Visser WE, Visser W, de Muinck Keizer-Schrama SM, Hofman A, Ross HA, Hooijkaas H, Tiemeier H, Bongers-Schokking JJ, Jaddoe VW, Visser TJ, Steegers EA, Medici M, Peeters RP (2013) Hypothyroxinemia and TPO-antibody positivity are risk factors for premature delivery: the generation R study. J Clin Endocrinol Metab 98(11):4382–4390. https://doi.org/10.1210/jc.2013-2855

3.

Derakhshan A, Korevaar TIM, Taylor PN, Levie D, Guxens M, Jaddoe VWV, Nelson SM, Tiemeier H, Peeters RP (2018) The association of maternal thyroid autoimmunity during pregnancy with child IQ. J Clin Endocrinol Metab 103(10):3729–3736. https://doi.org/10.1210/jc.2018-00743

4.

Chen LM, Zhang Q, Si GX, Chen QS, Ye EL, Yu LC, Peng MM, Yang H, Du WJ, Zhang C, Lu XM (2015) Associations between thyroid autoantibody status and abnormal pregnancy outcomes in euthyroid women. Endocrine 48(3):924–928. https://doi.org/10.1007/s12020-014-0420-x

5.

Tomer Y, Huber A (2009) The etiology of autoimmune thyroid disease: a story of genes and environment. J Autoimmun 32(3–4):231–239. https://doi.org/10.1016/j.jaut.2009.02.007

6.

Shan Z, Chen L, Lian X, Liu C, Shi B, Shi L, Tong N, Wang S, Weng J, Zhao J, Teng X, Yu X, Lai Y, Wang W, Li C, Mao J, Li Y, Fan C, Teng W (2016) Iodine status and prevalence of thyroid disorders after introduction of mandatory universal salt iodization for 16 years in China: a cross-sectional study in 10 cities. Thyroid 26(8):1125–1130. https://doi.org/10.1089/thy.2015.0613

7.

Bliddal S, Boas M, Hilsted L, Friis-Hansen L, Juul A, Larsen T, Tabor A, Faber J, Precht DH, Feldt-Rasmussen U (2017) Increase in thyroglobulin antibody and thyroid peroxidase antibody levels, but not preterm birth-rate, in pregnant Danish women upon iodine fortification. Eur J Endocrinol 176(5):603–612. https://doi.org/10.1530/eje-16-0987

8.

Chen C, Xu H, Chen Y, Chen Y, Li Q, Hu J, Liang W, Cheng J, Xia F, Wang C, Han B, Zheng Y, Jiang B, Wang N, Lu Y (2017) Iodized salt intake and its association with urinary iodine, thyroid peroxidase antibodies, and thyroglobulin antibodies among urban Chinese. Thyroid 27(12):1566–1573. https://doi.org/10.1089/thy.2017.0385

9.

Andersen S, Iversen F, Terpling S, Pedersen KM, Gustenhoff P, Laurberg P (2012) Iodine deficiency influences thyroid autoimmunity in old age–a comparative population-based study. Maturitas 71(1):39–43. https://doi.org/10.1016/j.maturitas.2011.10.001

10.

World Health Organization (WHO), United Nations Children's Fund (UNICEF), and International Council for Control of Iodine (ICCIDD) (2007) Assessment of the iodine deficiency disorders and monitoring their elimination, 3rd edn. World Health Organization, Geneva

11.

Baloch Z, Carayon P, Conte-Devolx B, Demers LM, Feldt-Rasmussen U, Henry JF, LiVosli VA, Niccoli-Sire P, John R, Ruf J, Smyth PP, Spencer CA, Stockigt JR (2003) Laboratory medicine practice guidelines: laboratory support for the diagnosis and monitoring of thyroid disease. Thyroid 13(1):3–126. https://doi.org/10.1089/105072503321086962

12.

Shi X, Han C, Li C, Mao J, Wang W, Xie X, Li C, Xu B, Meng T, Du J, Zhang S, Gao Z, Zhang X, Fan C, Shan Z, Teng W (2015) Optimal and safe upper limits of iodine intake for early pregnancy in iodine-sufficient regions: a cross-sectional study of 7190 pregnant women in China. J Clin Endocrinol Metab 100(4):1630–1638. https://doi.org/10.1210/jc.2014-3704

13.

Camargo RY, Tomimori EK, Neves SC, Rubio IG, Galrao AL, Knobel M, Medeiros-Neto G (2008) Thyroid and the environment: exposure to excessive nutritional iodine increases the prevalence of thyroid disorders in Sao Paulo, Brazil. Eur J Endocrinol 159(3):293–299. https://doi.org/10.1530/eje-08-0192

14.

Luo Y, Kawashima A, Ishido Y, Yoshihara A, Oda K, Hiroi N, Ito T, Ishii N, Suzuki K (2014) Iodine excess as an environmental risk factor for autoimmune thyroid disease. Int J Mol Sci 15(7):12895–12912. https://doi.org/10.3390/ijms150712895

15.

Vidal ZE, Rufino SC, Tlaxcalteco EH, Trejo CH, Campos RM, Meza MN, Rodriguez RC, Arroyo-Helguera O (2014) Oxidative stress increased in pregnant women with iodine deficiency. Biol Trace Elem Res 157(3):211–217. https://doi.org/10.1007/s12011-014-9898-6

16.

McIntosh RS, Asghar MS, Weetman AP (1997) The antibody response in human autoimmune thyroid disease. Clin Sci (Lond) 92(6):529–541

17.

McLachlan SM, Rapoport B (2007) Thyroid peroxidase as an autoantigen. Thyroid 17(10):939–948. https://doi.org/10.1089/thy.2007.0169

18.

Wang X, Liu H, Zhang Y, Li J, Teng X, Liu A, Yu X, Shan Z, Teng W (2015) Effects of isolated positive maternal thyroglobulin antibodies on brain development of offspring in an experimental autoimmune thyroiditis model. Thyroid 25(5):551–558. https://doi.org/10.1089/thy.2014.0310

19.

Hwang S, Lee EY, Lee WK, Shin DY, Lee EJ (2011) Correlation between iodine intake and thyroid function in subjects with normal thyroid function. Biol Trace Elem Res 143(3):1393–1397. https://doi.org/10.1007/s12011-011-8997-x

20.

Korevaar TIM, Pop VJ, Chaker L, Goddijn M, de Rijke YB, Bisschop PH, Broeren MA, Jaddoe VWV, Medici M, Visser TJ, Steegers EAP, Vrijkotte TG, Peeters RP (2018) Dose dependency and a functional cutoff for TPO-antibody positivity during pregnancy. J Clin Endocrinol Metab 103(2):778–789. https://doi.org/10.1210/jc.2017-01560

21.

Lamas L, Anderson PC, Fox JW, Dunn JT (1989) Consensus sequences for early iodination and hormonogenesis in human thyroglobulin. J Biol Chem 264(23):13541–13545

22.

Krejbjerg A, Bjergved L, Bulow Pedersen I, Carle A, Knudsen N, Perrild H, Ovesen L, Banke Rasmussen L, Laurberg P (2016) Serum thyroglobulin as a biomarker of iodine deficiency in adult populations. Clin Endocrinol (Oxf) 85(3):475–482. https://doi.org/10.1111/cen.13037

23.

Peters KO, Tronko M, Hatch M, Oliynyk V, Terekhova G, Pfeiffer RM, Shpak VM, McConnell RJ, Drozdovitch V, Little MP, Zablotska LB, Mabuchi K, Brenner AV, Cahoon EK (2017) Factors associated with serum thyroglobulin in a Ukrainian cohort exposed to iodine-131 from the accident at the Chernobyl Nuclear Plant. Environ Res 156:801–809. https://doi.org/10.1016/j.envres.2017.04.014

24.

Pedersen KM, Børlum KG, Knudsen PR, Johannesen PL, Laurberg P (1990) High serum thyroglobulin in late pregnancy: An indicator of iodine deficiency? In: Drexhage HA, de Vijlder JMM, Wiersinge WM (eds) The thyroid gland, environment and autoimmunity. Elsevier Science Publishers, Amsterdam, pp 327–330
Acknowledgements
This work was supported by the 973 Science and Technology Research Foundation, Ministry of Science and Technology in China (Grant No. 2011CB512112); the Chinese National Natural Science Foundation (Grant No. 81 170 730); the Health and Medicine Research Foundation, Ministry of Health in China (Grant No. 201 002 002); the Research Foundation, Department of Science and Technology, Liaoning Province government, China (Grants No. 2012225020 and 2011225023); the Guanghua Science and Technology Foundation of China (Grant No. 2007-02); the Research Foundation of Key Laboratory of Endocrine Diseases, Department of Science and Technology, Shenyang Government, Liaoning Province, China (Grant No. F11-244-1-00); the Research Foundation innovative team from the Advanced Educational Institute (Grant No. LT 2 012 015); and the Twelve-Five Science and Technology Support Program (Grant No. No2014BAI06B02), as well as the important platform of science and technology for the universities in Liaoning Province (16010). We gratefully acknowledge the contributions of physicians from the gynecology and obstetrics clinics of 13 hospitals and 6 prenatal clinics in Liaoning Province. We thank the residents who participated in this study.
Ethics declarations
Conflict of interest
The authors have no potential conflict of interest to declare.
Ethical approval
All procedures performed in studies involving human participants were in accordance with the ethical standards of China Medical University and with the 1964 Helsinki Declaration and its later amendments or comparable ethical standards. The study was approved by the Medical Ethics Committee of China Medical University.
Informed consent
Informed consent was obtained from all individual participants included in the study.
Additional information
Publisher's Note
Springer Nature remains neutral with regard to jurisdictional claims in published maps and institutional affiliations.
About this article
Cite this article
Sun, J., Teng, D., Li, C. et al. Association between iodine intake and thyroid autoantibodies: a cross-sectional study of 7073 early pregnant women in an iodine-adequate region. J Endocrinol Invest 43, 43–51 (2020) doi:10.1007/s40618-019-01070-1
Received:

Accepted:

Published:

Issue Date:
Keywords
Early pregnancy

Iodine intake

Thyroid autoantibodies

Hypothyroidism