Abstract
The present study identified a plurality of coping responses, which provides a spectrum of cognitive, emotional, and behavioral strategies, both adaptive and maladaptive to combat the stresses of racism. These identified coping responses reflect a cognitive-contextual perspective, coined by the authors of this paper. This perspective reflects a combination of coping strategies that omit previous research which suggest mostly anger, depression, and anxiety as a possible response to perceived racial discrimination. These negative emotional responses are suggested to result in chronic physical and mental health risk. Current findings also support the need for examining these racism-coping phenomena from a biopsychosocial perspective. It would allow health practitioners information to treat individuals impacted by cultural stress from a holistic perspective and could be included as part of both mental and physical healthcare.
This is a preview of subscription content, log in to check access.
Access options
Buy single article
Instant access to the full article PDF.
US$ 39.95
Price includes VAT for USA
Subscribe to journal
Immediate online access to all issues from 2019. Subscription will auto renew annually.
US$ 99
This is the net price. Taxes to be calculated in checkout.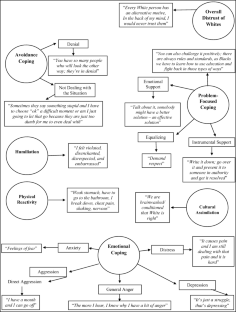 References
1.

Akbar N. Mental disorder among Blacks. In: Jones RL, editor. Black Psychology. New York: Harper & Row; 1991. p. 339–52.

2.

Barksdale DJ, Farrug ER, Harkness K. Racial discrimination and blood pressure: perceptions, emotions, and behaviors of Black American adults. Issues Mental Health Nursing. 2009;30(2):104–11.

3.

Birmingham P, Wilkinson D. Using research instruments: A guide for researchers. Routledge; 2003.

4.

Borders A, Hennebry KA. Angry rumination moderates the association between perceived ethnic discrimination and risky behaviors. Personal Individ Differ. 2015;79:81–6.

5.

Borrell-Carrió F, Suchman AL, Epstein RM. The biopsychosocial model 25 years later: principles, practice, and scientific inquiry. Ann Fam Med. 2004;2(6):576–82.

6.

Bowen-Reid TL, Harrell JP. Racist experiences and health outcomes: an examination of spirituality as a buffer. J Black Psychol. 2002;28(1):18–36.

7.

Bridges E. Racial identity development and psychological coping of African American males at a predominantly White university. Ann Am Psychother Assoc. 2010;13(1):14–28.

8.

Brondolo E, Ver Halen NB, Pencille M, Beatty D, Contrada RJ. Coping with racism: a selective review of the literature and a theoretical and methodological critique. J Behav Med. 2009;32(1):64–88.

9.

Burkley M, Blanton H. Endorsing a negative in-group stereotype as a self-protective strategy: sacrificing the group to save the self. J Exp Soc Psychol. 2008;44(1):37–49.

10.

Buunk BP, Gibbons FX, Buunk A, editors. Health, coping, and well- being: perspectives from social comparison theory: Psychology Press; 2013.

11.

Carlson GA, Grant KE. The roles of stress and coping in explaining gender differences in risk for psychopathology among African American urban adolescents. J Early Adolesc. 2008;28(3):375–404.

12.

Chae DH, Clouston S, Hatzenbuehler ML, Kramer MR, Cooper HL, Wilson SM, et al. Association between an internet-based measure of area racism and Black mortality. PloSone. 2015;10(4):e0122963.

13.

Sanei S, Chambers JA. EEG signal processing: John Wiley & Sons; 2013.

14.

Clark R, Anderson NB, Clark VR, Williams DR. Racism as a stressor for African Americans: a biopsychosocial model. Am Psychol. 1999;54(10):805–16.

15.

Clarke AT. Coping with interpersonal stress and psychosocial health among children and adolescents: a meta-analysis. J Youth Adolesc. 2006;35(1):10–23.

16.

Cohen F, Lazarus RS. Active coping processes, coping dispositions, and recovery from surgery. Psychosom Med. 1973;35(5):375–89.

17.

Contrada RJ, Ashmore RD, Gary ML, Coups E, Egeth JD, Sewell A, et al. Ethnicity-related sources of stress and their effects on well-being. Curr Dir Psychol Sci. 2000;9(4):136–9.

18.

Cross WE. The negro to Black conversion experience: towards the psychology of Black liberation. Black World. 1971;20:13–27.

19.

Cross WE Jr. The Cross and Thomas model of psychological Nigrescence. J Black Psychol. 1978;5:13–9.

20.

Dobbins J, Skillings J. Racismas a clinical syndrome. AmJ Orthop. 2000;70:14–27.

21.

Donovan RA, Galban DJ, Grace RK, Bennett JK, Felicie SZ. Impact of racial macro-and microaggression in Black women's lives: a preliminary analysis. J Black Psychol. 2012;39(2):185–96.

22.

Dovidio JF, Kawakami K, Beach KR. Implicit and explicit attitudes: examination of the relationship between measures of intergroup bias. Blackwell handbook of social psychology: Intergroup processes. 2008;175.

23.

Earnshaw VA, Rosenthal L, Carroll-Scott A, Santilli A, Gilstad-Hayden K, Ickovics JR. Everyday discrimination and physical health: Exploring mental health processes. J Health Psychol. 2016;21(10):2218–28.

24.

Entman RM. Blacks in the news: television, modern racism and cultural change. J Mass Commun Q. 1992;69(2):341–61.

25.

Essed P. Understanding everyday racism. An interdisciplinary theory. Newbury Park: Sage Publications; 1991.

26.

Etowa J. Diversity, racism, and eurocentric-normative practice in healthcare. Int J Health Sci Res. 2015;6(1):278–89.

27.

Fanon F. Black skin, White masks. New York: Grove Press; 1952.

28.

Fava GA, Sonino N. The biopsychosocial model thirty years later. Psychother Psychosom. 2007;77(1):1.

29.

Feagin J. Systemic racism: a theory of oppression: Routledge; 2013.

30.

Fernando S. Racism as a cause of depression. Int J Soc Psychiatry. 1984;30:41–9.

31.

Folkman S. Stress, coping, and hope. In Psychological aspects of cancer. Boston: Springer; 2013. p. 119–27.

32.

Folkman S. Stress: appraisal and coping. In: Encyclopedia of behavioral medicine. New York: Springer; 2013. p. 1913–5.

33.

Folkman S, Lazarus RS. The relationship between coping and emotion: implications for theory and research. Soc Sci Med. 1988;26(3):309–17.

34.

Folkman S, Lazarus RS, Dunkel-Schetter C, DeLongis A, Gruen RJ. Dynamics of a stressful encounter: cognitive appraisal, coping, and encounter outcomes. J Pers Soc Psychol. 1986a;50(5):992–1003.

35.

Folkman S, Lazarus RS, Gruen RJ, DeLongis A. Appraisal, coping, health status, and psychological symptoms. J Pers Soc Psychol. 1986b;50(3):571–9.

36.

Fredrickson GM. Racism: a short history: Princeton University Press; 2015.

37.

Gaylord-Harden NK, Cunningham JA. The impact of racial discrimination and coping strategies on internalizing symptoms in African American youth. J Youth Adolesc. 2009;38(4):532–43.

38.

Goodman ME. Racial awareness in young children. Cambridge: Addison Wesley; 1952.

39.

Grier WH, Cobbs PM. Black rage. New York: Basic Books; 1968.

40.

Griffin E. Reviewing the conceptualization and evidence of racism as a stressor. Commun Psychol. 2006;39(2):54–60.

41.

Griffin E. Letters to the Black community. Brooklyn: Creating Change Publishing; 2012. p. 11208.

42.

Griffin E The benefits of multicultural eclectic service delivery. S. Cockerham (Ed). Paper presentation at the National Organization of Human Service National Conference (NOHS), Charlotte, NC 2016. Retrieved from http://www.nationalhumanservices.org/assets/documents/nohs%202015%20conference%20proceedings%205.31.pdf pp 60-66.

43.

Hall C, Everett J, Hamilton-Mason J. Black women talk about workplace stress and how they cope. J Black Stud. 2012;43(2):207–26.

44.

Harrell JP, Hall S, Taliaferro J. Physiological responses to racism and discrimination: an assessment of the evidence. Am J Public Health. 2003;93(2):243–8.

45.

Hatcher A Algebraic topology, Cambridge Univ. Press, Cambridge xii 2002.

46.

Henry JP. The induction of acute and chronic cardiovascular disease in animals by psychosocial stimulation. Int J Psychiat Med. 1975;6(1-2):147–58.

47.

Jones HJ, Sternberg RM, Janson SL, Lee KA. A qualitative understanding of midlife sources of stress and support in African- American women. J Natl Black Nurses Assoc. 2016;27(1):24–30.

48.

Kettrey HH, Laster WN. Staking territory in the "World White Web" an exploration of the roles of overt and color-blind racism in maintaining racial boundaries on a popular web site. Social Curr. 2014;1(3):257–74.

49.

Landrine H, Klonoff EA. The schedule of racist events: a measure of racial discrimination and a study of its negative physical and mental health consequences. J Black Psychol. 1996;22:144–68. https://doi.org/10.1177/00957984960222002.

50.

Landrine H, Klonoff EA. Culture change and ethnic-minority health behavior: an operant theory of acculturation. J Behav Med. 2004;27(6):527–55.

51.

Lazarus RS. Coping theory and research: past, present, and future. Psychosom Med. 1993;55:234–47.

52.

Lazarus RS, Folkman S. Stress, appraisal, and coping. New York: Springer; 1984.

53.

LeDoux JE, Gorman JM. A call to action: overcoming anxiety through active coping. Am J Psychiatr. 2001;158(12):1953–5.

54.

Lekan D. Sojourner syndrome and health disparities in African American women. Adv Nurs Sci. 2009;32(4):307–21.

55.

Littleton H, Horsley S, John S, Nelson DV. Trauma coping strategies and psychological distress: a meta-analysis. J Trauma Stress. 2007;20(6):977–88.

56.

Llabre MM, Saab PG, Hurwitz BE, Schneiderman N, Frame CA, Spitzer S, et al. The stability of cardiovascular parameters under different behavioral challenges: one-year follow-up. Int J Psychophysiol. 1993;14(3):241–8.

57.

Lowe S, Okubo Y, Reilly M. A qualitative inquiry into racism, trauma, and coping: implications for supporting victims of racism. Prof Psychol Res Pract. 2012;43(3):190–8.

58.

McConahay JB. Modern racism and modern discrimination the effects of race, racial attitudes, and context on simulated hiring decisions. Personal Soc Psychol Bull. 1983;9(4):551–8.

59.

McNeilly MD, Robinson EL, Anderson NB, Pieper CF, Shah A, Toth PS, et al. Effects of racist provocation and social support on cardiovascular reactivity in African American women. International Journal of Behavioral Medicine. 1995;2(4):321–38.

60.

McWorther J Losing the race: self-sabotage in Black America. Free Press, Simon & Schuster, Inc. 2000.

61.

Moreland JK. Racial recognition by nursery school children. Social Forces. 1958;37:132–7.

62.

Murchison J Ethnography essentials: designing, conducting, and presenting your research (Vol. 25). John Wiley & Sons. 2010.

63.

Norris KL Exploring sojourner syndrome: an examination of stress, hypertension and coping among Black women. ProQuest 2007.

64.

Oswald FL, Mitchell G, Blanton H, Jaccard J, Tetlock PE. Predicting ethnic and racial discrimination: a meta-analysis of IAT criterion studies. J Pers Soc Psychol. 2013;105(2):171–92.

65.

Outlaw FH. Stress and Coping: The influence of racisn the cognitive appraisal processing of African Americans. Issues in Mental Health Nursing. 1993;14(4):399–409.

66.

Outten HR, Schmitt MT, Garcia DM, Branscombe NR. Coping options: missing links between minority group identification and psychological well being. Appl Psychol. 2009;58(1):146–70.

67.

Pilkington A. The interacting dynamics of institutional racism in higher education. Race Ethn Educ. 2013;16(2):225–45.

68.

Prather C, Fuller TR, Jeffries WL IV, Marshall KJ, Howell AV, Belyue-Umole A, et al. Racism, African American women, and their sexual and reproductive health: a review of historical and contemporary evidence and implications for health equity. Health Equity. 2018;2(1):249–59.

69.

Rafnsson FD, Jonsson FH, Windle M. Coping strategies, stressful life events, problem behaviors, and depressed affect. Anxiety Stress Coping. 2006;19(3):241–57.

70.

Roitt I, Male D, Grossi C, & Lydyard P. An introduction to the immune system and cells involved in the immune response. mmunology, 5thed. In: Roitt I, Brostoff J, Male D, editors. Mosby international Ltd. London; 1998. p. 1–30.

71.

Roth S, Cohen LJ. Approach, avoidance, and coping with stress. Am Psychol. 1986;41(7):813–9.

72.

Saab PG, Llabre MM, Hurwitz BE, Frame CA, Reineke LJ, Fins AI, et al. Myocardial and peripheral vascular responses to behavioral challenges and their stability in Black and White Americans. Psychophysiology. 1992;29(4):384–97.

73.

Scott LD Jr, House LE. Relationship of distress and perceived control to coping with perceived racial discrimination among Black youth. J Black Psychol. 2005;31(3):254–72.

74.

Seaton EK, Upton R, Gilbert A, Volpe V. A moderated mediation model: racial discrimination, coping strategies, and racial identity among Black adolescents. Child Dev. 2014;85(3):882–90.

75.

Seaward BL Managing stress. Jones & Bartlett Learning. 2017.

76.

Segerstrom SC, Miller GE. Psychological stress and the human immune system: a meta-analytic study of 30 years of inquiry. Psychol Bull. 2004;130(4):601–30.

77.

Sellers RM, Caldwell CH, Schmeelk-Cone KH, Zimmerman MA. Racial identity, racial discrimination, perceived stress, and psychological distress among African American young adults. J Health Soc Behav. 2003:302–17.

78.

Selye H. Stress without distress. In: Psychopathology of human adaptation. Boston: Springer; 1976. p. 137–46.

79.

Selye H Stress in health and disease. Butterworth-Heinemann 2013.

80.

Shaw JA. Children exposed to war/terrorism. Clin Child Fam Psychol Rev. 2003;6(4):237–46.

81.

Shorter-Gooden K. Multiple resistance strategies: how African American women cope with racism and sexism. J Black Psychol. 2004;30(3):406–25.

82.

Smith TW, Ruiz JM, Uchino BN. Vigilance, active coping, and cardiovascular reactivity during social interaction in young men. Health Psychol. 2000;19(4):382–92.

83.

Snyder CR. Navigating in murky waters: how multiracial Black individuals cope with racism. Am J Orthop. 2016;86(3):265–76.

84.

Statistics Solutions Confirmatory factor analysis.2013 Retrieved from http://www.statisticssolutions.com/academic-solutions/resources/directory-of-statisticalanalyses/confirmatory-factoranalysis/. Accessed Feb 2018.

85.

Suls J, Fletcher B. The relative efficacy of avoidant and nonavoidant coping strategies: a meta-analysis. Health Psychol. 1985;4(3):249–88.

86.

Suls J, Rothman A. Evolution of the biopsychosocial model: prospectsand challenges for health psychology. Health Psychol. 2004;23(2):119–25.

87.

Terell F, Terrell S. An inventory to measure cultural mistrust among Blacks. West J Black Stud. 1981;5:180–5.

88.

Thoits PA. Self, identity, stress, and mental health. In: Handbook of the sociology of mental health. Dordrecht: Springer; 2013. p. 357–77.

89.

Thomas A, Sillen S. Racism and psychiatry. Secaucau: The Citadel Press; 1972.

90.

Thomas DE, Coard SI, Stevenson HC, Bentley K, Zamel P. Racial and emotional factors predicting teachers' perceptions of classroom behavioral maladjustment for urban African American male youth. Psychol Sch. 2009;46(2):184–96.

91.

Thompson VLS, Bazile A, Akbar M. African Americans' perceptions of psychotherapy and psychotherapists. Prof Psychol Res Pract. 2004;35(1):19.

92.

Utsey SO, Ponterotto JG, Reynolds AL, Cancelli AA. Racial discrimination, coping, life satisfaction, and self-esteem among African Americans. J Couns Dev. 2000;78(1):72–80.

93.

Vera EM, Vacek K, Coyle LD, Stinson J, Mull M, Doud K, …, Blackmon SK An examination of culturally relevant stressors, coping, ethnic identity, and subjective well-being in urban, ethnic minority adolescents. Professional School Counseling 2011 15(2):2156759X1101500203.

94.

Vines AI, Baird DD, McNeilly M, Hertz-Picciotto I, Light KC, Stevens J. Social correlates of the chronic stress of perceived racism among Black women. Ethn Dis. 2006;16(1):101–7.

95.

Vines AI, Baird DD, Stevens J, Hertz-Picciotto I, Light KC, McNeilly M. Associations of abdominal fat with perceived racism and passive emotional responses to racism in African American women. Am J Public Health. 2007;97(3):526–30.

96.

Wesling F The cress color confrontation theory. (Private printing). D.C.: Washington; 1974.

97.

West LM, Donovan RA, Roemer L Coping with racism: What works and doesn't. 2010.

98.

White KS, Farrell AD. Anxiety and psychosocial stress as predictors of headache and abdominal pain in urban early adolescents. J Pediatr Psychol. 2005;31(6):582–96.

99.

Whittle TN. Book review: Black felon disenfranchisement: case studies in modern racism and political exclusion. Crim Justice Rev. 2015;40(1):100–1.

100.

Williams DR, Mohammed SA. Racism and health I: pathways and scientific evidence. Am Behav Sci. 2013;57(8):1152–73.
Funding
This Study was funded by The National Institute of General Medical Science (NIGMS-NIH) Grant #1F31GM070069.
Ethics declarations
Conflict of Interest
Dr. Eugena Griffin declares that she has no conflict of interest. Dr. Cheryl Armstead declares that she has no conflict of interest.
Ethical Approval
All procedures performed in studies involving human participants were in accordance with the ethical standards of the institutional and/or national research committee and with the 1964 Helsinki deceleration and its later amendments or comparable ethical standards.
Additional information
Publisher's Note
Springer Nature remains neutral with regard to jurisdictional claims in published maps and institutional affiliations.
About this article
Cite this article
Griffin, E.K., Armstead, C. Black's Coping Responses to Racial Stress. J. Racial and Ethnic Health Disparities (2020). https://doi.org/10.1007/s40615-019-00690-w
Received:

Revised:

Accepted:

Published:
Keywords
Cultural stress

Stress responses

Blacks and health

Health disparities