This is a preview of subscription content, log in to check access.
Access options
Buy single article
Instant access to the full article PDF.
US$ 39.95
Price includes VAT for USA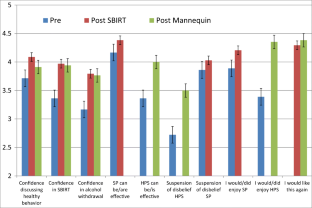 References
1.

Levine AL, Swartz MH. Standardized patients: the "other" simulation. J Crit Care. 2008;23(2):179–84.

2.

May W, Park JH, Lee JP. A ten-year review of the literature on the use of standardized patients in teaching and learning: 1996-2005. Med Teach. 2009;31(6):487–92.

3.

McNaughton N, Ravitz P, Wadell A, Hodges BD. Psychiatric education and simulation: a review of the literature. Can J Psychiatry Rev Can Can Psychiatr. 2008;53(2):85–93.

4.

Simpson JS. The educational utility of simulations in teaching history and physical examination skills in diagnosing breast cancer: a review of the literature. J Breast Cancer. 2014;17(2):107–12.

5.

Hayes-Roth B, Saker R, Amano K. Automating individualized coaching and authentic role-play practice for brief intervention training. Methods Inf Med. 2010;49(4):406–11.

6.

Fallucco EM, Hanson MD, Glowinski AL. Teaching pediatric residents to assess adolescent suicide risk with a standardized patient module. Pediatrics. 2010;125(5):953–9.

7.

Szmuilowicz E, el-Jawahri A, Chiappetta L, Kamdar M, Block S. Improving residents' end-of-life communication skills with a short term retreat: a randomized controlled trial. J Palliat Med. 2010;13(4):439–52.

8.

Himmelbauer M, Seitz T, Seidman C, Loffler-Stastka H. Standardized patients in psychiatry – the best way to learn clinical skills? BMC Med Ed. 2018;18(72).

9.

Cook DA, Hatala R, Brydges R, et al. Technology-enhanced simulation for health professions education: a systematic review and meta-analysis. JAMA. 2011;306(9):978–88.

10.

Ilgen JS, Sherbino J, Cook DA. Technology-enhanced simulation in emergency medicine: a systematic review and meta-analysis. Acad Emerg Med. 2013;20(2):117–27.

11.

Kennedy J, Hill T, Gephardt G, Cantrell M, Thompson T. Hybrid simulations using standardized patients and high fidelity manikins for anaphylaxis and asthma treatments in an office setting. MedEdPORTAL. 2012;8:9239.

12.

Abdool PS, Nirula L, Bonato S, Rajji TK, Silver IL. Simulation in undergraduate psychiatry: exploring the depth of learner engagement. Acad Psychiatry. 2017;41(2):251–61.

13.

Hamstra S, Philibert I. Simulation in graduate medical education: understanding uses and maximizing benefits. J Grad Med Educ. 2012;4(4):539–40.

14.

Sperling JD, Clark S, Kang Y. Teaching medical students a clinical approach to altered mental status: simulation enhances traditional curriculum. Med Educ Online. 2013;18(1):19775.

15.

Murray BA. The use of high-fidelity simulation in psychiatric and mental health nursing clinical education. Int J Health Sci Educ. 2014;2:1):1–12.

16.

Bhalla IP, Wilkins KM, Moadel T, Wong AH, Trevisan LA, Fuehrlein B. Alcohol withdrawal and lithium toxicity: a novel psychiatric manikin-based simulation case for medical students. MedEdPORTAL. 2017;13:10649.

17.

Yardley S, Dornan T. Kirkpatrick's levels and education 'evidence'. Educ Res Methods. 2012;46(1):97–106.
Additional information
Publisher's Note
Springer Nature remains neutral with regard to jurisdictional claims in published maps and institutional affiliations.
This study was exempted by the Institutional Review Board of Yale University
About this article
Cite this article
Fuehrlein, B., Bhalla, I., Goldenberg, M. et al. Simulate to Stimulate: Manikin-Based Simulation in the Psychiatry Clerkship. Acad Psychiatry 44, 82–85 (2020). https://doi.org/10.1007/s40596-019-01111-0
Received:

Revised:

Accepted:

Published:

Issue Date: