Effect of Gene-Mercury Interactions on Mercury Toxicokinetics and Neurotoxicity
Early Life Environmental Health (J Sunyer, Section Editor)
Part of the following topical collections:
Abstract
Individuals differ in susceptibility to mercury neurotoxicity, in part, due to underlying genetic differences. This review aims to evaluate the state-of-the-art of the effect of (1) genetics on mercury toxicokinetics and (2) gene-mercury interactions on neurodevelopment and neurotoxicity. We conducted a PubMed search in September 2014 and retrieved 14 studies on the influence of genetics on mercury toxicokinetics and ten on neurological effects of gene-mercury interactions. Genes frequently studied for their influence on mercury toxicokinetics were mainly related to the metabolism of glutathione, but the results were contradictory for most of the genes. The gene-mercury interactions on child neurodevelopment and adult neurotoxicity reported were too few to draw any definite conclusion. So far, candidate gene approaches have not identified any major gene/s modifying the kinetics or toxicity of mercury, suggesting that these might be polygenic traits. More research is highly warranted to clarify if there are vulnerable subgroups to mercury neurotoxicity in humans.
Keywords
ABCC2
APOE
BDNF
Cognitive 
GCLM
Glutathione 
Introduction
Mercury is a ubiquitous environmental toxicant that derives both from natural sources and human activity. It can exist under several forms: elemental, inorganic, and organic; where the organic form, in particular methylmercury (MeHg), is the greatest cause of concern due to its irreversible neurotoxic effects early in life [1, 2]. Most MeHg originates in aquatic systems where it is formed from the inorganic form through the action of bacteria present in water and sediments [3]. Consumption of marine species is currently considered the major source of human exposure, and predatory fish such as swordfish and shark have the highest concentrations of MeHg [4, 5]. For inorganic (IHg) or elemental mercury, the main exposure sources are from some occupational activities and dental amalgams [6]. The occupational exposure to IHg has been well documented in gold miners [7], chloralkali workers [8], and dental professionals [9].
MeHg crosses the placenta and blood–brain barrier, and may affect critical neurodevelopmental processes including cell proliferation, migration, differentiation, synaptogenesis, myelination, and apoptosis [10]. Children and fetuses are especially vulnerable, since their brain, immune system, and detoxification mechanisms are being developed [11, 12]. Epidemiological studies have been conducted in fish-eating populations in order to evaluate the consequences of prenatal or early life exposure to MeHg on the cognitive development; however, the results have been conflicting [13, 14, 15, 16]. A few cross-sectional studies of low-level MeHg exposure in adults and neurologic effects have been performed, and the results have been contradictory as well [15]. Neurotoxicity associated with exposure to IHg has mainly been studied in highly exposed populations. Long-term exposure to IHg was associated with tremor and abnormal motor function in chloralkali workers [8], as well as decreased peripheral nerve function in dental professionals [9], but only some of the IHg-exposed workers developed neurotoxicity.
The lack of homogeneity for the effect of MeHg and IHg in different study populations or between individuals could be explained by several biological and non-biological factors affecting both exposure and toxicity to mercury (e.g., for MeHg toxicity, the content of beneficial nutrients from fish such as selenium or fatty acids, or co-exposure to other contaminants probably matters) [
17
]. A further component is the underlying genetic background that might modify mercury uptake, biotransformation, distribution, and elimination, and in turn, determines the active dose [
18
] (Fig. 
1a
).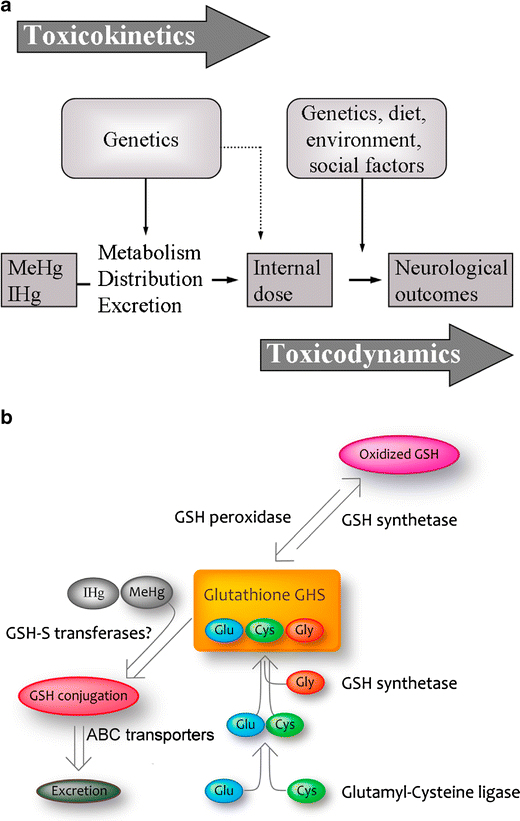 An expert committee of the U.S. National Research Council (2000) concluded that 3 % of neurodevelopmental disorders may be a direct result of exposure to environmental toxins, and up to 25 % would be the result of the interaction between exposure to environmental toxicants and individual susceptibility genes [19]. Recently, there has been an increase in the identification of genetic variants involved in cognitive disorders [20, 21], which might also play a role in the relationship between mercury exposure and neurodevelopment and neurotoxicity.
The purpose of this review was to evaluate the state-of-the-art of the effect of (1) genetics on mercury (both IHg and MeHg) toxicokinetics and (2) gene-mercury (both IHg and MeHg) interactions on child neurodevelopment and adult neurotoxicity.
Methods
Sources of Information
We used the electronic data source PubMed (National Library of Medicine, Bethesda, MD, USA: http://www.ncbi.nlm.nih.gov/pubmed) to conduct two different bibliographic searches of published human studies on gene-mercury interactions for (1) toxicokinetics of mercury in child and adult populations and (2) neurological effects in child and adult populations.
Search Strategy
We selected relevant articles with an end date of 31st of August 2014. We used the following key terms or combinations of them, for the literature search:
1.

Gene-mercury interactions for mercury toxicokinetics: "gene*","*mercury"

 

2.

Gene-mercury interactions for neurodevelopment: "gene*", "*mercury", "neurodevelopment", "cognitive", "behaviour", "brain", "nervous system", "neurotoxicity".

 
Selection Criteria and Identification of Relevant Articles
Epidemiological studies of pre- and/or postnatal measures of genes and mercury interaction in association with (1) mercury toxicokinetics or/and (2) adverse effects on child neurodevelopment or/and adult neurotoxicity were selected and reviewed. The articles included these following criteria: (1) original article; (2) observational epidemiological study; (3) assessment of the exposure to IHg or MeHg in humans; (4) evaluation of neurodevelopment during childhood or/and neurotoxicity during adulthood; and (d) languages such as English, French, Spanish, Portuguese, or Italian. In addition to the search in PubMed, we searched in the references of the selected articles.
We referred to the associations or interactions as statistically significant when
p
values were less than 0.05. The complete name of all genes, gene families, and their potential role in mercury toxicokinetics and neurotoxicity can be found in Tables 
1
and
2
.
Table 1
Genes or gene families cited in the manuscript and their potential role in relationship with mercury toxicokinetics
Genes/family of genes

Protein function and role in Hg/MeHg toxicokinetics

Chromosome

ABC

ATP binding cassette

The superfamily of ABC transporters is a large and widely expressed protein family responsible for the active transport of various compounds across biological membranes including drugs (e.g., anticancer agents) and xenobiotics. Some of the ABC transporters transport compounds conjugate to glutathione.

–

GCLC

Glutamate-cysteine ligase, catalytic subunit

Glutamate-cysteine ligase is the first and rate-limiting enzyme of synthesis of glutathione. GCLC is the catalytic subunit of the enzyme.

6

GCLM

Glutamate-cysteine ligase, modifier subunit

Glutamate-cysteine ligase is the first rate-limiting enzyme of synthesis of glutathione. GCLM is the modifier subunit of the enzyme.

1

GST

Glutathione S-transferase

Glutathione S-transferases (GSTs) are a family of enzymes that play an important role in detoxification by catalyzing the conjugation of many hydrophobic and electrophilic compounds with reduced glutathione.

-

GSTM1

Glutathione S-transferase mu 1

The proteins encoded by these genes are members of a superfamily of proteins that catalyze the conjugation of reduced glutathione to a variety of electrophilic and hydrophobic compounds.

1

GSTP1

Glutathione S-transferase pi 1

11

GSTT1

Glutathione S-transferase theta 1

22

LATs

System l-amino acid transporter

Family of proteins that are involved in the transport of amino acids into cells in exchange for other amino acids.

16

MTs

Metallothioneins

Family of detoxification proteins with cysteine groups that confers mercury-binding properties and high redox capabilities

16

OATs

Organic anion transporter

Family of multispecific transport proteins located in the basolateral membrane. They mediate the uptake of a variety of substrates from renal blood.

10
Table 2
Genes or gene families cited in the manuscript and their potential role in relationship with mercury neurotoxicity
Genes/family of genes

Protein function and role in Hg/MeHg neurotoxicity

Location

5-HTT

Huntingtin (official gene name: SLC6A4)

Integral membrane protein that transports the neurotransmitter serotonin from synaptic spaces into presynaptic neurons.

17

APOE

Apolipoprotein E

APOE is a crucial factor involved in cholesterol metabolism, neurite growth, and neuron repair in the central nervous system.

19

BDNF

Brain-derived neurotrophic factor

BDNF is a member of the nerve growth factor family, necessary for survival of striatal neurons in the brain.

11

COMT

Catechol-O-methyltransferase

COMT that maintains neurologic functions by regulating the availability of key neurotransmitters, such as dopamine.

22

CPOX

Coproporphyrinogen oxidase

CPOX is the sixth enzyme of the heme biosynthetic pathway. The enzyme is soluble and found in the intermembrane space of mitochondria.

3

GRIN2A

Glutamate receptor, ionotropic, N-methyl d-aspartate 2A

GRIN2A and GRIN2B encode subunits of N-methyl-d-aspartate glutamatergic receptors, which mediate excitatory neurotransmission in the central nervous system.

16

GRIN2B

Glutamate receptor, ionotropic, N-methyl d-aspartate 2B

12

PON1

Paraoxonase 1

PON1 inhibits oxidation of lipoproteins through hydrolysis of lipid peroxides.

7

SEPP1

Selenoprotein P, plasma, 1

SEPP1 a selenoprotein containing multiple selenocysteine residues and has been implicated to function as an antioxidant.

5

TDO2

Tryptophan 2,3-dioxygenase

TDO2 is a heme enzyme that plays a critical role in tryptophan ans serotonine metabolism. A modification in this metabolism could lead to accumulation of serotonine in the brain and cause neurobehavioral disorders.

4

TF

Transferrin

TF transports iron from the intestine, reticuloendothelial system, and liver parenchymal cells to all proliferating cells in the body.

3
Discussion
The amount of literature about genetic influences on mercury (both IHg and MeHg) toxicokinetics is still limited and focused mainly on adult populations (general, occupationally exposed, or high fish consumers). Fetuses and children are the population sub-groups that are more vulnerable to the neurotoxic effects of MeHg, and the bibliography on them is really sparse.
Due to the central role of the GSH molecule in mercury metabolism, the GSH-related genes were the most frequently studied, both for Mehg and IHg, but the results were, apart from one gene (GCLM), contradictory, the same alleles were associated to higher and lower mercury concentrations in different populations. Information regarding the effect of gene-mercury interactions on neurodevelopment and neurotoxicity is too scarce to draw a definite conclusion, but one gene (APOE) with consistent results in different studies on children was identified. Neurotoxicity associated with IHg-gene interactions in adults has been assessed in few cross-sectional studies on occupationally exposed populations, and BDNF might be a candidate gene to follow-up on in future studies.
If we address the studies in more detail, GCLM rs41303970 seems so far to be the most promising genetic polymorphism for mercury toxicokinetics among the GSH-related genes studied. In two studies, the T allele for GCLM rs41303970 was associated with higher erythrocytes THg in general population from Sweden [32, 33], and higher urinary THg in gold miners from Ecuador [35, 38]. However, individuals from a high fishing eating population from Brazil with TT genotype had lower hair and plasma THg concentrations [40•]. For the other GSH-related genes, the results are more conflicting. The variant alleles of GSTP1 rs1695 and rs1138272 were associated with higher THg and MeHg in general populations from Austria [30] and Sweden [34], and with lower THg in Sweden [32] and dental professionals from USA [37]. The T allele of GCLC rs17883901 was associated with increased THg in Sweden [34] and Brazil [41], and the GSTM1 deletion genotype was associated with increased THg in general population from Austria [29, 30] and Brazil [40•, 41]. However, the number of studies without a statistically significant association is sizeable for both GCLC and GSTM1 genes (n = 6 and 5, respectively). GSH system is developed for protection against many different endogenous and xenobiotic substances, and polymorphisms resulting in less efficient proteins are probably compensated by other proteins in the same pathway.
The systems coding for MTs and transporter proteins in relationship to mercury concentrations have been less frequently studied, but some significant results were observed. Wang et al. (2012) studied mercury concentrations as a function of some MTs polymorphisms among dental professionals [39], and they found some statistical significant associations regarding the MTI and MT2 isoforms in relation to hair and urinary THg. Significant differences in THg as a function of MT4 rs11643815 have been observed in students from Austria [30]. Among potential mercury-transporting proteins, ABCB1 rs2032582, ABCC1 rs11075290, and ABCC2 rs2273697 were associated with THg accumulation in the fetus from maternal fish intake [25•], and ABCC2 rs1885301, rs717620, and rs2273697 were related to IHg metabolism in a gold mining population [36•]. Considering that these studies were performed on rather large populations, ABCC2 rs2273697 could be a candidate SNP to follow in other populations exposed to MeHg or IHg. Moreover, the evidence for an important role of ABCC1 in MeHg accumulation and neurotoxicity in fruit flies suggests that this is a transporter to be further studied in relation to MeHg exposure [51].
On the basis of available literature, we can postulate several reasons for the discrepancy between studies. First, differences could depend on the compound of mercury analyzed (IHg or MeHg), the matrix where mercury was analyzed (blood, hair, or urine is related to different kinetics of mercury in the human body) and mercury concentrations (different genetic response depending on dose). Secondly, sample size is an important factor that must be considered carefully in the assessment of interactions. Thirdly, the xenobiotic defence (GSH related, MTs, and transporters) encoding genes are highly polymorphic and other functional SNPs in linkage disequilibrium with the SNPs and with different allele frequencies in different populations analysed might explain some inconsistencies between studies. Still, there were very few attempts to consider the effects of haplotypes of gene-gene interactions in the studies evaluated, mainly due to low power of the studies. Fourthly, publication bias may be another factor since studies with statistically significant findings are more likely to be published than are studies with null results.
In the few studies on the effect of gene-mercury interaction on neurodevelopment, one polymorphism in APOE appeared to modify the mercury toxicity. APOE gene plays an important role in lipid-transported proteins and it is known to be a crucial mediating factor in neuronal repair. Three APOE alleles have been identified: ε2 has two cysteine amino-acids in its structure, ε3 has one cysteine and one arginine, and ε4 has two arginine amino-acids and no cysteine. Cysteine, with its sulfhydryl (−SH) bonds, is potentially able to bind to, and remove metals from nervous tissues, whereas arginine, lacking the -SH bonds, would be unable to do this and more toxicity might be expected [52]. Two studies conducted on the same study population from Taiwan found that children who were allele ε4 carriers obtained the worst scores in neuropsychological tests [43, 44]. Another study conducted in Portugal observed a statistically significant interaction between urinary THg, APOE, and sex; boys' carriers of APOE allele ε4 obtained impaired scores in learning and memory and girls obtained improved scores in attention and motor domains [45]. In fact, these authors found other statistically significant gene-mercury-sex interactions, which, overall, were negative among boys and positive among girls. This fact suggests a sexual different role in the influence of gene-mercury interactions on neuropsychological development, but this should be confirmed in further studies.
Another interesting gene for future studies is BDNF. BDNF is a protein that regulates neuronal growth and differentiation in the nervous system. A polymorphism in BDNF gene (rs6265) which substitutes methionine (Met) to valine (Val) at amino acid position 66 has been identified and associated with the processing and secretion of BDNF protein, Met carriers had reduced hippocampal activity in comparison with Val homozygotes [53]. Statistically significant interactions were observed regarding polymorphisms in BDNF in both children in the UK [42•] and in Portugal [45]. THg was associated with impaired performance scores among BDNF rs2049046 AA genotype carriers and also with impaired learning and memory domains in the Portugese children with the variant allele for BDNF rs6265. Further, BDNF rs6265 Met allele was found to have a role in the vulnerability to neurological damage among dental professionals exposed to IHg [46, 49].
Regarding gene-mercury interactions on child neurodevelopment and on adult neurotoxicity, there are some limitations that should be taken into account. First, there could be heterogeneity in the evaluation of the phenotypes. Children are evaluated at different ages when vast psychological changes occur and using a great variability of neuropsychological tests, which make the comparison between studies difficult and the performance of a meta-analysis unfeasible. Also, the number of polymorphisms evaluated in some of the studies is sizeable, thus the probability of spurious associations is high. Other limitations, previously commented for studies on mercury toxicokinetics, are the limited sample size and publication bias.
Conclusions
The number of studies about the genetics influence on mercury toxicokinetics is still limited and most of them were focused mainly on adult populations. Moreover, there are very scarce evidences for the effect of gene-mercury interactions on child neuropsychological development and adult neurotoxicity to draw any definite conclusion and further studies are highly warranted. Differences in the study population (age for neurodevelopment testing), mercury exposure assessment (concentrations, biological matrices, timing of exposure, and compounds of mercury), small sample sizes, and the neuropsychological tests used for the evaluation make the comparison between studies difficult and could be the cause of the contradictory results observed. More investigations about this topic are required. Additionally, environmental epidemiologic studies should be properly designed to study the effect of genetic interactions without bias. Birth cohort studies with a prospective follow-up of children and detailed information about socio-demographic characteristics, exposure assessment, and neurodevelopment are encouraged.
The review identified a few candidate genes in the literature that could be important for genetic susceptibility to mercury. However, so far, the candidate gene approaches have not identified any major gene/s strongly modifying the kinetics or neurotoxicity of mercury, suggesting that these might be polygenic traits or that the major gene/s have not yet been identified. The explorative genome-wide analysis could be a suitable method in order to identify genetic variants important for mercury kinetics and neurotoxicity.
Notes
Acknowledgments
This research has been funded by the Swedish Research Council Formas and the Spanish FIS FEDER (13/1944).
Compliance with Ethics Guidelines
ᅟ
Conflict of Interest
Sabrina Llop, Ferran Ballester, and Karin Broberg declare that they have no conflict of interest.
Human and Animal Rights and Informed Consent
This article does not contain any studies with human or animal subjects performed by any of the authors.
References
Papers of particular interest, published recently, have been highlighted as: • Of importance
Copyright information
© Springer International Publishing AG 2015