Abstract
Vasa praevia is a real nightmare for obstetricians if not diagnosed prenatally. We report five cases of vasa praevia with different presentations and outcomes. In the first case, vasa praevia was not diagnosed during the antenatal period and the baby was stillborn due to ruptured fetal vessels. In the other four cases, vasa praevia was diagnosed in antenatal period and all the cases had good outcomes. In one case there was evidence of marginal and velamentous cord insertion in the same placenta. Pregnancies were terminated in three cases by elective caesarean section with good perinatal outcome. In one case vasa praevia and placenta praevia resolved in third-trimester, and the baby was delivered vaginally. In all cases placental location was low lying at second-trimester anomaly scan. Hence it is important to check placental site cord insertion and presence of blood vessels near internal os in high risk cases in the second and third-trimester.
This is a preview of subscription content, log in to check access.
Access options
Buy single article
Instant unlimited access to the full article PDF.
US$ 39.95
Price includes VAT for USA
Subscribe to journal
Immediate online access to all issues from 2019. Subscription will auto renew annually.
US$ 99
This is the net price. Taxes to be calculated in checkout.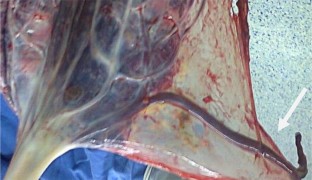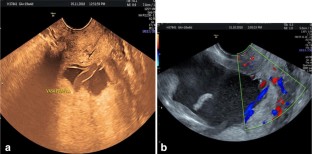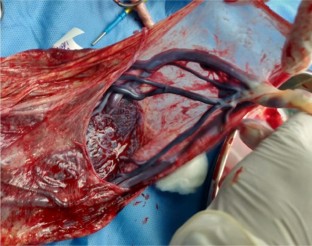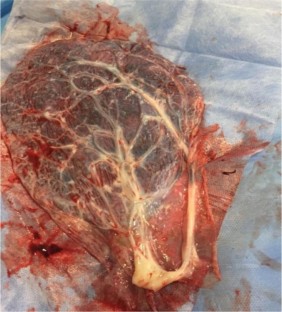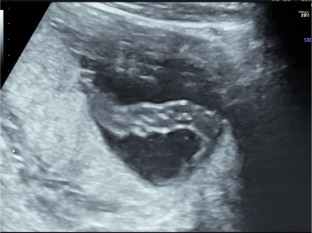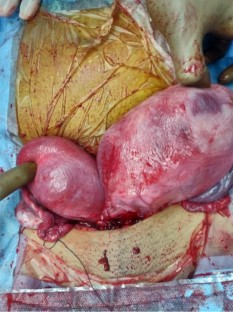 References
1.

Feldstein VA, Harris RD, Machin GA, Ultrasound evaluation of placenta and umbilical cord. In: Callen PW (ed) Ultrasonography in obstetrics and gynaecology, 5th edition, 2013; vol 19, pp. 731–737

2.

Silver RM. Abnormal placentation: placenta previa, vasa previa and placenta accreta. Obstet Gynecol. 2015;126:654–68.

3.

Oyelese YO, Turner M, Lees Campbell S. Vasa previa; an avoidable obstetric tragedy. Obstet Gynecol Surv. 1999;54:138–45.

4.

Nelson LH, Melone PJ. King diagnosis of vasa previa with transvaginal colour flow Doppler ultrasound. Obst Gynaecol. 1990;76:506.

5.

Hsieh FJ, Chen HF, Ko TM. Antenatal diagnosis of vasa previa by colour flow mappling. J Ultrasound Med. 1991;10:397.

6.

Jauniaux ERM, Alfirevic Z, Bhide AG, Burton GJ, Collins SL, Silver R, Vasa Praevia: diagnosis and management. RCOG Green—top Guideline; 2018

7.

Ruiter L, Kok N, Limpens J, Derks JB, de Graaf IM, Mol BW, et al. Systematic review of accuracy of ultrasound in the diagnosis of vasa previa. Ultrasound Obstet Gynecol. 2015;45:516–22.

8.

Ruiter L, Kok N, Limpens J, Derks JB, de Graaf IM, Mol B, et al. Incidence of and risk indicators for vasa praevia: a systematic review. BJOG. 2016;123:1278–87.

9.

Sullivan EA, Javid N, Duncombe G, Li Z, Safi N, Cincotta R, et al. Vasa previa diagnosis, clinical practice, and outcomes in Australia. Obstet Gynecol. 2017;130:591–8.

10.

Oyelese Y, Catanzarite V, Prefumo F, Lashley S, Schachter M, Tovbin Y, et al. Vasa previa: the impact of prenatal diagnosis on outcomes. Obstet Gynecol. 2004;103:937–42.

11.

Rebarber A, Dolin C, Fox NS, Klauser CK, Saltzman DH, Roman AS. Natural history of vasa previa across gestation using a screening protocol. J Ultrasound Med. 2014;33:141–7.

12.

UK National Screening Committee. Screening for vasa praevia in the second trimester of pregnancy. External Review Against Programme Appraisal Criteria for the UK National Screening Committee. London: UK NSC; 2017.

13.

Gagnon R, Morin L, Bly S, Butt K, Cargil YM, Denis N, Diagnostic Imaging Committee; Maternal Fetal Medicine Committee, et al. SOGC clinical practice guideline: guidelines for the management of vasa previa. Int J Gynecol Obstet. 2010;108:85–9.

14.

Gagnon R. Guidelines for the management of vasa previa. J Obstet Gynecol. 2017;39:e415–21.

15.

American Institute of Ultrasound in Medicine. AlUM practice guidelines for the performance of obstetric ultrasound examinations. J Ultrasound Med. 2013;32:1083–101.
Ethics declarations
Conflict of interest
The author declares there are no conflicts of interests. This article does not contain any studies performed by author, contain case reports and review of literature.
Additional information
Publisher's Note
Springer Nature remains neutral with regard to jurisdictional claims in published maps and institutional affiliations.
About this article
Cite this article
Aloorkar Patil, P., Vemarapu, G. & Pooskuru, S. Vasa Praevia: A Nightmare to Good Outcome. J. Fetal Med. (2020). https://doi.org/10.1007/s40556-019-00237-3
Received:

Accepted:

Published:
Keywords
Vasa praevia

Placenta praevia

IVF conception

Second-trimester low lying placenta