Applications of single-cell technology on bacterial analysis
Abstract
Background
Traditionally, scientists studied microbiology through the manner of batch cultures, to conclude the dynamics or outputs by averaging all individuals. However, as the researches go further, the heterogeneities among the individuals have been proven to be crucial for the population dynamics and fates.
Results
Due to the limit of technology, single-cell analysis methods were not widely used to decipher the inherent connections between individual cells and populations. Since the early decades of this century, the rapid development of microfluidics, fluorescent labelling, next-generation sequencing, and high-resolution microscopy have speeded up the development of single-cell technologies and further facilitated the applications of these technologies on bacterial analysis.
Conclusions
In this review, we summarized the recent processes of single-cell technologies applied in bacterial analysis in terms of intracellular characteristics, cell physiology dynamics, and group behaviors, and discussed how single-cell technologies could be more applicable for future bacterial researches.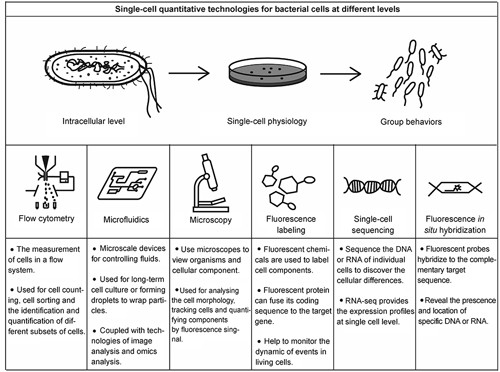 Keywords
single-cell technology 
bacterial analysis 
fluorescent labelling 
next-generation sequencing 
microfluidics 
Notes
Acknowledgments
This paper was supported by the National Natural Science Foundation of China (Nos. 31770111, 31800083 and 31570095); Shenzhen Science Technology and Innovation Commission (Nos. KQTD2016112915000294, JCYJ20170413153329565, JCYJ20170818160418654 and JCYJ2018030- 2145817753); Instrumental project from Chinese Academy of Science (No. YJKYYQ20170063); China Postdoctoral Science Foundation Grant (Nos. 2017M622832 and 2018M631002).
Compliance with Ethics Guidelines
The authors Zhixin Ma, Pan M. Chu, Yingtong Su, Yue Yu, Hui Wen, Xiongfei Fu and Shuqiang Huang declare that they have no conflict of interests.
This article is a review article and does not contain any studies with human or animal subjects performed by any of the authors.
Copyright information
© Higher Education Press and Springer-Verlag GmbH Germany, part of Springer Nature 2019