A model of NSCLC microenvironment predicts optimal receptor targets
Abstract
Background
Tumor microenvironment plays an essential role in the growth of malignancy. Understanding how tumor cells co-evolve with tumor-associated immune cells and stromal cells is important for tumor treatment.
Methods
In this paper, we propose a logistic population dynamics model for quantifying the intercellular signaling network in non-small-cell lung cancer (NSCLC). The model describes the evolutionary dynamics of cells and signaling proteins and was used to predict effective receptor targets through combination strategy analysis. Then, we optimized a multi-target strategy analysis algorithm that was verified by applying it to virtual patients with heterogeneous conditions. Furthermore, to deal with acquired resistance which was commonly observed in patients with NSCLC, we proposed a novel targeting strategy — tracking targeted therapy, to optimize the treatment by improving the therapeutic strategy periodically.
Results
The synergistic effect when inhibiting multiple signaling pathways may help significantly retard carcinogenic processes associated with disease progression, compared with suppression of a single signaling pathway. While traditional treatment (surgery, radiotherapy and chemotherapy) tends to attack tumor cells directly, the multi-target therapy we suggested here is aimed to inhibit the development of tumor by emasculating the relative competitive advantages of tumor cells and promoting that of normal cells.
Conclusion
The combination of traditional and targeted therapy, as an interesting experiment, was significantly more effective in treatment of virtual patients due to a clear complementary relationship between the two therapeutic schemes.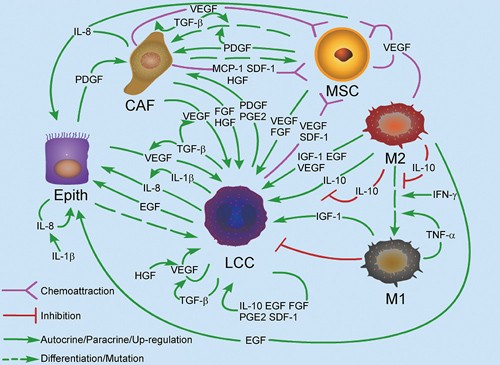 Keywords
non-small-cell lung cancer 
tumor microenvironment 
intercellular signaling network 
logistic population dynamics 
drug resistance 
multi-target therapy 
Notes
Acknowledgements
We acknowledge the supports from the National Natural Science Foundation of China (Nos. 11402227, 11621062 and 11432012), the Fundamental Research Funds for the Central Universities of China (No. 2015QNA4034), and the Thousand Young Talents Program of China.
Copyright information
© Higher Education Press and Springer-Verlag GmbH Germany, part of Springer Nature 2019