Regulation by competition: a hidden layer of gene regulatory network
Abstract
Background
Molecular competition brings about trade-offs of shared limited resources among the cellular components, and thus introduces a hidden layer of regulatory mechanism by connecting components even without direct physical interactions. Several molecular competition scenarios have been observed recently, but there is still a lack of systematic quantitative understanding to reveal the essence of molecular competition.
Methods
Here, by abstracting the analogous competition mechanism behind diverse molecular systems, we built a unified coarse-grained competition motif model to systematically integrate experimental evidences in these processes and analyzed general properties shared behind them from steady-state behavior to dynamic responses.
Results
We could predict in what molecular environments competition would reveal threshold behavior or display a negative linear dependence. We quantified how competition can shape regulator-target dose-response curve, modulate dynamic response speed, control target expression noise, and introduce correlated fluctuations between targets.
Conclusions
This work uncovered the complexity and generality of molecular competition effect as a hidden layer of gene regulatory network, and therefore provided a unified insight and a theoretical framework to understand and employ competition in both natural and synthetic systems.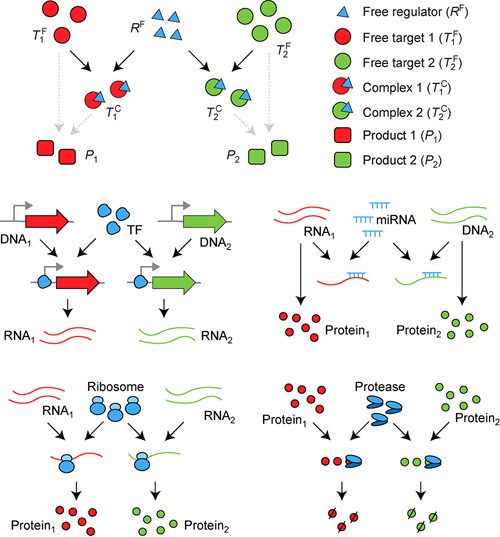 Keywords
systems biology 
computational modeling 
molecular competition regulation 
synthetic biology 
network motif 
Notes
Acknowledgements
This work has been supported by the National Natural Science Foundation of China (Nos. 61773230, 31371341, 61721003, 91730301, 31671384 and 91729301), National Basic Research Program of China (2017YFA0505503), Initiative Scientific Research Program (No. 20141081175) and Cross-discipline Foundation of Tsinghua University, and the Open Research Fund of State Key Laboratory of Bioelectronics Southeast University.
Copyright information
© Higher Education Press and Springer-Verlag GmbH Germany, part of Springer Nature 2018