Selecting near-native protein structures from ab initio models using ensemble clustering
Abstract
Background
Ab initio protein structure prediction is to predict the tertiary structure of a protein from its amino acid sequence alone. As an important topic in bioinformatics, considerable efforts have been made on designing the ab initio methods. Unfortunately, lacking of a perfect energy function, it is a difficult task to select a good near-native structure from the predicted decoy structures in the last step.
Methods
Here we propose an ensemble clustering method based on k-medoids to deal with this problem. The k-medoids method is run many times to generate clustering ensembles, and then a voting method is used to combine the clustering results. A confidence score is defined to select the final near-native model, considering both the cluster size and the cluster similarity.
Results
We have applied the method to 54 single-domain targets in CASP-11. For about 70.4% of these targets, the proposed method can select better near-native structures compared to the SPICKER method used by the I-TASSER server.
Conclusions
The experiments show that, the proposed method is effective in selecting the near-native structure from decoy sets for different targets in terms of the similarity between the selected structure and the native structure.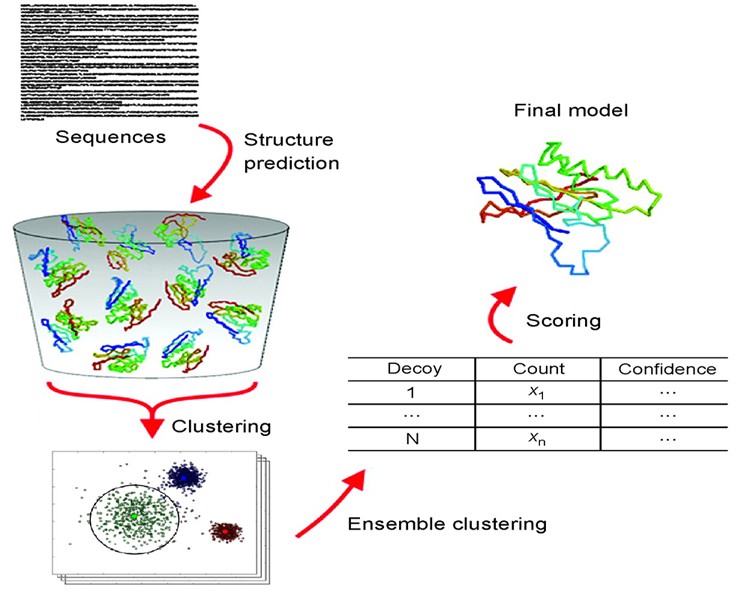 Keywords
near-native structure 
protein structure prediction 
ab initio
decoy 
ensemble clustering 
k-medoids 
Notes
Acknowledgements
This work is supported by the National Key R&D Program of China (No. 2017YFE0111900), and the Lanzhou Talents Program for Innovation and Entrepreneurship (No. 2016-RC-93).
Copyright information
© Higher Education Press and Springer-Verlag GmbH Germany, part of Springer Nature 2018