Abstract
A uterine inversion occurs when the uterine fundus collapses into the endometrial cavity. It is a rare complication in obstetrics following delivery, and it is even more infrequently encountered in gynecology with the non-puerperal uterus. A submucous fibroid is the most common reported cause of the non-puerperal uterine inversion. If not promptly recognized and treated, uterine inversion may lead to a severe hemorrhagic shock and death. We describe a novel three-dimensional power Doppler feature for the diagnosis of uterine inversion.
Sommario
L'inversione uterina si verifica quando il fondo uterino collassa nella cavità endometriale. E' una rara complicanza che può avvenire dopo il parto ed è di rarissimo riscontro nell'utero non-puerperale in cui la causa più frequente è la presenza di un fibroma sottomucoso. Se non immediatamente riconosciuta e trattata, l'inversione uterina può portare ad un grave shock emorragico e alla morte. In questo lavoro descriviamo una nuova funzione di power doppler tridimensionale per la diagnosi di inversione uterina.
This is a preview of subscription content, log in to check access.
Access options
Buy single article
Instant access to the full article PDF.
US$ 39.95
Price includes VAT for USA
Subscribe to journal
Immediate online access to all issues from 2019. Subscription will auto renew annually.
US$ 99
This is the net price. Taxes to be calculated in checkout.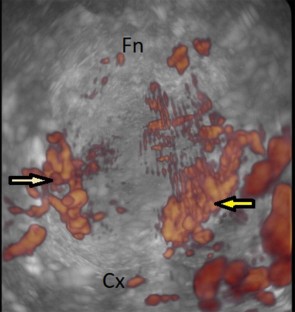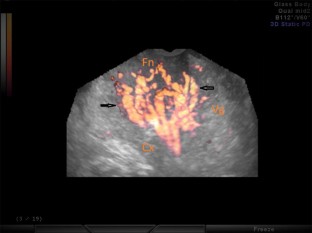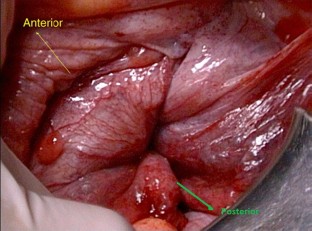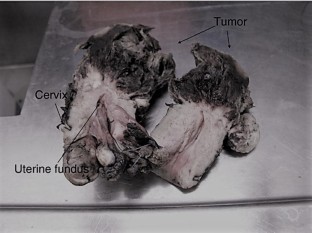 References
1.

Case AS, Kirby TO, Conner MG, Huh WK (2005) A case report of rhabdomyosarcoma of the uterus associated with uterine inversion. Gynecol Oncol 96:850–853

2.

da Silva BB, Dos Santos AR, Bosco Parentes-Vieira J, Lopes-Costa PV, Pires CG (2008) Embryonal rhabdomyosarcoma of the uterus associated with uterine inversion in an adolescent: a case report and published work review. J Obstet Gynaecol Res 34:735–738

3.

Ehrlich CE, Bonaventura LM (1977) Nonpuerperal inversion of the uterus by endometrial stromal sarcoma of the uterine fundus. South Med J 70:872–873

4.

Gomez-Lobo V, Burch W (2008) Nonpuerperal uterine inversion associated with an immature teratoma of the uterus in an adolescent. Obstet Gynecol 112:708–709

5.

Lupovitch A, England ER, Chen R (2005) Non-puerperal uterine inversion in association with uterine sarcoma: case report in a 26-year-old and review of the literature. Gynecol Oncol 97:938–941

6.

Gross RC, McGahan JP (1985) Sonographic detection of partial uterine inversion. AJR Am J Roentgenol 144:761–762

7.

Hu CF, Lin H (2012) Ultrasound diagnosis of complete uterine inversion in a nulliparous woman. Acta Obstet Gynecol Scand 91:379–381

8.

Krissi H, Peled Y, Efrat Z, Goldshmit C (2011) Ultrasound diagnosis and comprehensive surgical treatment of complete non-puerperal uterine inversion. Arch Gynecol Obstet 283(Suppl 1):111–114

9.

Occhionero M, Restaino G, Ciuffreda M, Carbone A, Sallustio G, Ferrandina G (2012) Uterine inversion in association with uterine sarcoma: a case report with MRI findings and review of the literature. Gynecol Obstet Invest 73:260–264

10.

Lewin JS, Bryan PJ (1989) MR imaging of uterine inversion. J Comput Assist Tomogr 13:357–359
Funding
The authors of this study declare no financial support was received for this study
Ethics declarations
Ethical approval
This study report was approved by our institutional review board.
Informed consent
Informed consent was obtained from all individual participants included in the study.
Conflict of interests
The authors of this study declare they have no conflict of interest.
About this article
Cite this article
Zohav, E., Anteby, E.Y. & Grin, L. U-turn of uterine arteries: a novel sign pathognomonic of uterine inversion. J Ultrasound 23, 77–79 (2020). https://doi.org/10.1007/s40477-018-0319-0
Received:

Accepted:

Published:

Issue Date:
Keywords
Uterine inversion

3D Ultrasound

Power Doppler

Hysterectomy

Non-puerperal uterine

Three-dimensional sonography