Abstract
Purpose
Cavernous transformation of the portal vein can be missed on color Doppler exam or arterial phase cross-sectional imaging due to their slow flow and delayed enhancement. Contrast-enhanced ultrasound (CEUS) offers many advantages over other imaging techniques and can be used to successfully detect cavernous transformations of the portal vein.
Methods
A 10-month-old female was followed for repeat episodes of hematemesis. Computed tomography angiography (CTA) and magnetic resonance arteriogram (MRA) and portal venography were performed. Color Doppler exam of the portal vein was performed followed by administration of Lumason, a microbubble US contrast agent.
Results
Magnetic resonance arteriogram, CTA, and color Doppler exam at the time of initial presentation was unremarkable without obvious vascular malformation within the limits of motion degraded exam. At 8-month follow-up, esophagogastroduodenoscopy revealed a vascular malformation in the distal esophagus which was sclerosed. At 6 month after sclerosis of the lesion, portal venography revealed occlusion of the portal vein with extensive collateralization. Color Doppler revealed subtle hyperarterialization and periportal collaterals. CEUS following color Doppler exam demonstrated extensive enhancement of periportal collaterals. Repeat color Doppler after contrast administration demonstrated extensive Doppler signal in the collateral vessels, suggestive of cavernous transformation.
Conclusions
We describe a case of cavernous transformation of the portal vein missed on initial color Doppler, CTA and MRA, but detected with contrast-enhanced ultrasound technique.
Sommario
Scopo
La trasformazione cavernomatosa della vena porta può sfuggire all'esame color Doppler o nell'arterial phase cross sectional imaging a causa del flusso lento e al ritardato enhancement. L'ecografia con mezzo di contrasto (CEUS) offre molti vantaggi rispetto ad altre tecniche di imaging e può essere utilizzata per rilevare con successo i cavernomi della vena porta.
Metodi
Una bimba di 10 mesi è stata seguita per ripetuti episodi di ematemesi. Sono state eseguite angiografia con tomografia computerizzata (CTA) e angiografia con Risonanza Magnetica (MRA) e flebografia portale. È stato eseguito l'esame color Doppler della vena porta, seguito dalla somministrazione di Lumason, un agente di contrasto ecografico con microbolle.
Risultati
L'esame MRA, CTA e color Doppler al momento della presentazione iniziale era negativo senza evidenti malformazioni vascolari con i limiti della degradazione delle immagini di movimento. A 8 mesi di follow-up, l'esofagogastroduodenoscopia (EGD) ha rivelato una malformazione vascolare nell'esofago distale che veniva sclerosata. A 6 mesi dopo la sclerosi della lesione, la venografia portale ha rivelato l'occlusione della vena porta con circoli collaterali. Il color Doppler ha rivelato sottile iperarterializzazione e vasi collaterali periportali. L'esame color Doppler successivo alla CEUS ha dimostrato un ampio miglioramento dei circoli collaterali periportali. Ripetuto il color Doppler dopo la somministrazione di contrasto ha dimostrato un ampio segnale Doppler nei vasi collaterali, indicativo di trasformazione cavernosa.
Conclusioni
Descriviamo un caso di trasformazione cavernomatosa della vena porta mancata inizialmente dal color Doppler, CTA e MRA, ma rilevata con l'ecografia con mezzo di contrasto.
This is a preview of subscription content, log in to check access.
Access options
Buy single article
Instant unlimited access to the full article PDF.
US$ 39.95
Price includes VAT for USA
Subscribe to journal
Immediate online access to all issues from 2019. Subscription will auto renew annually.
US$ 99
This is the net price. Taxes to be calculated in checkout.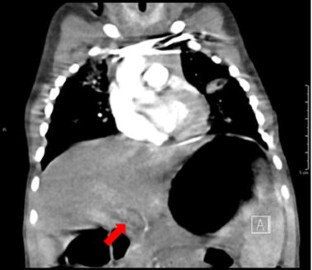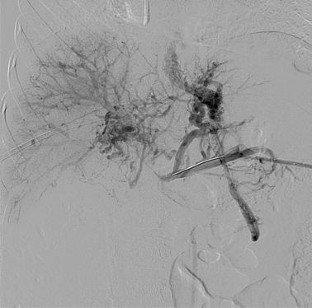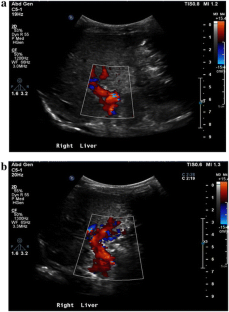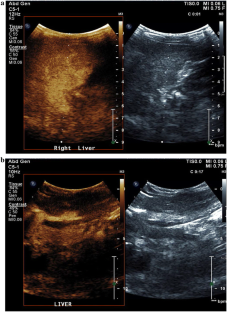 References
1.

Hwang M, De Jong RM et al (2016) Novel contrast ultrasound evaluation in neonatal hypoxic ischemic injury: case series and future directions. J Ultrasound Med 36(11):2379–2386

2.

Di Sabatino A, Fulle I et al (2002) Doppler enhancement after intravenous levovist injection in Crohn's disease. Inflamm Bowel Dis 8:251–257

3.

Okura H, Yoshida K et al (1997) Improved transvalvular continuous-wave Doppler signal intensity after intravenous Albunex injection in patients with prosthetic aortic valves. J Am Soc Echocardiogr 10:608–612

4.

Tessler FN, Gehring BJ et al (1991) Diagnosis of portal vein thrombosis: value of color Doppler imaging. AJR Am J Roentgenol 157:293–296

5.

Puccia F, Lombardo V et al (2017) Case report: acute portal vein thrombosis associated with acute cytomegalovirus infection in an immunocompetent adult. J Ultrasound 20:161–165

6.

Sidhu PS, Cantisani V et al (2017) Role of contrast-enhanced ultrasound (CEUS) in paediatric practice: an EFSUMB position statement. Ultraschall Med 38:33–43
Ethics declarations
Conflict of interest
The authors declare that they have no conflict of interest.
Ethical approval
All procedures performed in studies involving human participants were in accordance with the ethical standards of the institutional and/or national research committee and with the 1964 Helsinki declaration and its later amendments or comparable ethical standards.
Informed consent
For this type of retrospective case report, formal consent is not required.
Electronic supplementary material
Below is the link to the electronic supplementary material.
Supplementary material 1 (MP4 60679 kb)
About this article
Cite this article
Hwang, M., Thimm, M.A. & Guerrerio, A.L. Detection of cavernous transformation of the portal vein by contrast-enhanced ultrasound. J Ultrasound 21, 153–157 (2018) doi:10.1007/s40477-018-0288-3
Received:

Accepted:

Published:

Issue Date:
Keywords
Contrast-enhanced ultrasound (CEUS)

Cavernous transformation

Portal vein