Herlyn Werner Wunderlich syndrome (HWWS): an unusual presentation of acute abdominal pain
Herlyn Werner Wunderlich syndrome (HWW) is a very rare congenital malformation of the urogenital tract secondary to Müllerian developmental abnormalities MDA.
HWW syndrome results from agenesis or hypoplasia, defective vertical or lateral fusion, or resorption failure of paramesonephric ducts.
Anatomically it is characterised by a triad of didelphys uterus, obstructed hemivagina and ipsilateral renal agenesis (Fig.
1
). This syndrome was described the first time on 1922 [
1
].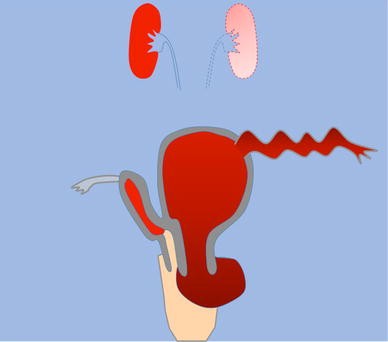 Keywords
Endometriosis 
Uterine Cavity 
Renal Agenesis 
Cervical Canal 
Vaginal Septum 
These keywords were added by machine and not by the authors. This process is experimental and the keywords may be updated as the learning algorithm improves.
Notes
Conflict of interest
Giulia van der Byl, Vincenza di Giacomo, Vittorio Miele declare that they have no conflict of interest.
Informed consent
All procedures followed were in accordance with the ethical standards of the responsible committee on human experimentation (institutional and national) and with the Helsinki Declaration of 1975, as revised in 2000 (5). All patients provided written informed consent to enrolment in the study and to the inclusion in this article of information that could potentially lead to their identification.
Human and animal studies
The study was conducted in accordance with all institutional and national guidelines for the care and use of laboratory animals.
Copyright information
© Società Italiana di Ultrasonologia in Medicina e Biologia (SIUMB) 2014