Abstract
A novel planning system which can automatically accomplish machining plans with the appropriate fixture setup and inspection strategies have been presented. In this work, the primary steps that are required to achieve an automated process scheme, modular fixture design, and inspection planning have been described. The object-oriented approach has been employed to attain automation and integration of the design process, including fixtures and inspection modules. This kind of system is unique as it provides an integrated platform for three important manufacturing activities, namely process planning, fixture design, and inspection. The STEP has been employed as an input to the proposed framework. The computer-aided process planning module consists of geometric and dimensional data, machining feature recognition information and process planning files. The modular fixture layout design has been developed using the set of defined rules, search strategies and the graphical database of various fixturing components. The computer-aided inspection planning module automatically generates an inspection plan and Dimensional Measuring Interface Standard code for coordinate measuring machines. It is noticeable from the reported case study and its outcomes that the developed integrated environment can effectively be employed in different manufacturing industries for automated process planning, fixture design, and inspection.
This is a preview of subscription content, log in to check access.
Access options
Buy single article
Instant unlimited access to the full article PDF.
US$ 39.95
Price includes VAT for USA
Subscribe to journal
Immediate online access to all issues from 2019. Subscription will auto renew annually.
US$ 99
This is the net price. Taxes to be calculated in checkout.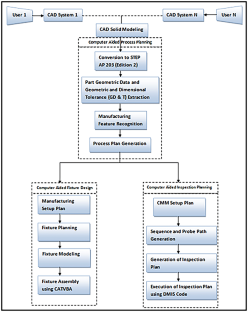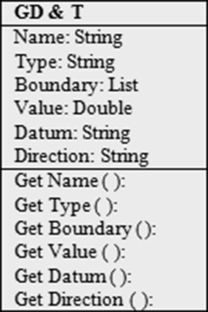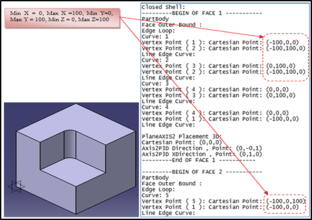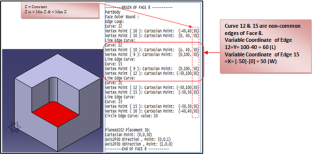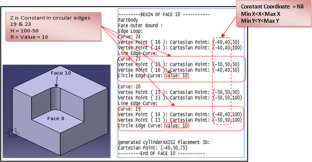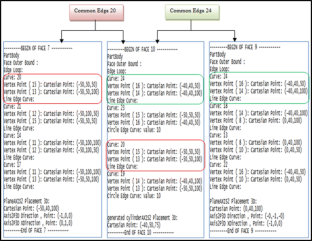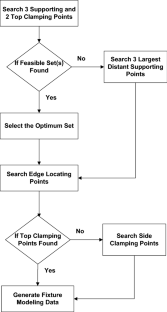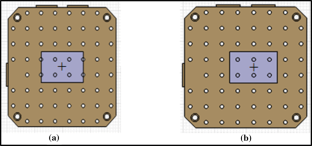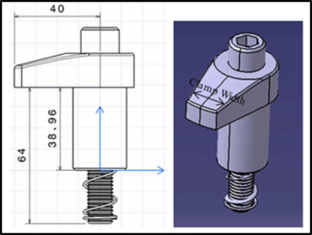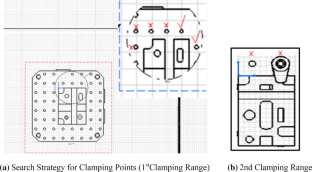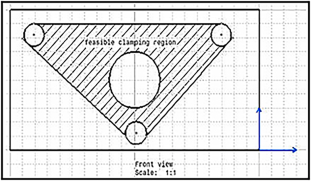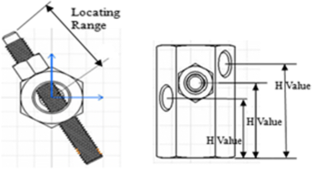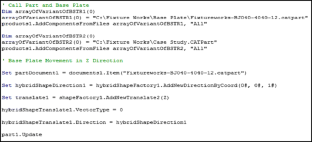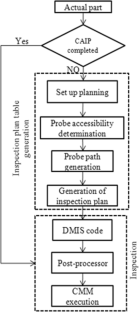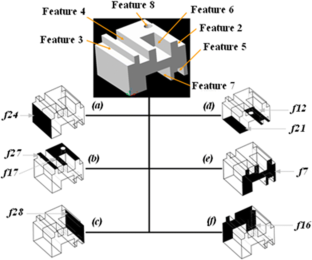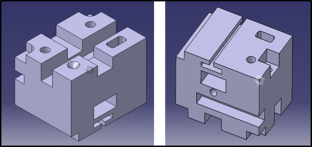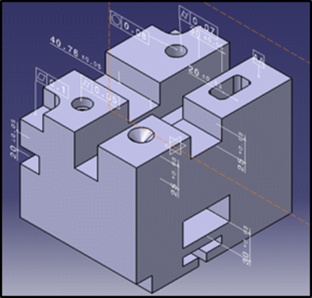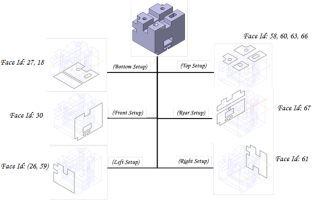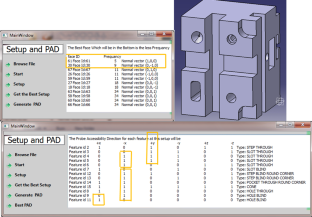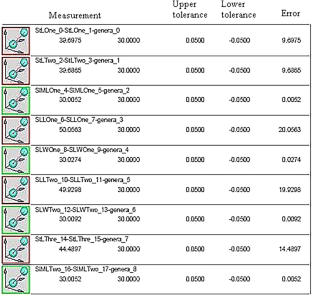 References
1.

Abdulghafoor AB (2010) STEP-based CAD/CAPP/CAM integration for product development system. Ph.D. Thesis, the Technical University of Baghdad, Iraq

2.

Abedini V, Shakeri M, Siahmargouei MH, Baseri H (2013) Automated process planning system: a new method for setup planning and a mathematical model for fixture design. Proc Inst Mech Eng Part B J Eng Manuf 227(12):1849–1859

3.

Al-Ahmari AM, Nasr EA, Khan AA, Kamrani A (2013) Intelligent fixture planning system for prismatic parts. Green design, materials and manufacturing processes. Taylor & Francis Group, London, pp 219–224

4.

Alarcon RH, Riosb J, Pereza JM, Vizan A (2006) A functional approach for the formalization of the fixture design process. Int J Mach Tools Manuf 46:683–697

5.

Alarcon RH, Chueco R, Perez J, Vizan A (2010) Fixture knowledge model development and implementation based on a functional design approach. Robot Comput Integr Manuf 26:56–66a

6.

Amaitik S, Kilic E (2004). STEP feature-based intelligent system planning process for prismatic parts. In: The 11th international conference on machine design and production, Antalya, Turkey, p 243–252

7.

Amaitik SM, Kilic SE (2007) An intelligent process planning system for prismatic parts using step features. Int J Adv Manuf Technol 31(9–10):978–993

8.

Ameri F, Summers JD (2008) An ontology for representation of fixture design knowledge. Computer-Aided Des Appl 5(5):601–611

9.

Babu BS, Valli PM, Kumar AVVA, Rao DN (2005) Automatic modular fixture generation in computer-aided process planning systems. Proc Inst Mech Eng Part C J Mech Eng Sci 219(10):1147–1152

10.

Bansal S, Malik P, Reddy NV, Saxena A (2008) Modular fixture planning for minimum three-dimensional tolerances using a neutral part data exchange format. Int J Prod Res 46(6):1455–1476

11.

Bansal S, Nagarajan S, Reddy NV (2008) An integrated fixture planning system for minimum tolerances. Int J Adv Manuf Technol 38(5–6):501–513

12.

Beg J, Shunmugam MS (2002) An object oriented planner for inspection of prismatic parts-OOPIPP. Int J Adv Manuf Technol 19:905–916

13.

Bi ZM, Zhang WJ (2001) Flexible fixture design and automation: review, issues and future directions. Int J Prod Res 39(13):2867–2894

14.

Carr Lane Manufacturing Co. http://www.carrlane.com/

15.

Cho MW, Lee H, Yoon GS, Choi J (2005) A feature-based inspection planning system for coordinate measuring machines. Int J Adv Manuf Technol 26(9–10):1078–1087

16.

Chowdary BV, Richards MA, Gokool T (2018) Virtual conceptual design of a multi-purpose fixture for a CNC milling machine using the controlled convergence technique. West Indian J Eng 40(2):4–9

17.

Fixtureworks – Work holding Technologies. http://www.fixtureworks.net/

18.

Fu W, Campbell MI (2014) Concurrent fixture design for automated manufacturing process planning. Int J Adv Manuf Technol 76(1–4):375–389

19.

Gaoliang P, Gongdong W, Wenjiana L, Haiquan Y (2010) A desktop virtual reality-based interactive modular fixture configuration design system. Comput Aided Des 42:432–444

20.

Ghaleb YA, Ketan HS, Adil MB (2005) Integrating design and production planning with knowledge based inspection planning system. Arabia J Sci Eng 30(2B):245–260

21.

Hazarika M, Dixit US, Deb S (2010) A setup planning methodology for prismatic parts considering fixturing aspects. Int J Adv Manuf Technol 51(9–12):1099–1109

22.

Huang SH, Xu N (2003) Automatic set-up planning for metal cutting: an integrated methodology. Int J Prod Res 41(18):4339–4356

23.

Hunter R, Guzman M, Moller J, Perez J (2008) A functional tolerance model: an approach to automate the inspection process. J Achiev Mater Manuf Eng 31(2):662–670

24.

Hwang CY, Tsai CY, Chang CA (2004) Efficient inspection planning for coordinate measuring machines. Int J Adv Manuf Technol 23:732–742

25.

Ivanov V (2019) Process-oriented approach to fixture design. In: Ivanov V et al (eds) Advances in design, simulation and manufacturing, DSMIE 2018. Lecture notes in mechanical engineering. Springer, Cham

26.

Kamrani A, Nasr EA, Al-Ahmari A, Abdulhameed O, Mian SM (2015) Feature-based design approach for integrated CADand computer-aided inspection planning. Int J Adv Manuf Technol 76:2159–2183

27.

Kurian KT, Gary W, Fischer U (1996) Integrating CAD/CAM software for process planning applications. J Mater Process Technol 61:87–92

28.

Lee H, Cho MW, Yoon GS, Choi JH (2004) A computer-aided inspection planning system for on-machine measurement—part I" global inspection planning. KSME Int J 18(8):1349–1357

29.

Li W, Peigen L, Rong Y (2002) Case-based agile fixture design. J Mater Process Technol 128:7–18

30.

Limaiem A, ElMaraghy HA (1997) Automatic planning for coordinate measuring machines. In: Proceedings of IEEE international symposium on assembly and task planning Marina del Rey, CA

31.

Lin ZC, Huang JC (2000) The fixture planning of modular fixtures for measurement. IIE Trans 32(4):345–359

32.

Liqing F (2003) Internet-enabled fixture designed system using case-based reasoning technology, Master Thesis, National University of Singapore

33.

Lockett HL, Guenov MD (2005) Graph-based feature recognition for injection moulding based on a mid-surface approach. J Computer-aided Des 37(2):251–262

34.

Luo C, Wang X, Su C (2017) A fixture design retrieving method based on constrained maximum common subgraph. IEEE Trans Automat Sci Eng 99:1–13

35.

Matejic M, Tadic B, Lazarevic M, Misic M, Vukelic D (2018) Modelling and simulation of a novel modular fixture for flexible manufacturing system. Int J Simul Modell 17(1):18–29. https://doi.org/10.2507/IJSIMM17(1)407

36.

Nasr EA, Kamrani A (2006) A new methodology for extracting manufacturing features from CAD system. Comput Ind Eng 51:389–415

37.

Nasr EA, Al-Ahmari AM, Khan AA, Kamrani A (2013) An object oriented approach to CAPP-CAFP system for prismatic parts. In: Krishnamurthy A, Chan WKV (eds) Proceedings of the 2013 industrial and systems engineering research conference, Puerto-Rico, USA

38.

Nelaturi S, Rangarajan A, Fritz C, Kurtoglu T (2014) Automated fixture configuration for rapid manufacturing planning. Comput Aided Des 46(1):160–169

39.

Nguyen VD, Martin P (2015) Product design-process selection-process planning integration based on modeling and simulation. Int J Adv Manuf Technol 77(1–4):187–201

40.

Peng G, Wang G, Liu W, Yu H (2010) A desktop virtual reality-based interactive modular fixture configuration design system. Comput Aided Des 42(5):432–444

41.

Ríos J, Jiménez JV, Pérez J, Vizán A, Menéndez JL, Más F (2005) KBE application for the design and manufacture of HSM fixtures. Acta Polytech 45(3):17–24

42.

Rong Y, Zhu Y (1999) Computer-aided fixture design. Marcel Dekker Inc, New York

43.

Salomons OW (1994) Computer support in the design of mechanical product: constraint specification and satisfaction in feature based design for manufacturing, Ph.D Thesis, University of Twenty, Netherlands

44.

Sathi SVB, Rao PVM (2009) STEP to DMIS: automated generation of inspection plans from CAD data. In: 2009 IEEE international conference on automation science and engineering, p 519–524

45.

Shojaeipour S (2015) Sustainable manufacturing process planning. Int J Adv Manuf Technol 78(5–8):1347–1360

46.

Stojadinovic SM, Majstorovic VD, Durakbasa NM, Sibalija TV (2016) Towards an intelligent approach for CMM inspection planning of prismatic parts. Measurement 92:326–339

47.

Sun X, Chu X, Xue D, Su Y, Tang C (2012) An integrated setup/fixture planning approach for machining prismatic parts. Int J Prod Res 50(4):1009–1027

48.

Vukelic D, Zuper U, Hodolic J (2009) Complex system for fixture selection, modification, and design. Int J Adv Manuf Technol 45(7–8):731–748

49.

Vukelic D, Simunovic G, Saric T, Matin I, Savkovic B, Lazarevic M, Tadic B (2018) Computer-aided design and optimization of fixtures for plastic parts machining. J Prod Eng 21(1):49–54

50.

Vukelic D, Agarski B, Budak I, Simunovic G, Buchmeister B, Jakovljevic Z, Tadic B (2019) Eco-design of fixtures based on life cycle and cost assessment. Int J Simul Modell 18(1):72–85

51.

Wang H, Rong Y (2008) Case based reasoning method for computer aided welding fixture design. Comput Aided Des 40:1121–1132

52.

Xu X, Wang L, Newman ST (2011) Computer-aided process planning—a critical review of recent developments and future trends. Int J Comput Integr Manuf 24(1):1–31

53.

Zhao F, Xu X, Xie SQ (2009) Computer-aided inspection planning-the state of the art. Comput Ind 60(7):453–466
Acknowledgements
The authors extend their appreciation to the Deanship of Scientific Research at King Saud University for funding this work through research group No (RG-1439-009).
Additional information
Publisher's Note
Springer Nature remains neutral with regard to jurisdictional claims in published maps and institutional affiliations.
Technical Editor: Zilda de Castro Silveira, Ph.D.
About this article
Cite this article
Abouel Nasr, E., Al-Ahmari, A., Khan, A.A. et al. Integrated system for automation of process, fixture and inspection planning. J Braz. Soc. Mech. Sci. Eng. 42, 52 (2020). https://doi.org/10.1007/s40430-019-2129-5
Received:

Accepted:

Published:
Keywords
Process planning

Fixture design

Inspection planning

Feature extraction

Coordinate measuring machine

STEP

DMIS