Abstract
To meet the tighter emission standard of the diesel engine and save energy, various energy recovery and utilization systems (ERUSs) of excavator boom began to be applied. In this paper, a new ERUS of excavator boom was proposed and designed for a 20-ton traditional excavator (TE) based on flow regeneration and balance theory. In the new ERUS, partial potential energy of excavator boom can be utilized directly, and other partial potential energy of excavator boom is accumulated and released within only one hydraulic–hydraulic circuit. When the models of working device and working device with the new ERUS were built and simulated by AMEsim software based on proportion integration differentiation control strategy and the typical working cycle of TE, it can been seen that the new ERUS can meet the working requirement. Calculating and analyzing the influences of main parameters on the energy saving efficiency of the new ERUS, the optimal parameters are achieved. Then, the performance of new ERUS with optimal parameters is analyzed, some conclusion achieved that the potential energy utilization rates of boom is 20.1%, 24.9 L oil is regenerated, and 37.8 L oil and 41.6% energy are saved.
This is a preview of subscription content, log in to check access.
Access options
Buy single article
Instant unlimited access to the full article PDF.
US$ 39.95
Price includes VAT for USA
Subscribe to journal
Immediate online access to all issues from 2019. Subscription will auto renew annually.
US$ 99
This is the net price. Taxes to be calculated in checkout.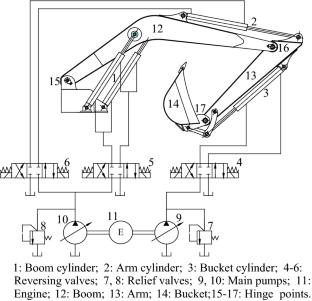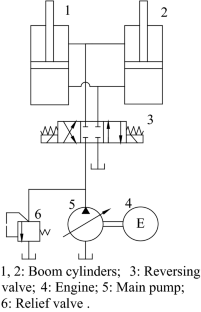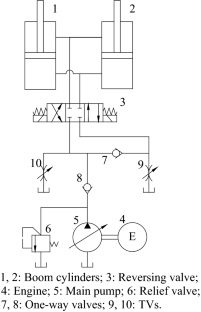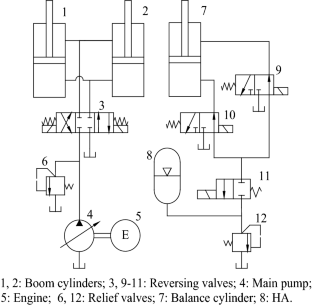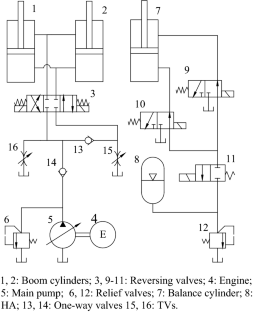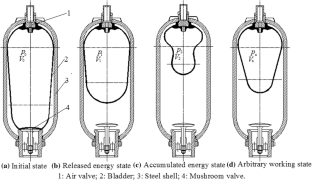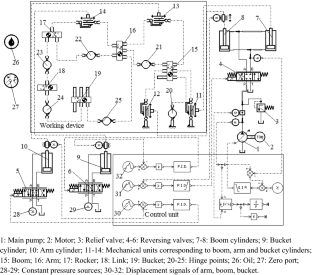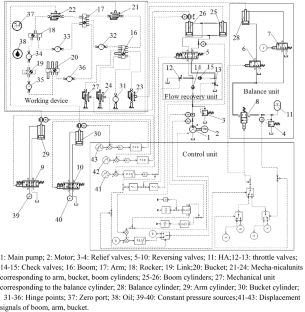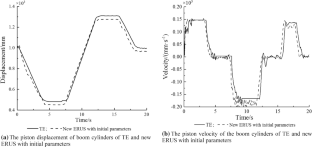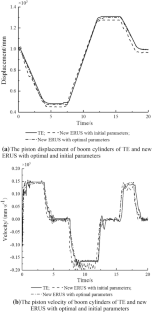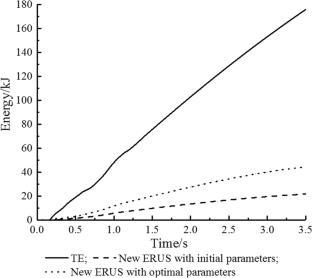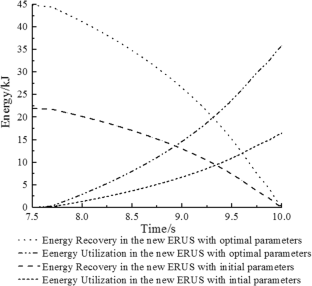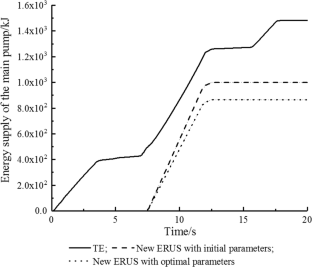 References
1.

Hiroaki I (2008) Introduction of PC200_8 hybrid hydraulic excavators. Komatsu Tech Rep 54(161):26–31 (in Japanese)

2.

Casoli P, Riccò L, Campanini F, Bedotti A (2016) Hydraulic hybrid excavator-mathematical model validation and energy analysis. Energies MDPI 9:1002. https://doi.org/10.3390/en9121002

3.

Hippalgaonkar R, Ivantysynova M (2013) A series-parallel hydraulic hybrid mini-excavator with displacement controlled actuators. In: The 13th Scandinavian international conference on fluid power, Linköping, Sweden, pp 31–42

4.

Shen W, Jiang JH, Su XY, Karimi HR (2015) Control strategy analysis of the hydraulic hybrid excavator. J Frankl Inst 352(2):541–561. https://doi.org/10.1016/j.jfranklin.2014.04.007

5.

Yoon J II, Truong DQ, Ahn KK (2013) A generation step for an electric excavator with a control strategy and verifications of energy consumption. Int J Precis Eng Manuf 14(5):755–766. https://doi.org/10.1007/s12541-013-0099-6

6.

Das D, Chowdhury P, Truong BNM, Ahn KK et al (2015) A novel energy recuperation system for hybrid excavator using hybrid actuator. In: The 15th international conference on control, automation and systems, Busan, Korea

7.

Choi J, Kim H, Yu S et al (2011) Development of integrated controller for a compound hybrid excavator. J Mech Sci Technol 25(6):1557–1563

8.

Shenouda A, Book W (2005) Energy saving analysis using a four-valve independent metering configuration controlling a hydraulic cylinder. In: 2005 SAE commercial vehicle engineering conference, Chicago, Illinois, USA. https://doi.org/10.4271/2005-01-3632

9.

Sun W, Virvalo T (2005) Simulation study on a hydraulic-accumulator-balancing energy saving system in hydraulic boom. In: 50th national conference on fluid power, Las Vegas, Nevada, pp 371–381

10.

Ren HL, Lin TL, Ye YY, Fu SJ (2017) Parameters design and experiment of boom potential energy recovery system based on balance cylinder. China J Highw Transp 30(2):153–158 (In Chinese)

11.

Rydberg KE (2005) Energy efficient hydraulic systems and regenerative capabilities. In: The 9th Scandinavian international conference on fluid power, Linköpings, Sweden, pp 1–12

12.

Boehm D, Hollander C, Landmann T (2011) Hybrid drives in crawler excavators: concepts and solutions. In: The third symposium on hybrid drive systems for mobile machinery, Karlsruhe, Germany

13.

Kagoshima M, Komiyama M, Nanjo T, Akira T (2007) Development of new hybrid excavators. Kobelco Technol Rev 27:39–42. https://doi.org/10.1016/S0960-894X(99)00396-0

14.

Egawa M, Kawasaki H Study of electro-hydraulic energy saving system (EHESS) for construction machinery. In: The 12th Scandinavian international conference on fluid power, Tampere, Finland

15.

Kawasaki H, Egawa M (2011) Controller of hybrid construction machine: US. US20110072810

16.

Zhang SZ, Deng B, Ke J (2010) Research on energy regeneration of hydraulic excavator' s boom based on hydraulic transformer. China Mech Eng 21(10):1161–1166 (in Chinese)

17.

Choi K, Seo J, Nam Y, Kim KU (2015) Energy-saving in excavators with application of independent metering valve. J Mech Sci Technol 29(1):387–395. https://doi.org/10.1007/s12206-014-1245-5

18.

Ge L, Quan L, Li YW, Zhang XG, Yang J (2018) A novel hydraulic excavator boom driving system with high efficiency and potential energy regeneration capability. Energy Convers Manag 166:308–317

19.

Lin TL, Chen Q, Ren HL, Zhao Y, Miao C, Fu SJ, Chen QH (2017) Energy regeneration hydraulic system via a relief valve with energy regeneration unit. Appl Sci 7(6):613–627. https://doi.org/10.3390/app7060613

20.

JCMAS H020 (2007) Earth-moving machinery—fuel consumption on hydraulic excavator—test procedure

21.

Zhang SZ, Minav T, Pietol M, Kauranne H, Kajaste J (2019) The effects of control methods on energy efficiency and position tracking of an electro-hydraulic excavator equipped with zonal hydraulics. Autom Constr 100:129–144. https://doi.org/10.1016/j.autcon.2019.01.003
Acknowledgements
This research was supported by Shandong Province Key Laboratory of Mine Mechanical Engineering (Grant No. 2019KLMM204)and NSFC-Shanxi coal-based low carbon joint fund focused on supporting project (Grant No. U1510205).
Ethics declarations
Conflict of interest
The authors declare that they have no conflict of interest.
Additional information
Publisher's Note
Springer Nature remains neutral with regard to jurisdictional claims in published maps and institutional affiliations.
Technical Editor: Fernando Antonio Forcellini, Dr.
About this article
Cite this article
Liu, J., Jiao, Z., Xian, F. et al. Energy recovery and utilization system of excavator boom based on flow regeneration and balance theory. J Braz. Soc. Mech. Sci. Eng. 42, 35 (2020) doi:10.1007/s40430-019-2124-x
Received:

Accepted:

Published:
Keywords
Excavator boom

Flow regeneration

Balance theory

Potential energy recovery and utilization