Abstract
The subsea wellhead connector is an essential piece of equipment whose successful metal-to-metal sealing capacity is crucial to produce deep-sea oil and gas safely. This paper analyzed the mechanical behavior of the metal seal ring in the subsea wellhead connector under preload and operating conditions while determining the role of contact stress in the theoretical relationship between the seal ring and the structural parameters, as well as working pressure. Theoretical calculations and the finite element method were used to analyze the effects of preload force, contact width, preload compression, and working pressure on contact stress. The results derived from the finite element approach were consistent with those obtained with the theoretical calculation method. Finally, the contact width and preload compression parameters of the metal seal were tested by constructing a test device to evaluate the metal seal of the subsea wellhead connector. The relationship between the preload force, contact width, and preload compression was analyzed, and the maximum sealing pressure under different preload forces was investigated. The results verified the accuracy of the theoretical and finite element calculations. This paper proposed the theoretical calculation method for designing and analyzing the metal seal of the subsea wellhead connector.
This is a preview of subscription content, log in to check access.
Access options
Buy single article
Instant unlimited access to the full article PDF.
US$ 39.95
Price includes VAT for USA
Subscribe to journal
Immediate online access to all issues from 2019. Subscription will auto renew annually.
US$ 99
This is the net price. Taxes to be calculated in checkout.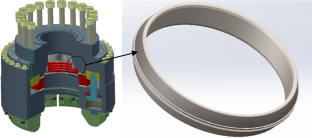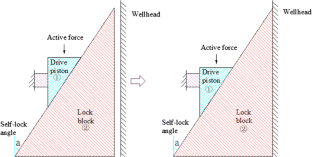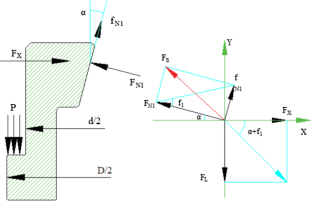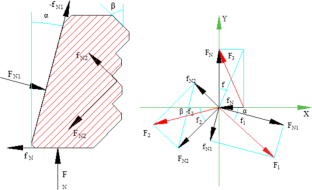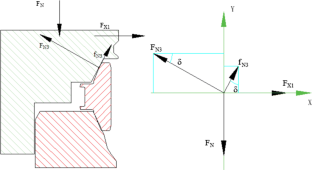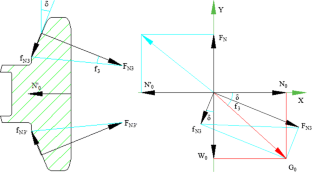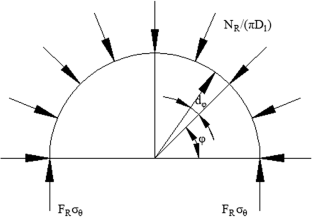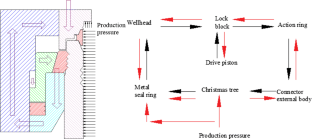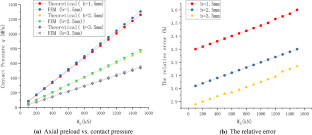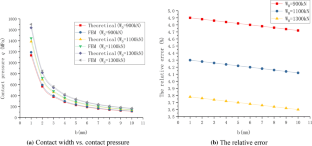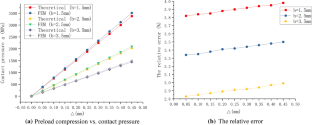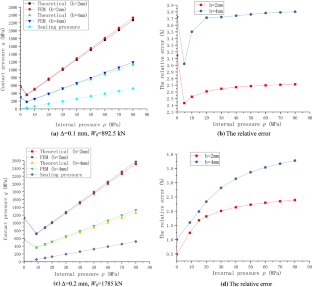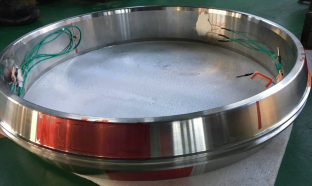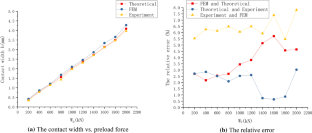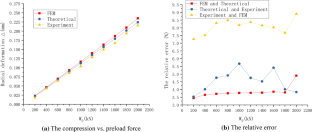 References
1.

Bai Y, Bai Q (2012) Subsea engineering handbook. Gulf Professional Publishing, Burlington, pp 6–7

2.

Bybee K (2007) Dalia subsea production system. In: Society of petroleum engineers, vol 807, pp 62–64

3.

Perales SA, Kaculi JT (2017) Verification analysis and validation testing of subsea connectors. In: Offshore technology conference, Houston, TX, USA, 1–4 May, OTC-27596

4.

Ali MH (2018) 42'' Subsea connector & open-PLET technology. In: Offshore technology conference, Houston, TX, USA, 30 April–3 May, OTC-28925

5.

ASME Boiler and Pressure Vessel Code, VIII Division 2 (2013) Rules for construction of pressure vessels

6.

Sweeney T, Schnakenburg K (1991) Behavior of 15-ksi subsea wellhead gaskets as determined by analysis and testing. In: Offshore technology conference, Houston, TX, USA, 6–9 May, OTC-6708

7.

Cao C (2013) Pull-up metal seal system for subsea wellhead equipment. In: International society of offshore and polar engineers, Anchorage, USA, June 30–July 5, ISOPE-1-13-225

8.

Wang LQ, Wei ZL, Yao SM et al (2015) Performance and optimization of a subsea pipeline mechanical connector. Chin J Mech Eng 31(01):142–155

9.

Zhao HL, Chen R, Luo XL et al (2015) Metal sealing performance of subsea X-tree wellhead connector sealer. Chin J Mech Eng 28(3):649–656

10.

Wei ZL, Wang LQ, Guan Y et al (2016) Static metal sealing mechanism of a subsea pipeline mechanical connector. Adv Mech Eng 8(7):1–16

11.

Yun FH, Wang LQ, Yao SM et al (2017) Analytical and experimental study on sealing contact characteristics of subsea collet connectors. Adv Mech Eng 9(4):1–14

12.

Tang LP, He W, Zhu XH et al (2019) Sealing performance analysis of an end fitting for marine unbounded flexible pipes based on hydraulic-thermal finite element modeling. Energies 12:2198

13.

Carpenter C (2016) Next generation HP/HT subsea wellhead system design challenges and opportunities. In: Society of petroleum engineers, vol 416, pp 73–74

14.

Gawande SH (2019) Study on the effect of gasket thickness for bolted gearbox flange joint. SN Appl Sci 1:32–35

15.

Haruyama S, Nurhadiyanto D, Choiron MA et al (2013) Influence of surface roughness on leakage of new metal gasket. Int J Press Vessels Pip 111–112:146–154

16.

Beghini M, Bertini L, Santus C et al (2015) Partially open crack model for leakage pressure analysis of bolted metal-to-metal flange. Eng Fract Mech 144:16–31

17.

Korndorf BA (1958) Hochdrucktechnik in der chemie. Veb verlag technik, Berlin, pp 15–16

18.

Bertsch W, Sigel R (1972) The seal problem of high pressure reactor. Chem Gen Mach 1(5–6):67–71

19.

Zhang K, Huang H, Duan ML et al (2017) Theoretical investigation of the compression limits of sealing structures in complex load transferring between subsea connector components. J Nat Gas Sci Eng 44:202–213

20.

Sawa T, Tenma K, Kobayashi T et al (2017) Finite element method stress analysis and evaluation of the sealing performance in box-shape flange gasketed connections subjected to internal pressure. J Press Vessel Technol 139(5):051202

21.

Nash DH, Spence J, Tooth AS et al (2000) A parametric study of metal-to-metal full face taper–hub fanges. Int J Press Vessels Pip 77(13):791–797

22.

Krishna MM, Shunmugam MS, Prasad NS (2007) A study on the sealing performance of bolted flange joints with gaskets using finite element analysis. Int J Press Vessels Pip 84:349–357

23.

Nelson NR, Prasad NS (2016) Sealing behavior of twin gasketed flange joints. Int J Press Vessels Pip 138:45–50

24.

Murtagian GR, Fanelli V, Villasante JA et al (2004) Sealability of stationary metal-to-metal seals. J Tribol 126(3):591–596

25.

Kaculi JT, Witwer BJ (2014) Subsea wellhead system verification analysis and validation testing. In: Offshore technology conference, Houston, TX, USA, 1–4 May, OTC-25163
Acknowledgements
This work was financially supported by Ministry of Science and Technology of the People's Republic of China (2016YFC0303701), Ministry of Industry and Information Technology of the People's Republic of China ((2018) 472), National Natural Science Foundation of China (51875578).
Ethics declarations
Conflict of interest
The authors declare that they have no conflict of interest.
Additional information
Publisher's Note
Springer Nature remains neutral with regard to jurisdictional claims in published maps and institutional affiliations.
Technical Editor: Celso Kazuyuki Morooka.
About this article
Cite this article
Li, Y., Zhao, H., Wang, D. et al. Metal sealing mechanism and experimental study of the subsea wellhead connector. J Braz. Soc. Mech. Sci. Eng. 42, 26 (2020) doi:10.1007/s40430-019-2112-1
Received:

Accepted:

Published:
Keywords
Subsea wellhead connector

Metal seal ring

Sealing mechanism

Sealing experiment

Preload force