Who tweets about sports law?
1

Introduction

Social media is ubiquitous.

1

It is difficult to fathom that there was no Facebook fifteen years ago and that social media's spread to seemingly every aspect of society has essentially happened in the last decade. This includes professional life as, for example, evidenced by LinkedIn's more than 650 million users. Not even the academic debate, which traditionally prides itself with being deliberate, nuanced, and comparatively slow, has escaped social media. While scholars vary regarding to what extent they use and engage with social media, studies have shown that researchers generally find social media stressful, risky, of poor quality, and at odds with conducting high-quality research.

2

There is nevertheless evidence that more and more scholarly communication takes place on social media,

3

including on research-dedicated platforms such as ResearchGate and Academia.edu.

4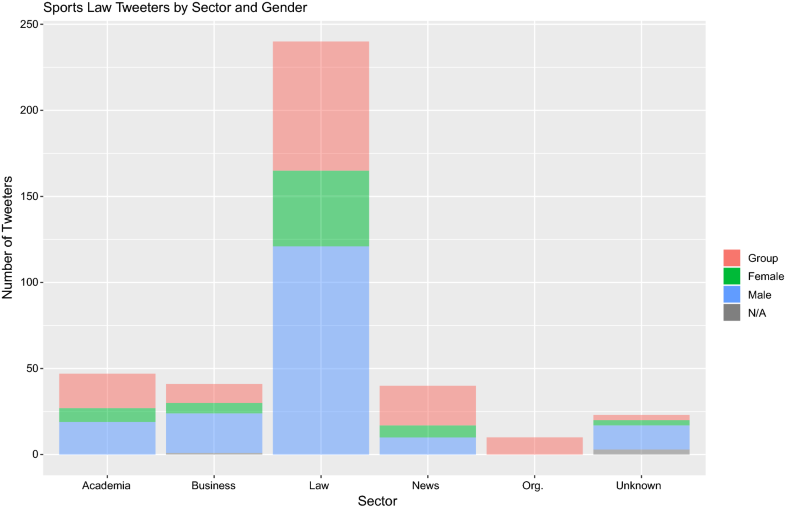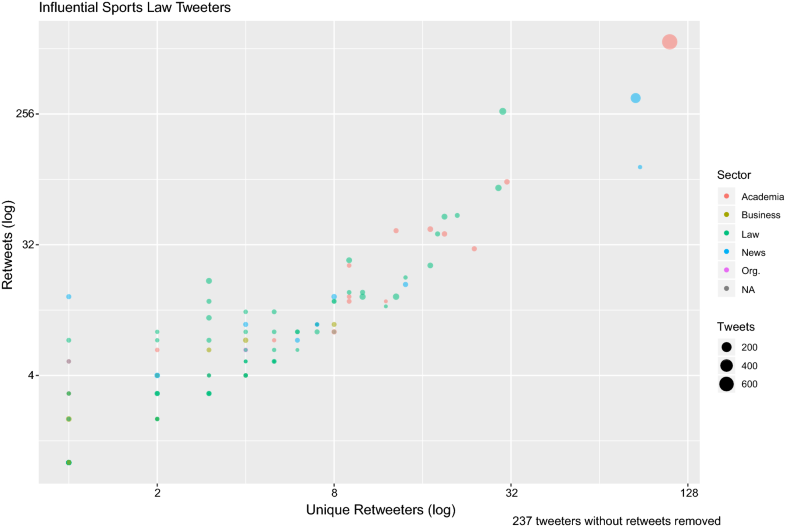 The overwhelming majority of users' interaction with social media can be sorted into one of two categories: producing and consuming content. This also holds true for professional use of social media, including in the context of academia. Researchers produce social media content that includes describing their research findings, spreading scientific news, and more generally sharing their thoughts, ideas, and reactions. Social media can be used to attract more attention to papers5 and in this sense functions as a "networked loudspeaker,"6 a tool with more and less positive uses.7 Scholars also act as professional social media consumers using social media to stay up to date with the latest development in their fields. However, because social media is social interaction and easily and reliably collectable, researchers have for some time also used social media as a tool for studying social interaction.8 This short contribution is a humble example of this.
Over time, the use of social media in a professional capacity has spread to the field of sports law where actors interested in and working with sports law produce and consume content and (hopefully) communicate with each other. One very popular platform for this is Twitter,9 and one can in this regard speak of a "sports law Twittersphere."10 There is little doubt that social media's impact on the world is real and extensive.11 Much like Twitter as a whole constitutes "a globally distributed public conversation" that influences which phenomena are discussed and how they are understood,12 the sports law Twittersphere influences the global sports law discussion and affects what the participants focus on and how they think about it. This editorial seeks to explore who are the actors that shape the sports law Twittersphere.
In order to answer this question, I have collected and studied 2,127 tweets about sports law: All original tweets13 posted over a period of 71 days14 that contain the hashtag "#sportslaw,"15 thereby targeting the particular "hashtag public"16 or "legal sub-field"17 of interest. These tweets were posted by 401 unique users, a group that are here referred to as "sports law tweeters." Some observations can be made with regard to the characteristics of these sports law tweeters.18
First, many users of Twitter might primarily think of Twitter accounts as personal accounts. One of the defining characteristics of social media is its ability to connect individuals across the globe (human connectedness).19 However, more than 35% of all sports law Twitter accounts are institutional accounts managed by a collective, most commonly law firms specialized in sports law,20 but also news organizations21 and universities.22 This is a quite significant portion, perhaps greater than expected. These accounts are operated by individuals who produce the content. It is nevertheless worth considering who the organization tweeting is and what interests it has in participating in the Twittersphere.23
Second, as one might have expected, men dominate the sports law Twittersphere, outnumbering female sports law tweeters almost four to one with only marginal differences between different sectors.24 There is obviously room for significant improvement. However, in evaluating the situation, one should bear in mind that men are more than twice as common as women among Twitter users,25 and that there is a well-recognized gender gap in sport interest. With that in mind, one would perhaps have expected the gender imbalance to be even starker.
Third, also largely unsurprisingly, 60% of the sports law tweeters are legal professionals, either individual lawyers or law firms operating a collective account. Most of the remaining accounts belong to individual or collective actors operating in the fields of (i) academia, including universities, student organizations, and individual academics, (ii) news/media, including individual journalists as well as various types of media outlets (tv, radio, online, etc.) targeting the general public, lawyers, sports lawyers, or the sports sector more broadly, and (iii) the sports business more broadly, that is professional actors that serve the sports sector, excluding traditional lawyer services, such as agents, accountants, and consultants. Tweeters in these sectors each account for roughly 10% of all sports law tweeters. Finally, a smaller number of accounts are held by nonprofit organizations such as anti-doping think tanks, lawyers' associations, and legal research groups.26
This description has treated the sports law Twittersphere as an arena where all participants are equally important. This is decidedly not the case. Compared to mass media, there are very few costs associated with or other barriers to producing social media content. However, in reality—and in contrast to the egalitarian ethos—a few users command much of the attention and exercise great influence on social media.27
This is also true for the sports law Twittersphere. There is no universally accepted measurement of influence on social media in general or Twitter in particular.28 There are, however, good arguments for using retweets as a proxy for influence.29 When a Twitter user retweets a tweet, he or she indicates an interest in the original author's opinion. It also indicates the original tweeter's power to communicate his/her/its opinions beyond his/her/its immediate network.30 Retweets are here studied in two different ways: (i) the total number of times a sports law tweeter's sports law tweets have been retweeted ("number of retweets") and (ii) the number of unique users31 that have retweeted a sports law tweeter's sports law tweets ("number of unique retweeters").32
These measurements show that influence within the sports law Twittersphere is as inequitable distributed as in social media more generally.33 The vast majority of all sports law tweeters have no or extremely little (measurable) influence on other users. On the other side of the scale, a very small number of sports law tweeters command most of the (measurable) influence. Even though it is universally true across social media, it may come as a surprise that the sports law Twittersphere has a one-percenter-type situation: The most retweeted user has received more retweets than the least retweeted half.
There seems to be several different successful approaches for becoming an influential sports law tweeter. While some high-influence tweeters are also high-frequency tweeters, there is no absolute correlation between volume and influence: Some of the most influential tweeters post relatively few tweets, and conversely, there are relatively frequent tweeters with limited influence. There are also no clear differences between tweeters based on the sector to which they belong. More surprisingly, there is no strong correlation between the number of followers and influence as measured here. This suggests that there is a skill to writing influential tweets,34 but could also indicate that are Twitter users with many followers who sometimes tweet about sports law but whose following is largely interested in other issues.
Copyright information
© T.M.C. Asser Instituut 2019