Revisiting Second Language Vocabulary Teaching: Insights from Hong Kong In-Service Teachers
Abstract
In second language (L2) vocabulary research, much attention has been paid to how learners can be supported to acquire vocabulary and how teachers can be better prepared to teach vocabulary in the language classroom. As research efforts have been devoted largely to exploring effective vocabulary teaching strategies and techniques, it remains unclear what teachers know and believe regarding L2 vocabulary acquisition beyond the commonplace conception that teaching and learning are interrelated. The present study explored the epistemological and pedagogical beliefs about vocabulary development reported by four in-service English language teachers in Hong Kong through in-depth semi-structured interviews. It also examined the major factors shaping those beliefs. The results suggest that although the interviewees considered vocabulary teaching to be pivotal, they seemed to focus only on certain aspects of lexical knowledge and rely on a limited range of strategies in teaching vocabulary. Implications for L2 education and teacher development are drawn.
Keywords
Teacher professional development 
In-service teachers' beliefs 
English as a second language 
Vocabulary teaching and learning 
Hong Kong 
Introduction
Both the crucial role of vocabulary development in language mastery and its taxing nature warrant analysis of beliefs about second language (L2) vocabulary teaching and learning. The literature on L2 acquisition (SLA) frequently emphasises vocabulary's role as a fundamental building block of comprehension and communication (Nation 2013). Laufer (1998) further affirmed the importance of word building, suggesting that the major distinction between language learners and native speakers is lexical competence. Given the significance of vocabulary, it is somewhat surprising that the value of devoting teaching time to words, particularly using rich instruction, is often questioned, possibly because of the complex nature of word acquisition (Nation 2013). How language teachers should deal with various aspects of word knowledge in class, taking time constraints into consideration, however, remains unclear. Although teachers of English as a second language (ESL) are often left to their own devices in teaching vocabulary in the absence of clear guidelines, forced to rely on their own beliefs and the teaching materials provided, only a handful of studies to date have focused on what they know and believe about L2 vocabulary teaching and learning. The case study reported herein thus sought to identify the beliefs about vocabulary teaching, and the factors shaping those beliefs, held by four in-service secondary ESL teachers in Hong Kong, where the need to enhance students' vocabulary development is frequently highlighted (see, e.g. Choi and Ma 2015; Tang 2007; Tang et al. 2016). Through analysis of data gathered from interviews with these teachers, the paper identifies several issues relating to vocabulary teaching that warrant attention and discusses their implications for L2 education and teacher development.
Vocabulary Teaching in Hong Kong
In Hong Kong, vocabulary development is deemed merely "part of the process of language skills development" (Tang and Nesi 2003, p. 67). Research by Tang and Nesi (2003), for example, suggests that most of the territory's English language teachers confine themselves to teaching pronunciation and/or the meaning of vocabulary during lessons. One plausible explanation for teachers' failure to introduce large numbers of vocabulary items in class is the omission of a list of specific lexical items to be taught and detailed guidance on vocabulary teaching in such English language education curriculum documents as the English Language Education Key Learning Area Curriculum Guide (Primary 1–Secondary 6) published by the Curriculum Development Council (2017). Given Hong Kong's examination-oriented culture, however, it is reasonable to speculate that there is a general expectation that vocabulary items will be explicitly taught in class. For example, the assessment framework for the Hong Kong Diploma of Secondary Education Examination (HKDSE) states that students' vocabulary knowledge will be assessed in the different papers comprising the English language examination (Hong Kong Examinations and Assessment Authority 2015). To better understand vocabulary development in Hong Kong, it is necessary to obtain relevant information on teachers' beliefs, as well as the factors shaping those beliefs, particularly as it is widely acknowledged that there is a significant relationship between teaching and learning practices and that beliefs play a crucial role in guiding instructional practice (Borg 2001).
Teacher Beliefs about Vocabulary Development
It is generally accepted that beliefs can be conceptualised as an aspect of cognition (see, e.g. Borg 2006). Borg (2001) defines beliefs as psychologically held understandings or propositions that are subjectively accepted as true by the individuals who espouse them despite recognising the availability of alternative beliefs held by others. Contrary to knowledge, which hinges on objective facts, beliefs are based on evaluation and judgment (Pajares 1992), although it is important to note that the two are intricately connected. In the education arena, beliefs can be broadly categorised into two types. Epistemological beliefs concern the nature and acquisition of knowledge (Schommer 1994), whereas pedagogical beliefs represent educational beliefs about teaching and learning (Ertmer 2005). Current interest in epistemological beliefs can be dated to the pioneering work of Schommer (1994), who maintained that what learners believe about the nature of knowledge and its acquisition comprises five general epistemological dimensions. I argue, however, that such beliefs are more fine-grained and can be related to specific aspects of language teaching. Here, epistemological beliefs pertinent to vocabulary development are defined as beliefs about the nature of vocabulary knowledge, which can be broadly categorised as beliefs about the role of vocabulary in SLA and the notion of a word. Pedagogical beliefs, in contrast, refer to teachers' beliefs about vocabulary teaching, for example, their beliefs about lexical instruction, class activities and resources for effective vocabulary building.
Only a handful of studies to date have investigated teacher beliefs about vocabulary teaching and learning. Based on content analysis of survey responses to open-ended questions collected from 250 teachers in Hong Kong and mainland China, Gao and Ma (2011) identified four categories of vocabulary teaching beliefs, concluded that such beliefs are mediated by contextual conditions and educational experiences and called for English language teachers in both locales to diversify the pedagogical activities they apply to vocabulary learning. A similar study was conducted by Macalister (2012) to determine how the vocabulary-related beliefs of Malaysian pre-service teachers differed from those of their teacher educators. After 82 respondents completed a questionnaire, 12 pre-service teachers and 22 teacher educators were asked in interviews to imagine how they would conduct lessons with upper primary students based on two given texts. Although the two groups' beliefs coincided to some extent, the former devoted minimal attention to vocabulary, and none to vocabulary learning strategies, in their imagined lessons. Whilst these two studies offer insight into word learning from the teacher's perspective, caution should be exercised in interpreting their data, as their use of normative statements precludes a thorough understanding of the complex nature of beliefs about vocabulary building.
When it comes to elucidating teacher beliefs, Borg's (
2006
) framework seems particularly insightful, as it outlines the relationship amongst teacher cognition, teacher learning and classroom practice. His work suggests that teachers' schooling experience and professional education exert an impact throughout their careers. It also argues that teachers' cognition and practice are reciprocally informing, with contextual factors mediating the degree to which teachers adopt practices consistent with their cognition. However, the framework has relatively little to say about the extent to which its individual elements, that is, schooling, professional development, contextual factors and classroom practice, inform teacher beliefs. Figure 
1
adapts Borg's framework with a specific focus on vocabulary teaching and learning for further exploration.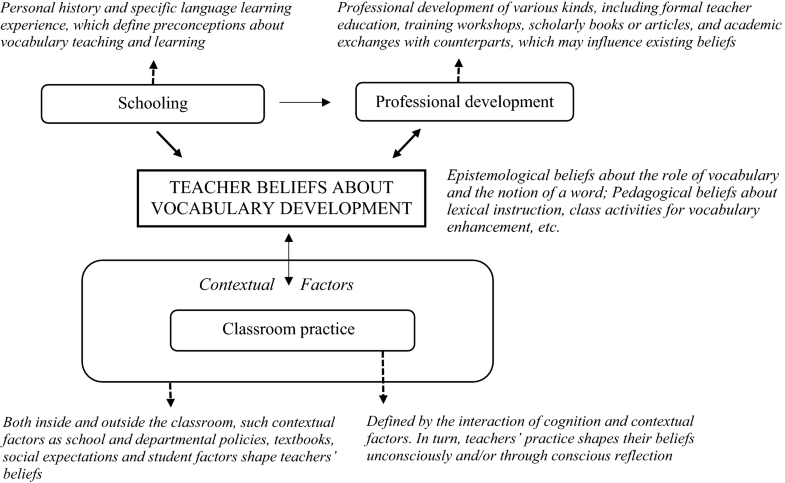 The foregoing literature review reveals a clear need for a better understanding of vocabulary development from the teacher's perspective. Accordingly, the aim of the study reported herein was to answer two overarching questions based on a rich, thick description of data collected from in-depth interviews with teachers: (1) What epistemological and pedagogical beliefs about vocabulary development do Hong Kong secondary school English language teachers hold? (2) What contributes to these teachers' beliefs about vocabulary teaching and learning?
Methodology
The study was framed as an instrumental case study (Stake 2005). It examined teachers' beliefs in a multifaceted manner to provide a contextualised account of how those beliefs are shaped.
Participants
The four teacher participants had all taught at the same English-medium-of-instruction secondary school in Hong Kong since beginning their careers as full-time teachers (see Table 
1
for background information). Their school's "band one" ranking suggests that the overall academic ability of its students is above average. To prepare students to sit the HKDSE upon completion of their studies, English language lessons are primarily skills-based. The English language textbooks are used across forms, and teachers are thus required to teach vocabulary items pertaining to the themes of various textbook modules.
Table 1
Biographical information on participants
| Teachers | Gender | Nationality | Professional qualifications | Years of teaching |
| --- | --- | --- | --- | --- |
| T1 | F | Chinese | BA, BEd, MA | 5 |
| T2 | F | Chinese | BA, PGDE, MEd, MA | 8 |
| T3 | F | Chinese | BA, PGDE, MA | 15 |
| T4 | F | Chinese | BA, PGDE, MA | 22 |
The four participating teachers were selected because they were native Cantonese speakers who had received their education and teacher training in Hong Kong. Their educational background allowed me to examine how teachers who had learned and now taught ESL view themselves vis-à-vis English language education in an Asian context. Also, because teachers with varying amounts of experience are likely to espouse differing beliefs owing to differences in schooling and teacher training, selecting informants with a wide range of teaching experience (i.e. 5–22 years) afforded a more comprehensive picture for analysis.
Data Gathering
The study's data were derived from in-depth, semi-structured interviews. The audiotaped interviews, which were conducted in English to prevent the original meaning from getting lost in translation, lasted approximately one and a half hours each. As shown in Appendix A, the interviews began with two questions inviting the teachers to discuss their epistemological beliefs about the role of vocabulary in SLA and the notion of a word, followed by questions designed to examine their pedagogical beliefs about vocabulary teaching with reference to Gao and Ma (2011), one of the few studies analysing teachers' beliefs about vocabulary teaching and learning in an Asian context. Gao and Ma's framework positing four types of vocabulary teaching beliefs—i.e. beliefs about teaching content, approaches, aims and resources—was adopted because those types were derived from teachers' responses to open-ended questions rather than existing categories, although I made several adaptations to it (see the discussion below). The questions on vocabulary teaching and what it involves were intended to reveal the participants' beliefs about teaching aims and content, respectively. They were followed by an exploration of beliefs about approaches to vocabulary teaching, beginning with the general question "How should vocabulary be taught?" and moving to specific questions pertaining to effective vocabulary instruction strategies and class activities designed to enhance vocabulary acquisition. Each interview ended with a discussion of the teacher's beliefs concerning her preferred vocabulary teaching resources and the factors shaping her beliefs.
Here, it must be noted that the selection of questions was influenced by my own assumptions. For instance, recognising that teachers are likely to espouse a range of beliefs about approaches to vocabulary teaching, I decided not to narrow the scope of analysis to whether vocabulary learning is promoted through presentation or practice, as Gao and Ma (2011) did. Instead, I examined the teachers' beliefs with reference to their use of such vocabulary instruction strategies as paraphrasing target words and presenting synonyms and antonyms. In addition, I expanded the researchers' framework by adopting Nation's (2013) comprehensive taxonomy presenting nine aspects of lexical knowledge based on three broad categories, namely form, meaning and use, to elicit the teachers' epistemological beliefs about the notion of a word. To enhance the clarity and comprehensiveness of the interview protocols, I conducted a pilot study with two secondary school English language teachers prior to gathering data for the main study. The wording of some interview questions was revised based on their feedback.
Data Analysis
The interviews were transcribed verbatim and coded to identify recurring themes that illuminated the research questions. To prevent preconceptions and a priori theoretical knowledge from colouring the findings, no pre-specified codes were used to analyse the data (Flick 1998). Owing to a lack of specific rules for interpreting qualitative data, and to ensure the validity of the research to the greatest extent possible (Punch 2005), I read the transcripts repeatedly to familiarise myself with their content before assigning codes representing the teachers' beliefs. The coding process was iterative in nature, with codes added as new ideas emerged and all transcripts reanalysed after preliminary coding. To reduce bias, a research assistant helped conduct an inter-rater reliability check, with any disagreements resolved through discussion. Member checking was also performed, with the participating teachers asked to read through the transcripts and preliminary data analysis to ensure the accuracy of my interpretations.
Results and Discussion
In this section, the salient themes identified in the interview data are reported and interpreted in light of the study's two overarching research questions to frame the in-depth discussion of issues pertinent to vocabulary teaching and learning.
Conclusion and Implications
The study presented herein constitutes evidence of the value of using qualitative methods to examine the complex nature of teachers' beliefs. It also contributes to scholarly understanding of English language teachers' epistemological and pedagogical beliefs about vocabulary development and the way in which those beliefs are formed. The findings not only reveal the participating teachers' focus on certain aspects of word knowledge and certain vocabulary teaching strategies, but also the limited impact of professional development on their beliefs and practice. Prior to discussing the study's implications, however, several limitations need to be addressed. First, as data were collected from a small number of English teachers at a single secondary school in Hong Kong, the study's findings may not be directly relevant to vocabulary teaching in primary or tertiary education or other research contexts. Second, all of the participants were women, and it is thus possible that different findings would have been obtained from a male or mixed-gender sample. Third, teachers' beliefs were investigated solely through interviews. Whilst the participating teachers' professed beliefs and reported practices revealed a number of interesting issues, triangulation through lesson observations would likely have allowed the identification of tacit beliefs not expressed by the teachers.
Despite these limitations, the study offers valuable insights into L2 vocabulary teaching and has significant implications for L2 education and teacher development. First, in terms of L2 education, it provides support for the view that the importance of vocabulary development should not be downplayed in a headlong rush to adopt skills-based approaches to language teaching. Teachers and learners alike need to be made aware of various aspects of word knowledge (Nation 2013) and a range of learning strategies (see, e.g. Cohen et al. 2006; Schmitt 1997) conducive to vocabulary enhancement. Second, the study's results reveal areas of tension between teachers' professed beliefs about vocabulary teaching and their reported practice, thereby highlighting the need for teachers to make sense of the conditions in which they operate and act consistently in accordance with their expressed beliefs to avoid sending confusing messages to learners (Williams and Burden 1997). The findings also make it clear that educational policymakers need to promote a much sharper focus on vocabulary development in the English language curriculum. Greater clarity is required concerning the role of vocabulary in SLA and the most effective strategies for vocabulary building, for example.
Finally, the findings suggest that teacher development is of pivotal importance in learning to teach and teaching to learn. Regardless of their epistemological and pedagogical beliefs about vocabulary development, all four teachers in this study expressed doubts about their ability to teach vocabulary effectively. In addition, the less-experienced teachers seemed to possess a more comprehensive view of what constitutes a word than their more experienced counterparts, lending support to the argument that experience does not necessarily lead to expertise (Ericsson et al. 1993). Regardless of their number of years of teaching experience, teachers must be afforded ongoing support to identify areas for further improvement and to learn to teach in a way that enables them to make informed decisions favourable to student learning. In both their initial teacher education and ongoing teacher training, they need to be equipped with the pedagogical content knowledge required to facilitate teaching and learning and encouraged to reflect critically upon their own teaching and learning experience, as well as their students' beliefs, colleagues' opinions and diverse theoretical perspectives (Brookfield 1995). A fruitful direction for further research would be to explore how changes can be effected in teachers' beliefs and practice and the impact of those changes on students' actual learning outcomes.
Notes
Acknowledgements
I would like to thank the teacher participants for their time and contribution to the study. My heartfelt gratitude also goes to Dr Linda Fisher, Professor Eunice Tang, Professor Amy Hui-Tzu Min and the anonymous reviewers for their constructive feedback on ways to improve this article.
Copyright information
© The Author(s) 2018
Open AccessThis article is distributed under the terms of the Creative Commons Attribution 4.0 International License (http://creativecommons.org/licenses/by/4.0/), which permits unrestricted use, distribution, and reproduction in any medium, provided you give appropriate credit to the original author(s) and the source, provide a link to the Creative Commons license, and indicate if changes were made.