Secondary Arterial Hypertension: From Routine Clinical Practice to Evidence in Patients with Adrenal Tumor
Part of the following topical collections:
Abstract
Prevalence of arterial hypertension is up to 30–40% in epidemiological studies, it increases with aging and affects the cardiovascular risk. Essential form of hypertension is the most frequent; however, 5–10% of patients are affected by a specific and potentially reversible cause of increased blood pressure levels, called secondary hypertension. In general, all patients with young onset-age (< 40–50 years) or resistant hypertension should be screened for secondary forms. Among them, primary aldosteronism, Cushing's Syndrome and pheochromocytoma are the most common cause of endocrine hypertension associated with an autonomous secretion of adrenal hormones, often secondary to a tumor (either mono- or bi-lateral, or not always in the adrenals). Their diagnosis could be challenging, especially in patients with hypertension as the first (and/or isolated) clinical manifestation. Moreover, they are all rare form of hypertension, therefore a correct screening with a sensitive test is mandatory, to refer quickly the patients to an Endocrine Unit. In this short review we pinpoint our attention to these adrenal-related secondary form of hypertension, describing in a concise way their first-line screening procedures.
Keywords
Hypertension 
Cushing syndrome 
Primary aldosteronism 
Pheochromocytoma 
1

Introduction

Hypertension is defined as values ≥ 140 mmHg of systolic blood pressure (BP) and/or ≥ 90 mmHg of diastolic BP. However, the continuous relationship between BP and cardiovascular (CV) events makes difficult the distinction between normal BP levels and hypertension. Despite its definition, hypertension is a common disease in general population (up to 30–40% in large epidemiological studies) and its prevalence increases with aging [1].

Idiopathic (essential) hypertension is the most common [2]; however, 5–10% of patients are affected by a specific and potentially reversible cause of increased BP levels, called secondary hypertension. Moreover, if appropriately diagnosed, patients with secondary hypertension could be completely cured, or at least properly treated, achieving optimal control of BP levels with a lower number of drugs or a significant reduction of CV risk [1, 2]. Unfortunately, secondary hypertension can be identified in a relatively small subgroup of patients. Essential hypertension is not less common in patients who have secondary forms than in the general population, thus a residual slight increase of BP levels after the resolution of the primary cause can persist [2].

In general, all patients with young onset-age (not rigorously studied, albeit < 40–45 years is generally accepted) or resistant arterial hypertension (defined as the use of three anti-hypertensive drugs, with at least one diuretic) should be screened for secondary forms. However, pseudo-hypertension (common in elderly patients with calcified and rigid arteries), pseudo-resistance (inadequate cuff size or patient's rest) and compliance (poor adherence to therapy is widespread) should be investigated before the screening of secondary hypertension [2, 3].

Considering endocrine forms of hypertension, Primary Aldosteronism (PA) is the most common, followed by thyroid disease, Cushing Syndrome (CS) and pheochromocytoma (PHEO) [2].

The adrenals produce several hormones from the cortex (especially steroids, as cortisol and aldosterone) and from the medulla (mainly catecholamines, CAs). Mineralocorticoids are secreted from the zona glomerulosa under the main control of Angiotensin II and Renin (Renin-Angiotensin-Aldosterone System, RAAS). Aldosterone secretion is controlled mainly by potassium or sodium levels and fluid volume, and to a lesser extent by ACTH [4, 5]. The RAAS regulation of BP is intricate, involving the vascular effect of Angiotensin II and the effects mediated by the mineralocorticoid receptor in the kidney or in the endothelium, therefore justifying the higher CV risk associated with PA [6]. Glucocorticoids (GCs) are secreted from the zona fasciculata under the control of ACTH, synthesized in the anterior pituitary with a circadian rhythm. GCs increase BP through several mechanisms. In the kidney GCs induce sodium retention and potassium loss acting on the distal nephron, increasing glomerular filtration rate, proximal tubular epithelial sodium transport and free water clearance [7, 8]. The adrenal medulla accounts for 10% of the total volume and produces CAs: dopamine, norepinephrine, and epinephrine. CAs are involved in several cardiovascular and metabolic processes. Their effects on BP are mainly mediated by α1 receptors (leading vasoconstriction), and β1 receptors (leading to both positive inotropic/chronotropic effects and enabling renin secretion) [9, 10]. O-methylation is the predominant source of metanephrine and normetanephrine (respectively from epinephrine and norepinephrine).

In this scenario, the diagnosis of PA, CS and PHEO in routine clinical practice in a large series of hypertensive patients is a challenge, especially in those subjects presenting with hypertension as the first and isolated clinical manifestation. Therefore, after the clinical suspicion of adrenal-related secondary hypertension, the correct management of screening tests is mandatory, in order to start the treatment quickly [11, 12, 13].

In this review we summarize the three most common adrenal-related secondary hypertension, describing their screening and diagnosis through the presentation of three paradigmatic clinical cases.
2

Primary aldosteronism
2.1

Case #1: Primary Aldosteronism (PA)

A 46-year-old man was admitted to the Emergency Department (ED) after a cardiac arrest with ventricular fibrillation, successfully recovered with cardiopulmonary resuscitation. Arterial hypertension was diagnosed 6 months before and treated with amlodipine, indapamide, and perindopril. He was an active smoker. He presented a familial history of CV events: his father died for an unspecified congenital cardiomyopathy when he was 33 years old; his uncle presented an ischemic cardiomyopathy after a myocardial infarction when she was 59 years old; one cousin had a non-fatal myocardial infarction at 44 years.

The electrocardiogram was normal, the echocardiogram was negative for contractile dysfunction or dyskinesia. The coronary angiography showed two sites of critical stenosis (in first diagonal and crux cordis). Biochemical tests in the ED resulted in a severe hypokalemia (2.0 mEq/L). In the diagnostic work-up of suspected secondary hypertension, increased urinary free cortisol (UFC) levels in two different collections were observed, however serum cortisol after 1 mg dexamethasone suppression test (1-mg DST) was < 50 nmol/L and in the follow-up two UFC collections were normal (therefore CS suspect was discarded). After two weeks of wash-out from interfering drugs and potassium supplementation, an increased Aldosterone to Renin Ratio (ARR, 248 pmol/mU while on amlodipine 10 mg and doxazosin 4 mg) was suggestive for PA, confirmed with a saline infusion test. An abdominal enhanced Computed Tomography (CT, performed for a suspected abdominal aortic aneurysm one week before ARR measurement) demonstrated an enlarged left adrenal gland (depicted in Fig. 

1

a), suggestive for adrenal adenoma.

2.2

How to Manage a Hypertensive Patient with Suspected PA?

The diagnostic pathway of PA consists of three main steps: screening tests, confirmatory tests and identification of PA subtype. Table 

1

indicates the patients that should be screened for PA, recommended by the Endocrine Society (ES) Clinical Practice Guideline [

11

]. Therefore, the patient described in the section above presented with more than one clinical features common in suspected PA, as spontaneous hypokalaemia, history of CV event and incidental finding of an adrenal node.

Table 1

Patients that should be screened for (adrenal) secondary hypertension
|   | APA | PHEO | CS |
| --- | --- | --- | --- |
| Age < 45 years | ✓ | ✓ | ✓ |
| Spontaneous or diuretic induced hypokalaemia | ✓ | X | X |
| Adrenal node | ✓ | ✓ | ✓ |
| History of cardiovascular or cerebro-vascular events | ✓ | ✓ | X |
| Poorly controlled diabetes | X | X | ✓ |
| Paroxysmal presentation | X | ✓ | X |
| Medullary thyroid cancer | X | ✓ | X |
| Primary hyperparathyroidism | X | ✓ | X |
| Skeletal deformities | X | ✓ | X |
| Muliple cafè-au-lait spots | X | ✓ | X |
| Osteoporosis with fractures | ✓ | ✓* | ✓ |
| First-degree relatives with PA | ✓ | X | X |
| Resistant hypertension | ✓ | X | ✓ |
| Obstructive sleep apnea syndrome | ✓ | X | X |
| Easy bruising | X | X | ✓ |
| Facial plethora | X | X | ✓ |
| Proximal myopathy (or proximal muscle weakness) | X | X | ✓ |
| Striae (especially if reddish purple and 1 cm wide) | X | X | ✓ |
| Kidney stones | ✓ | ✓* | ✓ |
| Acne, hirsutism or female balding | X | X | ✓ |
| Menstrual irregularity | X | X | ✓ |
| Depression or psychosis | X | X | ✓ |
| Obesity | X | X | ✓ |
| Unusual infections | X | X | ✓ |
| Peripheral edema | X | X | ✓ |
PA is the most common form of endocrine hypertension, accounting for 10% of hypertensive patients and up to 20% of those with resistant hypertension [14, 15]. PA is a group of disorders characterized by an inappropriately high aldosterone production for sodium status, autonomous from renin, angiotensin or potassium levels. Such inappropriate production of aldosterone causes sodium retention, suppression of plasma renin, hypertension, cardiovascular damage and increased potassium excretion that could lead to hypokalemia [11, 16].
Common causes of PA are adrenal adenoma, unilateral or bilateral adrenal hyperplasia; in rare cases adrenal carcinoma or familial hyperaldosteronism. Patients with PA present an increased risk of cerebrovascular and CV events and target-organ damage (heart, eye and kidney), higher than matched patients with essential hypertension [11, 14, 16]. In patients with PA an increased prevalence of diabetes and metabolic syndrome leads to higher CV risk [6, 17, 18, 19]. An early diagnosis and an appropriate treatment are mandatory to reduce the incidence of CV events [20].
ARR is recommended as the initial test to screen for PA. The plasmatic concentrations of these two hormones are easily altered by several drugs, especially those directed to RAAS (see Fig. 
2
). Consequently, special attention should be paid about anti-hypertensive treatment. In Table 
2
we describe drugs or other clinical conditions that could affect the measurement of aldosterone and renin. Blood sample has to be collected in the morning, after the patient has been up (sitting, standing, or walking) for at least 2 h and seated for 5–15 min. It is necessary to correct potassium depletion and ask the patient not to limit sodium intake. Mineralocorticoid receptor antagonists (spironolactone, potassium canrenoate and eplerenone), potassium-wasting diuretics (furosemide) and liquorice should be withdrawn for at least 4 weeks before testing. Non-steroidal anti-inflammatory drugs and many antihypertensive medications can alter RAAS, such as β-adrenergic blockers, Angiotensin Converting Enzyme inhibitors (ACE-i), Angiotensin Receptor Blockers (ARBs, sartans), dihydropiridinic calcium-channel antagonists and renin inhibitors should be stopped at least 2–3 weeks before the sampling. To control BP levels, the ES recommends antihypertensive agents that do not affect the RAAS, as slow-release verapamil, hydralazine, and the α1-selective adrenergic blockers.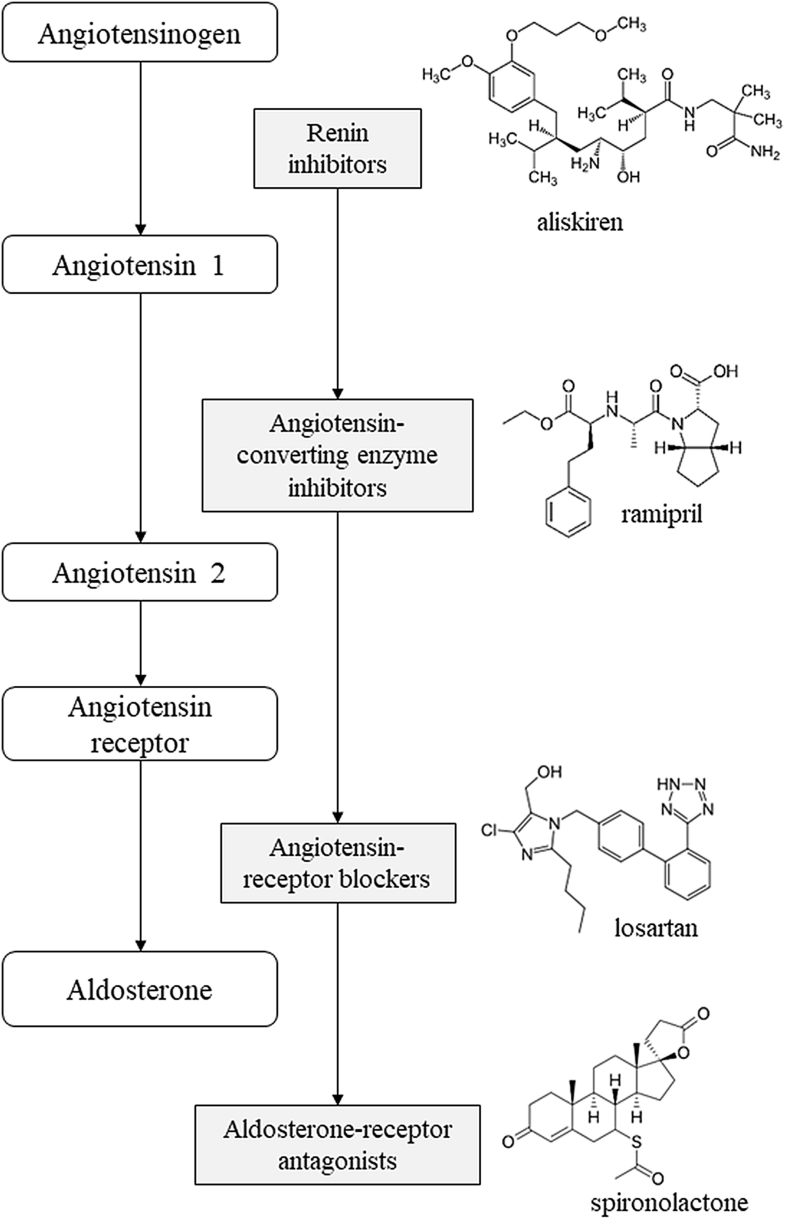 Table 2
Drugs and other conditions that could interfere with endocrine assessment
 

PA

PHEO

CS

 

Aldosterone

Renin

ARR

MN

UFC

DST

Drugs

Beta-adrenergic blockers

↓

↓↓

↑

↑

→

→

Central agonist (clonidine)

↓

↓↓

↑

↓

→

→

NSAIDs

↓

↓↓

↑

→

→

→

K+-wasting diuretics

→↑

↑↑

↓

→↑

→

→

K+-sparing diuretics

↑

↑↑

↓

→↑

→

→

ACE-inhibitors

↓

↑↑

↓

→

→

→

ARBs

↓

↑↑

↓

→

→

→

Renin inhibitors

↓

↓(PRA)↑(DRC)

↑ ↓

↑

→

→

Ca2+ blockers (DHPs)

→↓

↑↑

↓

→

→

→

Ca2+ blockers (no DHPs)

→

→

→

→

→

↓

Alfa1-adrenergic blockers

→

→

→

→

→

→

Antiepileptic drugs

→

→

→

→

→

↓ ↑

Rifampin, rifapentine

→

→

→

→

→

↓

Pioglitazone

→

→

→

→

→

↓

Itraconazole, Ritonavir, Fluoxetine, Cimetidine, Aprepitant

→

→

→

→

→

↑

Estrogens

↑

↑ ↑

↓

→

→

↑

11β-HSD2 inhibitors (licorice)

↓→

↓→

↓→

→

↑

→

Potassium status

Hypokalemia

↓

↑

↓

→

NAE

NAE

Potassium loading

↑

→ ↓

↑

→

NAE

NAE

Dietary sodium

Sodium restriction

↑

↑↑

↓

→

NAE

NAE

Sodium loading

↓

↓↓

↑

→

NAE

NAE

Advancing age

↓

↓↓

↑

↑

NAE

NAE

Premenopausal women (vs male)

→ ↑

↓

↑

→

→

→

Other conditions

Renal impairment

→

↓

↑

→

↓

→

PHA-2

→

↓

↑

→

→

→

Pregnancy

↑

↑ ↑

↓

→

→

↑

Renovascular HT

↑

↑ ↑

↓

→

→

→

Malignant HT

↑

↑ ↑

↓

NAE

NAE

NAE
If the interruption of all the confounding agents is not possible (e.g. severe hypokalemia or uncontrolled hypertension), an ARR should be performed and the results considered in the light of the potential altering factors. In Table 
3
we reported the main ARR cut-off values, according to the specific unit of measurement for renin and aldosterone. However, careful attention must be paid not only to the ARR, but also to plasma renin and aldosterone concentrations. ARR is a ratio, therefore a very low denominator value (renin) leads to an increased ARR, despite low or normal aldosterone level. Consequently, a minimum aldosterone concentration is suggested (15 ng/dL or 410 pmol/L) to suspect PA [
11
].
Table 3
ARR cut-off values, according to the specific unit of measurement for renin and aldosterone
 

PRA (ng/mL/h)

PRA (pmol/L/min)

DRC (mU/L)

DRC (ng/L)

PAC (ng/dL)

20

1.6

2.4

3.8

30

2.5

3.7

5.7

40

3.1

4.9

7.7

PAC (pmol/L)

750

60

91

144

1000

80

122

192
2.3

Confirmatory Testing

The ES guidelines recommend that patients with a positive screening result undergo one or more confirmatory tests to confirm PA. The only exception regards patients with spontaneous hypokalemia or aldosterone concentration > 20 ng/dL (550 pmol/L) and low or suppressed renin levels.

Confirmatory tests (the most used are captopril challenge test and saline infusion test) demonstrate the inappropriate or autonomous production of aldosterone in response to agents that normally decrease angiotensin II levels. Unfortunately, a gold standard for confirmatory tests does not exist: the choice is commonly determined by patient's comorbidities, compliance, health-related costs and local expertise [15].
4

Cushing Syndrome
4.1

Case #3: Cushing Syndrome

A 42-year-old woman referred to our Endocrine Unit for overweight and hirsutism. She reported regular periods characterized by 2–3 kg of weight gain during ovulatory phase, with a spontaneous resolution after the menstrual bleeding. A melanoma was surgically treated three years before and her mother was diabetic.

The clinical examination revealed arterial hypertension (150/90 mmHg) and a Body Mass Index of 25.8 kg/m2. The complete abdomen ultrasound was negative. Thyroid hormones, RAAS, androgen and CAs levels were normal, an oral glucose tolerance test demonstrated a basal impaired fasting glucose with insulin resistance. UFC levels were increased in two collections (2.5 and 4 ULN); late night salivary cortisol (LNSC) levels revealed an impaired circadian rhythm in three measurements (3.5–10.2–3.3 ULN); the overnight 1-mg DST showed loss of normal cortisol feedback (serum cortisol 447 nmol/L). ACTH levels were suppressed, and the enhanced abdominal CT revealed a node (18 mm) in the left adrenal gland, consistent with cortisol-secreting adenoma (Fig. 1c).
4.2

Hypertension in Cushing Syndrome: Beyond Cortisol Levels

Cushing Syndrome (CS) includes a large group of signs and symptoms reflecting prolonged exposure to high GCs levels. The diagnosis of CS is a challenge, because a mild presentation with isolated signs or symptoms (especially those related to metabolic syndrome, as the above-presented patient) are common in the general population without increased autonomous cortisol secretion, therefore the routine screening for CS is not always worthwhile [28]. CS most commonly arises from iatrogenic causes, when GCs have been used as anti-inflammatory or immunosuppressive treatment [29]. However, the endogenous GCs overproduction is rare, and ACTH-independent adrenal CS represents 15–20% of patients [12, 30]. The mortality rate in CS patients is higher than that of age- and sex-matched controls because chronic cortisol excess leads to metabolic and CV diseases (diabetes mellitus, obesity, hypertension and CV events), hypercoagulability and susceptibility to opportunistic infections [31].

Initial signs and symptoms could be difficult to detect: some are very specific though uncommon (easy bruising, facial plethora, proximal myopathy, reddish purple striae > 1 cm wide, decreased growth velocity in children), however some features of CS are common in the general population and therefore less discriminatory, leading to an overlap with metabolic syndrome. Hypertension is present in about 80% of adult patients with endogenous CS (especially in adrenal CS [32] or in patients with ectopic ACTH secretion), whereas in exogenous CS is about 20% [7]. CS prevalence is less than 1% of hypertensive patients [22, 33]. In some physiological or para-physiological conditions, such as depression and other psychiatric diseases, alcoholism, morbid obesity, poorly controlled diabetes mellitus, pregnancy or physical stress, an increased activity of the hypothalamic-pituitary-adrenal axis is observed, representing an additional challenge for the diagnosis [34, 35].
4.3

Who Should be Screened for Cushing Syndrome?

Since most CS are iatrogenic, the first step is to obtain a complete drug history. ES guideline recommends testing for CS in patients with unusual features for age (e.g. osteoporosis, hypertension); in subjects with multiple and progressive features, particularly the more predictive (easy bruising, facial plethora, proximal muscle weakness, striae, weight gain or decreasing growth velocity in children); in case of incidental finding of an adrenal tumor [12] (see Table 1). First-line screening tests for screening are UFC, LNSC and 1-mg DST [29].

UFC measures the excess of total endogenous cortisol secretion. It has a sensitivity of up to 98% and a specificity of up to 92% and allows a direct assessment of free cortisol. The patient should collect at least two samples, to rule out mild or cyclic CS [36, 37]. It is mandatory to educate the patient to perform a correct collection, discarding the first morning urine void and collecting all urine for the next 24 h until the first morning void of the next day. UFC is influenced by renal function and fluid intake; furthermore, subclinical hypercortisolism could present as a false-negative result [38].

LNSC detects the absence of the circadian rhythm of cortisol secretion. It is non-invasive and stress-free [39, 40]. However, it is mandatory a proper collection of the salivary sample. The patient has to soak the absorbent cotton for 2–3 min between 23.00 and 24.00 h, and to store it in the refrigerator at 4 °C. Any contamination must be avoided; therefore samples have to be collected at least 30 min before or 2 h after taking a meal, smoking or brushing teeth. LNSC sensitivity ranges from 83 to 100%, and its specificity from 84 to 97% [40, 41]. LNSC may not be useful in some cases (i.e. night workers, oral diseases), and in obese or diabetic subjects [42].

The 1-mg DST assesses the loss of normal cortisol feedback. The patient has to take 1 mg of oral dexamethasone between 23.00 and 24.00 h, and serum cortisol is measured between 08.00 and 09.00 h the following morning. A cortisol level < 50 nmol/L is considered sufficient to exclude CS, the highest specificity is achieved considering 138 nmol/L as cut-off level [43, 44]. Oral estrogens may cause an increase in cortisol binding globulin leading to abnormally elevated total cortisol levels [45]. Measuring plasma dexamethasone concentration (combined with cortisol) can help to identify abnormal dexamethasone clearance, but it is not widely available [12].

ES guideline recommends further evaluation by an endocrinologist to confirm or exclude the diagnosis in individuals with normal test results but high pre-test probability. In patients with at least one abnormal test result (for whom the results could be falsely positive or indicate CS), it is recommended further evaluation by an endocrinologist to confirm or exclude the diagnosis [12, 30].

In CS, despite direct control of cortisol excess [46], more than a single agent is required to achieve BP control. Loop diuretics and thiazides can worsen the hypokalemia and therefore should be avoided. ARBs and ACE-i are effective, reaching the normalization of BP in 50% of the cases [7, 8]. In the view of the fact that GCs have a mineralocorticoid action, an antagonist could be useful. The first treatment to achieve BP control is the reduction of cortisol excess with adrenal or pituitary directed therapy (as surgery, medical treatment or radiotherapy [47]).
5

Conclusion

Secondary hypertension affects only minor part of the hypertensive patients. However, since elevated BP is common in general population, the number of subject to screen could be conspicuous. Screening for secondary hypertension is expensive, not cost effective and time-consuming, therefore it should be performed only in patients with high clinical suspicion.

It is mandatory that some clinical features that could indicate the presence of an endocrine hypertension must be searched especially in case of resistant hypertension, rapid increase of BP values, hypokalemia, young age of onset, or syndromic aspects.
Notes
Compliance with Ethical Standards
Conflict of interest
All authors declare that they have no conflicts of interest that might be perceived as influencing the impartiality of the reported research.
Funding
This study did not receive any specific grant from any funding agency in the public, commercial or not-for-profit sector.
Research involving human participants and patient consent
Informed consent to describe patients' history has been obtained.
Copyright information
© Springer Nature Switzerland AG 2018