Abstract
Severe hypertension in children may result in life-threatening complications. Although there has not been extensive research in this area in children, and recommendations are mostly derived from adult data, in the last few years, there have been more pediatric studies on the safety and effectiveness of antihypertensives. The clinical presentation of a child with severe hypertension varies and may be completely asymptomatic or include signs and symptoms of end-organ damage. Treatment of a child with severe hypertension is emergent and should be done concomitantly with the evaluation.
This is a preview of subscription content, log in to check access.
Access options
Buy single article
Instant unlimited access to the full article PDF.
US$ 49.95
Price includes VAT for USA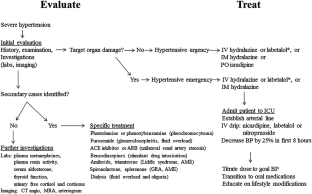 References
1.

Bell CS, Samuel JP, Samuels JA. Prevalence of hypertension in children. Applying the new American Academy of Pediatrics clinical practice guideline. Hypertension. 2019;73:148–52.

2.

Din-Dzietham R, Liu Y, Bielo MV, Shamsa F. High blood pressure trends in children and adolescents in national surveys, 1963 to 2002. Circulation. 2007;116(13):1488–96.

3.

Hansen ML, Gunn PW, Kaelber DC. Underdiagnosis of hypertension in children and adolescents. JAMA. 2007;298(8):874–9.

4.

Ricke TL, Hendry PL, Kalynych C, Buzaianu EM, Kumar V, Redfield C. Incidence and recognition of elevated triage blood pressure in the pediatric emergency department. Pediatr Emer Care. 2011;27:922–7.

5.

Flynn JT, Kaelber DC, Baker-Smith CM, et al. Clinical practice guideline for screening and management of high blood pressure in children and adolescents. Pediatrics. 2017;140(3):e20171904.

6.

Lee GH, Lee IR, Park SJ, Kim JH, Oh JY, Shin JI. Hypertensive crisis in children: an experience in a single tertiary care center in Korea. Clin Hypertens. 2016;22:10.

7.

Arce C, Segura-Pacheco B, Perez-Cardenas E, Taja-Chayeb L, Candelaria M, Duenas-Gonzalez A. Hydralazine target: from blood vessels to the epigenome. J Transl Med. 2006;4:10.

8.

Flynn JT, Bradford MC, Harvey EM. Intravenous hydralazine in hospitalized children and adolescents with hypertension. J Pediatr. 2016;168:88–92.

9.

Ostrye J, Hailpern SM, Jones J, Egan B, Chessman K, Shatat IF. The efficacy and safety of intravenous hydralazine for the treatment of hypertension in the hospitalized child. Pediatr Nephrol. 2014;29:1403–9.

10.

Thomas CA, Moffett BS, Wagner JL, Mott AR, Feig DI. Safety and efficacy of intravenous labetalol for hypertensive crisis in infants and small children. Pediatr Crit Care Med. 2011;12:28–32.

11.

Tenney F, Sakarcan A. Nicardipine is a safe and effective agent in pediatric hypertensive emergencies. Am J Kid Dis. 2000;35:E20.

12.

Flynn JT, Mottes TA, Brophy PD, Kershaw DB, Smoyer WE, Bunchman TE. Intravenous nicardipine for treatment of severe hypertension in children. J Pediatr. 2001;139:38–43.

13.

Peacock WF, Hilleman DE, Levy PD, Rhoney DH, Varon J. A systematic review of nicardipine vs labetalol for the management of hypertensive crises. Am J Emerg Med. 2012;30:981–93.

14.

Drover DR, Hammer GB, Barrett JS, Cohane CA, Reece T, Zajicek A, Schulman SR. Evaluation of sodium nitroprusside for controlled hypotension in children during surgery. Front Pharmacol. 2015;6:136.

15.

Hammer GB, Lewandowski A, Drover DR, Rosen DA, Cohane C, Anand R, Mitchell J, Reece T, Schulman SR. Safety and efficacy of sodium nitroprusside during prolonged infusion in pediatric patients. Pediatr Crit Care Med. 2015;16:397–403.

16.

Moffett BS, Price JF. Evaluation of sodium nitroprusside toxicity in pediatric cardiac surgical patients. Ann Pharmacother. 2008;42(11):1600–4.

17.

Tabbutt S, Nicolson SC, Adamson PC, Zhang X, Hoffman ML, Wells W, Backer CL, McGowan FX, Tweddell JS, Bokesch P, Schreiner M. The safety, efficacy, and pharmacokinetics of esmolol for blood pressure control immediately after repair of coarctation of the aorta in infants and children: a multicenter, double-blind, randomized trial. J Thorac Cardiovasc Surg. 2008;136(2):321–8.

18.

Tumlin JA, Dunbar LM, Oparil S, Buckalew V, Ram CV, Mathur V, Ellis D, McGuire D, Fellmann J, Luther RR. Fenoldopam, a dopamine agonist, for hypertensive emergency: a multicenter randomized trial. Fenoldopam study group. Acad Emerg Med. 2000;7(6):653–62.

19.

Wood AJJ, Murphy MB, Murray C, Shorten GD. Fenoldopam: a selective peripheral dopamine-receptor agonist for the treatment of severe hypertension. N Engl J Med. 2001;345(21):1548–57.

20.

Hammer GB, Verghese ST, Drover DR, Yaster M, Tobin JR. Pharmacokinetics and pharmacodynamics of fenoldopam mesylate for blood pressure control in pediatric patients. BMC Anesthesiol. 2008;8:6.

21.

Ricci Z, Staci GV, Di Chiara L, Morelli S, Vitale V, Giorni C, Picardo S. Fenoldopam in newborn patients undergoing cardiopulmonary bypass: controlled clinical trial. Interact Cardiovasc Thorac Surg. 2008;7(6):1049–53.

22.

Towe E, Tobias JD. Preliminary experience with clevidipine in the pediatric population. J Intensive Care Med. 2010;25(6):349–52.

23.

Tobias JD, Schechter WS, Phillips A, Weinstein S, Michler R, Berkenbosch JW, Montoya C. Clevidipine for perioperative blood pressure control in infants and children undergoing cardiac surgery for congenital heart disease. J Pediatr Pharmacol Ther. 2011;16(1):55–60.

24.

Tobias JD, Allee J, Ramachandran V, Groshong T. Clevidipine controls intraoperative blood pressure in an adolescent with renal failure. J Pediatr Pharmacol Ther. 2009;14(3):144–7.

25.

Tobias JD, Tulman DB, Bergese SD. Clevidipine for perioperative blood pressure control in infants and children. Pharmaceuticals. 2013;6(1):70–84.

26.

Egger DW, Deming DD, Hamada N, Perkin RM, Sahney S. Evaluation of the safety of short-acting nifedipine in children with hypertension. Pediatr Nephrol. 2002;17:35–40.

27.

Yiu V, Orrbine E, Rosychuk RJ, MacLaine P, Goodyer P, Girardin C, Gowrishankar M, Ogborn M, Midgley J, Filler G, Harley F. The safety and use of short-acting nifedipine in hospitalized children. Pediatr Nephrol. 2004;19:644–50.

28.

Blaszak RT, Savage JA, Ellis EN. The use of short-acting nifedipine in pediatric patients with hypertension. J Pediatr. 2001;139(1):34–7.

29.

Stein DR, Ferguson MA. Evaluation and treatment of hypertensive crises in children. Integr Blood Press Control. 2016;16(9):49–58.

30.

Miyashita Y, Peterson D, Rees JM, Flynn JT. Isradipine for treatment of acute hypertension in hospitalized children and adolescents. J Clin Hypertens. 2010;12(11):850–5.

31.

Flynn JT, Tullus K. Severe hypertension in children and adolescents: pathophysiology and treatment. Pediatr Nephrol. 2009;24:1101–12.

32.

Halling SE, Asling-Monemi K, Herthelius M, Celsi G, Vavilis G, Kuru NK, Efvergren M, Krmar RT. Minoxidil therapy in children and young adult patients with renal disease and refractory hypertension: value when multidrug regimens have failed to achieve blood pressure control. J Hum Hypertens. 2010;24(8):552–4.

33.

Webb TN, Shatat IF, Miyashita Y. Therapy of acute hypertension in hospitalized children and adolescents. Curr Hypertens Rep. 2014;16(4):425.

34.

Romero M, Kapur G, Baracco R, Valentini RP, Mattoo TK, Jain A. Treatment of hypertension in children with catecholamine-secreting tumors: a systematic approach. J Clin Hypertens (Greenwich). 2015;17(9):720–5.
Ethics declarations
Funding
No external funding was used in the preparation of this article.
Conflict of interest
Rossana Baracco declares no potential conflicts of interest that might be relevant to the contents of this article.
About this article
Cite this article
Baracco, R. A Practical Guide to the Management of Severe Hypertension in Children. Pediatr Drugs (2020) doi:10.1007/s40272-019-00377-z