Abstract
Introduction
Corticosteroids are a mainstay treatment for castration-resistant prostate cancer (CRPC). Although corticosteroids have been associated with adverse events, long-term outcomes related to their sustained use have not been assessed in men with CRPC.
Objective
This study evaluated the impact of cumulative corticosteroid exposure on the risk of developing specific adverse events in men with CRPC.
Methods
Data were obtained from administrative claims databases. Adult chemotherapy-naïve men who initiated CRPC treatment following surgical or medical castration were selected. Patients were grouped into four cohorts based on cumulative corticosteroid dose: no exposure, low exposure (< 0.5 g), medium exposure (0.5–2.0 g), and high exposure (> 2.0 g). Time to each adverse event was assessed using Kaplan–Meier analyses and time-dependent Cox proportional hazard models, adjusting for baseline characteristics.
Results
Overall, 9425 patients were included (no exposure, N = 6765; low exposure, N = 1660; medium exposure, N = 655; high exposure, N = 345). The mean age was 71–76 years across cohorts. During the study period, cumulative corticosteroid exposure was associated with a significantly higher risk of developing an infection [high vs. no exposure, adjusted hazard ratio (HR) 2.55; 95% confidence interval (CI) 2.27–2.85; p < 0.001 for trend], peptic ulcer (HR 1.91; 95% CI 1.39–2.64; p < 0.001), acute cardiovascular events (HR 1.62; 95% CI 1.43–1.83; p < 0.001), endocrine disorder (HR 1.61; 95% CI 1.34–1.94; p < 0.001), fracture (HR 1.59; 95% CI 1.37–1.86; p < 0.001), or mental health condition (HR 1.28; 95% CI 1.06–1.55; p = 0.014). Exposure to corticosteroids was associated with a more rapid onset of adverse events.
Conclusion
Patients with CRPC receiving corticosteroids had a higher risk of developing a wide range of adverse events than those not receiving them. The increased adverse event risk was observed after accounting, to the extent possible, for patients' overall disease severity.
This is a preview of subscription content, log in to check access.
Access options
Buy single article
Instant unlimited access to the full article PDF.
US$ 49.95
Price includes VAT for USA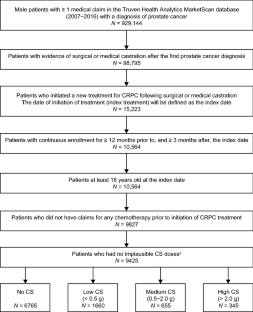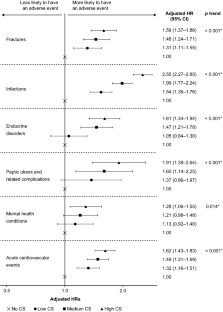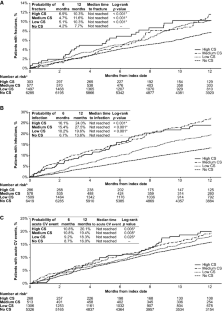 References
1.

Centers for Disease Control and Prevention (CDC). Leading cancer cases and deaths, male, 2015; 2018. https://gis.cdc.gov/Cancer/USCS/DataViz.html. Accessed 19 Oct 2018.

2.

Heidenreich A, Pfister D, Merseburger A, Bartsch G. Modern management of castration-resistant prostate cancer. Eur Oncol Haematol. 2013;9(1):34–41.

3.

Hotte SJ, Saad F. Current management of castrate-resistant prostate cancer. Curr Oncol. 2010;17(Suppl 2):S72–9.

4.

Kirby M, Hirst C, Crawford ED. Characterising the castration-resistant prostate cancer population: a systematic review. Int J Clin Pract. 2011;65(11):1180–92.

5.

Dorff TB, Crawford ED. Management and challenges of corticosteroid therapy in men with metastatic castrate-resistant prostate cancer. Ann Oncol. 2013;24(1):31–8.

6.

De Santis M, Saad F. Practical guidance on the role of corticosteroids in the treatment of metastatic castration-resistant prostate cancer. Urology. 2016;96:156–64.

7.

Ndibe C, Wang CG, Sonpavde G. Corticosteroids in the management of prostate cancer: a critical review. Curr Treat Options Oncol. 2015;16(2):6.

8.

Liu D, Ahmet A, Ward L, Krishnamoorthy P, Mandelcorn ED, Leigh R, et al. A practical guide to the monitoring and management of the complications of systemic corticosteroid therapy. Allergy Asthma Clin Immunol. 2013;9(1):30.

9.

Shah M, Chaudhari S, McLaughlin TP, Kan HJ, Bechtel B, Dennis GJ, et al. Cumulative burden of oral corticosteroid adverse effects and the economic implications of corticosteroid use in patients with systemic lupus erythematosus. Clin Ther. 2013;35(4):486–97.

10.

Sarnes E, Crofford L, Watson M, Dennis G, Kan H, Bass D. Incidence and US costs of corticosteroid-associated adverse events: a systematic literature review. Clin Ther. 2011;33(10):1413–32.

11.

Margolin L, Cope DK, Bakst-Sisser R, Greenspan J. The steroid withdrawal syndrome: a review of the implications, etiology, and treatments. J Pain Symptom Manag. 2007;33(2):224–8.

12.

Humphreys MR, Fernandes KA, Sridhar SS. Impact of age at diagnosis on outcomes in men with castrate-resistant prostate cancer (CRPC). J Cancer. 2013;4(4):304–14.

13.

Schultz NM, Penson DF, Wilson SD, Song Y, Yang H, Ramaswamy K, et al. Health care resource utilization and costs associated with corticosteroid use in patients with castration-resistant prostate cancer: an administrative claims analysis. J Manag Care Spec Pharm. 2019;25(8):889–97.

14.

Curtis JR, Westfall AO, Allison J, Bijlsma JW, Freeman A, George V, et al. Population-based assessment of adverse events associated with long-term glucocorticoid use. Arthritis Rheumatol. 2006;55(3):420–6.

15.

Varas-Lorenzo C, Rodriguez LA, Maguire A, Castellsague J, Perez-Gutthann S. Use of oral corticosteroids and the risk of acute myocardial infarction. Atherosclerosis. 2007;192(2):376–83.

16.

van Staa TP, Leufkens HG, Abenhaim L, Zhang B, Cooper C. Oral corticosteroids and fracture risk: relationship to daily and cumulative doses. Rheumatology (Oxford). 2000;39(12):1383–9.

17.

Piccirillo JF, Vlahiotis A, Barrett LB, Flood KL, Spitznagel EL, Steyerberg EW. The changing prevalence of comorbidity across the age spectrum. Crit Rev Oncol Hematol. 2008;67(2):124–32.

18.

Ensrud KE. Epidemiology of fracture risk with advancing age. J Gerontol A Biol Sci Med Sci. 2013;68(10):1236–42.

19.

Stupka JE, Mortensen EM, Anzueto A, Restrepo MI. Community-acquired pneumonia in elderly patients. Aging Health. 2009;5(6):763–74.

20.

Nasa P, Juneja D, Singh O. Severe sepsis and septic shock in the elderly: an overview. World J Crit Care Med. 2012;1(1):23–30.

21.

Dalal AA, Duh MS, Gozalo L, Robitaille MN, Albers F, Yancey S, et al. Dose-response relationship between long-term systemic corticosteroid use and related complications in patients with severe asthma. J Manag Care Spec Pharm. 2016;22(7):833–47.

22.

Spivey CA, Griffith J, Kaplan C, Postlethwaite A, Ganguli A, Wang J. A retrospective analysis of corticosteroid utilization before initiation of biologic DMARDs among patients with rheumatoid arthritis in the United States. Rheumatol Ther. 2017;5(1):255–70.

23.

American Cancer Society. Key statistics for prostate cancer. 2018. https://www.cancer.org/cancer/prostate-cancer/about/key-statistics.html. Accessed 11 Oct 2018.

24.

Bui CN, Wang L, Baser O. Resource utilization and use of life-extending therapies and corticosteroids in prostate cancer patients with corticosteroid-sensitive comorbidities. Curr Med Res Opin. 2014;30(11):2355–64.

25.

Montgomery B, Kheoh T, Molina A, Li J, Bellmunt J, Tran N, et al. Impact of baseline corticosteroids on survival and steroid androgens in metastatic castration-resistant prostate cancer: exploratory analysis from COU-AA-301. Eur Urol. 2015;67(5):866–73.

26.

Montgomery B, Cheng HH, Drechsler J, Mostaghel EA. Glucocorticoids and prostate cancer treatment: friend or foe? Asian J Androl. 2014;16(3):354–8.

27.

Alves C, Robazzi TC, Mendonca M. Withdrawal from glucocorticosteroid therapy: clinical practice recommendations. J Pediatr (Rio J). 2008;84(3):192–202.

28.

Nguyen PL, Alibhai SM, Basaria S, D'Amico AV, Kantoff PW, Keating NL, et al. Adverse effects of androgen deprivation therapy and strategies to mitigate them. Eur Urol. 2015;67(5):825–36.

29.

Taylor LG, Canfield SE, Du XL. Review of major adverse effects of androgen-deprivation therapy in men with prostate cancer. Cancer. 2009;115(11):2388–99.

30.

American Cancer Society. Hormone Therapy for Prostate Cancer. 2018 https://www.cancer.org/cancer/prostate-cancer/treating/hormone-therapy.html. Accessed 18 Oct 2018.
Acknowledgements
Analytical support was provided by Iryna Bocharova, Emily Gao, and Ellie Fuqua, employees of Analysis Group, Inc. Medical writing assistance was provided by Cinzia Metallo, Ph.D., and Shelley Batts, Ph.D., employees of Analysis Group, Inc. Editorial assistance was provided by Beatrice Vetter-Ceriotti, Adam Paton, and Jane Beck from Complete HealthVizion, all funded by the study sponsors.
Ethics declarations
Funding
This study was funded by Astellas Pharma Inc., Northbrook, IL, USA, and Medivation LLC, a Pfizer Company, San Francisco, CA, USA, the codevelopers of enzalutamide.
Conflict of interest
Neil M. Schultz is an employee of Astellas and owns stock in Gilead Sciences and Shire. David F. Penson has served as a consultant for Astellas, Janssen, and Dendreon and has received research funding and travel and accommodation expenses from Astellas and Dendreon. Samuel Wilson is an employee of Astellas and owns stock in Baxter. Yan Song and Hongbo Yang are employees of Analysis Group, Inc., which has received consultancy fees from Astellas. Krishnan Ramaswamy is an employee of, and owns stock in, Pfizer. Benjamin Lowentritt is an employee of Chesapeake Urology and has served as a speaker and consultant for Astellas, Bayer, Dendreon, Janssen, Merck, Pfizer, and UroGen.
Previous presentation
A synopsis of the current research was presented in poster format at the 2019 ASCO Genitourinary Cancers Symposium, which took place in San Francisco, CA, USA, 14–16 February 2019.
Availability of data and material
The data that support the findings of this study are available from IBM MarketScan Research Databases, but restrictions apply to the availability of these data, which were used under license for the current study and so are not publicly available.
Ethical approval/informed consent
Data were fully de-identified and compliant with the Health Insurance Portability and Accountability Act. No institutional review board approval or informed consent was required for this retrospective study.
Electronic supplementary material
Below is the link to the electronic supplementary material.
About this article
Cite this article
Schultz, N.M., Penson, D.F., Wilson, S. et al. Adverse Events Associated with Cumulative Corticosteroid Use in Patients with Castration-Resistant Prostate Cancer: An Administrative Claims Analysis. Drug Saf 43, 23–33 (2020) doi:10.1007/s40264-019-00867-6