A Multinational European Study of Patient Preferences for Novel Diagnostics to Manage Antimicrobial Resistance
Abstract
Background
Novel diagnostics are needed to manage antimicrobial resistance (AMR). Patient preferences are important in determining whether diagnostic tests are successful in practice, but there are few data describing the test attributes which matter most to patients. We elicited patients' preferences for attributes of diagnostic tests that could be used to reduce unnecessary antibiotic use in primary care across seven European countries.
Methods
We used an online stated preference survey, including a discrete choice experiment (DCE). The DCE explored how patients make trade-offs between three key attributes of diagnostic tests: the speed that results were available, confidence in the test results, and how convenient it is to take the test. Individuals were eligible to complete the survey if they had taken antibiotics within the last 2 years and were resident in Germany, Italy, Spain, France, Greece, the Netherlands or the United Kingdom (UK).
Results
In total, 988 respondents completed the survey. The DCE responses illustrated that speed was the least important attribute in most countries. Responses from Germany and the Netherlands indicated that confidence was most important in these countries. Responses from the UK, France, Spain and Italy showed convenience as the most important attribute in these countries. Two attributes, confidence and convenience, were jointly favoured by respondents in Greece.
Conclusion
Patients in different European countries do not have the same preferences for the attributes of diagnostic tests to manage AMR in primary care. Failure to account for such differences during test development could reduce test uptake, result in continued overuse of antibiotics, and hamper marketisation.
Key Points for Decision Makers
Patients in different European countries do not have the same preferences for the attributes of diagnostic tests aimed at managing antimicrobial resistance (AMR), indicating that different diagnostic tests might be more suitable for some European countries compared with others.
In the community setting, confidence in the test result was the most important attribute for patients in some countries, whereas the convenience of taking the test was the most important in others. The speed of obtaining a result was the least important attribute in all countries other than the UK.
Patient preferences should be considered when developing and providing diagnostic tests to manage AMR, as failure to offer acceptable tests in each market could lead to suboptimal uptake of testing and continued overuse of antibiotics, which is associated with higher levels of antibiotic resistance.
1

Introduction

Growing antimicrobial resistance (AMR) in infectious diseases is a global health crisis. Antibiotic-resistant infections cause around 50,000 deaths each year across Europe and the USA, with many more in other areas of the world [1]. It has been estimated that by 2050, annual deaths from drug-resistant infections could reach 10 million globally unless effective action is taken [1]. Moreover, the World Bank have suggested that antibiotic-resistant infections have the potential to cause greater economic damage (in terms of an annual reduction in global GDP) than the 2008–2009 financial crisis [2]. AMR is highly problematic, because it limits the ability to treat common infections, ultimately leading to prolonged illnesses, increased costs, and death. Furthermore, availability of effective antibiotics makes many modern medical treatments possible such as surgical joint replacements, cancer chemotherapy and immunotherapies. At the same time, few new antibiotics are being developed to replace those that are becoming ineffective [3].

Development of novel diagnostic tests to minimise unnecessary antibiotic use has been identified as a key strategy to manage AMR. It is estimated that, with current diagnostic approaches, around 30% of antibiotic prescribing is unnecessary [4, 5]. The recent O'Neill review concluded that 'rapid point-of-care diagnostic tests are a central part of the solution to this demand problem, which results currently in enormous unnecessary antibiotic use' [6]. Initiatives such as the UK's Longitude Prize and the Antimicrobial Resistance Diagnostic Challenge in the USA have been set up to drive innovation in diagnostics to help manage AMR.1

The development and uptake of diagnostics for AMR are challenging. Broadly speaking, there is a lack of investment by test developers, primarily due to expectations of low commercial returns—i.e. incentives for R&D are low and returns do not reflect the social value of controlling AMR through novel diagnostic approaches. On the demand side, inadequate education and behaviour of healthcare providers, among other factors, limits uptake of AMR diagnostics [6, 7, 8]. Beyond AMR, it has been reported that uptake of novel diagnostic tests more generally has been limited by local health service infrastructure, financial arrangements around reimbursement, or social factors related to clinician and patient resistance to use of new technology [9]. Indeed, Garau et al. highlight that pricing and reimbursement systems for diagnostics are inefficient because prices for diagnostics are often driven by administrative practices and expected production costs [10].

Patient perceptions are important when it comes to the use and misuse of antibiotics as the overuse of antibiotics is shaped significantly by physicians' desire to satisfy patient demand [11]. It has been illustrated that parental expectations around antimicrobial prescribing drives clinicians' prescription behaviour [12], and it has been suggested that joint physician-patient (or physician-carer) level decision making needs to be addressed in order to tackle the misuse of antibiotics [13]. These studies highlight the importance of patient engagement and support for reducing the misuse of  antibiotics. Despite the important role of patients in antibiotic misuse, there are currently no studies that examine patients' preferences with respect to diagnostic tests that could mediate antibiotic use in this setting. Considering patient preferences when designing diagnostic tests is important because individuals' preferences could directly influence their uptake of such tests, yet to date no studies have explored this issue.

We set out to bridge this important gap by eliciting patient preferences for public provision of diagnostic tests in this setting using a discrete choice experiment (DCE). DCE is a stated preference methodology that requires participants to make a series of hypothetical choices. The context for the research is the primary healthcare (community) setting, as this is where most antibiotic prescriptions are made; for instance, in the UK, it represented 81% in 2017 [14]. Patient views can shed light on the types of diagnostic tests that are most likely to be supported and will ultimately aid funders, developers and users in resource allocation and uptake planning to reduce the overuse and misuse of antibiotics. We set out to examine patient preferences in seven different counties: the five largest European economies [France (FR), Germany (DE), Italy (IT), Spain (ES) and the UK] plus the European countries with the highest and lowest use of antibiotics per inhabitant [Greece (GR) and the Netherlands (NL), respectively] [15].
2

Methods
2.1

Survey Overview

An online survey was designed, using the Qualtrics platform (http://www.qualtrics.com). The survey was developed in English and translated into the other six languages using a professional translation company (London Translations). To ensure translations were of high accuracy and maintained the intended meaning, these were checked and refined by members of the research team and/or academic colleagues with the requisite mother tongue.

The survey provided introductory information on AMR to give background and context to the study. Respondents were then introduced to the attributes for the DCE. Participants were asked if all of the important attributes were covered and, if not, to identify any missing attributes that they felt could be more important than those specified. Next, the participants undertook the DCE, followed by some feedback and background questions (these included demographics; previous use of antibiotics; prior awareness of AMR; willingness to pay for diagnostic testing; and comments on the survey questions). The survey instrument was designed for use in a range of settings and contained sections that are not explored in this article. The instrument is available as a supplemental material.

Ethical approval for the survey was sought and obtained from the University of Sussex (reference: ER/FL49/3).
2.2

The Discrete Choice Experiment
3

Results
3.1

Respondent Characteristics

A total of 988 individuals responded to the survey across the seven countries between April 2017 and April 2018. Sample sizes ranged from 126 in NL to 201 in GR. Respondents took just over 6.5 min (median) to complete the survey. However, a Kruskal–Wallis test indicated that there were statistically significant differences in median survey completion times between countries (p < 0.01; figures not reported). Respondents in GR had the largest median completion time (8.1 min) and respondents in the UK had the shortest median completion time (5.9 min).

Characteristics of the survey respondents are summarised in Table 

2

. In all samples, the most common age group was 21–40, although there was significant variation in the age bands between countries (

p

 < 0.01). The proportion of males and females varied between samples (

p

 < 0.01); however, in all samples female respondents predominated. Banded gross household income was recorded for all respondents in countries other than the UK (the UK survey was conducted first, and socioeconomic group was used; however, no comparable alternative was subsequently identified for the other countries). In these countries, respondents typically had a gross household income of less than €60,000, with significant variation across the income bands (

p

 < 0.01). For example, in GR over half (55%) of the sample had a gross household income of under €20,000 whereas this was only the case for 12% of respondents in NL. In the UK, 66% of respondents fit into the higher socioeconomic group (ABC1), which indicates that the chief income earner in the respondent's household works in a managerial, administrative or professional occupational group.

Table 2

Characteristics of the study population (n = 988)
 

All countries

Germany

Spain

France

Greece

Italy

Netherlands

United Kingdom

p valuea,b,c

n

%

n

%

n

%

n

%

n

%

n

%

n

%

n

%

N

988

 

139

 

131

 

129

 

201

 

127

 

126

 

135

 
 

Age

 
 
 
 
 
 
 
 
 
 
 
 
 
 
 
 

0.000

 < 20 years

34

3

8

6

2

2

8

6

1

< 1

2

2

4

3

9

7

 

 21–40 years

483

49

63

45

82

63

66

51

114

57

58

46

50

40

50

37

 

 41–60 years

351

36

53

38

43

33

39

30

79

39

49

39

41

33

47

35

 

 61–80 years

119

12

15

11

4

3

16

12

7

3

18

14

31

25

28

21

 

 > 80 years

1

< 1

0

0

0

0

0

0

0

0

0

0

0

0

1

< 1

 

Gender

 
 
 
 
 
 
 
 
 
 
 
 
 
 
 
 

0.000

 Male

430

44

53

38

58

44

51

40

94

47

58

46

57

45

59

44

 

 Female

558

56

86

62

73

56

78

60

107

53

69

54

69

55

76

56

 

Income (all but UK)

 
 
 
 
 
 
 
 
 
 
 
 
 
 

SEG (UK only)

0.000

 Up to €20,000

255

30

32

23

43

33

33

26

111

55

21

17

15

12

C2DE

35

26

 

 €20,000–€39,999

305

36

43

31

53

40

54

42

64

32

50

39

41

33

ABC1

89

66

 

 €40,000–€59,999

118

14

29

21

19

15

23

18

4

2

21

17

22

17

Unknown

11

8

 

 €60,000–€79,999

44

5

10

7

5

4

11

9

3

1

4

3

11

9

 
 
 
 

 €80,000 or more

33

4

9

6

3

2

3

2

1

< 1

9

7

8

6

 
 
 
 

 Don't know/prefer not to say

98

11

16

12

8

6

5

4

18

9

22

17

29

23

 
 
 
 

Previously aware of AMR

652

66

100

72

81

61

89

69

139

69

56

44

88

70

 

99

73

0.000

 From media

375

38

63

45

40

31

35

27

82

41

33

26

54

43

 

68

50

 

 From friends and family

155

16

31

22

31

24

29

23

23

11

6

5

14

11

 

21

16

 

 From colleagues

87

9

17

12

8

6

17

13

15

7

7

6

9

7

 

14

10

 

 From medical professional

210

21

35

25

31

24

39

30

44

22

15

12

21

17

 

25

19

 

 From another source

56

6

5

4

9

7

5

4

10

5

8

6

13

10

 

6

4

 

Not previously aware of AMR

336

34

39

28

50

38

40

31

62

31

71

56

38

30

 

36

27

 

Frequency of antibiotic use

 
 
 
 
 
 
 
 
 
 
 
 
 
 
 
 
 

0.000

 1 infection in past two years

502

51

68

49

54

41

52

40

137

68

63

50

73

58

 

55

41

 

 > 1 infection in past two years

451

46

70

50

69

53

66

51

62

31

63

50

48

38

 

73

54

 

 Long-term, regular treatment

35

3

1

< 1

8

6

11

9

2

1

1

< 1

5

4

 

7

5

 

Reason for recent antibiotic use

 
 
 
 
 
 
 
 
 
 
 
 
 
 
 
 
 

0.000

 Urinary infection

177

18

28

20

18

14

26

20

35

17

17

13

29

23

 

24

18

 

 Upper respiratory infection

322

33

38

27

58

44

52

40

85

42

50

39

20

16

 

19

14

 

 Intestinal

69

7

4

3

13

10

13

10

12

6

14

11

6

5

 

7

5

 

 Lower respiratory infection

203

20

39

28

17

13

19

15

30

15

28

22

23

18

 

47

35

 

 Sexually transmitted infection

19

2

2

1

0

0

2

2

6

3

1

1

6

5

 

2

1

 

 Other

198

20

28

20

25

19

17

13

33

16

17

13

42

33

 

36

27

 
In relation to AMR, respondents from the UK had the highest awareness overall (73%), respondents from IT had the lowest (44%) and there was significant variation across the various countries (p < 0.01). The most common source of awareness of AMR was the media in all countries other than FR, where medical professionals were the most common source. Very few respondents across the different countries used antibiotics for long-term, regular treatment (the highest was 9% in FR). For all samples other than GR and NL, 50% or more of the respondents indicated that they had taken antibiotics more than once in the past 2 years. The difference in proportions across these three categories of antibiotic use frequency was statistically significant (p < 0.01). The most common reason for the most recent use of antibiotics was upper respiratory infections in ES, FR, GR and IT; lower respiratory infections in UK and DE, and other (various) infections in NL. The differences between the samples were statistically significant (p < 0.01).
3.2

Analysis of Choice Data

Prior to completion of the DCE, respondents were asked whether they considered speed, convenience and confidence to be the three most important attributes in a diagnostic test for AMR. Overall, 96% of respondents said yes (minimum 92% in DE; maximum 98% in ES). There was little consensus amongst those responding negatively on possible additional attributes.

The results of the mixed logit models are shown in Table 

3

, and the relative importance of each attribute (based on the output from the mixed logit models) is illustrated in Fig. 

2

. Speed was the least important attribute in every sample except the UK, and the speed coefficients in the GR, IT and NL samples were statistically insignificant (indicating that, on average, this attribute was not influential when respondents made their choices). The most important attribute varied between convenience and confidence depending on the country. Confidence was the most important attribute in both the NL and DE samples, with convenience the most important in the UK, FR, IT and ES samples. In the GR sample, both convenience and confidence appear to be equally important. The standard deviation estimates in Table 

3

indicate that preferences for each attribute often differed within samples to a significant extent.

Table 3

Regression output from mixed logit models
|   | All countries | UK | France | Germany | Greece | Italy | Netherlands | Spain |
| --- | --- | --- | --- | --- | --- | --- | --- | --- |
| Constant | 0.155** (0.044) | 0.103 (0.134) | 0.178 (0.110) | 0.112 (0.115) | 0.095 (0.097) | 0.208 (0.120) | 0.132 (0.113) | 0.443* (0.187) |
| Speed | 0.319** (0.058) | 0.950** (0.245) | 0.281* (0.117) | 0.648** (0.159) | − 0.226 (0.131) | 0.240 (0.155) | 0.245 (0.132) | 0.534* (0.247) |
| Convenience | 0.940** (0.073) | 1.065** (0.253) | 0.883** (0.168) | 0.696** (0.160) | 0.906** (0.159) | 1.131** (0.218) | 0.773** (0.155) | 1.474** (0.401) |
| Confidence | 0.769** (0.063) | 0.595** (0.180) | 0.592** (0.138) | 0.992** (0.178) | 0.906** (0.152) | 0.481** (0.138) | 0.873** (0.168) | 0.932** (0.298) |
| SD (speed) | 1.096** (0.113) | 1.598** (0.406) | 0.383 (0.371) | 0.927** (0.282) | 1.176** (0.260) | 1.067** (0.301) | 0.712* (0.287) | 1.814** (0.564) |
| SD (convenience) | 1.015** (0.112) | 1.466** (0.381) | 0.734** (0.277) | 0.842** (0.284) | 0.951** (0.256) | 1.012** (0.304) | 0.506 (0.331) | 1.982** (0.575) |
| SD (confidence) | 0.775** (0.114) | 0.964** (0.359) | 0.533 (0.304) | 0.689* (0.299) | 0.689* (0.269) | 0.376 (0.438) | 0.642* (0.298) | 1.689** (0.536) |
| Observations | 7904 | 1080 | 1032 | 1112 | 1608 | 1016 | 1008 | 1048 |
| Log-likelihood | − 2386.5 | − 319.5 | − 308.1 | − 323.5 | − 482.7 | − 300 | − 298.2 | − 309.9 |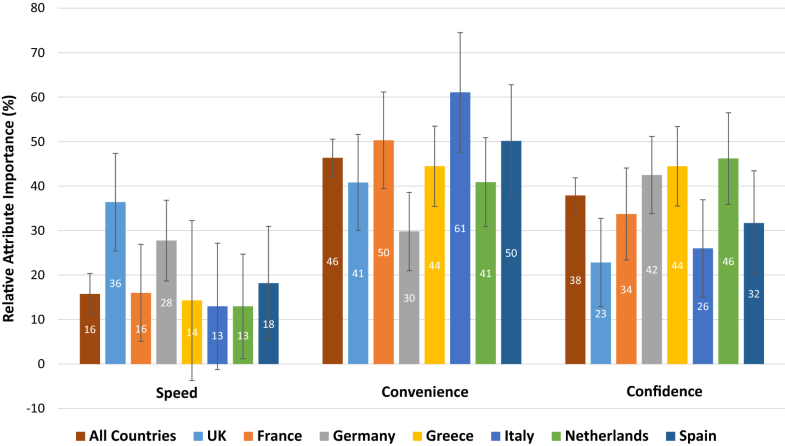 Coefficients for all attributes in Table 3 were positive (with the exception of speed in the GR sample, although this was not statistically significant), indicating that respondents prefer faster, more convenient tests in which the user can have greater confidence. Overall 78% of respondents selected the 'superior' test (minimum 74% GR; maximum 84% DE) in the choice set that contained one test that was superior to the other across all attributes.
Additional choice models were also estimated containing a range of interactions in order to determine whether observable demographic characteristics influence respondents' preferences. The characteristics were: gender (male/female); age (up to 40/over 40 years); and AMR awareness (aware/unaware). Models containing three attribute interactions were estimated for each country, for each characteristic (21 models in total). If the model contained a statistically significant interaction term (at the 5% significance level) and had a better model fit relative to a model without interactions (using likelihood ratio tests with 5% significance), the interaction was considered to be important. This was the case for four models. In summary, females in the GR sample appear to have less of a preference for speed relative to males whereas in the IT sample, relative to males, females had a lesser preference for convenience. In the DE sample, respondents aged > 40 years had a lesser preference for speed relative to those aged ≤ 40. Finally, in the IT sample, individuals who were previously aware of AMR had a higher preference for speed relative to those who were not previously aware.
A single mixed logit model was also estimated containing all observations for all countries; these results are reflected in Table 3 and Fig. 2. Overall, the combined model illustrates that, when the data are pooled, convenience was the most important attribute followed by confidence, with speed the least important.
4

Discussion
4.1

Our Findings and Previous Studies

As far as we are aware, this is the first multi-national analysis of patient preferences for diagnostic tests for AMR. As such, directly comparable literature is not available. Nonetheless, differences in patient preferences between countries have also been found in various health settings, such as primary care [27], anti-osteoporosis treatments [28] and medication persistence [29]. In addition, there have been numerous studies that examine patient preferences for other diagnostic tests, such as screening tests for: cancer [30]; Alzheimer's disease [31]; colorectal cancer [32]; Down's syndrome [33] and leukaemia [34]. These studies provide additional evidence to suggest that patients value convenience [31], as well as additional evidence of the importance of confidence in diagnostic test results [30, 32, 33, 34]. Notably, two of these studies (focused on tests for Down's syndrome and leukaemia) suggest that confidence is more important than waiting time [33, 34], which is in line with our findings. However, it is important to note the potential differences in the clinical importance of test speed between this study on AMR and others in the literature. In many cases where antibiotics may be required, it is feasible that there could be a significant benefit in the short-term, and a quick result might be desirable for rapid prescription decisions. In addition, in the primary care setting there is perhaps less risk to life if a diagnostic test for infection provides a false result as compared to the studies above. Therefore, the finding that speed was not particularly important to respondents in many of the study countries is somewhat surprising. Whilst this may be a robust finding, it could be explained if respondents were not really convinced that waiting for a test result would in reality delay their access to antibiotics. Given the current easy access to these drugs in the countries studied and the lack of routine diagnostic testing, the scenario presented would have been unfamiliar.

It is interesting to note that, compared with the findings of the Eurobarometer, a significantly smaller percentage of respondents, in all of our samples, expressed that they were previously aware of AMR [35]. The rates of awareness in the former ranged from being 14–26 percentage points higher than the rates that we observed. It may be the case that the use of the full term 'antimicrobial resistance' was new to respondents, whereas the idea that antibiotics become less effective as use increases was broadly understood (this is more aligned with the wording used in the Eurobarometer).
4.2

Implications for Managing AMR

Taking the pragmatic assumption that no single diagnostic test is likely to be optimal in all attributes, it becomes important to understand the priorities of patients. Patients play a central role when it comes to the uptake of diagnostic tests, and developers, clinicians and policymakers therefore need to be aware of these priorities. Our results suggest that in the community setting, accurate test results and convenient testing are typically higher priorities for patients than the speed with which results become available. Additionally, the identification of differences in preferences between countries is also important because it suggests that a 'one size fits all' approach, even within Western Europe, might not be effective.
4.3

Strengths and Limitations

To our knowledge this is the first study eliciting patient preferences for diagnostic tests for AMR. It provides pan-European data based on trade-offs, which advances our understanding of the types of diagnostic tests that are most likely to be acceptable to patients. This information could be valuable in the design and marketing of such diagnostics and policies to encourage their use. This could ultimately help to reduce the overuse and misuse of antibiotics.

However, this study does have its limitations. For example, the sample populations were generally younger and more female-dominated relative to the general populations of each country [36]. This could be a reflection of individuals who have taken antibiotics in the past 2 years (inclusion criteria for the study), or a reflection of the online panel characteristics. It should also be noted that whilst we elicited preferences from experienced patients (i.e. those who had received antibiotics recently), funding decisions are often made based on general population preferences [37, 38]. The advantage is that our sample will be more informed than the general population, but the disadvantage is that the results may not be representative of the general populations of the study countries. Ultimately, our choice of sample reflects a pragmatic decision over a normative one.

Other limitations relate to the study design. Whilst 96% of respondents agreed that speed, convenience and confidence were the most important attributes, it may be the case that respondents preferred to passively agree rather than to actively disagree, putting faith in our decision to focus on these attributes. Another limitation is that only 78% of respondents chose the 'superior' diagnostic test in the scenario where one alternative was dominant over the other. However, whilst many studies observe 'pass rates' of 90% or higher [39], some observe similar pass rates to ours such as the 79% pass rate observed by Gerard et al. [40]. We were unable to conduct a typical robustness test—running a model with only those that passed and determining if the results differ—due to collinearity issues caused by the small experimental design and thus cannot determine the potential impact of this result. Finally, another limitation is the use of normal distributions for the random parameters in the mixed logit models. In theory, it may have been more appropriate to use log-normal distributions, as we had no a priori expectations that any respondents would prefer slower, less convenient tests or less accurate tests. However, models with random parameters modelled with log-normal distributions failed to converge. Nonetheless, as we wanted to account for unobservable heterogeneity, we preferred to use mixed logit models with normally distributed random parameters over conditional logit models.
4.4

Further Research

Having explored patients' preferences for different attributes of diagnostics to manage AMR, another important step could be to explore the preferences of other stakeholder groups, including clinicians, nurses and pharmacists, whose preferences may also be influential in the uptake of diagnostics to manage AMR. Further research beyond the European countries studied here would also be potentially useful to stakeholders concerned with the management of AMR in different contexts. Particularly in the developing world, where the threat of AMR is particularly great [41], there may be a need for greater understanding of patient preferences. Specifically, knowledge of whether stakeholder group or nationality is the stronger influence on preferred test attributes, and in particular whether doctors and patients share the same preferences, could be crucially useful in attempting to encourage uptake of diagnostic tests to manage AMR. Additionally, preferences may differ depending on the setting (e.g. primary or secondary care) and depending on the exact context (i.e. why antibiotics were required and seriousness of disease, for example). Finally, respondents have been asked to consider preferences in regard their own treatment. However, preferences may vary in the case of parents requesting treatment for young children and infants.
5

Conclusion

This study of diagnostic tests to manage AMR in the primary care setting suggests that typically convenience and confidence, rather than speed, are the important attributes for patients when undergoing tests in the community to detect whether an antibiotic prescription is warranted. However, the results of this study illustrate that patients' preferences differ between these European countries. Therefore, stakeholders cannot assume that the preferences of patients for diagnostic tests to manage AMR will be similar across European markets.

These results may help to inform the development and provision of diagnostic tests that will be acceptable to patients across Europe. This is important because failure to produce acceptable tests in each market could lead to suboptimal uptake and use, with continued overuse of antibiotics as a result. Such overuse is associated with higher levels of antibiotic resistance.
Notes
Acknowledgements
We are grateful to all participants in the pilot survey and the final survey. We thank the following individuals for checking the survey translations: Efstathios Arapostathis, Frédérique Bone, Wouter Boon, Jarno Hoekman, Florian Kern and Daniele Rotolo. We also thank the  project's advisory board members: Jennifer Bostock, Barbara Fallowfield, Gail Hayward, Susan Hopkins, Joanna Sickler, and Bruce Stewart. We are grateful to the following individuals for their support in the design and/or analysis of the study: Ruth Kelly, Oscar Llopis, Paula Lorgelly, Adrian Towse, and Verity Watson. We thank Sebastian Heidenreich for comments on an earlier draft of the manuscript. We are also grateful to the participants at the Workshop on Medical Innovation (WOMI; Reykjavik, December 2017), the 28th European Congress of Clinical Microbiology & Infectious Diseases (ECCMID; Madrid, April 2018), the 12th European Health Economics Conference (EuHEA; Maastricht, July 2018), and XXXIX Jornadas de Economía de la Salud (Albacete, Spain, June 2019) for their useful feedback. Finally, we are grateful to two anonymous reviewers for their feedback. We acknowledge support received from the above individuals; however, any remaining errors or omissions are the responsibility of the authors alone. Furthermore, the views reported are those of the authors and do not necessarily reflect the views of those named here.
Author Contributions
JM-F and MMH developed the concept for this study. GH led the design of the survey, with input from MJL, JM-F and MMH. DJM analysed the data. All authors contributed to the interpretation of the results. DJM and GH wrote the first draft of the manuscript. All authors critically reviewed and revised the manuscript and all authors read and approved the final manuscript.
Compliance with Ethical Standards
Funding
We acknowledge financial support from the UK cross council Tackling AMR (Grant Ref: MR/N014316/1), the University of Sussex Business School and the Office of Health Economics. The Office of Health Economics, is a registered charity that receives funding from a variety of sources, including the Association of the British Pharmaceutical Industry.
Conflict of interest
DJM, GH, MJL, JM-F and MMH have no conflicts of interest that are relevant to this manuscript.
Ethical standards
Ethical approval for the survey was sought and obtained from the University of Sussex (reference: ER/FL49/3) and the study was performed in accordance with the ethical standards of the Declaration of Helsinki.
Informed consent
Informed consent was obtained from all individual participants included in the study.
Copyright information
© The Author(s) 2019
Open AccessThis article is distributed under the terms of the Creative Commons Attribution 4.0 International License (http://creativecommons.org/licenses/by/4.0/), which permits unrestricted use, distribution, and reproduction in any medium, provided you give appropriate credit to the original author(s) and the source, provide a link to the Creative Commons license, and indicate if changes were made.