Degradation of dimethyl phthalate using persulfate activated by UV and ferrous ions: optimizing operational parameters mechanism and pathway
Abstract
The present study aimed to model and optimize the dimethyl phthalate (DMP) degradation from aqueous solution using UVC/ Na2S2O8/Fe2+ system based on the response surface methodology (RSM). A high removal efficiency (97%) and TOC reduction (64.2%) were obtained under optimum conditions i.e. contact time = 90 min, SPS concentration = 0.601 mM/L, Fe2+ = 0.075 mM/L, pH = 11 and DMP concentration = 5 mg/L. Quenching experiments confirmed that sulfate radicals were predominant radical species for DMP degradation. The effect of CO3− on DMP degradation was more complicated than other aquatic background anions. The possible pathway for DMP decomposition was proposed according to HPLC and GC–MS analysis. The average oxidation state (AOS) and carbon oxidation state (COS) values as biodegradability indicators demonstrated that the UVC/SPS/Fe2+ system can improve the bioavailability of DMP over the time. Finally, the performance of UVC/SPS/Fe2+ system for DMP treatment in different aquatic solutions: tap water, surface runoff, treated and raw wastewater were found to be 95.7, 88.5, 80.5, and 56.4%, respectively.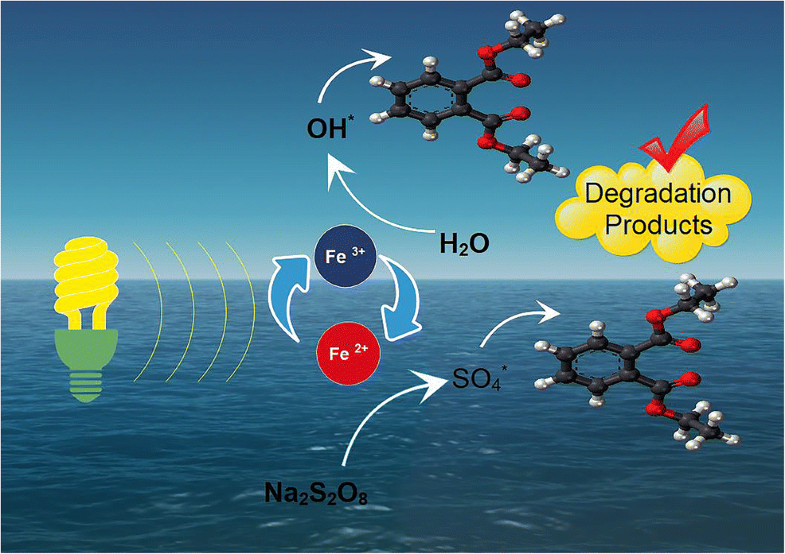 Keywords
DMP 
Sulfate radicals 
Statistical analysis 
BBD 
Degradation pathway 
Notes
Acknowledgments
This work was supported by: Iran University of Medical Sciences. The authors would like to gratefully appreciate Iran University of Medical Sciences for financial supports (Grant No. 2566).
Compliance with ethical standards
Conflict of interest
All authors have no conflict of interest to declare.
Copyright information
© Springer Nature Switzerland AG 2019