Abstract
Reliable measurement of hemoglobin A1c (HbA1c) has great importance in the diagnosis and monitoring of diabetes mellitus. The aim of the present study was to compare the performance parameters of the three common methods of HbA1c assay, including the Roche, Sebia and TOSOH G8 systems. We studied 120 patients referred to a clinical laboratory for HbA1c assay. The blood samples were analyzed with the Roche, Sebia and TOSOH G8 systems based on immunoassay, capillary electrophoresis, and ion-exchange chromatography techniques, respectively. The Spearman and the Passing-Bablok regression,as well as the Bland-Altman plots, were used to compare these methods. For each assay, the patients' classification was evaluated at the three cut-points of 6.5, 7, and 8% and the sensitivity, specificity, positive predictive value (PPV) and negative predictive value (NPV) of the methods were estimated. Our results showed that there were good correlations and agreement between the methods. We found a mean difference of 0.07% for the TOSOH G8 vs. Roche, 0.06% for the TOSOH G8 vs. Sebia and − 0.01% for the Roche vs. Sebia. The methods represented very low bias, indicating the good accuracy of the results. The sensitivity and specificity of the methods were comparable as well. The three methods also performed similarly in the classification of patients at the proposed cut-off points. Based on our results, the Roche, Sebia and TOSOH G8 systems showed a very high level of agreement with comparable performance parameters and yielded similar and accurate classification of diabetic patients. Therefore, these methods can be used interchangeably.
This is a preview of subscription content, log in to check access.
Access options
Buy single article
Instant access to the full article PDF.
US$ 39.95
Price includes VAT for USA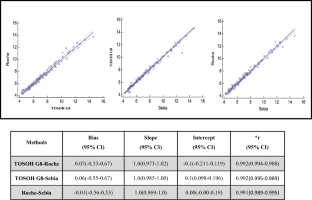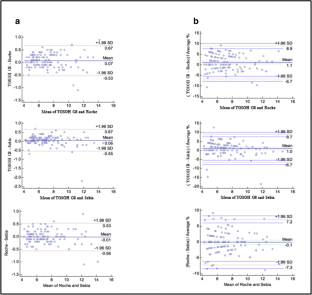 Abbreviations
HbA1c:

Hemoglobin A1c

SD:

Standard Deviation

NPV:

Negative Predictive Value

HPLC:

Ion exchange High-performance Liquid Chromatography

NGSP:

National Glycohemoglobin Standardization Program

IFCC:

International Federation of Clinical Chemistry and Laboratory Medicine

K2-EDTA:

K2-Ethylenediaminetetraacetic acid

ADA:

American Diabetes Association

PPV:

Positive Predictive Value

CI:

Confidence Interval
References
1.

Tesija Kuna A, Dukic K, Nikolac Gabaj N, et al. Comparison of enzymatic assay for HbA1c measurement (Abbott Architect) with capillary electrophoresis (Sebia Minicap Flex piercing analyser). Lab Med. 2018;49(3):231–8.

2.

Klingenberg O, Furuset T, Hestbråten CR, Hallberg MH, Steiro A, Orset IR, et al. HbA1c analysis by capillary electrophoresis–comparison with chromatography and an immunological method. Scand J Clin Lab Invest. 2017;77(6):458–64.

3.

Wu X, Chao Y, Wan Z, Wang Y, Ma Y, Ke P, et al. A comparative evaluation of the analytical performances of Capillarys 2 flex piercing, Tosoh HLC-723 G8, premier Hb9210, and Roche Cobas c501 Tina-quant gen 2 analyzers for HbA1c determination. Biochemia medica: Biochem Medica. 2016;26(3):353–64.

4.

Rollborn N, Åkerfeldt T, Nordin G, Xu XY, Mandic-Havelka A, Hansson LO, et al. Analysis of HbA1c on an automated multicapillary zone electrophoresis system. Scand J Clin Lab Invest. 2017;77(1):15–8.

5.

Jaisson S, Leroy N, Meurice J, Guillard E, Gillery P. First evaluation of Capillarys 2 flex piercing®(Sebia) as a new analyzer for HbA1c assay by capillary electrophoresis. Clin Chem Lab Med. 2012;50(10):1769–75.

6.

Association AD. Standards of medical care in diabetes–2014. Diabetes Care. 2014;37(Supplement 1):S14–80.

7.

Razi F, Esfahani EN, Farzami MR, et al. Effect of the different assays of HbA1c on diabetic patients monitoring. J Diabetes Metab Disord. 2015;14(1):65.

8.

Clinical and Laboratory Standards Institute. Evaluation of precision performance of quantitative measurement methods; approved guideline. 2nd ed, document EP05-A2. Wayne: CLSI;2004.

9.

Heylen O, Van Neyghem S, Exterbille S, et al. Evaluation of the Sebia CAPILLARYS 2 flex piercing for the measurement of HbA1c on venous and capillary blood samples. Am J Clin Pathol. 2014;141(6):867–77.

10.

Genc S, Gurdol F, Kanmaz-Ozer M, et al. The analytical performances of four different glycated hemoglobin methods. Med Chem. 2014;4(501):5.

11.

Hanita O, Hanisah AH, Subashini CT, et al. The performance evaluation of Tina-Quant Roche Cobas 6000 in the measurement of HbA1c. Pathology. 2009;41:69.

12.

Dessi M, Pieri M, Pignalosa S, Martino FG, Zenobi R. Performances of capillary electrophoresis and HPLC methods in HbA1c determination: diagnostic accuracy in HbS and HbD-Iran variants' presence. J Clin Lab Anal. 2015;29(1):57–60.

13.

Rohlfing CL, Connolly SM, England JD, Hanson SE, Moellering CM, Bachelder JR, et al. The effect of elevated fetal hemoglobin on hemoglobin A1c results: five common hemoglobin A1c methods compared with the IFCC reference method. Am J Clin Pathol. 2008;129(5):811–4.

14.

Aksungar FB, Serteser M, Coşkun A, Ünsal İ. A comparison between turbidimetric inhibition immunoassay and capillary electrophoresis in glycated hemoglobin (HbA1c) measurement. Clin Chem Lab Med. 2013;51(8):e191–3.
Acknowledgements
The present study was supported by a grant from the Hyperlipidemia (HLRC-9208) ResearchCenter, Ahvaz Jundishapur University of Medical Sciences, Ahvaz, Iran. We are grateful to the staffs of Dr. Jalali laboratory for their kind cooperation.
Ethics declarations
Conflict of interest
The authors declare that there is no conflict of interest.
Additional information
Publisher's note
Springer Nature remains neutral with regard to jurisdictional claims in published maps and institutional affiliations.
About this article
Cite this article
Jalali, M.T., Bavarsad, S.S., Hesam, S. et al. Assessing agreement between the three common clinical measurement methods of HbA1c. J Diabetes Metab Disord (2020). https://doi.org/10.1007/s40200-020-00503-6
Received:

Accepted:

Published:
Keywords
HbA1c

Sebia

TOSOH G8

Roche

Misclassification

Cut-offs