Abstract
Background
Many of the patients who are undergoing Coronary Artery Bypass Graft have diabetes mellitus or metabolic syndrome and are at risk for hyperglycemia events.
Objective
The present study aimed to compare conventional glucose control with adjusted tight control in patients undergoing on-pump CABG.
Methods
This double –blind randomized clinical trial study was conducted in Shiraz, Iran, from September 2017–March 2018. Two consecutive groups of 75 patients undergoing elective on- pump coronary artery bypass graft surgery.
Intervention
The patients were divided into adjusted tight control of the blood glucose between 100 and 120 mg/dl and conventional method that the blood glucose maintained ≤200 mg/dl.
Primary outcomes were
mortality, sternal wound infection, cardiac arrhythmia, cerebrovascular attack, and acute renal failure.
Secondary outcomes included
duration of mechanical ventilation and length of ICU staying. The same main outcomes were evaluated after one month.
Statistical analysis
The data were analyzed using SPSS version 20(SPSS, Chicago, IL). Group comparisons were performed using t-tests and Chi-square tests. Repeated measurement test was used for comparing blood glucose in two groups. Mann Whitney U test was compared duration of the mechanical ventilation and length of ICU staying. Statistical significance was defined as a p value <0.05.
Results
There were no significant differences between main and secondary outcomes. About late outcomes, sternal wound infection was in the control group (7 patients) more than intervention (1 patient) (P < 0.05). No differences between other complications in both groups were observed. The occurrence of hypoglycemia was low in both groups. Hypokalemia was significantly higher in the intervention than in control (P < 0.001).
Conclusions
The findings showed using adjusted tight glycemic control to a level that is nearby to normal values during cardiac surgery may reduce episodes of hypoglycemia and thus reduces its side effects. As well as reduce hyperglycemic complications such as sternal wound infection.
Trial registration number
IRCT2013041713052N1). 2013-07-09.
This is a preview of subscription content, log in to check access.
Access options
Buy single article
Instant access to the full article PDF.
US$ 39.95
Price includes VAT for USA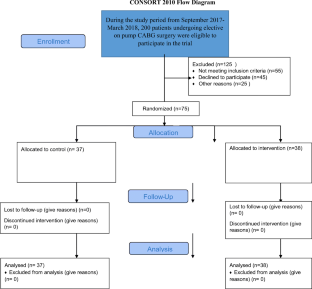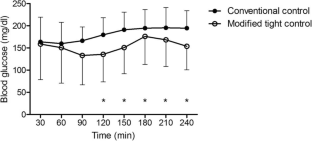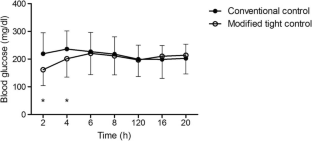 Data availability
Data are available on request to the corresponding author.
Abbreviations
CABG:

Coronary Artery Bypass Graft

CVA:

cerebrovascular accident

TIA:

transient ischemic attacks

MDAS:

Memorial Delirium Assessment Scale

BS:

Blood glucose

AF:

Atrial Fibrillation
References
1.

Gorter PM, Olijhoek JK, van der Graaf Y, Algra A, Rabelink TJ, Visseren FL, et al. Prevalence of the metabolic syndrome in patients with coronary heart disease, cerebrovascular disease, peripheral arterial disease or abdominal aortic aneurysm. Atherosclerosis. 2004;173(2):361–7.

2.

Carson JL, Scholz PM, Chen AY, Peterson ED, Gold J, Schneider SH. Diabetes mellitus increases short-term mortality and morbidity in patients undergoing coronary artery bypass graft surgery. J Am Coll Cardiol. 2002;40(3):418–23.

3.

Raza S, Blackstone EH, Sabik JF III. The diabetes epidemic and its effect on cardiac surgery practice. J Thorac Cardiovasc Surg. 2015;150(4):783.

4.

Booya F, Bandarian F, Larijani B, Pajouhi M, Nooraei M, Lotfi J. Potential risk factors for diabetic neuropathy: a case control study. BMC Neurol. 2005;5(1):24.

5.

Doenst T, Wijeysundera D, Karkouti K, Zechner C, Maganti M, Rao V, et al. Hyperglycemia during cardiopulmonary bypass is an independent risk factor for mortality in patients undergoing cardiac surgery. The Journal of thoracic and cardiovascular surgery. 2005;130(4):e1–8.

6.

Cheung NW, Wong VW, McLean M. The hyperglycemia: intensive insulin infusion in infarction (HI-5) study: a randomized controlled trial of insulin infusion therapy for myocardial infarction. Diabetes Care. 2006;29(4):765–70.

7.

Langouche L, Vanhorebeek I, Vlasselaers D, Vander Perre S, Wouters PJ, Skogstrand K, et al. Intensive insulin therapy protects the endothelium of critically ill patients. J Clin Invest. 2005;115(8):2277–86.

8.

Forbes NC, Anders N. Does tight glycemic control improve outcomes in pediatric patients undergoing surgery and/or those with critical illness? International journal of general medicine. 2014;7:1.

9.

Albacker T, Carvalho G, Schricker T, Lachapelle K. High-dose insulin therapy attenuates systemic inflammatory response in coronary artery bypass grafting patients. Ann Thorac Surg. 2008;86(1):20–7.

10.

Kang Z-Q, Huo J-L, Zhai X-J. Effects of perioperative tight glycemic control on postoperative outcomes: a meta-analysis. Endocrine connections. 2018;7(12):R316–R27.

11.

Gandhi GY, Nuttall GA, Abel MD, Mullany CJ, Schaff HV, O'Brien PC, et al. Intensive intraoperative insulin therapy versus conventional glucose management during cardiac surgery: a randomized trial. Ann Intern Med. 2007;146(4):233–43.

12.

Morshed AAM, Munn Z, Lockwood C. Effectiveness of tight glycemic control on mortality and morbidity of patients undergoing cardiac surgery in hospital: a systematic review protocol. JBI Database System Rev Implement Rep. 2014;12(9):132–45.

13.

Azarfarin R, Sheikhzadeh D, Mirinazhad M, Bilehjani E, Alizadehasl A. Do nondiabetic patients undergoing coronary artery bypass grafting surgery require intraoperative management of hyperglycemia? Acta Anaesthesiol Taiwanica. 2011;49(2):41–5.

14.

Saager L, Duncan AE, Yared J-P, Hesler BD, You J, Deogaonkar A, et al. Intraoperative tight glucose control using hyperinsulinemic normoglycemia increases delirium after cardiac surgery. Anesthesiology: The Journal of the American Society of Anesthesiologists. 2015;122(6):1214–23.

15.

Lazar HL, Chipkin SR, Fitzgerald CA, Bao Y, Cabral H, Apstein CS. Tight glycemic control in diabetic coronary artery bypass graft patients improves perioperative outcomes and decreases recurrent ischemic events. Circulation. 2004;109(12):1497–502.

16.

Preiser J-C, van Zanten AR, Berger MM, Biolo G, Casaer MP, Doig GS, et al. Metabolic and nutritional support of critically ill patients: consensus and controversies. Crit Care. 2015;19(1):35.

17.

Gandhi GY, Nuttall GA, Abel MD, Mullany CJ, Schaff HV, Williams BA, et al., editors. Intraoperative hyperglycemia and perioperative outcomes in cardiac surgery patients. Mayo Clinic Proceedings; 2005: Elsevier.

18.

Zerr KJ, Furnary AP, Grunkemeier GL, Bookin S, Kanhere V, Starr A. Glucose control lowers the risk of wound infection in diabetics after open heart operations. Ann Thorac Surg. 1997;63(2):356–61.

19.

Hruska LA, Smith JM, Hendy MP, Fritz VL, McAdams S. Continuous insulin infusion reduces infectious complications in diabetics following coronary surgery. J Card Surg. 2005;20(5):403–7.

20.

Kramer R, Groom R, Weldner D, Gallant P, Heyl B, Knapp R, et al. Glycemic control and reduction of deep sternal wound infection rates: a multidisciplinary approach. Arch Surg. 2008;143(5):451–6.

21.

Kang Z, Huo J-L, Zhai X-J. Effects of perioperative tight glycemic control on postoperative outcomes: a meta-analysis. Endocrine connections. 2018;1(aop).
Acknowledgements
We sincerely thank the patients who cooperated with us in this project and supported the research team.
Funding
Anesthesiology and Critical Care Research Center, Shiraz University of Medical Sciences.
Ethics declarations
Ethics approval and consent to participate
All of the procedures of this study were approved by the local Ethics Committee of Shiraz University of Medical Sciences, Shiraz, Iran (Ethics code: 91–01-60-5268).
This study was designed as a placebo-controlled, clinical trial (Code: IRCTID: IRCT2013041713052N1. Informed consent form was obtained from all patients.
Consent for publication
Not applicable.
Competing interests
The authors declare that they have no competing interests.
Conflicting interest
There is no conflict of interest to be declared.
Additional information
Publisher's note
Springer Nature remains neutral with regard to jurisdictional claims in published maps and institutional affiliations.
The article 'Adjusted tight control blood glucose management in diabetic patients undergoing on pump coronary artery bypass graft. A randomized clinical trial', written by Fatemeh Javaherforoosh zadeh and Simin Azemati, was originally published electronically on the publisher's internet portal (currently SpringerLink) on 20th January 2020 with open access. With the author(s)' decision to step back from Open Choice, the copyright of the article changed on 10th February 2020 to © Springer Nature Switzerland AG 2020 and the article is forthwith distributed under the terms of copyright. The original version of this article was revised.
About this article
Cite this article
Javaherforoosh zadeh, F., Azemati, S. Adjusted tight control blood glucose management in diabetic patients undergoing on pump coronary artery bypass graft. A randomized clinical trial. J Diabetes Metab Disord (2020). https://doi.org/10.1007/s40200-020-00494-4
Received:

Accepted:

Published:
Keywords
Cardiac surgery

Diabetes

Tight control of glucose

Critically ill patient