N-doped carbon nanodots@UiO-66-NH2 as novel nanoparticles for releasing of the bioactive drug, rosmarinic acid and fluorescence imaging
Abstract
Background and the purpose of the study
The purpose of the present research was to synthesize affordable nanoparticles for simultaneous drug release and cell fluorescence imaging to decrease the costs associated with conventional treatments.
Methods
In the present study, N-doped carbon nanodots@UiO-66-NH2 nanoparticles were simply synthesized in few steps and were used as a novel carrier for rosmarinic acid (RA). Nano particles were characterized by FT-IR spectroscopy, X-ray powder diffraction (XRD), Dynamic Light Scattering (DLS) and field emission scanning electron microscopy (FE-SEM). UV/vis spectroscopy was used to study the release profile of RA drug from this novel carrier. Methylthiazolyl tetrazolium (MTT) assay was to evaluate the effect of irradiation with a (UV) lamp. Confocal laser scanning microscopy was used for fluorescence imaging of cancer cells.
Results
Results of the MTT assay revealed that UiO-66-NH2@N-CNDs nanoparticles as a drug carrier for RA, have an excellent therapeutic effect due to their high quantum yield under irradiation of UV light. On the contrary, the observed therapeutic effect was decreased under ambient light.
Conclusions
UiO-66-NH2@N-CNDs nanoparticles can be considered as promising vehicles for drug delivery due to their cost effectiveness in cancer treatment, based on the results of MTT assay. It should be emphasized that this nanocarrier can be as potential platforms for coincident drug delivery system and cell fluorescence imaging due to possessing green fluorescence and microporosity features.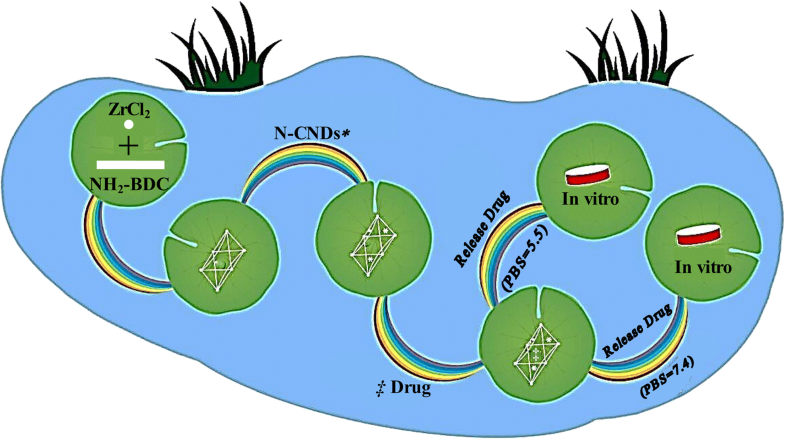 Keywords
UiO-66-NH2 
Rosmarinic acid 
N-doped carbon nanodot 
Drug delivery 
Therapeutic effect 
Notes
Acknowledgements
We gratefully acknowledge to the Research Council University of Guilan for the partial support of this study.
Compliance with ethical standards
Conflict of interest
The authors declare that they have no conflict of interest.
Ethical approval
This article does not contain any studies with human participants performed by any of the authors.
Copyright information
© Springer Nature Switzerland AG 2019