Pharmacology of dipeptidyl peptidase-4 inhibitors and its use in the management of metabolic syndrome: a comprehensive review on drug repositioning
Abstract
Objectives
Despite advances in our understanding of metabolic syndrome (MetS) and the treatment of each of its components separately, currently there is no single therapy approved to manage it as a single condition. Since multi-drug treatment increases drug interactions, decreases patient compliance and increases health costs, it is important to introduce single therapies that improve all of the MetS components.
Evidence acquisition
We conducted a PubMed, Scopus, Google Scholar, Web of Science, US FDA, utdo.ir and clinicaltrial.gov search, gathered the most relevant preclinical and clinical studies that have been published since 2010, and discussed the beneficial effects of dipeptidyl peptidase (DPP)-4 inhibitors to prevent and treat different constituent of the MetS as a single therapy. Furthermore, the pharmacology of DPP-4 inhibitors, focusing on pharmacodynamics, pharmacokinetics, drug interactions and their side effects are also reviewed.
Results
DPP-4 inhibitors or gliptins are a new class of oral anti-diabetic drugs that seem safe drugs with no severe side effects, commonly GI disturbance, infection and inflammatory bowel disease. They increase mass and function of pancreatic β-cells, and insulin sensitivity in liver, muscle and adipose tissue. It has been noted that gliptin therapy decreases dyslipidemia. DPP-4 inhibitors increase fatty oxidation, and cholesterol efflux, and decrease hepatic triglyceride synthase and de novo lipogenesis. They delay gastric emptying time and lead to satiety. Besides, gliptin therapy has anti-inflammatory and anti-atherogenic impacts, and improves endothelial function and reduces vascular stiffness.
Conclusion
The gathered data prove the efficacy of DPP-4 inhibitors in managing MetS in some levels beyond anti-diabetic effects. This review could be a lead for designing new DPP-4 inhibitors with greatest effects on MetS in future. Introducing drugs with polypharmacologic effects could increase the patient's compliance and decrease the health cost that there is not in multi-drug therapy.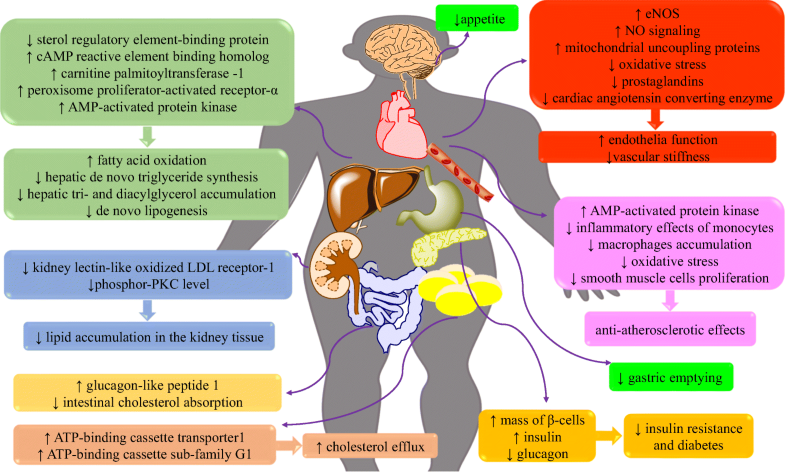 Keywords
Dipeptidyl peptidase-4 inhibitors 
Dyslipidemia 
Gliptins, GLP-1 
Hypertension 
Metabolic syndrome 
Abbreviations
cAMP

cyclic adenosine monophosphate

DPP-4

dipeptidyl peptidase

eNOS

endothelial NO synthesize

FBS

fasting blood sugar

FDA

US Food and Drug Administration

GIP

gastric inhibitory polypeptide

GLP-1

glucagon-like peptide

HbA1c

hemoglobin A1c

HDL-C

high-density lipoprotein cholesterol

IDL-C

intermediate density lipoprotein cholesterol

LDL-C

low-density lipoprotein cholesterol

P-gp

P-glycoprotein

t 1/2

half-life

T1D

type 1 diabetes

T2DM

type 2 diabetes mellitus

VLDL-C

very-low-density lipoprotein cholesterol
Notes
Acknowledgements
The authors thank the Vice Chancellor of the Mashhad University of Medical Sciences, Mashhad, Iran.
Contribution
MR and BMR collected data and drafted the manuscript. HH gave the idea, designed and supervised the study. HH and GAF edited the manuscript. All authors read and approved the final manuscript.
Compliance with ethical standards
Conflict of interest
The authors declare that they have no competing interests.
Copyright information
© Springer Nature Switzerland AG 2019