Differential regulation of CD4+ T cell subsets by Silymarin in vitro and in ovalbumin immunized mice
Abstract
CD4+ T cell subsets including regulatory T cells (Tregs), Th1 and Th17 are critical for control and development of inflammation and autoimmunity. We investigated the in vitro and in vivo effects of silymarin, a well-known herbal medicine on differentiation and function of Tregs and Th1 and Th17 responses. For in vitro study, mice splenocytes treated with 20–30 μg/ml silymarin were evaluated for gene expressions of specific transcription factors and cytokines of CD4+ T cell subsets using real-time PCR. Induction of Treg cell development in the presence of silymarin was performed on isolated naïve CD4+ T cells. Effect of silymarin-induced Tregs on T cell suppression was determined by CFSE labeling method. Results of this part showed that silymarin significantly decreased IFNγ, RORγt and IL-17 gene expressions and upregulated Foxp3, TGF-β and IL-10 mRNA. More silymarin-enhanced naïve CD4+ T cells differentiated to Tregs (67%) than the control (47%). Silymarin-induced Tregs reduced proliferation of naïve activated T cells (<50%). For in vivo study, mice were immunized with ovalbumin (Ova) on days 1 and 14. Silymarin (100 mg/Kg) was intraperitoneally administered two days before the first Ova challenge followed by on every day for two weeks. Splenocytes were then isolated for assessment of CD4+ T cell subsets and ex vivo analysis using flow cytometry. Treatment of Ova-immunized mice with silymarin increased Tregs (11.24 ± 1.2%, p < 0.01(but decreased Th1 (1.72 ± 0.4%, p < 0.001) and Th17 (1.07 ± 0.04%, p < 0.001) cells. Ex vivo Ova challenge of splenocytes from Ova-immunized mice treated with silymarin decreased proliferation of splenocytes, IFNγ (2.76% of control) and IL-17 (<8%) along with increased TGF-β (59.7%) expressions in CD4+T-bet+, CD4+RORγt+ and CD4+Foxp3+ T cells, respectively. In conclusion, silymarin promoted Treg differentiation and function and decreased Th1 and Th17 cells. Silymarin may differentially regulate CD4+ T cell responses which can provide potential benefits for its use as treatment of immune-related diseases.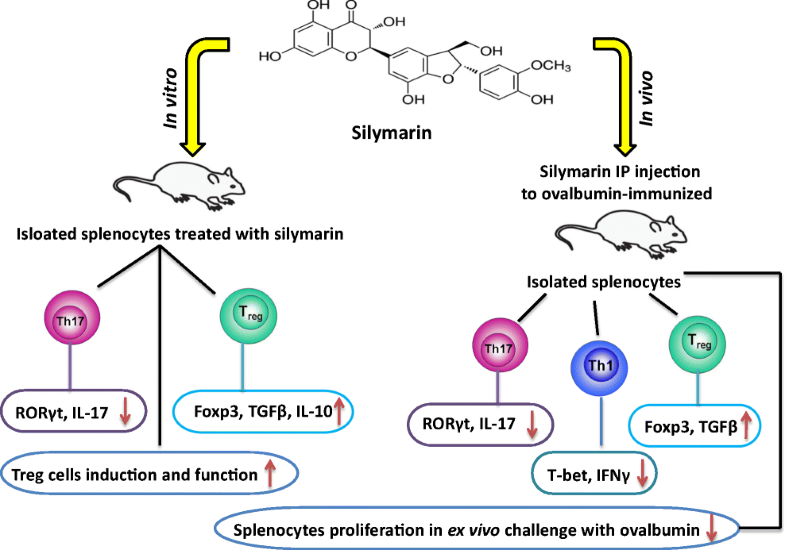 Keywords
Silymarin 
Regulatory T cells 
Th1 
Th17 
Ovalbumin 
Notes
Acknowledgments
We would like to express our specific thanks to the Deputy of Research Affairs of Shiraz University of Medical Sciences (grant no. 7611) for financial support. This work was extracted from thesis written by one of the authors H. Namdari.
Authors' contributions
HN and ZA wrote this manuscript, designed this study and analyzed the data; HN performed the experiments. MI and FR help in flow cytometry analysis. All authors read and approved the final manuscript.
Compliance with ethical standards
Consent for publication
All authors agree to publish our manuscript.
Competing interests
The authors declare that they have no conflict of interest in this work.
Ethical approval
This article does not contain any studies with human participants performed by any of the authors. All protocols for animal care and treatment were approved by the local ethics committee.
Copyright information
© Springer Nature Switzerland AG 2018