Lipid-drug conjugates: a potential nanocarrier system for oral drug delivery applications
Abstract
Hydrophilic drugs are preferred candidates for most routes of drug administration, because of their enhanced solubility and dissolution under aqueous in vivo conditions. However, their hydrophilic nature also leads to decreased permeability across hydrophobic barriers. This is a severe limitation in situations where membrane permeability is the primary factor affecting bioavailability and efficacy of the drug. Highly impermeable cellular membranes or the tight endothelial junctions governing the blood-brain barrier are prime examples of this limitation. In other cases, decreased permeability across mucosal or epithelial membranes may require increased doses, which is an inefficient and potentially dangerous workaround. Covalent conjugation of hydrophilic drugs to hydrophobic moieties like short-chain lipids is a promising strategy for maintaining the critical balance between drug solubility and permeability. This article practically focuses on the production procedure of Lipid drug conjugates (LDCs), various formulation methodologies for preparing LDC nanoparticles with detailed about their in vitro physicochemical characterization at laboratory scale. Moreover, brief overviews on the role of LDCs in novel drug delivery applications as a substrate to various disease therapies are provided.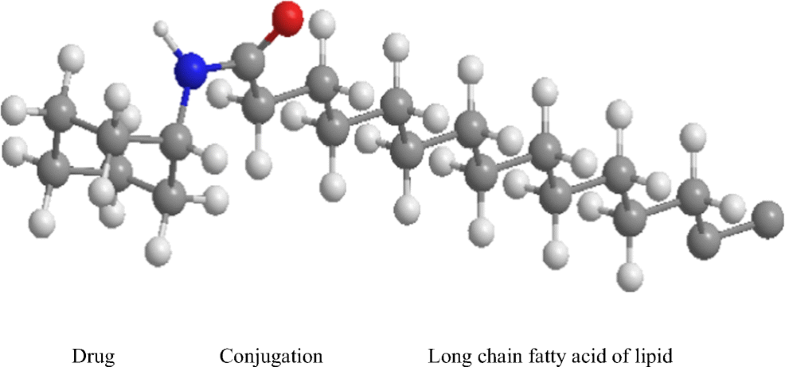 Keywords
Lipid drug conjugates 
Oral administration 
Drug delivery 
Hydrophilic drug 
Abbreviations
LNFs

Lipid Nanoparticle Formulations

LDCs

Lipid-drug Conjugates

NPs

Nanoparticles

GIT

Gastrointestinal Tract

ZP

Zeta Potential

PDI

Polydispersity Index

BA

Bioavailability

BCS

Biopharmaceutical Classification Systems
Notes
Acknowledgments
The authors are thankful to their respective institution and university for providing access to necessary literature resources and essential library facilities for writing this review article. Recognition also goes to all the authors of papers, books, patents, websites and all other published sources listed in the references that were used to prepare the contents of this review article.
Compliance with ethical standards
Consent for publication
Not applicable.
Declaration of interest
The authors declare that they have no competing interests.
Copyright information
© Springer Nature Switzerland AG 2018