Shear strength/microstructure relationship for dissimilar IN738/IN718 TLP joints
Abstract
MBF20 interlayer, as a commercial foil, was used for TLP bonding of IN738/MBF20/IN718 system at different temperatures and times. Microhardness and shear strength tests were conducted for all the samples. Hardness profile across the joints made at 1050 and 1100 °C revealed the microstructure regions as isothermal solidification zone (ISZ), athermal solidification zone (ASZ), and diffusion affected zone (DAZ). With increasing bonding time at each temperature, hardness peak at the joint centerline was removed but the hardness peak at DAZ remained. Increase of joint's shear strength, increase of ISZ hardness, and decrease of DAZ hardness with increasing bonding temperature and/or time were discussed according to the effect of Larson-Miller parameter. Partial liquation of the base metals at 1150 °C/60 min condition caused reverse trend for variation of hardness and joint's strength with bonding temperature. Fracture path of the joints with incomplete isothermal solidification was seen through the centerline eutectics. This path for the joints with complete isothermal solidification was observed through the bonding zone and the DAZ phases.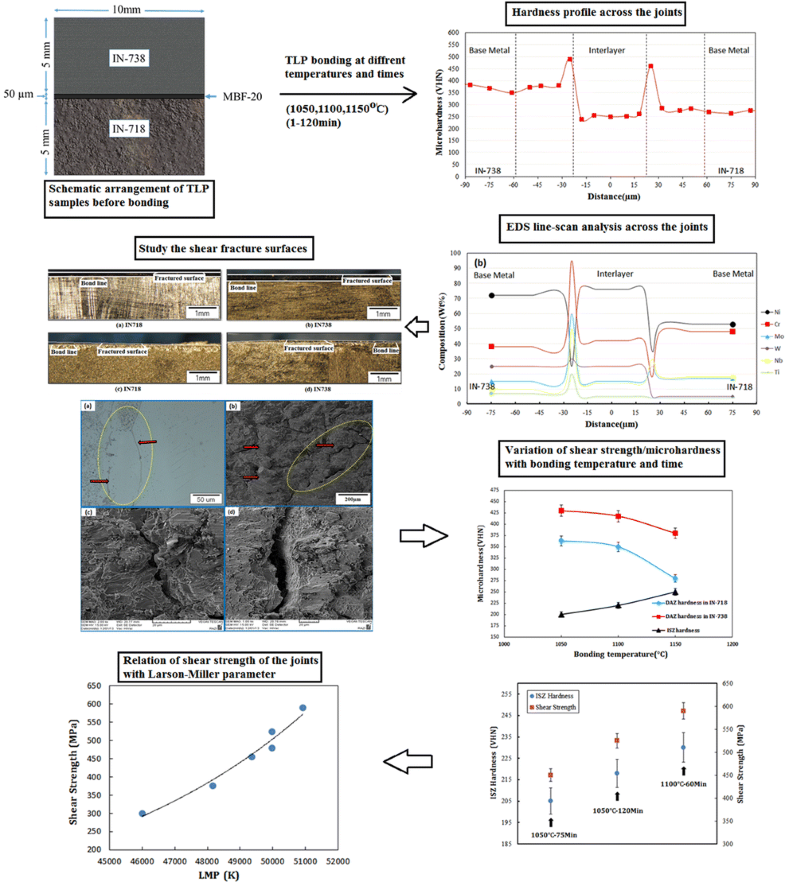 Keywords
TLP bonding 
IN718 superalloy 
IN738 superalloy 
MBF20 interlayer 
Mechanical properties 
Notes
Acknowledgments
The author would like to acknowledge Kermanshah Branch of Azad University for financial supports of this research.
Copyright information
© International Institute of Welding 2019