Abstract
With rising global interest in minimally invasive surgical approaches and the cumulative advances in technology, there is a growing population of otolaryngologists incorporating endoscopic ear surgery into clinical practice and residency training. To date, limited data are available on the learning curve and training process involved in this technique. While the endoscopic approach to the ear has several advantages, it carries also unique challenges and risks that one should be aware of as they impact endoscopic skill acquisition. The current practices in endoscopic ear surgery training involve sharing of technical pearls and a graded step-by-step approach to endoscopic skill development through clinical practice and hands-on courses. In the academic environment, the endoscopic approach carries several advantages for the trainees—through improvement in teaching and the relative ease of the technique as compared to the traditional microscopic approach.
This is a preview of subscription content, log in to check access.
Access options
Buy single article
Instant unlimited access to the full article PDF.
US$ 39.95
Price includes VAT for USA
Subscribe to journal
Immediate online access to all issues from 2019. Subscription will auto renew annually.
US$ 99
This is the net price. Taxes to be calculated in checkout.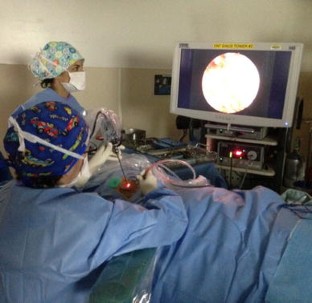 References
Papers of particular interest, published recently, have been highlighted as: • Of importance •• Of major importance
1.

Mer SB, Derbyshire AJ, Brushenko A, Pontarelli DA. Fiberoptic endotoscopes for examining the middle ear. Arch Otolaryngol. 1967;85(4):387–93.

2.

Nassif N, Redaelli De Zinis LO, Berlucchi M, Zanetti D. Endoscopic ventilation tube placement in the pediatric age. Clin Otolaryngol. 2014;39(1):50–3.

3.

• Furukawa T, Watanabe T, Ito T, Kubota T, Kakehata S. Feasibility and advantages of transcanal endoscopic myringoplasty. Otol Neurotol. 2014;35(4):e140–5. Prospective study that quantified improved visualization with the endoscope; the anterior edge of the perforation was not visible under microscopy in 5 of 25 ears while full visibility was achieved with the endoscope.

4.

• Lade H, Choudhary SR, Vashishth A. Endoscopic vs microscopic myringoplasty: a different perspective. Eur Arch Otorhinolaryngol. 2014;271(7):1897–902. Endoscopic and microscopic myringoplasty have comparable results; endoscopic approaches have the benefit of avoiding a canaloplasty/post auricular incision; documents positive resident attitudes towards learning endoscopic ear surgery techniques.

5.

Kojima H, Komori M, Chikazawa S, et al. Comparison between endoscopic and microscopic stapes surgery. Laryngoscope. 2014;124(1):266–71.

6.

Migirov L, Wolf M. Endoscopic transcanal stapedotomy: how I do it. Eur Arch Otorhinolaryngol. 2013;270(4):1547–9.

7.

Sarkar S, Banerjee S, Chakravarty S, Singh R, Sikder B, Bera SP. Endoscopic stapes surgery: our experience in thirty two patients. Clin Otolaryngol. 2013;38(2):157–60.

8.

•• Marchioni D, Villari D, Mattioli F, Alicandri-Ciufelli M, Piccinini A, Presutti L. Endoscopic management of attic cholesteatoma: a single-institution experience. Otolaryngol Clin N Am. 2013;46(2):201–9. Landmark paper with a focus on the hidden recesses that can be accessed with the endoscope and the pathophysiology of cholesteatoma through dysventilation.

9.

Migirov L, Shapira Y, Horowitz Z, Wolf M. Exclusive endoscopic ear surgery for acquired cholesteatoma: preliminary results. Otol Neurotol. 2011;32(3):433–6.

10.

Pieper DR. The endoscopic approach to vestibular schwannomas and posterolateral skull base pathology. Otolaryngol Clin N Am. 2012;45(2):439–54, x.

11.

•• Pothier DD. Introducing endoscopic ear surgery into practice. Otolaryngol Clin N Am. 2013;46(2):245–55. Outlines key challenges to consider when starting the endoscopic technique and provides practical tips on how to overcome them.

12.

James AL. Endoscopic middle ear surgery in children. Otolaryngol Clin N Am. 2013;46(2):233–44.

13.

Pollak N. Chapter 3: instrumentation and operating room set up. In: Pollak N, editor. Endoscopic ear surgery. San Diego: Plural Publishing; 2014. p. 33–42.

14.

•• Tarabichi M. Chapter 2: Principles of endoscopic ear surgery. In: Presutti L, Marchioni D, editors. Endoscopic ear surgery: principles, indications, and techniques. Stuggart: Thieme Publishers; 2015. pp. 6–16. This book provides a thorough overview of endoscopic ear surgery and discusses all the key elements that an endoscopic ear surgeon should be aware of.

15.

Ayache S, Tramier B, Strunski V. Otoendoscopy in cholesteatoma surgery of the middle ear: what benefits can be expected? Otol Neurotol. 2008;29(8):1085–90.

16.

MacKeith SA, Frampton S, Pothier DD. Thermal properties of operative endoscopes used in otorhinolaryngology. J Laryngol Otol. 2008;122(7):711–4.

17.

Kozin ED, Lehmann A, Carter M, et al. Thermal effects of endoscopy in a human temporal bone model: implications for endoscopic ear surgery. Laryngoscope. 2014;124(8):E332–9.

18.

Tarabichi M, Marchioni D, Presutti L, Nogueira JF, Pothier D. Endoscopic transcanal ear anatomy and dissection. Otolaryngol Clin N Am. 2013;46(2):131–54.
Acknowledgments
We would like to thank Marcela Fandino and Margaret Aron (former UBC Otology/Neurotology fellows) for editing Videos 1 and 5, respectively. All videos enclosed show trainees as the primary surgeon with the exception of Video 11 (mixture of staff/trainee). We would like to thank all former UBC Otolaryngology residents and UBC Otology/Neurotology fellows (2010–2014) who showcase their surgical skills in the enclosed videos.
Additional information
This article is part of the Topical Collection on Endoscopic Ear Surgery.
Electronic supplementary material
Below is the link to the electronic supplementary material.
Supplementary material 1 (MOV 34890 kb)
Supplementary material 2 (MOV 30320 kb)
Supplementary material 3 (MOV 68071 kb)
Supplementary material 4 (MOV 5455 kb)
Supplementary material 5 (MOV 36767 kb)
Supplementary material 6 (MP4 34640 kb)
Supplementary material 7 (MP4 11505 kb)
Supplementary material 8 (MP4 10172 kb)
Supplementary material 9 (MP4 12973 kb)
Supplementary material 10 (MOV 11477 kb)
Supplementary material 11 (MOV 154773 kb)
About this article
Cite this article
Mijovic, T., Lea, J. Training and Education in Endoscopic Ear Surgery. Curr Otorhinolaryngol Rep 3, 193–199 (2015). https://doi.org/10.1007/s40136-015-0101-1
Keywords
Endoscopy

Minimally invasive surgery

Otologic surgical procedures

Education

Endoscopic ear surgery