Abstract
Purpose of Review
In the last decade, fluoroscopy in the radiology department has been largely replaced by more modern imaging techniques; however, the visualization of oropharyngeal swallowing function is still one of the hallmarks of fluoroscopy. This article describes the technique and interpretation of swallowing videofluoroscopy.
Recent Findings
As the evaluation of swallowing is a dynamic study with important, discrete events occurring rapidly, the fluoroscopic acquisition rate must be continuous or no less than 30 pulses per second. If the acquisition rate is less, important clinical information will be missed. Other swallowing evaluation techniques such as endoscopy, magnetic resonance imaging, and manometry are available. While each offers some advantages, their limitations preclude them from being the best evaluation tool for oropharyngeal swallowing.
Summary
The videofluoroscopic swallowing study remains a relevant and efficient instrumental evaluation for the management and rehabilitation of oropharyngeal swallowing.
This is a preview of subscription content, log in to check access.
Access options
Buy single article
Instant unlimited access to the full article PDF.
US$ 39.95
Price includes VAT for USA
Subscribe to journal
Immediate online access to all issues from 2019. Subscription will auto renew annually.
US$ 99
This is the net price. Taxes to be calculated in checkout.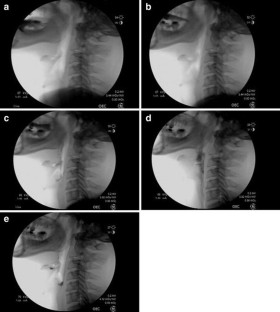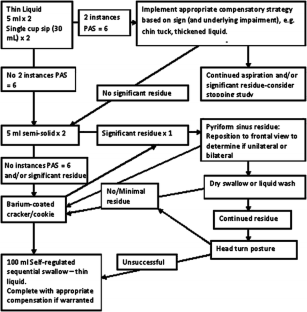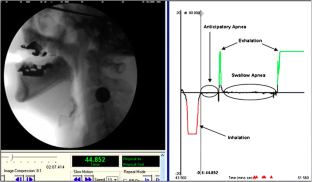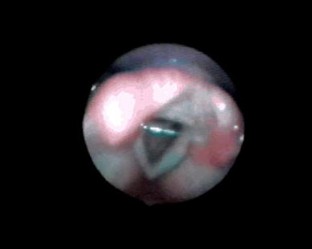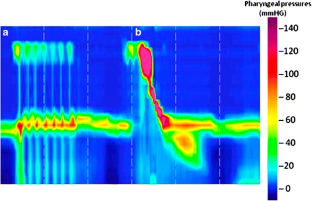 References
Papers of particular interest, published recently, have been highlighted as: • Of importance
1.

American College of Radiology. ACR practice parameter for the performance of the modified barium swallow. Reston: ACR; 2015.

2.

Cohen MD. Can we use pulsed fluoroscopy to decrease the radiation dose during video fluoroscopic feeding studies in children? Clin Radiol. 2009;64:70–3. doi:10.1016/j.crad.2008.07.011.

3.

• Bonilha HS, Blair J, Carnes B, Huda W, Humphries K, McGrattan K, et al. Preliminary investigation of the effect of pulse rate on judgments of swallowing impairment and treatment recommendations. Dysphagia 2013;28:528–38. doi:10.1007/s00455-013-9463-z. The effects of different pulse rates on interpretation of VFSS and treatment recommendations were determined. Results support the need to maintain 30 pps.

4.

• Peladeau-Pigeon M, Steele CM. Technical aspects of the videofluoroscopic swallowing study. Can J Speech Lang Pathol Audiol 2013;37:216–26. An excellent review of videofluorosocopic parameters that should be addressed by radiologists and speech-language pathologists.

5.

Palmer JB, Kuhlemeier KV, Tippett DC, Lynch C. A protocol for the videofluorographic swallowing study. Dsypahgia. 1993;8:209–14. doi:10.1007/BF01354540.

6.

Robbins J, Nicosia M, Hind JA, Gill GD, Blanco R, Logemann J. Defining physical properties of fluids for dysphagia evaluation and treatment. Perspect Swallowing Swallowing Disord. 2002;11:16–9.

7.

Martin-Harris B, Brodsky MB, Michel Y, Castell DO, Schleicher M, Sandidge J, et al. MBS measurement tool for swallow impairment-MBSImp: establishing a standard. Dsyphagia. 2008;23:392–405. doi:10.1007/s00455-008-9185-9.

8.

Fink TA, Ross JB. Are we testing a true standard? Dysphagia. 2009;24:285–9. doi:10.1007/s00455-008-9203-y.

9.

Garcia JM, Hakel M, Lazarus C. Unexpected consequence of effortful swallowing: case study report. J Med Speech Lang Pathol. 2004;12:59–66.

10.

Hadjikoutis S, Pickersgill TP, Dawson K, Wiles CM. Abnormal patterns of breathing during swallowing in neurological disorders. Brain. 2000;123:1863–73.

11.

Martin-Harris B, McFarland D, Hill EG, Strange CB, Focht KL, Wan Z, et al. Respiratory-swallow training in patients with head and neck cancer. Arch Phys Med Rehabil. 2015;96:885–93. doi:10.1016/j-apmr.2014.11.0222.

12.

Rosenbek JC, Robbins J, Roecker EB, Coyle JL, Wood JL. A penetration-aspiration scale. Dysphagia. 1996;11:93–8. doi:10.1007/BF00417897.

13.

Eisenhuber E, Schima W, Shober E, Pokiesser P, Stadler A, Scharitzer M, et al. Videofluoroscopic assessment of patients with dysphagia: pharyngeal retention is a predictive factor for aspiration. AJR Am J Roentgenol. 2002;178:393–8. doi:10.2214/ajr.178.2.1780393.

14.

Dyer JC, Leslie P, Drinnan MJ. Objective computer-based assessment of valleculae residue: is it useful? Dysphagia. 2008;23:7–15. doi:10.1007/s00455-007-9088-1.

15.

Pearson WG, Molfenter SM, Smith ZM, Steele CM. Image-based measurement of post-swallow residue: the normalized residue ratio scale. Dysphagia. 2013;28:167–77. doi:10.1007/s00455-012-9426-9.

16.

Leonard R, Kendall KA, McKenzie S. Dynamic swallow study: objective measures and normative data in adults. In: Leonard R, Kendall KA, editors. Dysphagia assessment and treatment planning. 3rd ed. San Diego: Plural; 2014.

17.

Bonilha HS, Humphries K, Blair J, Hill EG, McGrattan K, Carnes B, et al. Radiation exposure time during MBSS: influence of swallowing impairment severity, medical diagnosis, clinical experience, and standardized protocol use. Dysphagia. 2013;28:77–85. doi:10.1007/s00455-012-9415-z.

18.

Dietsch AM, Solomon NP, Steele CM, Pelletier CA. The effect of barium on perceptions of taste intensity and palatability. Dysphagia. 2014;29:96–108. doi:10.1007/s00455-013-9487-4.

19.

Nagy A, Steele CM, Pelletier CA. Barium versus nonbarium stimuli: differences in taste intensity, chemestesis, and swallowing behavior in healthy adult women. J Speech Lang Hear Res. 2014;57:758–67. doi:10.1044/2014_JSLHR-S-13-0316.

20.

Langmore SE, Murray J. Fiberoptic endoscopic evaluation of swallowing (FEES). In: Shaker R, Easterling C, Belafsky PC, Postma GN, editors. Manual of diagnostic and therapeutic techniques for disorders of deglutition. New York: Springer; 2013.

21.

Langmore S, Schatz K, Olsen N. Endoscopic and videofluoroscopic evaluations of swallowing and aspiration. Ann Otol Rhinol Laryngol. 1991;100:678–81. doi:10.1177/000348949110000815.

22.

Bastian R. Videoendoscopic evaluation of patients with dysphagia: an adjunct to modified barium swallow. Otolaryngol Head Neck Surg. 1991;104:339–50. doi:10.1177/019459989110400309.

23.

Murray J, Langmore SE, Ginsberg S, Dostie A. The significance of accumulated oropharyngeal secretions and swallowing frequency in predicting aspiration. Dysphagia. 1996;11:99–103. doi:10.1007/BF00417898.

24.

Ahang S, Olthoff A, Frahm J. Real-time magnetic resonance imaging of normal swallowing. J Magn Reson Imaging. 2012;35:1372–9. doi:10.1002/jmri.23591.

25.

Kumar KVV, Shankar V, Santosham R. Assessment of swallowing and its disorders—a dynamic MRI study. Eur J Radiol. 2013;82:215–9. doi:10.1016/j.ejrad.2012.09.010.

26.

Amin MR, Stratos A, Lazarus CL, Branski RC, Storey EP, Praminik B, et al. Dynamic magnetic resonance imaging of the pharynx during deglutition. Ann Otol Rhinol Laryngol. 2013;122:145–50. doi:10.1177/000348941312200301.

27.

Miloro KV, Pearson WG, Langmore SE. Effortful pitch glide: a potential new exercise by dynamic MRI. J Speech Lang Hear Res. 2014;57:1243–50. doi:10.1044/2014_JSLHR-S-13-0168.

28.

Fritz M, Cerrati E, Fang Y, Verma A, Achlatis S, Lazarus C, et al. Magnetic resonance imaging of the effortful swallow. Ann Otol Rhinol Laryngol. 2014;123:786–90. doi:10.1177/0003489414538607.

29.

Lafer M, Achlatis S, Lazarus C, Fang Y, Branski RC, Amin MR. Temporal measurements of deglutition in dynamic magnetic resonance imaging versus videofluoroscopy. Ann Otol Rhinol Laryngol. 2013;122:743–53. doi:10.1177/000348941312201204.

30.

Olthoff A, Zhang S, Schweizer R, Frahm J. On the physiology of normal swallowing as revealed by magnetic resonance imaging in real time. Gastroenterol Res Pract. 2014;. doi:10.1155/2014/493174.

31.

Knigge MA, Thibeault S, McCulloch TM. Implementation of high-resolution manometry in the clinical practice of speech language pathology. Dysphagia. 2014;29:2–16. doi:10.1007/s00455-013-9494-5.

32.

Bardan E, Kern M, Torrico S, Arndorfer RC, Massey BT, Shaker R. Radial asymmetry of the upper oesophageal sphincter pressure profile: fact or artifact. Neurogastroenterol Motil. 2006;18:418–24. doi:10.1111/j.1365-2982.2006.00773.x.

33.

Knuff DA, Hogan WJ, Shaker R, Massey BT. Esophageal motor disturbances are common in patients with UES dysfunction. Dysphagia. 2006;21:314.
Acknowledgements
This article does not contain any studies with human or animal subjects performed by any of the authors.
Additional information
This article is part of the Topical Collection on ENT Imaging.
Electronic supplementary material
Below is the link to the electronic supplementary material.
Completion of liquid bolus delivery via cup (MP4 3970 kb)
Individual with diffuse idiopathic skeletal hyperostosis (MP4 4431 kb)
Penetration to the true vocal folds and subsequent aspiration during sequential swallowing (MP4 6181 kb)
Completion of liquid bolus delivery via cup (MP4 3970 kb)
Individual with diffuse idiopathic skeletal hyperostosis (MP4 4431 kb)
Penetration to the true vocal folds and subsequent aspiration during sequential swallowing (MP4 6181 kb)
About this article
Cite this article
Daniels, S.K., Easterling, C.S. Continued Relevance of Videofluoroscopy in the Evaluation of Oropharyngeal Dysphagia. Curr Radiol Rep 5, 6 (2017). https://doi.org/10.1007/s40134-017-0201-4
Keywords
Deglutition

Deglutition disorders

Dysphagia

Videofluoroscopic swallowing study

Modified barium swallow