Abstract
Mesocellular foams (MCFs) silica was successfully synthesized using hydrothermal method. The mesoporous material was characterized by X-ray diffraction, infrared spectroscopy, low temperature nitrogen adsorption–desorption, scanning electron microscopy, transmission electron microscopy. The low temperature nitrogen adsorption–desorption results showed that the synthesized MCFs has a diameter of 12 nm. Transmission electron microscopy revealed that the MCFs synthesized had a good honeycomb structure aperture and is conducive to the adsorption of dye macromolecule. This paper carried out the study on the adsorption of eosin Y by MCFs. The adsorption conditions of eosin Y by MCFs were optimized and the optimum adsorption conditions obtained were: MCFs:(eosin Y) = 250:1, pH 2.0, contact time 10 min at a room temperature of 22 ± 1 °C. Under the conditions, the adsorption effect was the best, the adsorption rate reached 97.95% and the adsorption capacity reached 3.96 mg/g. The research results of adsorption kinetics for the adsorption system displayed that the adsorption is the pseudo-second-order adsorption. The research results of adsorption thermodynamics showed that △G0 < 0, ΔH0 = − 40.08 kJ/mol, ΔS0 = − 51.11 J/(mol K), and the adsorption is an exothermic, spontaneous and entropy reduction reaction process. This adsorption conforms to the isothermal adsorption equation of Langmuir, belonging to a single molecular layer adsorption. All the linear correlation coefficients of the Langmuir isotherm equations fitting (R2) were greater than 0.999.
This is a preview of subscription content, log in to check access.
Access options
Buy single article
Instant access to the full article PDF.
US$ 39.95
Price includes VAT for USA
Subscribe to journal
Immediate online access to all issues from 2019. Subscription will auto renew annually.
US$ 199
This is the net price. Taxes to be calculated in checkout.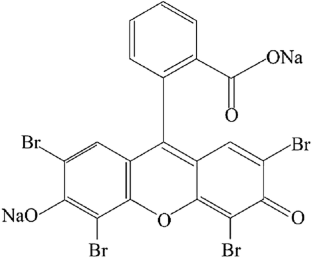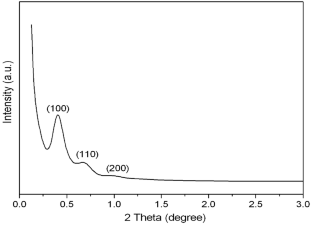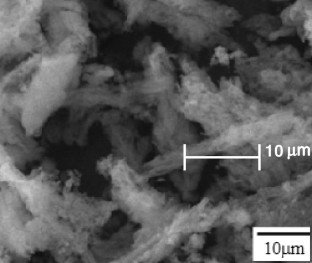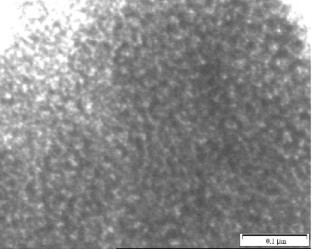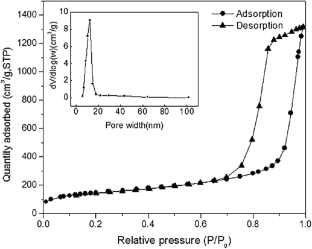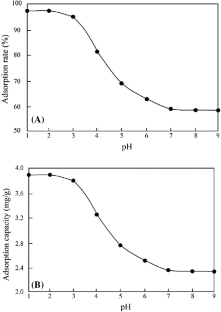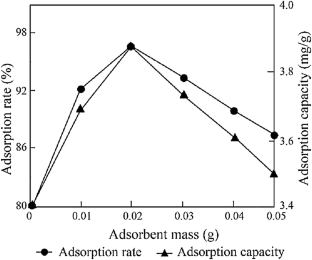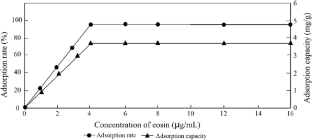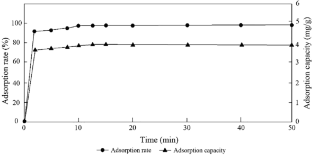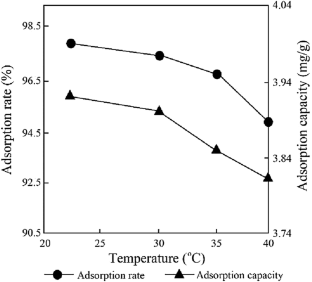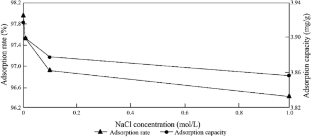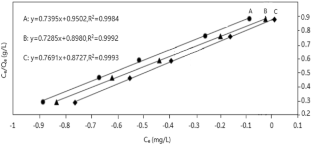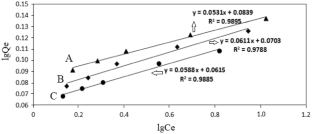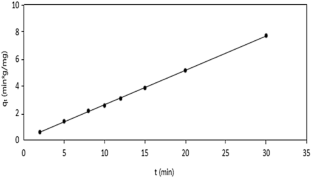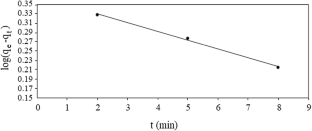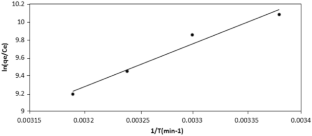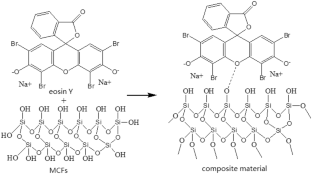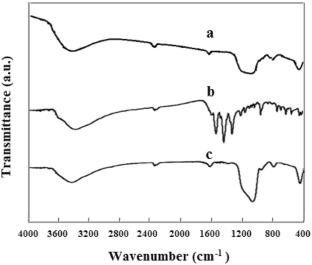 References
1.

Malik R, Ramteke DS, Wate SR (2007) Adsorption of malachite green on groundnut shell waste based powdered activated carbon. Waste Manag 27:1129–1138

2.

Zhou Q, Zhao YC (2005) Damage of dye to human health and ecological environment. J Environ Health 22(3):229–231

3.

Hao OJ, Jim H, Chiang PC (2000) Decolorization of wastewater. Crit Rev Environ Sci Technol 30(4):449–505

4.

Ren NQ, Zhou XJ, Guo WQ, Yang SS (2013) A review on treatment methods of dye wastewater. CIESC J 64(1):84–94

5.

Veerakumar P, Tharini J, Ramakrishna M, Muthuselvam IP, Lin KC (2017) Graphene oxide nanosheets as an efficient and reusable sorbents for eosin yellow dye removal from aqueous solutions. Chem Select 2:3598–3607

6.

Veerakumar P, Jeyapragasam T, Salamalai K, Maiyalagan T, Lin K-C (2019) Fuctionalized mesoporous carbon nanostructures for efficient removal of eriochrome from aqueous solutions. J Chem Eng Data 64:1305–1321

7.

Veerakumar P, Muthuselvam IP, Thanasekaran P, Lin K-C (2018) Economically palladium decorated on m-aminophenolformaldehyde derived porous carbon spheres for enhanced catalytic reduction of organic dyes. Inorg Chem Front 5:354–363

8.

Mureseanu M, Reiss A, Stefanescu I, David E, Parvulescu V, Renard G, Hulea V (2008) Modified SBA-15 mesoporous silica for heavy metal ions remediation. Chemosphere 73(9):1499–1504

9.

Perez-Quintanilla D, Sanchez A, de Hierro I, Fajardo M, Sierra I (2009) Preconcentration of Zn(II) in water samples using a new hybrid SBA-15-based material. J Hazard Mater 166(2–3):1449–1458

10.

Zhang ZR, Suo JM, Zhang XM, Li SB (1999) New advances for silica-based mesoporous molecular sieves. Prog Chem 11(1):11–20

11.

Liu Y, Pan JM, Chen J, Xie JM, Li CX, Yan YS (2012) Progress of modified silica-based micro/nano materials and their application in separation chemistry. Metall Anal 30(9):37–46

12.

Burke AM, Hanrahan JP, Healy DA, Sodeau JR, Holmes JD, Morris MA (2009) Large pore bi-functionalised mesoporous silica for metal ion pollution treatment. J Hazard Mater 164(1):229–234

13.

Schmidt WP, Lukens WW, Zhao DY, Yang P, Chmelka BF, Stocky GD (1999) Mesocellular siliceous foams with uniformly sized cells and windows. J Am Chem Soc 121(1):254–255

14.

Schmidt WP, Glinka CJ, Stocky GD (2000) Microemulsion templates for mesoporous silica. Langmuir 16(2):356–361

15.

Shah J, Pinnavaia TJ (2005) Thiol-functionalized silica with mesocellular foam and hybrid mesocellular foam-wormhole structures. Chem Mater 17(5):947–949

16.

Vinu A, Mori T, Ariga K (2006) New families of mesoporous materials. Sci Technol Adv Mater 7(8):753–771

17.

Broekhoff JCP, de Boer JH (1968) Studies on pore systems in catalysts: XII. Pore distributions from the desorption branch of a nitrogen sorption isotherm in the case of cylindrical pores A. An analysis of the capillary evaporation process. J Catal 10(4):368–376

18.

Brumauer S, Emmett PH, Teller E (1938) Adsorption of gases in multimolecular layers. J Am Chem Soc 60(2):309–319

19.

Barett EP, Oyner LGJ, Halenda PP (1951) The determination of pore volume and area distributions in porous substances. I. Computations from nitrogen isotherms. J Am Chem Soc 73(1):373–380

20.

Langmuir I (1918) Adsorption of gases on plain surfaces of glass mica platinum. J Am Chem Soc 40:136–403

21.

Freundlich HMF (1906) Over the adsorption in solution. J Phys Chem 57:385–470

22.

Lagergren S (1898) Zur theorie der sogenannten adsorption geloester stoffe. Kungliga Svenska Vetenskapsakad Handl 24:1–39

23.

McKay G, Ho YS (1999) Pseudo-second order model for sorption processes. Process Biochem 34:451–465

24.

Gerçel O, Ozcan A, Ozcan AS, Gercel HF (2007) Preparation of activated carbon from a renewable bio-plant of Euphorbia rigida, by H2SO4 activation and its adsorption behavior in aqueous solutions. Appl Surf Sci 253(11):4843–4852
Acknowledgements
This work was financially supported by the Natural Science Foundation of Jilin Provincial Science and Technology Department from the Science and Technology Development Program of Jilin Province, China under the Research Grant (No. 20180101180JC, 222180102051, KYC-JC-XM-2018-051) and Science Research Project of Education Department, Jilin Province from the 13th Five-Year Plan, China (JJKH20200265KJ). The authors express their deep thanks!
Ethics declarations
Conflict of interest
No potential conflict of interest was reported by the author.
Additional information
Publisher's Note
Springer Nature remains neutral with regard to jurisdictional claims in published maps and institutional affiliations.
About this article
Cite this article
Li, X., Zhai, Q. Evaluation of eosin Y removal from aqueous solution using nano-mesoporous material MCFs: adsorption equilibrium, kinetics, and adsorption isotherms. Int J Ind Chem (2020). https://doi.org/10.1007/s40090-020-00202-4
Received:

Accepted:

Published:
Keywords
Eosin Y

Adsorption

MCFs

Mesoporous molecular sieve

Kinetics

Thermodynamics