Bifurcation analysis and chaos control in discrete-time system of three competing species
Abstract
In this paper, we investigate the complex dynamics of three-dimensional Ricker-type discrete-time competition model. We discuss the existence and uniqueness, and find parametric conditions for local asymptotic stability of positive fixed point of this model. It is also proved that the system undergoes Neimark–Sacker (NS) and period-doubling bifurcation (PDB) at certain parametric values for positive fixed point with the help of an explicit criterion for NS and PDB. The system shows chaotic dynamics at increasing values of bifurcation parameter. To control the chaos, we apply the hybrid control methodology. Finally, numerical simulations are provided to illustrate the theoretical discussions. These results of numerical simulations show chaotic long-term behavior over a broad range of parameters. The computation of the maximum Lyapunov exponents confirms the presence of chaotic behavior in the model.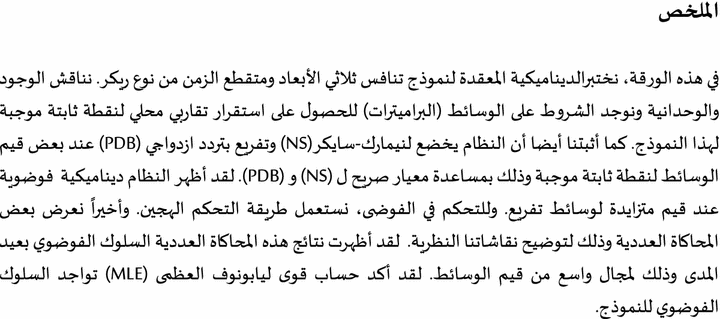 Mathematics Subject Classification
37C25 
37H20 
37C75 
Abbreviation
MLE

Maximum Lyapunov exponents

PDB

Period-doubling bifurcation

NSB

Neimark–Sacker bifurcation
Copyright information
© The Author(s) 2018
Open AccessThis article is distributed under the terms of the Creative Commons Attribution 4.0 International License (http://creativecommons.org/licenses/by/4.0/), which permits unrestricted use, distribution, and reproduction in any medium, provided you give appropriate credit to the original author(s) and the source, provide a link to the Creative Commons license, and indicate if changes were made.