Abstract
The interest in hot-melt extrusion as a drug delivery technology for the production of solid dispersion is growing rapidly. Lumefantrine (LUMF) is an antimalarial drug that exhibits poor oral bioavailability, in consequence of its poor aqueous solubility. To improve its antimalarial activity, solid dispersion formulation using hot melt extrusion technology was prepared. Appropriate selection of polymers, favoured the production of amorphous LUMF-polymer solid dispersions. The physicochemical properties of solid dispersions were characterized using scanning electron microscope, Infrared spectroscopy, differential scanning calorimetry and X-ray diffraction. LUMF SD showed enhanced dissolution rate attributed to amorphosization of LUMF. The IC50 value of LUMF SD formulations was found to be (0.084–0.213 ng/mL) i.e. 220–101 times lower than the IC50 value of pure LUMF (18.2 ng/mL) and 45–18 times lower than the IC50 value of standard antimalarial drug, chloroquine (3.8 ng/mL). Molecular dynamic simulation approach was used to investigate drug-polymer molecular interaction using computational modelling Schrodinger® software. LUMF SD powder makes the Coartem® therapy more operative with value-added beneficial comeback.
This is a preview of subscription content, log in to check access.
Access options
Buy single article
Instant unlimited access to the full article PDF.
US$ 39.95
Price includes VAT for USA
Subscribe to journal
Immediate online access to all issues from 2019. Subscription will auto renew annually.
US$ 99
This is the net price. Taxes to be calculated in checkout.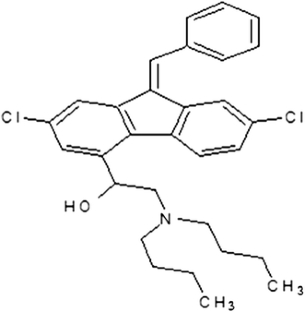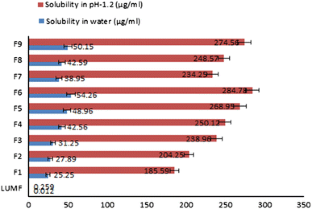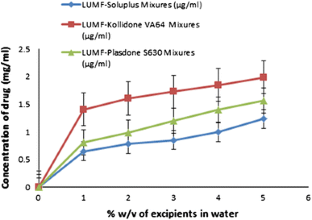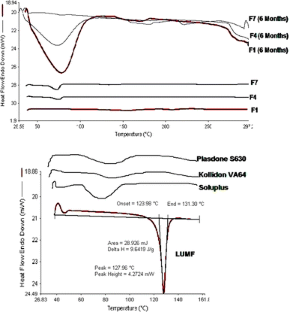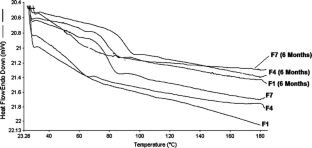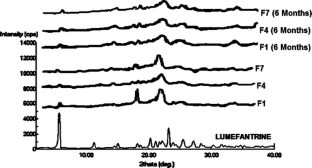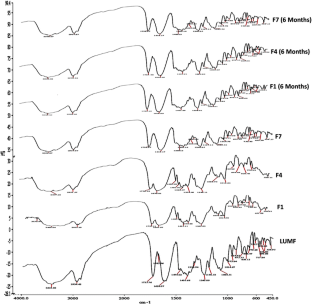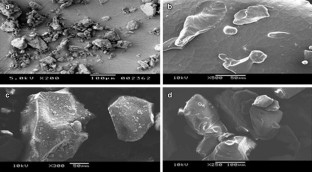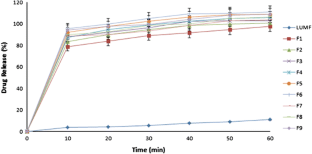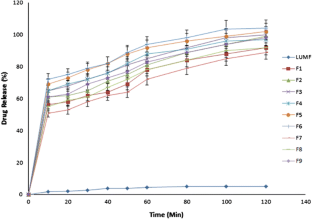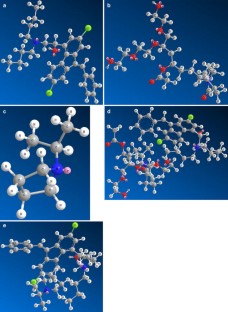 References
Almeida A, Possemiers S (2011) Ethylene vinyl acetate as matrix for oral sustained release dosage forms produced via hot-melt extrusion. Eur J Pharm Biopharm 77(2):297–305

Ambike AA, Mahadik KR, Paradkar A (2004) Stability study of amorphous valdecoxib. Int J Pharm 282:151–162

Andriantsoanirina V (2011) Resistance of Plasmodium falciparum to antimalarial drugs: impact on malaria pre-elimination in Madagascar. Med Trop Mars 1:298–304

Bacon DJ, Latour C, Picot S (2007) Comparison of a SYBR green i-based assay with a histidine-rich protein ii enzyme-linked immunosorbent assay for in vitro antimalarial drug efficacy testing and application to clinical isolates. Antimicrob Agents Chemother 51:1172–1178

Breitenbach J (2002) Melt extrusion: from process to drug delivery technology. Eur J Pharm Biopharm 54:107–117

Chiou WL, Riegelman S (1971) Pharmaceutical applications of solid dispersion systems. J Pharm Sci 60:1281–1302

Chokshi RJ, Zia H, Sandhu HK, Shah NH, Malick WA (2007) Improving the dissolution rate of poorly water soluble drug by solid dispersion and solid solution. Drug Deliv 14(1):33–45

Crowley MM, Zhang F, Koleng JJ, McGinity JW (2002) Stability of polyethylene oxide in matrix tablets prepared by hot-melt extrusion. Biomaterials 23:4241–4248

Doshi DH, Betageri GV (1997) Carbamazepine and polyethylene glycol solid dispersion preparation, in vitro dissolution, and characterization. Drug Dev Ind Pharm 23:1167–1176

Ford JL (1986) The current status of solid dispersions. Pharm Acta Helvetica 61:69–88

Gahoia S, Jain GK (2012) Enhanced antimalarial activity of lumefantrine nanopowder prepared by wet-milling DYNO MILL technique. Colloids Surf B Biointerfaces. doi:10.1016/j.colsurfb.2012.01.047

Gavin PA, Osama AD (2010) Physicochemical characterization and drug-release properties of celecoxib hot-melt extruded glass solutions. J Pharm Pharmacol 62:1580–1590

Greenhalgh DJ, Timmins PY (1999) Solubility parameters as predictors of miscibility in solid dispersions. J Pharm Sci 88:1182–1190

Hancock BC, Zografi G (1997) Characteristics and significance of the amorphous state in pharmaceutical systems. J Pharm Sci 86:1–12

Higuchi T, Connors K (1965) Phase-solubility techniques. Adv Anal Chem Inst Technol 4:117–130

Juma E (2008) A randomized, open-label, comparative efficacy trial of artemether-lumefantrine suspension versus artemether-lumefantrine tablets for treatment of uncomplicated Plasmodium falciparum malaria in children in western Kenya. Malar J 7:262–280

Kalogeras IM (2011) A novel approach for analyzing glass-transition temperature vs. composition patterns: application to pharmaceutical compound+polymer systems. Eur J Pharm Sci 42:470–483

Konno H, Taylor LS (2006) Influence of different polymers on the crystallization tendency of molecularly dispersed amorphous felodipine. J Pharm Sci 95:2692–2705

Linn M (2012) Soluplus as an effective absorption enhancer of poorly soluble drugs in vitro. Eur J Pharm Sci 45:336–343

Makar RR, Latif R, Hosni EA, Omaima N, Gazayerly El (2013) Optimization for glimepiride dissolution enhancement utilizing different carriers and techniques. J Pharm Invest 43:115–131

Maniruzzaman M, Morgan DJ, Douroumis D (2013) Drug–polymer intermolecular interactions in hot-melt extruded solid dispersions. Int J Pharm 443:199–208

McGinity JW, Zhang F, Repka MA, Koleng JJ (2001) Hot-melt extrusion as a pharmaceutical process. Am Pharm Rev 4(2):25–36

Osama AA, David SJ (2012) Understanding the performance of melt-extruded poly(ethylene oxide)-bicalutamide solid dispersions: characterisation of microstructural properties using thermal, spectroscopic and drug release methods. J Pharm Sci 101:200–213

Rasenack N, Muller B (2002) Development of novel ibuprofen-loaded solid dispersion with improved bioavailability using aqueous solution. Arch Pharm Res 19:1894–1903

Repka MA, Prodduturi S, Stodghill SP (2003) Production and characterization of hot-melt extruded films containing clotrimazole. Drug Dev Ind Pharm 29:757–765

Suneela P (2005) Solid-state stability and characterization of hot-melt extruded poly(ethylene oxide) films. J Pharm Sci 94:2232–2245

Takeuchi H, Nagira S (2004) Solid dispersion particles of tolbutamide prepared with fine silica particles by the spray-drying method. Powder Technol 141:187–195

Vasconcelos T, Sarmento B, Costa P (2007) Solid dispersions as strategy to improve oral bioavailability of poor water soluble drugs. Drug Disc Today 12:1068–1075

Zhang F, McGinity JW (1999) Properties of sustained- release tablets prepared by hot-melt extrusion. Pharm Dev Technol 4:241–250

Zsombor KN, Attila B (2012) Comparison of electrospun and extruded Soluplus -based solid dosage forms of improved dissolution. J Pharm Sci 101:322–332
Acknowledgments
The authors are thankful to Bajaj Healthcare Pvt. Ltd. (India) for providing the gift sample of Lumefantrine, BASF Ltd. Mumbai for the gift sample of Soluplus and Kollidone VA64 and, ISP Ltd. for Plasdone S630. The author is also thankful to UGC (SAP) for providing the research fellowship and Institute of Chemical Technology (Mumbai, India) for providing all facilities and guidance. The author is also thankful to Mr. Pavankumar Todkar from Dept. of Virology and Immunology, Haffkine Institute, Parel, Mumbai for helping with in vitro antimalarial studies at his laboratory.
Conflict of interest
Author declares that we do not have any conflict of interest.
Electronic supplementary material
Below is the link to the electronic supplementary material.
Supplementary material 1 (MP4 6826 kb)
About this article
Cite this article
Fule, R., Meer, T., Sav, A. et al. Solubility and dissolution rate enhancement of lumefantrine using hot melt extrusion technology with physicochemical characterisation. Journal of Pharmaceutical Investigation 43, 305–321 (2013). https://doi.org/10.1007/s40005-013-0078-z
Received:

Accepted:

Published:

Issue Date:
Keywords
Lumefantrine

Hot melt extrusion

Solid dispersion

Dissolution rate

Solubility