Abstract
Purpose
To describe the burden, and characteristics, of influenza-like illness (ILI) associated with non-influenza respiratory viruses (NIRV).
Methods
We performed a prospective, multicenter, observational study of adults admitted with ILI during three influenza seasons (2012–2015). Patients were screened for picornavirus, respiratory syncytial virus (RSV), coronavirus, human metapneumovirus, adenovirus, bocavirus, parainfluenza virus, and influenza, by PCR on nasopharyngeal samples. We excluded patients coinfected with NIRV and influenza.
Results
Among 1421 patients enrolled, influenza virus was detected in 535 (38%), and NIRV in 215 (15%), mostly picornavirus (n = 61), RSV (n = 53), coronavirus 229E (n = 48), and human metapneumovirus (n = 40). In-hospital mortality was 5% (NIRV), 4% (influenza), and 5% (no respiratory virus). As compared to influenza, NIRV were associated with age (median, 73 years vs. 68, P = 0.026), chronic respiratory diseases (53% vs. 45%, P = 0.034), cancer (14% vs. 9%, P = 0.029), and immunosuppressive drugs (21% vs. 14%, P = 0.028), and inversely associated with diabetes (18% vs. 25%, P = 0.038). On multivariable analysis, only chronic respiratory diseases (OR 1.5 [1.1–2.0], P = 0.008), and diabetes (OR 0.5 [0.4–0.8], P = 0.01) were associated with NIRV detection.
Conclusions
NIRV are common in adults admitted with ILI during influenza seasons. Outcomes are similar in patients with NIRV, influenza, or no respiratory virus.
This is a preview of subscription content, log in to check access.
Access options
Buy single article
Instant access to the full article PDF.
US$ 39.95
Price includes VAT for USA
Subscribe to journal
Immediate online access to all issues from 2019. Subscription will auto renew annually.
US$ 99
This is the net price. Taxes to be calculated in checkout.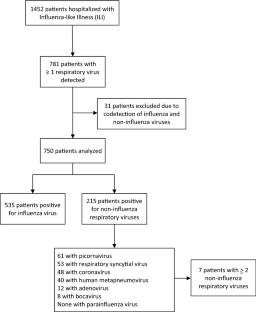 Acknowledgements
The current work received no funding. However, the study sites received funding from Sanofi Pasteur and Sanofi Pasteur MSD for the FLUVAC study. Vaccine producers had no role in the study design, data analysis, decision to publish or preparation of the manuscript. The FLUVAC Study group. Hôpital Cochin, Paris: P. Loulergue, S. Momcilovic, JP Mira, N. Marin, A. Regent, Kanaan, F. Dumas, B. Doumenc. Hôpital Bichat Claude Bernard, Paris: J.F. Alexandra, H. Becheur, K. Belghalem, J. Bernard, A. Bleitreu, M. Boisseau, R. Bories, O. Brugiere, F. Brunet, C. Burdet, E. Casalino, M. Caseris, Chansiaux, M. Chauchard, P. Chavance, C. Choquet, Cloppet-Fontaine, L. Colosi, B. Couset, B. Crestani, F. Crocket, A. Debit, Delanoe, V. Descamps, P. Dieude, A. Dossier, N. Douron, E. Dupeyrat, N. Emeyrat, Fernet, T. Goulenok, S. Harent, Jouenne, A. Justet, M. Lachatre, A. Leleu, I. Lerat, M. Lilamand, H. Mal, A. Marceau, A-C Metivier, K. Oplelatora, T. Papo, A-L. Pelletier, L. Pereira, P. Pradere, Prommier, P. Ralainnazava, M. Ranaivoision, A. Raynaud-Simon, C. Rioux, K. Sacre, V. Verry, V. Vuong, Y. Yazdapanah. CHU de Montpellier: P. Géraud, V. Driss, V. Maugueret, M. Ray, F. Letois, T. Mura, C. Merle, A. Bourdin, A. Konaté, X. Capdevilla, G. Du Cailar, A. Terminet, H. Blain, M.-S. Leglise, A. Le Quellec, P. Corne, L. Landreau, K. Klouche, A. Bourgeois, M. Sebbane, G. Mourad, H. Leray, M. Maarouf. CHU Dupuytren, Limoges: D. Postil, S. Alcolea, E. Couve Deacon, S. Rogez. Hôpital Edouard Herriot, Lyon: L. Argaud, K. Tazarourte, R. Hernu, M. Cour, M. Simon, T. Baudry, L. Jacquin. CHU Pontchaillou, Rennes: F. Lainé, B. Laviolle, J.-S. Allain, N. Belhomme, V. Thibault, S. Rochas, S. Cochennec, E. Ouamara-Digue, C. Lepape, M. Revest, S. Simon, J. Fouchard, C. Gautier, N. Nouredine, E. Thébault.
Ethics declarations
Conflict of interest
The authors declare no competing interest related to the study. O Launay is an investigator for clinical trials sponsored by Janssen and other companies and received travel support to attend scientific meetings from pharmaceutical companies.
About this article
Cite this article
Bénézit, F., Loubet, P., Galtier, F. et al. Non-influenza respiratory viruses in adult patients admitted with influenza-like illness: a 3-year prospective multicenter study. Infection (2020). https://doi.org/10.1007/s15010-019-01388-1
Received:

Accepted:

Published:
Keywords
Influenza-like illness

Influenza

Picornavirus

Respiratory syncytial virus

Coronavirus

Human metapneumovirus