Allergie im Fokus | DGAKI-JSA Joint Meeting
Im Rahmen der Internationalisierung der Arbeit der Deutschen Gesellschaft für Allergologie und klinische Immunologie (DGAKI) findet das Joint Meeting "Translational research in allergology — precision medicine reaching out to the patients" in Zusammenarbeit mit der japanischen Schwestergesellschaft Japanese Allergy Society (JSA) statt. Im Fokus der Veranstaltung steht die "Cutting edge"-Wissenschaft. Japanische und deutsche Experten berichten und diskutieren aktuelle wissenschaftliche Themen der gesamten Allergologie.
Wie in allen Allergie-im-Fokus-Veranstaltungen ist die Teilnehmerzahl begrenzt, um einen intensiven Austausch zwischen Teilnehmern und Referenten zu ermöglichen.
Wir freuen uns über Ihre aktive Teilnahme.
Termin und Ort
29./30. November 2019
Kempinski Hotel Gravenbruch, Frankfurt
Graf-zu-Ysenburg-und-Büdingen-Platz 1, 63263 Neu-Isenburg
Tagungsleitung
Prof. Dr. Harald Renz, Marburg
Fortbildungsreferat der DGAKI Prof. Dr. Christian Taube, Essen
Teilnahmegebühr
50 € oder 90 € (inkl. Abendessen)
Anmeldung
Kontakt
Deutsche Gesellschaft für Allergologie und klinische Immunologie e. V. Geschäftsstelle
Robert-Koch-Platz 7 10115 Berlin
Tel.: 030 2804-7100
Fax: 030 2804-7101
E-Mail: info@dgaki.de
Internet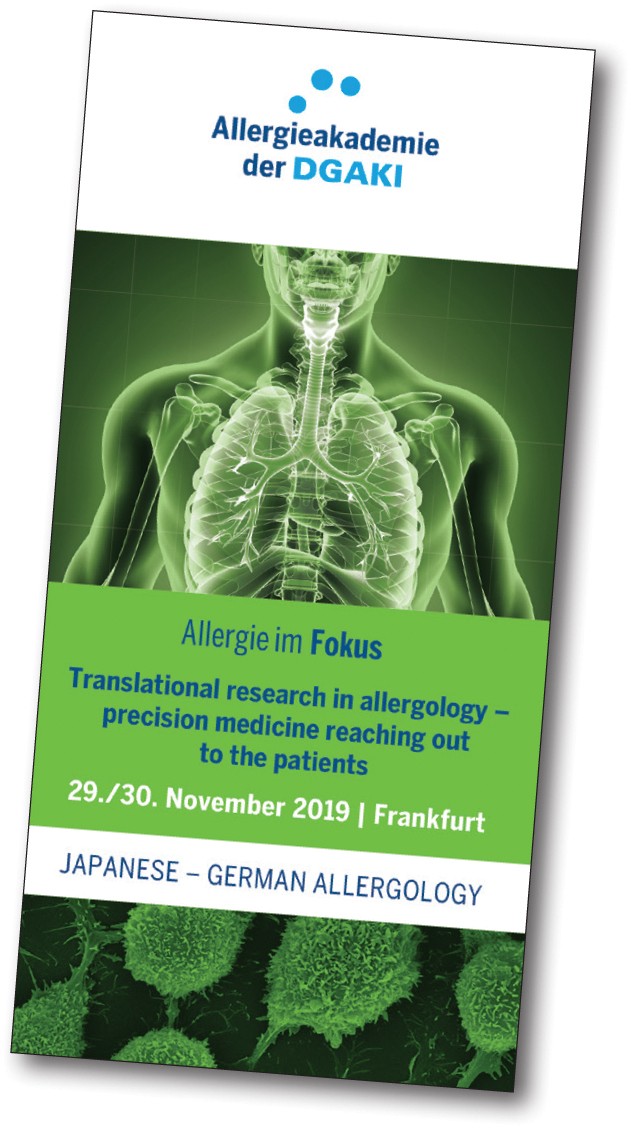 Copyright information
© Springer Medizin Verlag GmbH, ein Teil von Springer Nature 2019