This is a preview of subscription content, log in to check access.
Access options
Buy single article
Instant access to the full article PDF.
US$ 39.95
Price includes VAT for USA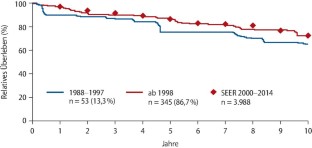 Literatur
1.

Schrodi et al. Das Mammakarzinom des Mannes und der Frau: Eine vergleichende bevölkerungsbezogene Analyse eines 15-Jahres Kollektivs. Senologie. 2019;16(02):121

2.

Wang F et al. Overall Mortality After Diagnosis of Breast Cancer in Men vs Women. JAMA Oncol. 2019;5(11):1589-96

3.

Tumorregister München. ICD-10 C50: Mammakarzinom (Männer) Survival. 2017

4.

Brinton LA et al. Anthropometric and hormonal risk factors for male breast cancer: male breast cancer pooling project results. J Natl Cancer Inst. 2014;106(3):djt465

5.

de Blok CJM et l. Breast cancer risk in transgender people receiving hormone treatment: nationwide cohort study in the Netherlands. BMJ. 2019;365:1652

6.

Giordano SH. Breast Cancer in Men. N Engl J Med. 2018;378(24):2311-20

7.

Obenauer S. Das männliche Mammakarzinom. Senologie. 2013;10(2):83-5

8.

Liedtke C et al. AGO Recommendations for the Diagnosis and Treatment of Patients with Early Breast Cancer: Update 2018. Breast Care (Basel). 2018;13(3):196-208

9.

Ottini L et al. Male breast cancer. Crit Rev Oncol Hematol. 2010;73(2):141-55

10.

Tumorregister München. ICD-10 C50: Mammakarzinom (Frauen) Survival. 2017

11.

Nilsson C et al. Molecular subtyping of male breast cancer using alternative definitions and its prognostic impact. Acta Oncol. 2013;52(1):102-9

12.

Cardoso F et al. Characterization of male breast cancer: results of the EORTC 10085/TBCRC/BIG/NABCG International Male Breast Cancer Program. Ann Oncol. 2018;29(2):405-17

13.

Goss PE et al. Male breast carcinoma: a review of 229 patients who presented to the Princess Margaret Hospital during 40 years: 1955-1996. Cancer. 1999;85(3):629-39

14.

Halbach SM et al. Male Breast Cancer Patients' Perspectives on Their Health Care Situation: A Mixed-Methods Study. 2019; https://doi.org/10.1159/000501956

15.

Leone JP et al. Locoregional treatment and overall survival of men with T1a,b,cN0M0 breast cancer: A population-based study. Eur J Cancer. 2017;71:7-14

16.

https://www.leitlinienprogramm-onkologie.de/fileadmin/user_upload/Downloads/Leitlinien/Mammakarzinom_4_0/Version_4.2/LL_Mammakarzinom_Langversion_4.2.pdf abgerufen am 20.01.2020

17.

Massarweh SA et al. Molecular Characterization and Mortality From Breast Cancer in Men. J Clin Oncol. 2018;36(14):1396-404

18.

Eggemann H et al. Survival benefit of tamoxifen and aromatase inhibitor in male and female breast cancer. J Cancer Res Clin Oncol. 2018;144(2):337-41

19.

Eggemann H et al. Adjuvant therapy with tamoxifen compared to aromatase inhibitors for 257 male breast cancer patients. Breast Cancer Res Treat. 2013;137(2):465-70

20.

Reinisch M et al. Final analysis of the Male-GBG54 study: A prospective, randomised multi-centre phase II study evaluating endocrine treatment with either tamoxifen +/- gonadotropin releasing hormone analogue (GnRHa) or an aromatase inhibitor + GnRHa in male breast cancer patients. Ann Oncol. 2018;29(suppl_8):mdy424.007

21.

Pemmaraju N et al. Retrospective review of male breast cancer patients: analysis of tamoxifen-related side-effects. Ann Oncol. 2012;23(6):1471-4

22.

Visram H et al. Endocrine therapy for male breast cancer: rates of toxicity and adherence. Curr Oncol. 2010;17(5):17-21

23.

Kowalski C et al. Health-related quality of life in male breast cancer patients. Breast Cancer Res Treat. 2012;133(2):753-7

24.

Midding E et al. Social Support of Male Breast Cancer Patients-a Mixed-Methods Analysis. Am J Mens Health. 2019;13(4):1557988319870001

25.

Egestad LK et al. "My Husband Has Breast Cancer": A Qualitative Study of Experiences of Female Partners of Men With Breast Cancer. Cancer Nurs. 2019; https://doi.org/10.1097/NCC.0000000000000710

26.

Würstlein R et al. Tastbefund an der Brust: Auch bei Männern immer abklären! Im Fokus Onkologie. 2018;21(1-2):16-8

27.

Zagouri F et al. Fulvestrant and male breast cancer: a pooled analysis. Breast Cancer Res Treat. 2015;149(1):269-75

28.

Sorscher S. A First Case of Male Breast Cancer Responding to Combined Aromatase Inhibitor/Palbociclib Therapy. Int J Cancer Clin Res. 2016;3(5):069
Ethics declarations
Die Autoren erklären, dass sie sich bei der Erstellung des Beitrags von keinen wirtschaftlichen Interessen leiten ließ. Die Autoren legen folgende potenzielle Interessenkonflikte offen: A. Hesse: keine. A .König: keine. F. Schulte-Vorwick: keine. N. Harbeck: keine. R. Würstlein: keine. Anna Hester: Mitarbeit im Advisory Board von Roche, Vorträge für Roche, Vorträge und Fortbildung für Pfizer. Sven Mahner: Grants von Roche, PharmaMar, Tesaro, Medac, AstraZeneca sowie Honorare/Kostenerstattung von AstraZeneca, AbbVie, Clovis, GSK, MSD, Medac, Novartis, PharmaMar, Roche, Sensor-Kinesis, Tesaro, Teva, Olympus Europa
Der Verlag erklärt, dass die inhaltliche Qualität des Beitrags von zwei unabhängigen Gutachtern geprüft wurde. Werbung in dieser Zeitschriftenausgabe hat keinen Bezug zur CME-Fortbildung. Der Verlag garantiert, dass die CME-Fortbildung sowie die CME-Fragen frei sind von werblichen Aussagen und keinerlei Produktempfehlungen enthalten. Dies gilt insbesondere für Präparate, die zur Therapie des dargestellten Krankheitsbildes geeignet sind.
About this article
Cite this article
Hesse, A., Hester, A., König, A. et al. Management des Mammakarzinoms beim Mann. InFo Hämatol Onkol 23, 35–42 (2020). https://doi.org/10.1007/s15004-020-7991-x