Multipurpose composite for heavy metal sorption, antimicrobial, and antioxidant applications
Abstract
Magnesium–aluminum-layered double hydroxides (LDH) and proteins extracted from bael or bilva oil meal (BP) were used to form composites (LDH-BP) by a simple co-precipitation method. The synthesized composites were utilized to remove lead ions from contaminated water and to study the antimicrobial and antioxidant activities. BPs have inherent antimicrobial and anticancer properties and are biodegradable. Combining BP with LDH will result in unique composites having high affinity for sorption and also antibacterial properties, ideal for multipurpose water purification applications. The LDH-BP showed high affinity for Pb(II) ions with removal efficiency as high as 90% from a solution having an initial lead concentration of 100 mg/l. Maximum adsorption was noted at room temperature at a pH of 5. The level of sorption achieved was considerably high for Pb(II) compared to other biomaterials used earlier. Sorption was found to follow Langmuir and Freundlich isotherms and pseudo-second-order kinetics with R2 values greater than 0.99. The LDH-BP composite showed maximum adsorption capacity of 625.00 mg g−1. Additionally, it exhibited good antioxidant activity by inhibiting 42–50% of DPPH free radicals in the DPPH concentration range of 10–50 µl. The composite also eliminated the Streptococcus coliform bacteria completely upon 6 h of incubation. The filtrate obtained after the removal of lead ions using the LDH-BP composite could retain its antibacterial activity up to 14 h. The low-cost multifunctional materials developed in this research could lead to new technologies and products for water purification.
Graphical abstract
Multi-functional LDH–protein composite has been synthesized by a simple co-precipitation method and used for the removal of heavy metal ions. Also antioxidant and antibacterial activity of the composite have been investigated.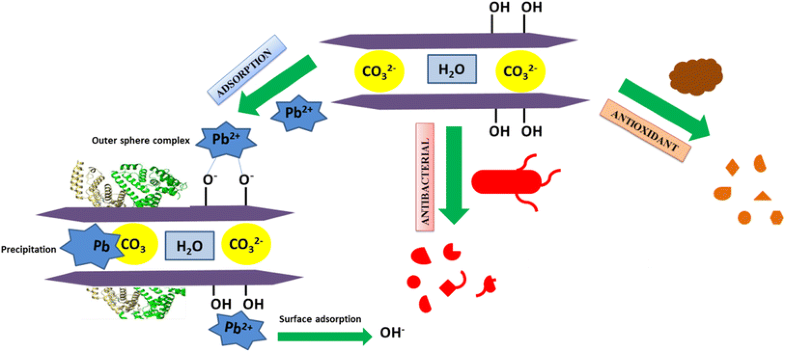 Keywords
Adsorption 
Layered double hydroxide–protein composite 
Heavy metal 
Antioxidant 
Antibacterial 
Notes
Acknowledgements
The authors thank and acknowledge Dr. Yogesh Kumar, Associate Professor, Jain University and Ms. Archana, Assistant Professor, Jain University, for their assistance.
Authors contribution
The manuscript was written through contributions of all authors. All authors have given approval to the final version of the manuscript.
Compliance with ethical standards
Conflict of interest
The authors declare no competing financial interest.
Copyright information
© Islamic Azad University (IAU) 2018